Kitchen design in white: rules of the air of the interior
White is the favorite designers. Light colors make it possible to make the room visually more spacious and brighter. But is it worth to use a snow-white in the kitchen? This question has generated much controversy, which we'll talk further.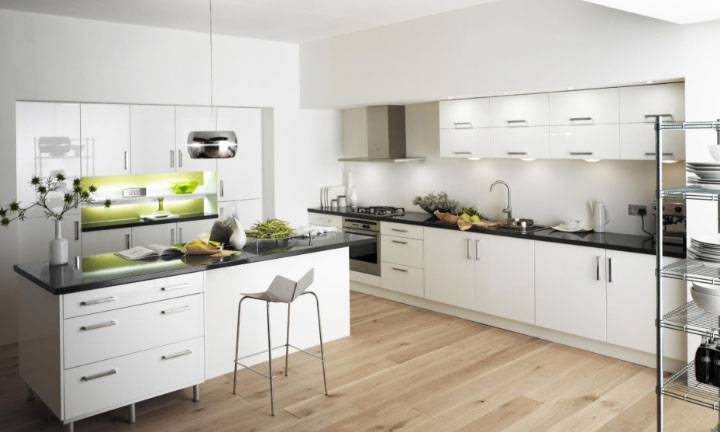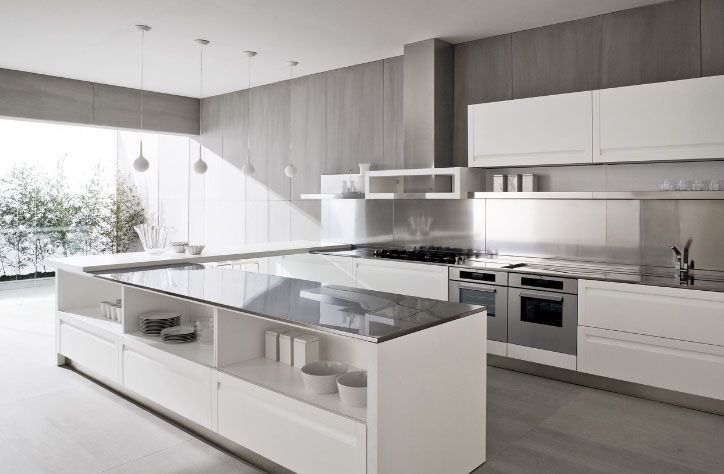 Many housewives refuse to white in the kitchen, because they believe his mark. But as practice shows, dirt and dust on surfaces of other colors not less noticeable. This problem is completely solved. Choose light materials having care or anti-dust properties.
Another argument against the white space in the kitchen ─ its ability to transform a room in a hospital. You can avoid this situation,, if properly complement the interior of the other colors and intelligently arrange lighting. Besides, Light colors help to visually enlarge the room.
Kitchen design in white is most often carried out in Art Nouveau style and classic.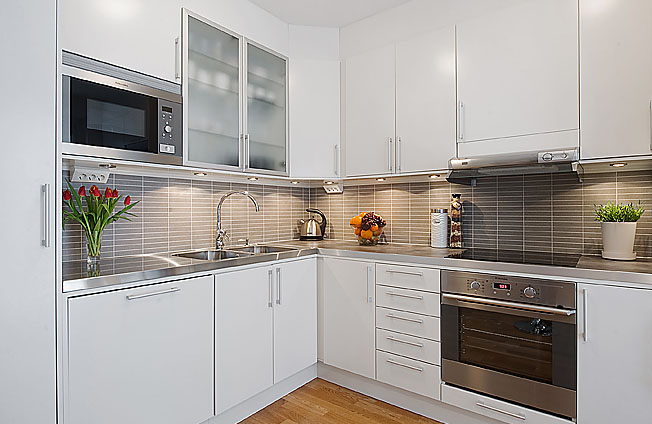 Kitchen in a modern style: high-gloss white with black, brown, green, red, gray
Modern ─ this transitional style between classic and hi-tech. It combines functionality and minimalism. Most often it is used for the design of small spaces, but also on the huge kitchen, he, too, appropriate.
White ─ a great option for small catering, Modernist. It will help to visually make the kitchen more spacious, add her light. For a large kitchen facilities can be enjoyed massive set, smooth lines that emphasize space.
Tree, plastic, glass and metal ─ the basic materials for the finishing of modernist cuisine in white. Do not overload the interior furnishings. Welcomed the simplicity of forms and details. Facade choose the most smooth surfaces of gloss. If you want to, then insert the glass facades, but note, that they should not have any images.
Good nutrition unit looks on the white worktop with simulated wood grain or stone.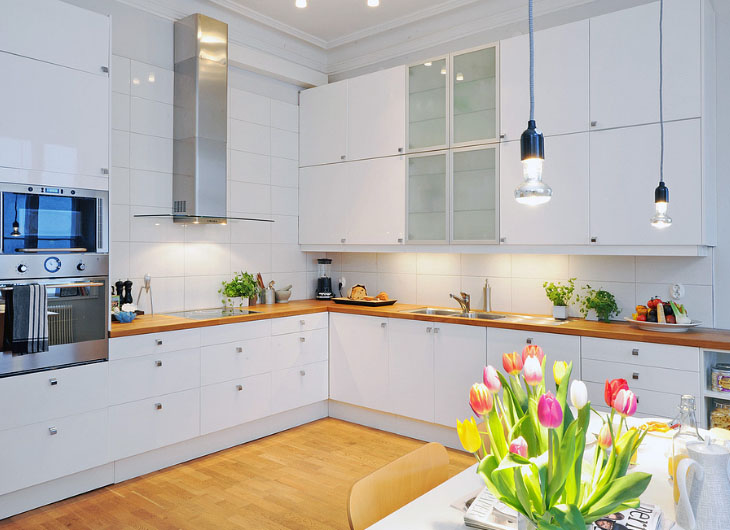 In the kitchen, white Art Nouveau can not do without good lighting, better point. It should be well thought out, to emphasize the white space. Light sources, select the correct geometrical shape without any pretentiousness.
Modern widely used to make progress, so the modern household kitchen appliances welcome. Ideal fit model silver. Actual is built-in appliances.
The snow-white undiluted used for catering in Art Nouveau style is extremely rare. Choose a classic combination of white and black, gray, brown or stop for contrasting colors and shades.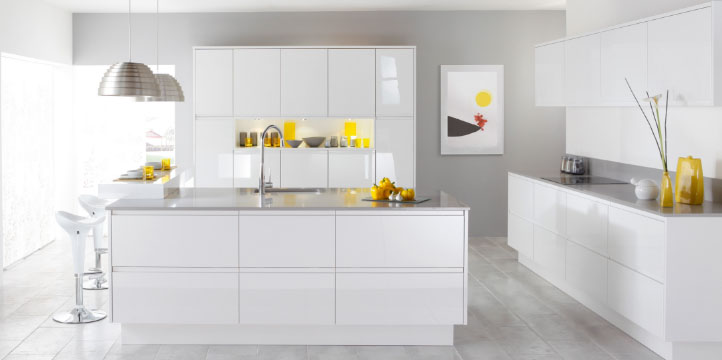 White kitchen in modern style ─ it is a wonderful way to emphasize their individuality, it can help you create a truly unique design.
Classic style table space design
Design white kitchen in classical style It requires a special approach. It is the white color will help to soften conservatism classics.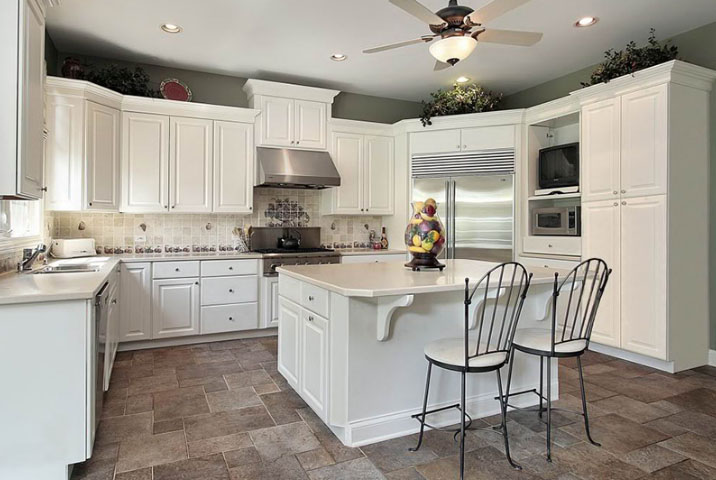 If you are afraid of the financial side of the issue, do not worry. It is not necessary to purchase headsets from a tree. You can do other, more cost materials. Manufacturers offer a variety of models, materials which are alternative natural wood:
How to translate classic style interior white kitchen? Walls Plastered, Paint or wallpaper obkleyte. It is even a fine pattern or ornament pale colors. To better match the color of the walls, lighter ground several shades, otherwise "hospital effect" is provided to you.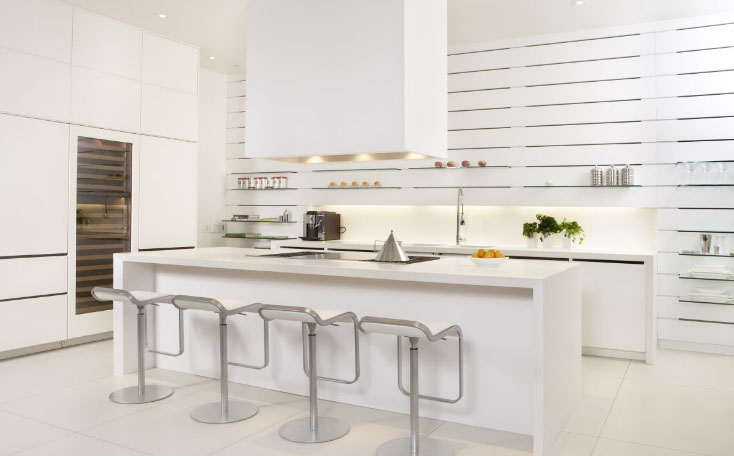 Kitchen design in white style requires wooden floors. but think, Are you able to provide such a coating decent care?! Pick budget option as linoleum or laminate, imitating the structure of wood. No less a good option would be the tile on the floor under a stone or a tree.
Potolok pobelite, possibly decorate it with decorative beams elementami─, Molding or lepninoj. Stick to the rules of the golden mean. The kitchen in white color in contemporary style You can use the suspended ceiling.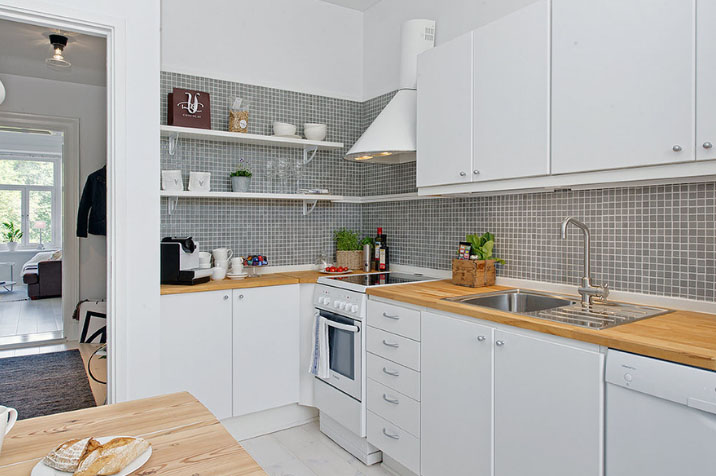 Appliances for classics hide behind facades lockers. If there is a possibility, buy retro pattern. Complete interior antique chandeliers and lamps with forged elements.
What color to choose for the kitchen classic white areas? Richly looks combination of white and gold.
Council! To the room did not look pretentious, Use of gold in the details. Let this be a hardware, decorative elements on the facades, chandeliers and lamps.
It never goes out of style combination of white with black. White kitchen worktop can be diluted or black apron.
Equally important combination with all sorts of shades of brown. Richly looks ensemble of white and wenge.
Classic kitchen in the premises ─ is always fashionable, stylish and actual.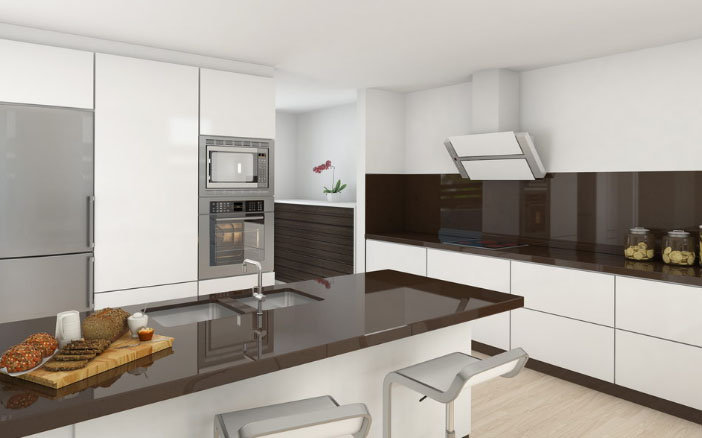 White headset in white kitchen, countertop and the wall of white color
Headsets can choose not only the white color. Use the entire range of shades of white: cream, Ivory, milk-white , pearlescent etc.
To white furniture in the kitchen the same color does not create skukota and sterility, in hospital ward, arrange the room properly.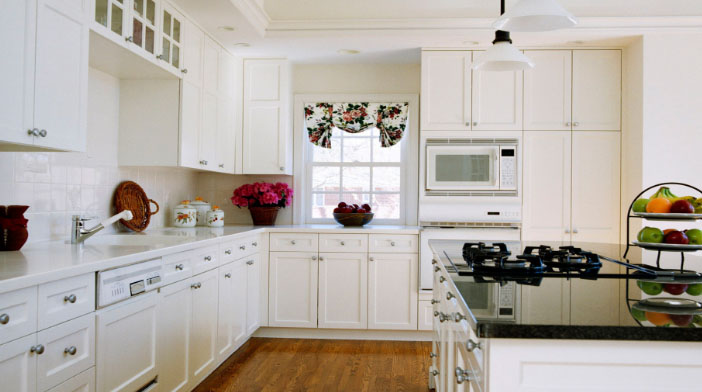 To start animate the interior with a kitchen apron. For his finish, use plaster, tiles, tile or mosaic. Then add these bright accents:
candlesticks;
dishes;
wall plates;
live plants in beautiful pots;
vases;
pictures and panels;
textile items.
With décor important not to overdo. There should prevail white and shades. Pile of colors and decorative fragments shows bad taste.