electric cookers: kinds, the best models
Buy high-quality electric stove in our time is not that difficult, like before. In the market you can find the different types of kitchen tiles, who compete in the technical filling, safe use and effectiveness of its work. Both from the variety to choose the best, and not to be mistaken, spending too much money for nothing? Today we take a closer look electric stoves, to look into the matter.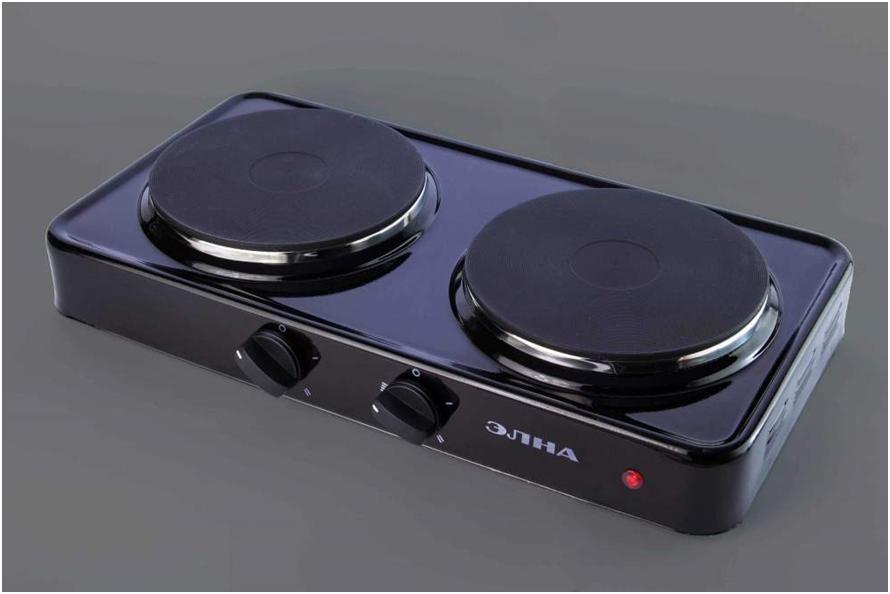 What are electric stoves?
To understand, what is your electrical needs, should understand, what they all differ from each other. People have long identified four main types, different work process, and this is how they look:
Heating elements - iron burners. most standard Cooktop option, which replaces the gas and immediately received great popularity. Usually, electric stoves with cast iron discs are considered one of the safest options in the plan, they are very resistant to various types of damage and are not afraid of corrosion. Besides, they are much cheaper, than other options, as they work on the simple principle of heating coils or disks, which may be equipped with sensors heating. There are also models, having a rapid heating element, that is, it turns out plate with one burner, having a rapid heating of 10 minutes.
Hi-Light - glass ceramic heaters. Here you can see already more advanced and expensive models of electric cookers with glass ceramic devices. The peculiarity of this species is extremely rapid heating and for each plate: it takes place within a few seconds, and the power can also be adjusted. Self heating process is due to the corrugated ribbons inside the elements.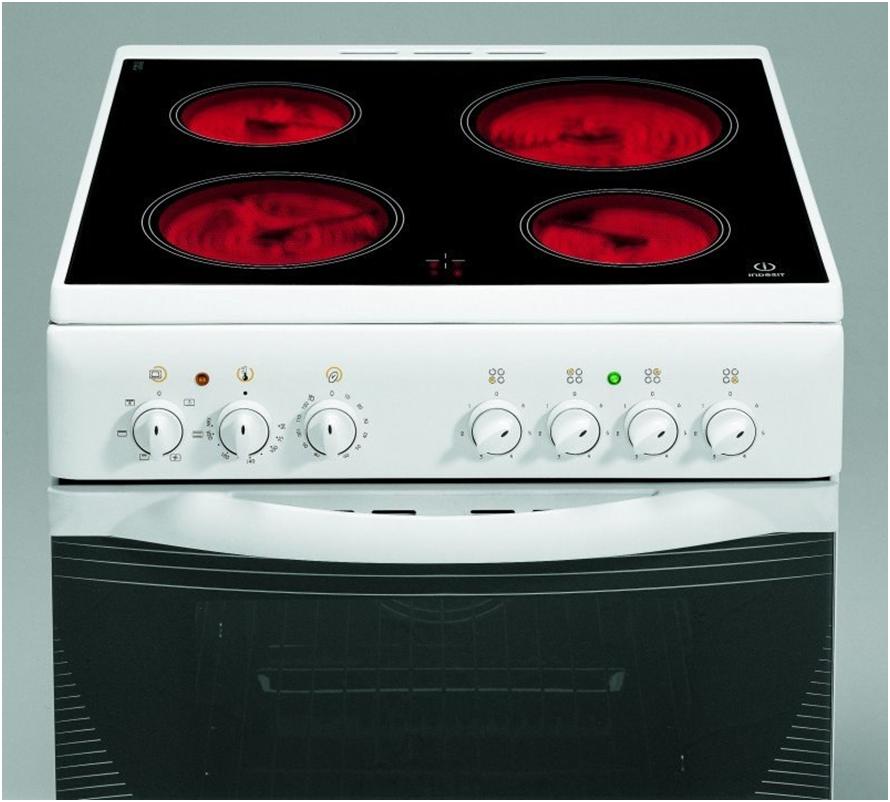 Halo-Light - Halogen spiral. Yet another very fast in heating burners are available for this type of electrotiles. They work due to halogen gas, and that he, heated, sharply allocates a significant amount of energy to heat. As well, how fast they heat, they quickly and cool down.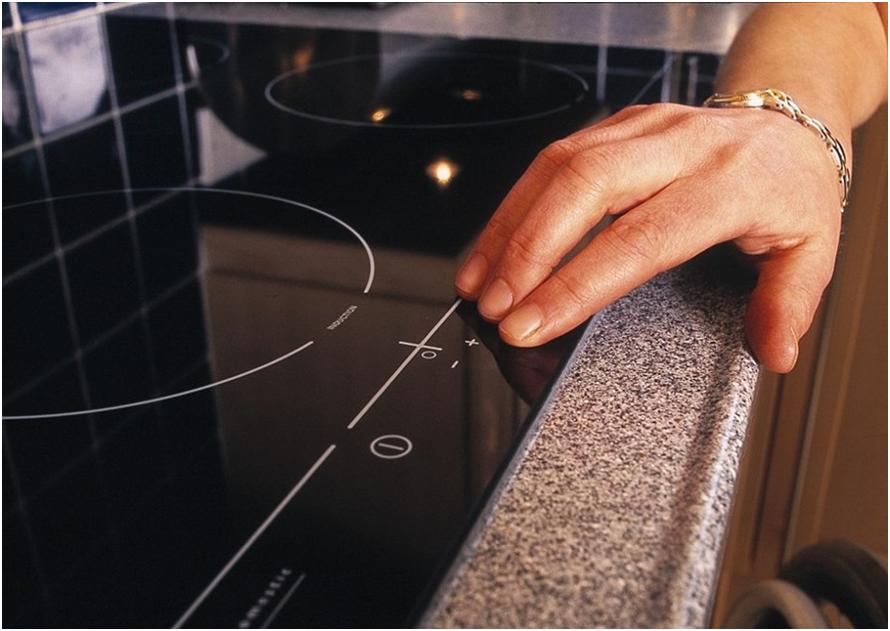 induction. These plates already distinguished on the basis of their work. I notice it is still possible, hand to operating burner: the plate is cold. The thing is, induction heaters that work directly with the bottom of dishes, heating it by physical reactions with certain materials. Unfortunately, for this you have to buy a special dish, but in return you get the safest electric stove from all other species. Induction heated tiles for about three minutes, that is much better, than gas equivalents. What is remarkable, Often, these models have hot plates of different shapes, which is very convenient for the preparation of different dishes.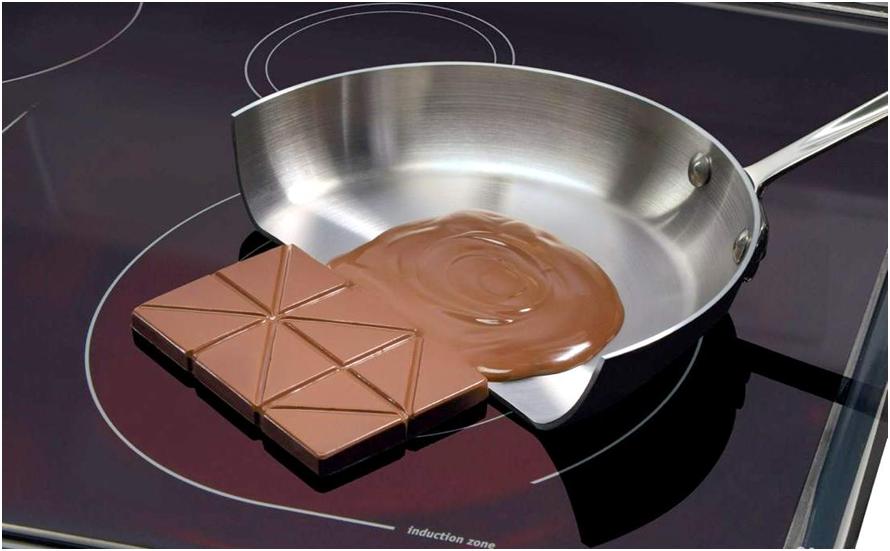 As you should choose a model?
There are some of the most important criteria, are worth paying attention to when choosing the most appropriate for your family and the kitchen model. Let's analyze each of them in order.
Type of electric
We have already watched, than each species is distinguished from each other, so you can have a rough idea, which one suits you the most. Summarize all of the above and make the right choice will help you this picture: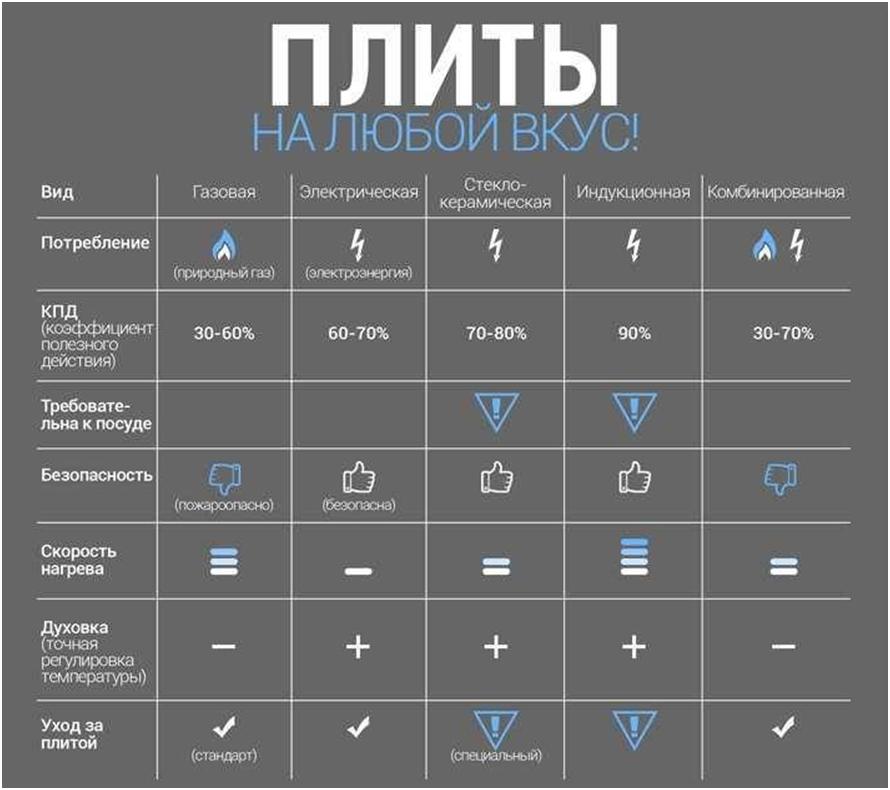 control type
hotplates management is divided into the mechanics and electronics. The first is familiar to us all in the classic gas or cast iron plate, and it looks like a volume button switches, triggering operation of a particular burner and supplying electricity. Besides, Oven also runs a separate button. The electric control is most often presented in the form of a touch screen, which has the same functional, as a mechanic, but can already show some values ​​and graphs: temperature, heating rate, operation time, etc..
the amount of energy
There is a whole classification, showing, how much electricity energy consumes a particular model. All of them are divided into seven different classes of the Latin alphabet from G to A. The closer to the letter A, the more economical in terms of this tile becomes. Especially fuel-efficient models are explained by individual pluri (A ++, A +). High consumption of a class tells, Such boards will quickly cool down and heat up as rapidly.
A variation of the oven
Typically, electric stoves are only two types of ovens: static and functional. About the first one can only say that, it is the most common oven, which occasionally has a grill function. The second type often operates via convection, that allows heat to be distributed throughout the oven. Such ovens are more suitable for baking, and can also be steamed and sometimes even faster defrost food from the freezer.
Some security measures
We have already talked about the safety and reliability of electric stoves, and this is indeed the case, because in comparison to gas, which can lead to a gas leak and an explosion at home, the dangers, which can bring electric cooker, not how big. For example, a heating element, It runs on electricity, can not set fire to any material or go out with a breath of wind. We can say that, electric that can cause a fire by a short circuit in the wiring, but electric stove double stove desktop against the same gas would ask the compliance of far less precautions.
The best models and their prices
we, finally, We can go to the most important part of this article, and show you the best representatives of the world of electric stoves. All three models are the most popular in its price category, and they really deserve your attention:
Flame AE1406-W
Budget electric cooker, a burner which has a quick warm-up function. It can also be found in the oven. Work zone with applied enamel adequately perform their jobs, as well as cast iron burners, and the outlook for its price very worthy. The kit can be found Oven.
price: 7500 rubles.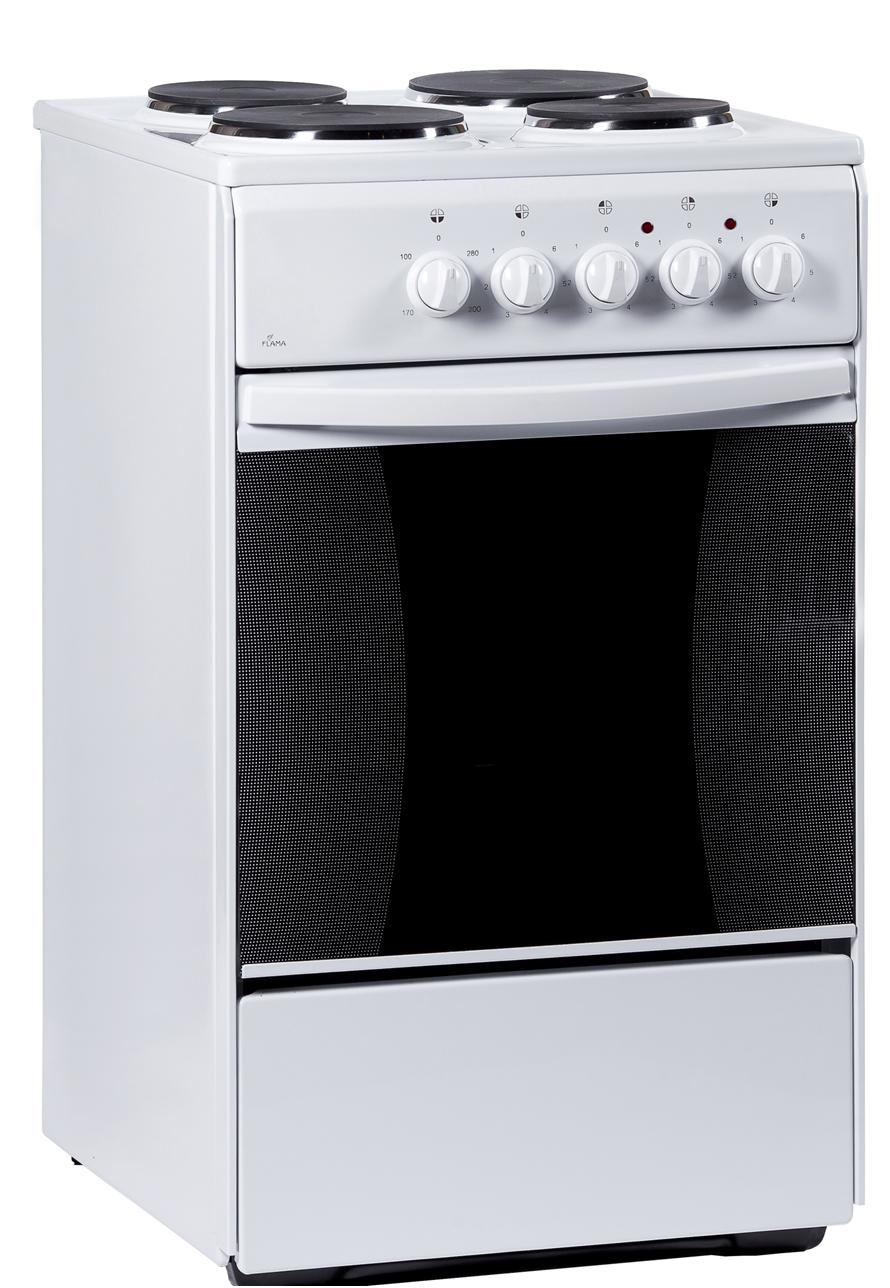 Darina B EC331 606 W
Electric glass ceramic with a special residual heat panel, rapid heating and double-layer burners oven with holders. She is considered a leader in the design and quality of its assembly of all in its price category. But the most important advantage for its ordinary housewife becomes a roomy drawer for pots.
price: 12800 rubles.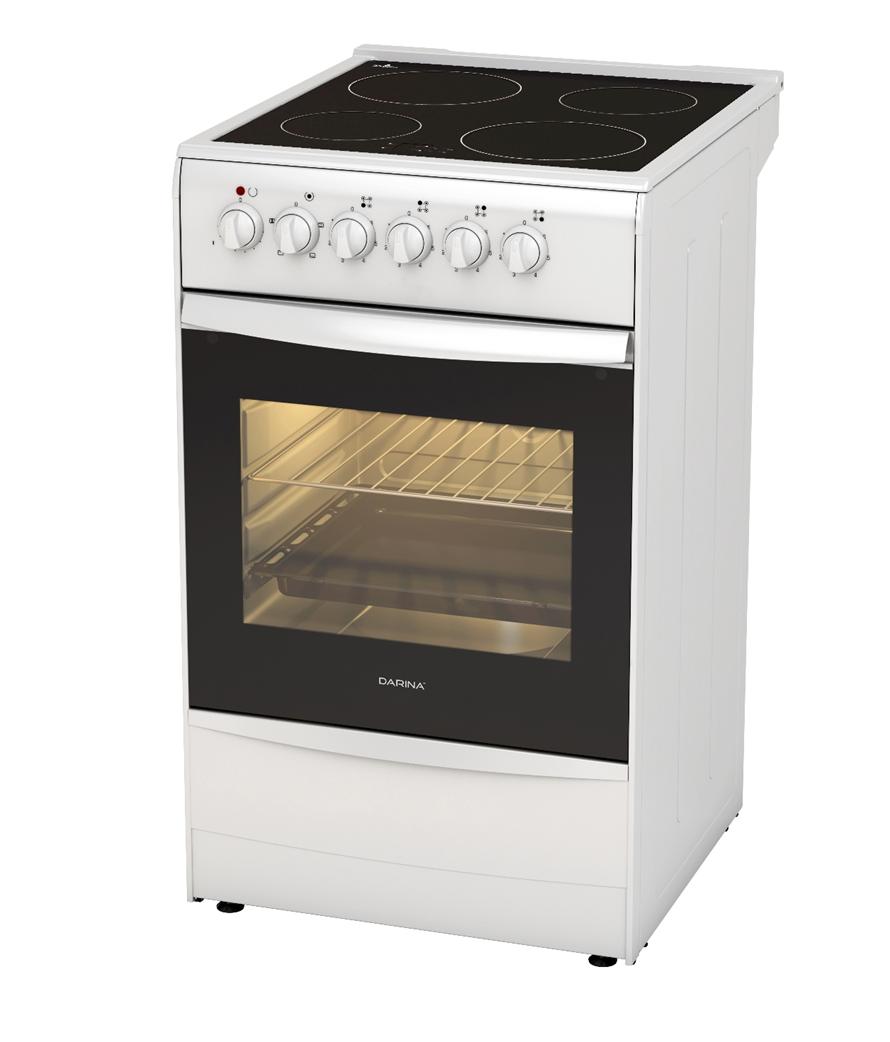 Hansa FCIW53800
Induction electric cooker, which is incredibly easy to use. It has a fairly capacious oven with grill and convection function. Also, the screen can be made for the indication of residual heat. In addition, it has an automatic shutdown. Ie tiles, one burner which put a special dish, It will only work, when the bottom of the dish comes in contact with the heating elements, which allows it to fine save energy.
price: 37800 rubles.