Orange kitchen interior - a modern version of the design
Kitchen - central room in the house, even if it takes the smallest of residential areas. When planning a kitchen mess, experts recommend to be careful pre-design project, as this room should be functional, comfortable and pleasant for perception. Save in the kitchen can not be, because it intensively operated daily, and the following modifications, will be carried out not soon. Orange color in the interior cuisine is today considered the most positive, but it requires a competent selection of finishing materials, decor and accessories.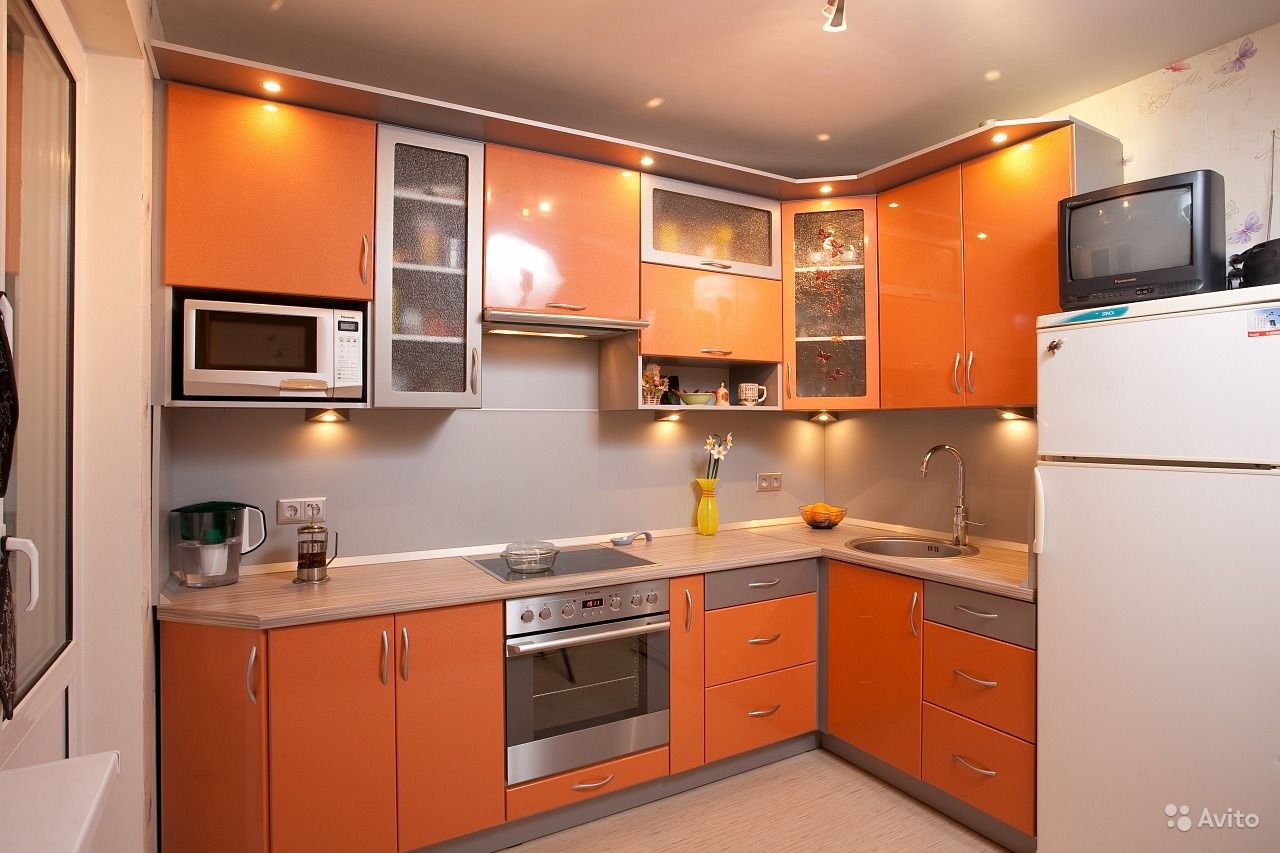 The importance of good design
kitchen design is to measure the external image of the premises and a detailed description of structures, materials and arrangement of furniture. Creating a kitchen design, designers take into account the following factors:
area and configuration space;
the degree of natural lighting;
presence speakers Communications (tubes, boilers, water heaters, radiators);
the number of people in the family;
customer requirements in terms of color and design of the kitchen units;
budget.
orange interior, like any other will be considered successful, when it organically combines color, furniture and appliances are located according to the rules of ergonomics. For housewives important and practical interior side, When the facades are well cleaned, wallpaper wash, floor always seems clean, and on the table are not visible to the slightest pollution. To the orange kitchen interior I enjoy every day, it is important to understand the combination of colors, explore the nuances of ergonomics and be aware of the finishing materials of new products.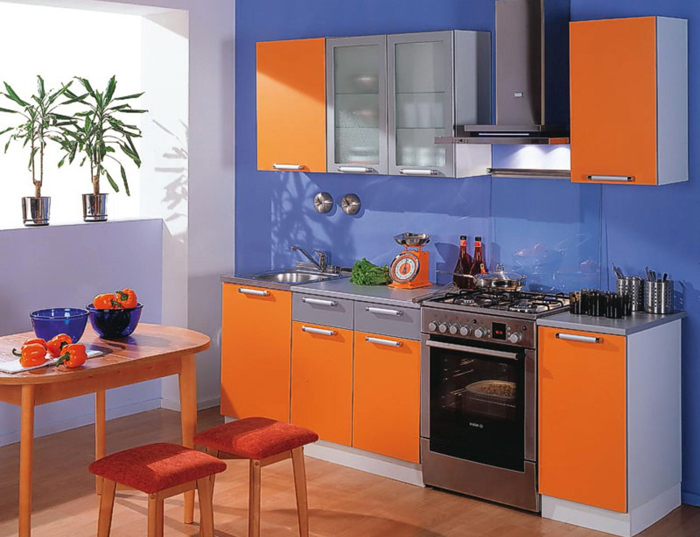 interior Development
Kitchen - is the abundance of equipment and storage systems. So that boxes can fit all kitchen utensils, foods and spices, you need to correctly calculate the size of the headset, and internal filling options, including accessories.
Order or buy kitchen can be of several types.
Straight, when the kitchen is along one wall.
Angular or L-shaped, when the boxes are placed along two perpendicular walls.
U-shaped arrangement with the headset along three walls of the room.
Peninsular protrusion, which is used as a table or bar.
The island with a separate design-island, serving table and storage area.
Orange kitchen in the interior can be of any kind, Only technique is better to buy an embedded, that it is organically merged with the suite. Gas or electric cooktop and the oven can not be placed next to the refrigerator and sink. This is contrary to the rules of safe operation and ergonomics. Between them must be small working areas 60-80 cm.
If the kitchen is planned a washing machine and dishwasher, they should be located next to the relevant communications in the "wet zone". In parts it kitchens, where direct food preparation will take place, top boxes can be replaced with open shelves with spices and other necessary items. It does not have to constantly open and close cabinets, to get the desired product. In addition, each family has a beautiful container for tea, coffee, spice, Tea kettles and favorite dishes, which are also decorative objects.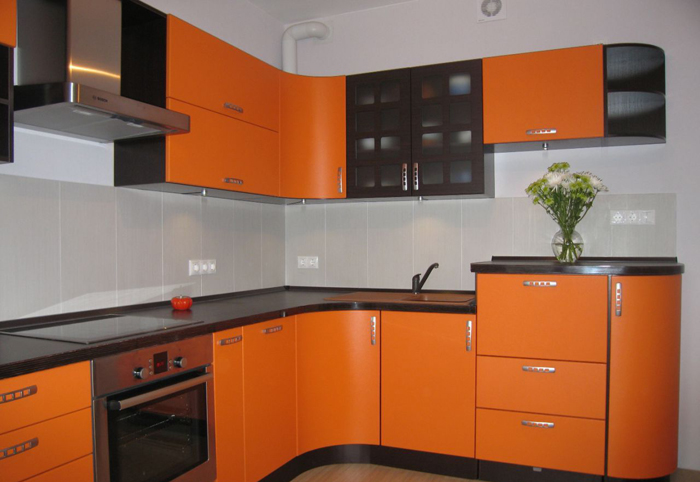 The kitchen will be always look neat, if the interior materials are chosen correctly. Repairs begin with the floor and walls. Floor you can pick up non-staining porcelain, which is characterized by durability and ease of cleaning. Walls paste over with cleaning vinyl wallpaper or painted with latex red, which is suitable for cleaning. Orange color in the kitchen can be used in the facades of the kitchen drawers and repeated in the color of the walls, but have a pattern or texture expressed.
A color scheme
What color blends orange? This color is so varied in their shades, that can be combined with most of the warm and cold colors of the spectrum. The most striking is considered mandarin, calmest - apricot. Intermediate role played by ocher color, copper, bronze, tyerrakota. Here's successful color relationships:
orange - brown (chocolate);
Orange - White (lactic);
Tangerine - Gray;
orange - lime;
Bright orange - violet.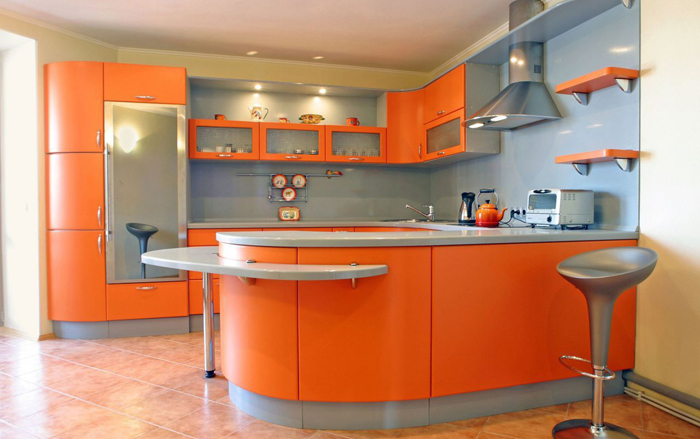 Orange combined with honey, lemon, beige, black. The more intense the main color in the room, the less it should be, but if you plan to repeat it in other subjects decor, their tone to be brighter. The combination of colors and orange will be harmonious if, if present in the interior of no more than three. Before purchasing building materials and order kitchen, must be checked for compatibility main colors of the interior. To do this, you can take three samples of colors and planned to place next to each other. If the combination of orange with other colors like and does not cause negative, you can begin to repair. Orange-brown color of the kitchen is considered to be the most successful and is not negotiable.
A bit of furniture
Orange kitchen can be easily purchased for floor area of ​​not less than 12 square meters. For the tiny kitchen is better to choose less intense tone, eg, white, which makes the room more and not annoying brightness. Here, the central part may be orange refrigerator. Even more interesting idea is orange furniture, made of transparent plastic or glass. For a small kitchen is ideal dining area with transparent colorful chairs. They do not clutter up the space, They look stylish and are inexpensive.
Brown-orange kitchen includes a number of dining area in the same brown. If the floor area greater 16 square meters, or combined with living room, quite appropriate orange sofa in interior. The décor of this piece of furniture are the chocolate, mustard, yellow or turquoise cushions. There is one very clear rule: if kitchen fronts made in bright orange embodiment, repeat this color can only in very small items of decoration. This vase, cup, frame small paintings, napkins on the table, lamp shade, flower pots.
Kitchen orange color in the interior - it is positive all year round. This bright room nicely prepare food, receive guests and just cheer for your morning coffee. Taking into account the rules of color combinations, correctly choosing accessories and planning ergonomic arrangement of all objects in the room, you can achieve a unique ratio of practicality, functionality and beauty, which tends modern man.