Making small kitchen design: Is it possible to visually enlarge the area
Since the creation of Khrushchev in many apartments kitchen area still remains not very big. In such conditions, tenants have to search options, that allow to obtain a functional and comfortable space and additionally visually enlarge the kitchen.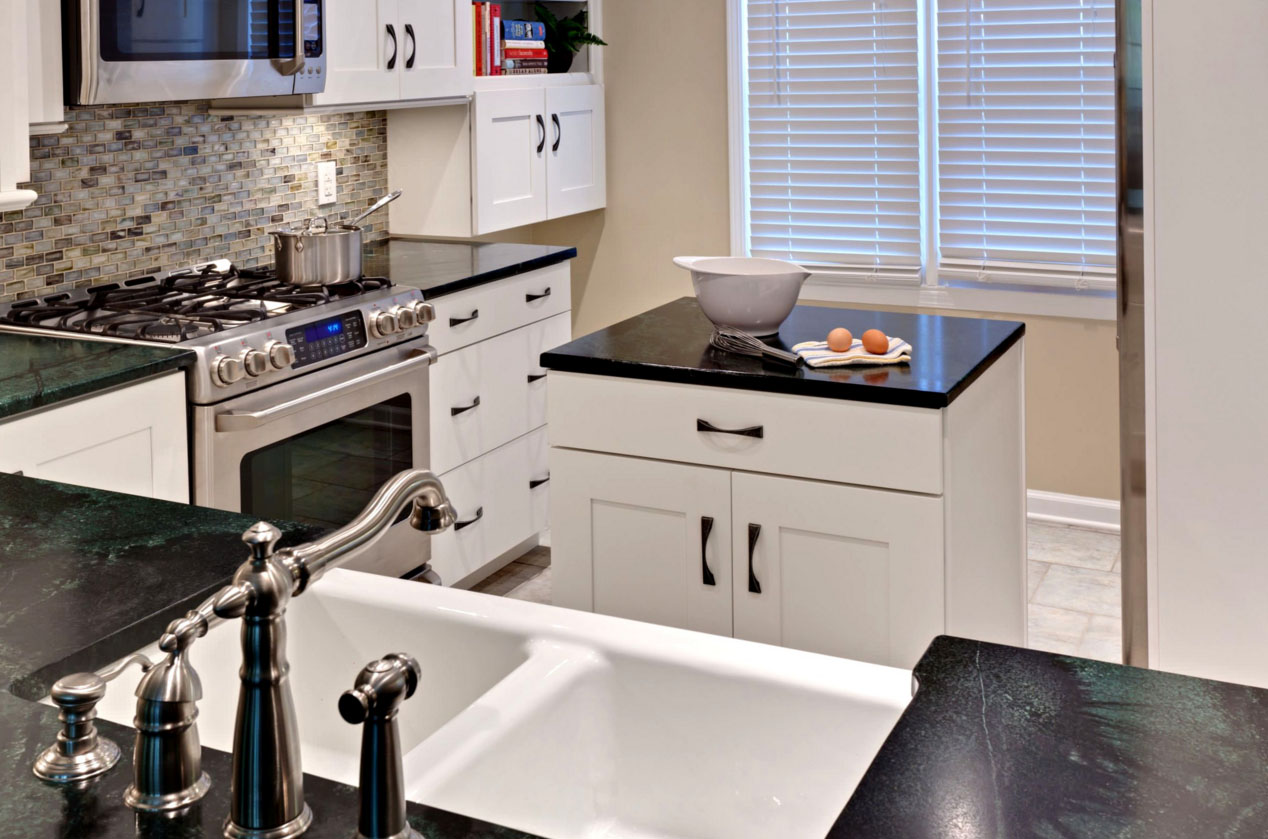 Methods for optimizing kitchen space and a lot of the best, when they are used in a comprehensive and consistent. Through the use of every possible kitchen in small sizes, the design of which requires a special approach, really it becomes convenient and visually larger. Let us consider in further detail the most important aspects of how to design a small kitchen and give some useful tips in this area.
The layout and interior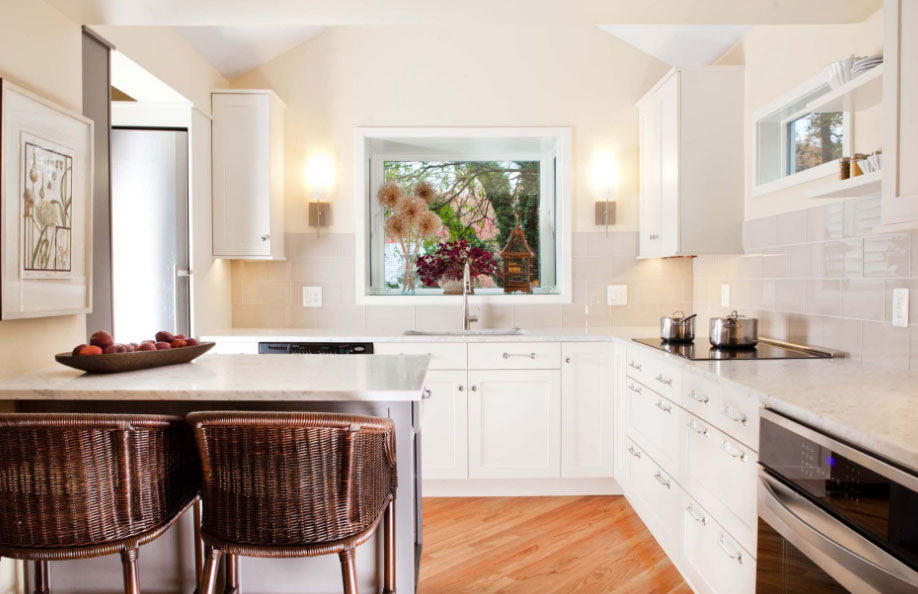 The interior of the small size of the kitchen to start to equip with the definition of the layout and choice of filling space. In order to plan a small kitchen can be useful Special software, which on this period a lot of freely available, although it is possible to draw the layout and elementary paper sizes with the counting.
Design and Repair
In some kitchens are sometimes set washing machine or some additional appliances, but in this embodiment, let us consider the minimum number of devices, since little direct kitchen require space-saving all available means.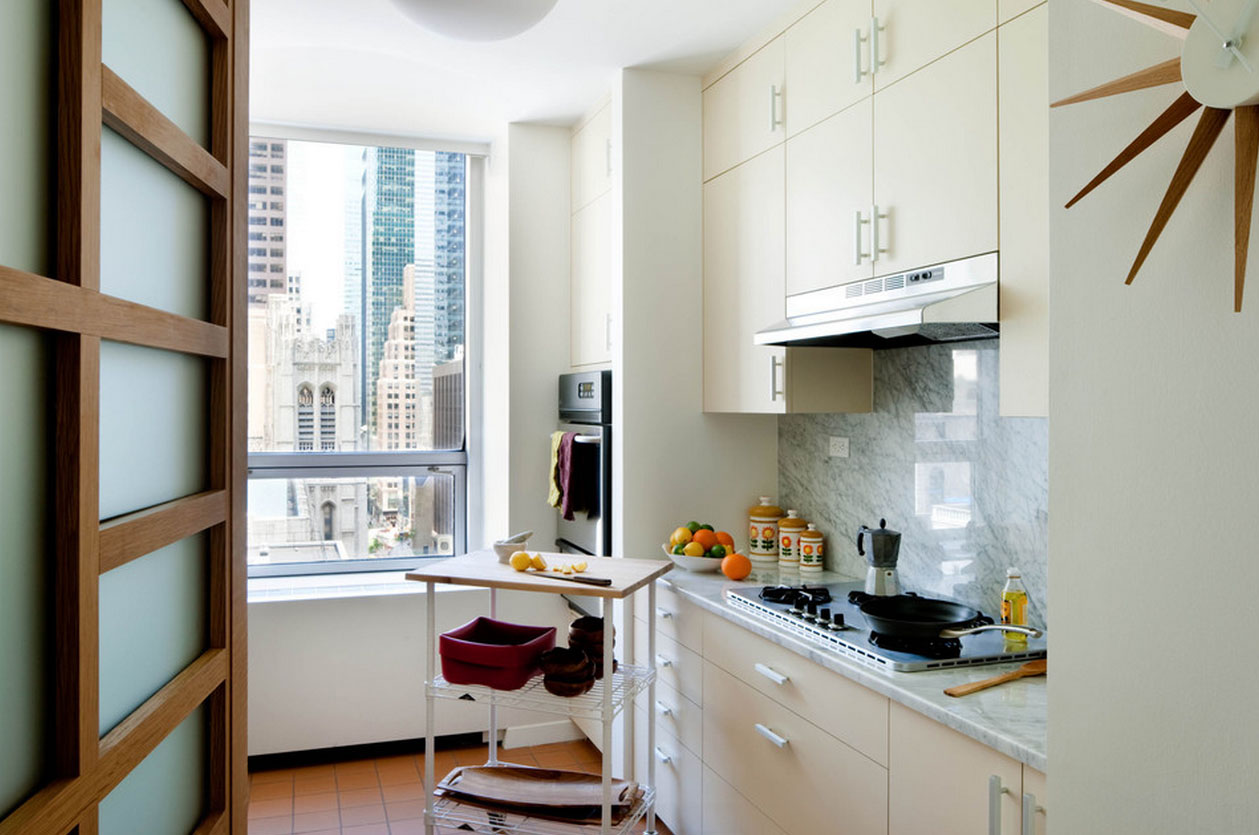 The first of these ways is to use built-in appliances, in particular cookers and ovens. Not difficult to find this no more than fifty centimeters in size appliances.
In addition to the basic components of plates of kitchen units are a fridge and sink, and then there is a need to organize them with stove to some song. Usually, use planning:
In the first embodiment, the interior of the kitchen listed components are mounted along one wall and interspersed worktops and cupboards surface. In the second embodiment usually sink installed with angle, either on one wall, a refrigerator and stove on the other wall. Which plan to choose depends on your particular situation, here should take into account the location of doors and windows, free area, and some other details.
In the process of planning it is useful to consider the possibility of using the windowsill as an extra worktop or functional space, where you rearrange items from countertops. Windowsill always possible to slightly increase or plan kitchen with additional shelves on it.
Another option to increase the space is the absence of the front door as the interior design small kitchen, or the use of a sliding door, roller blinds, which occupy significantly less than the standard door.
Furniture for a small kitchen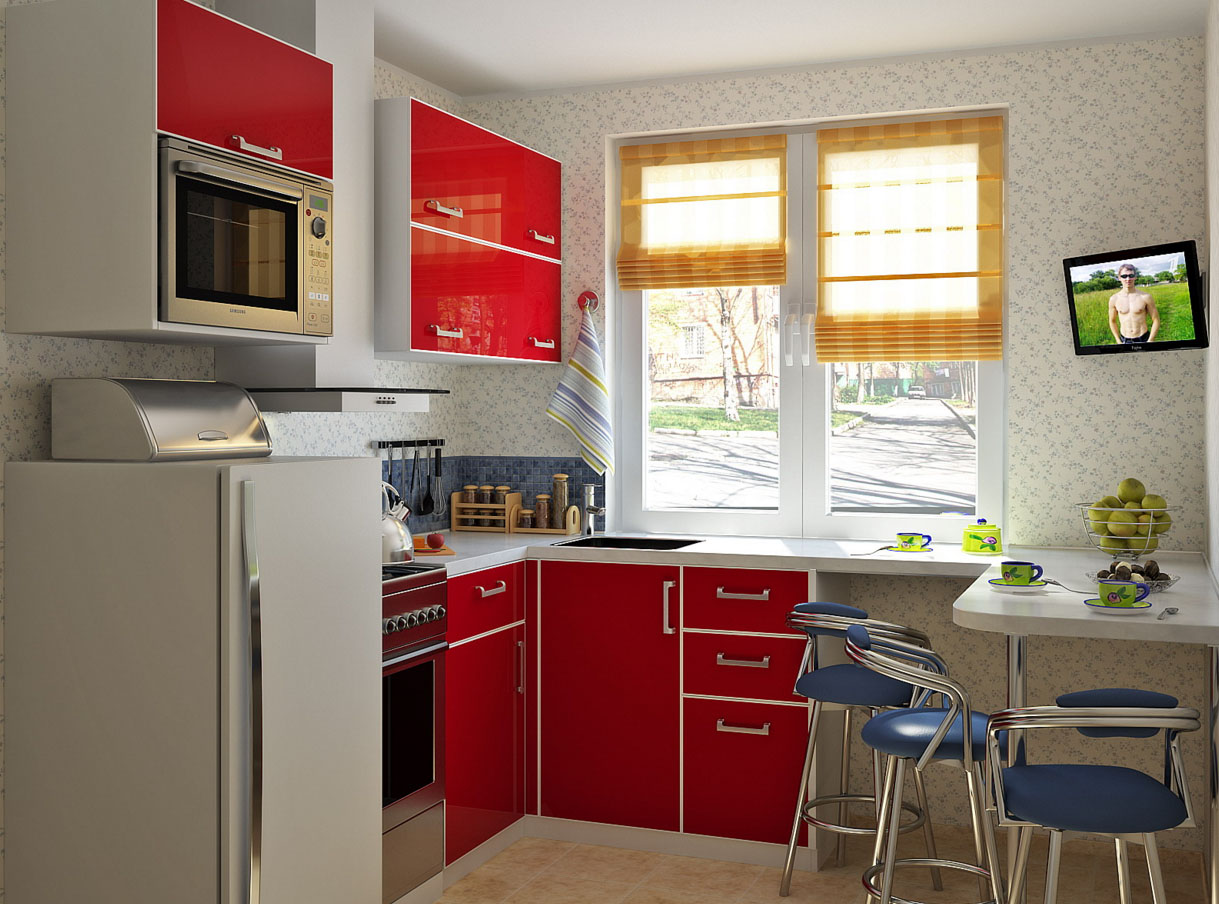 Registration small kitchen impossible without cabinet. Here it is necessary first of all to consider the wall cabinets and all kinds of furniture options like kitchen mezzanine.
Modern design of a small kitchen provides for possession of small amounts of cooking utensils. However, cutlery, device for storing and cooking, one way or another will be required and, to avoid wasting space on them where you go, useful to use the space at the top, ie in the wall cabinet. Take a longer model with a large interior space.
In the lower cabinets it is advisable to make a relatively small and narrow doors, which will take less "land" when opening. By the way, current manufacturers sometimes offer interesting options for door mechanisms is to save space, and there is plenty to choose from.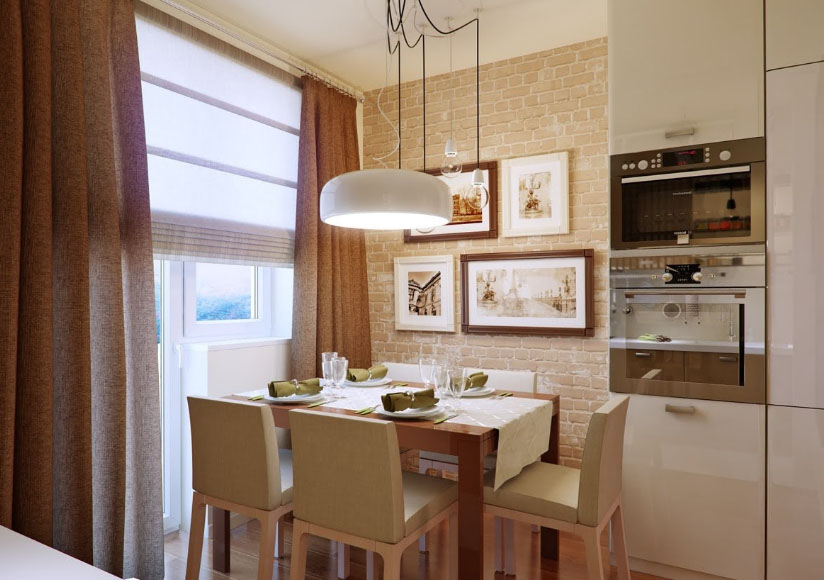 Almost always, the small size kitchen design includes a table. Here is an opportunity to figure out something original and compact. You do not need to purchase standard and bulky table, which will require you to spend a significant part of the kitchen space.
Better to consider this option as a trim table, which develops along the wall, by the way, and chairs for this table can be foldable, reclining on wall. Such mechanisms manufacturers offer many, in terms of ease and comfort he was not inferior to standard furniture. In this case, when folded they take up almost no kitchen area and you have a much greater scope.
Appearance and accessories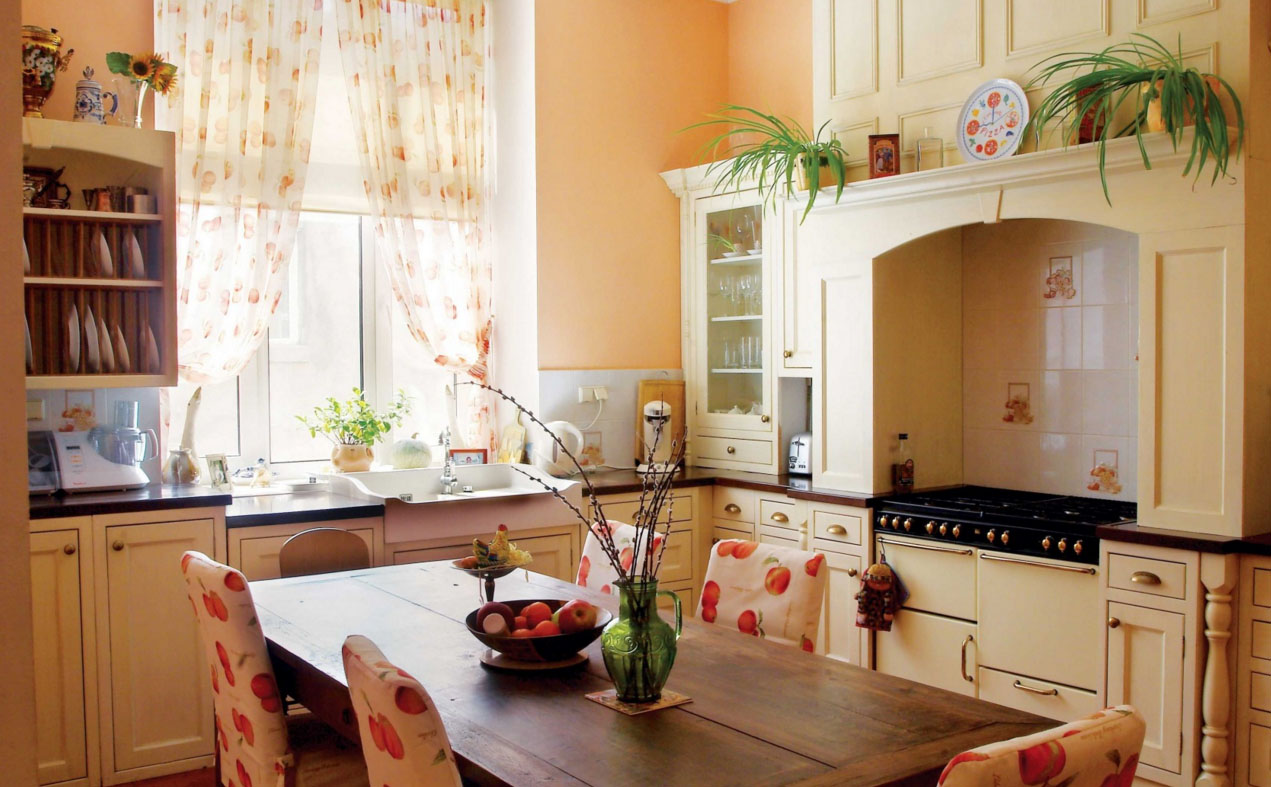 Through the use of various add-ons, refreshing the interior of a small kitchen, and the creation of a specific visual effect room is starting to look more spacious. Accessories in turn provide additional functionality and in addition to this are the elements of style.
Add a little cute and attractive interior is always a variety of small size kitchen, so the room will be more original.
Color solution of a small kitchen
Decorating a small kitchen is able to visually increase the space, if you use light colors. wall, kitchen apron, countertops make optimal:
white;
beige;
in the colors of light wood.
There are other variants of the kitchen design, but anyway it comes to bright colors.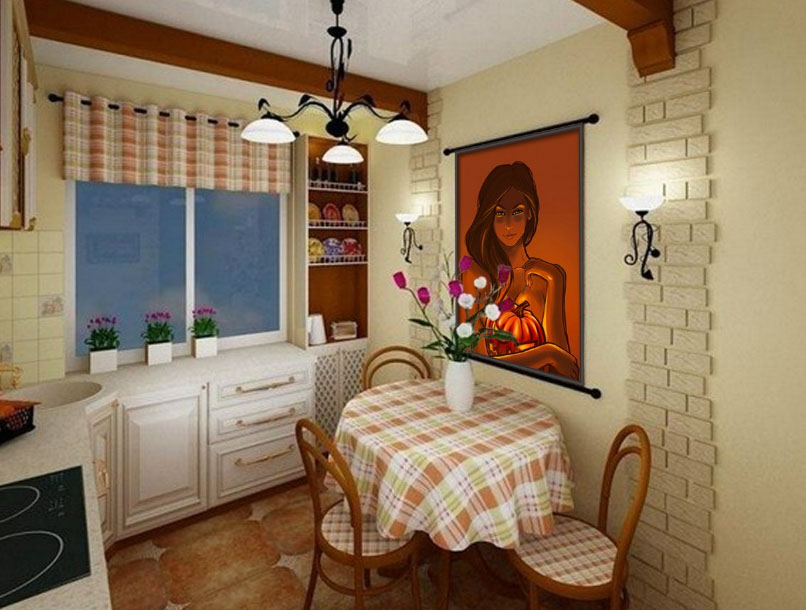 Diversify their always possible some color spots, which may be present in the form of various elements. decorative plates, bright toaster or something like that - these details add brightness and saturation. In general, useful to use different color spots to make the interior of a small kitchen more enjoyable.
Flower is better to choose the so-called color activity, which are more associated with positive emotions. In particular the possibility to use the following color blotches:
Orange;
red (not overly bright);
light yellow.
Blue and green color and a variety of options faded colors in kitchen area, the design of which has to warm tones, usually, are not used.
In order to further increase the space can be used shiny and reflective surface. Somewhere nice look mirror surfaces, which provide a visual increase in space.
Textile
The main element of kitchen textiles are, perhaps, blinds or curtains. Design and interior of a small kitchen to make out better for easier Mercer, ie not to choose some heavy curtains or something similar, but preferring the lung tissue. Sometimes it is advisable to generally choose blinds or something similar.
A useful kitchen accessories should be noted a variety of rails, which can be used as shelves and have any hooks or other fastening. Such elements are useful to establish free wall and be used for different storage jars for spices or the like. I hope you've learned a lot about the design of a small kitchen.