Kitchen in white and orange colors— a lot of positive
Want to cheer up a person - Stretch it ripe orange. He is rich orange color. Orange color solar positive - an essential finishing touch to give the interior a festive, warm mood. And it stimulates the appetite and makes even the most unpretentious dish - fried egg, eg, original flavor. Besides, Orange - the color of energetic and communicative people. And he belongs in the kitchen. Orange kitchen - kitchen, where all delicious, never boring and always interesting.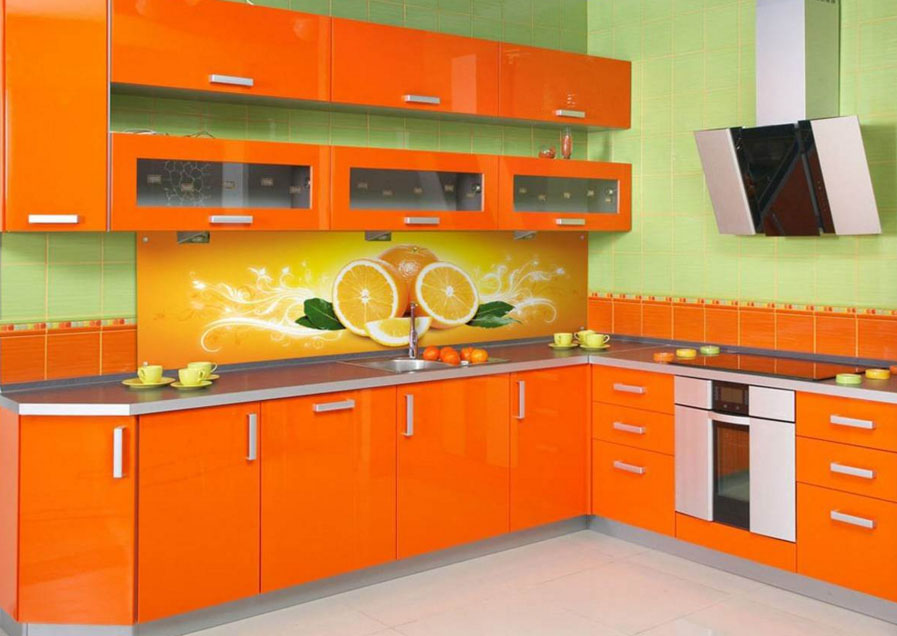 It is important not to crush the interior design of a positive. Good useful measure, that it does not collide with the legs and not overdrive. Color complement one another, combine: orange and white, orange and marshmallow, tangerine and gray interspersed with black - many options. Find the golden mean - interior plays, Transmitting color - to spoil the mood yourself and others. This is the case, when the correct combination has a leading value.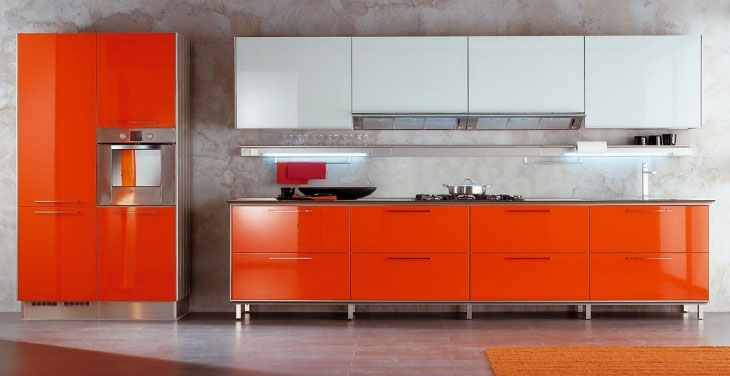 The color shades of the game
To begin to understand what is orange. The most recognizable shades:
orange peel;
dark tangerine;
the color of a ripe melon;
sunny yellow;
signal orange;
luminous bright orange;
carrot;
Brilliant orange-yellow;
red-brown-orange;
cinnabar;
pumpkin;
honeyed;
amber;
red sand;
tyerrakotovyi;
desert sand;
coral;
pearl orange;
color flea abdomen (deep orange transition in cherry brown);
salmon;
mango;
tomato and orange;
rusty-brown;
ocher
copper;
caramel;
apricot.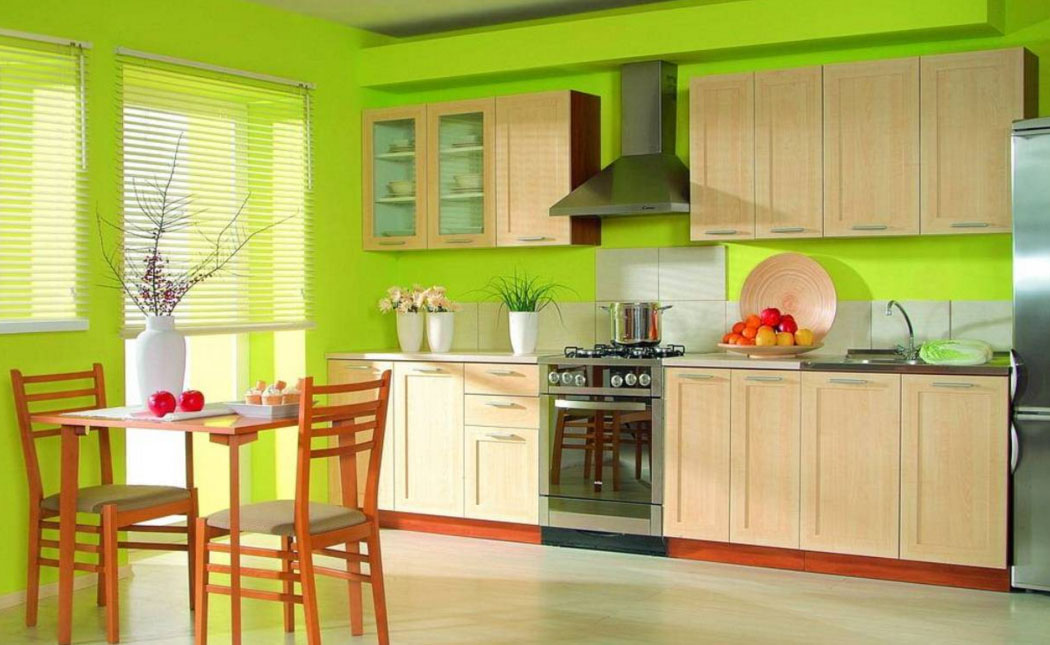 Each further dissipated to midtone and halftone. Combined with an infinite number of color palettes. design orange kitchen It has hundreds of succulent, gentle, bright, deliberately solemn, stylishly-restrained, stressed-classical variations.
Style, creativity, harmony orange interior
White, as dominant and secondary colors, - faithful friend orange. He emphasizes it is beneficial, stresses, focuses, It gives ease. So, Juicy orange shades perceived as a subconscious call signal activity: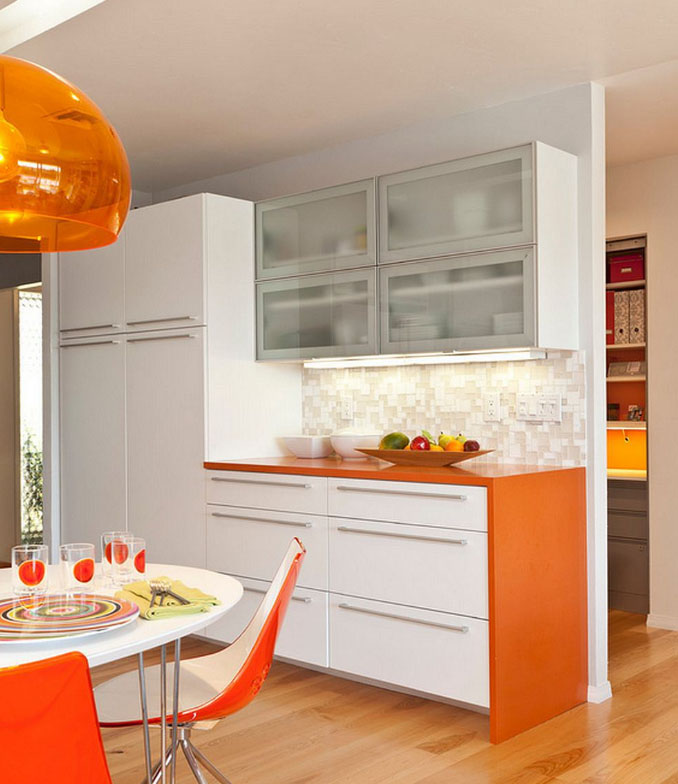 accelerated heartbeat;
breathing becomes more frequent;
increases the flow of blood;
liberating emotional stiffness;
activates digestion (and often hungry and hearty).
White-neutralizing stabilizing:
free from excesses;
removes obstacles to understanding major and minor;
sweeps away conventions;
stabilizes the imbalance;
It makes finding new ways to solve problems, enhances sensations.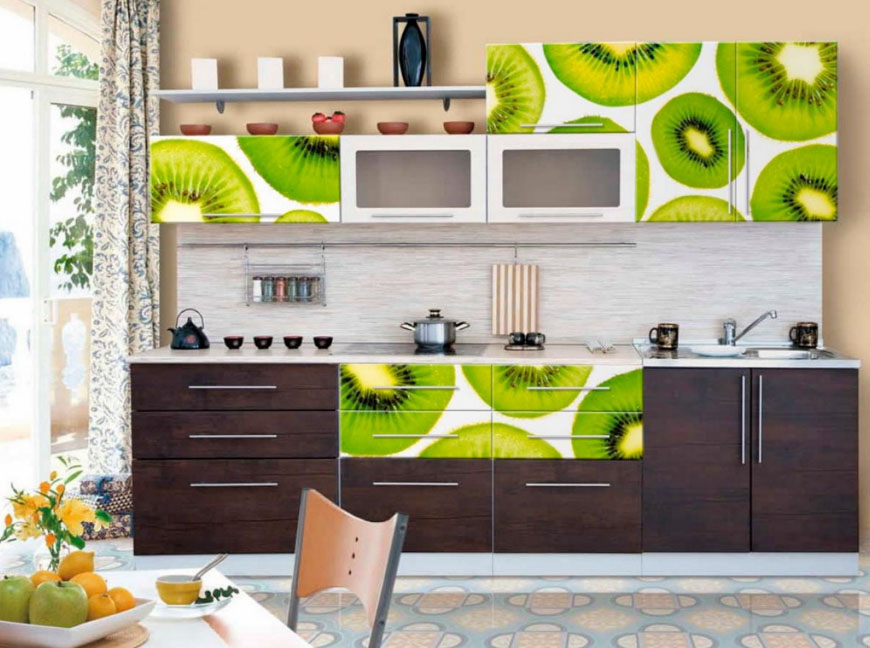 Besides, White allows you to dilute the interesting interior accent colors antipode, balancing the sharpness or deliberately emphasizing it - note the stylish creative. Add seasoned classic style ultra-modern motifs, rapid dynamic spirit. It extends the application of the material, textiles, accessories in the exterior and interior of the minimum and the enormous size. Little orange kitchen, which will be dominated by white background as much as possible and transformed visually expand, if instead of the usual set of furniture
the bar, that will be used as a kitchen table and a place to rest, active communication;
use bar stools.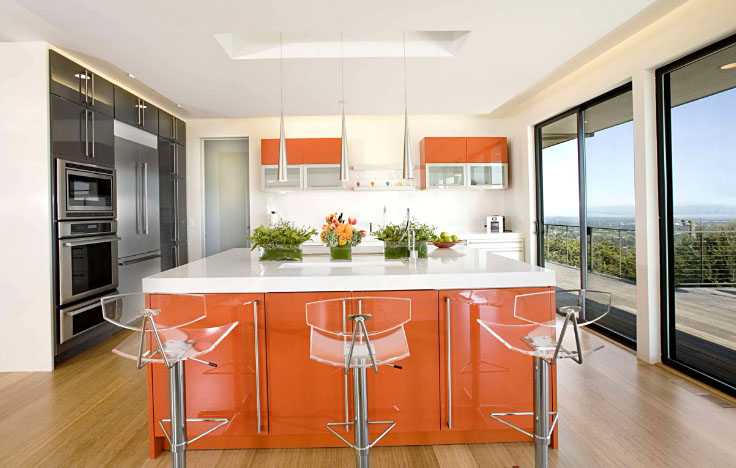 Variations kitchen design in white and orange color
If you want to add vigor kitchen, fit dynamic white-orange kitchen:
orange wall (you can make the background only the central wall);
White kitchen - ledges, parallel to intrude ladder;
bright orange countertop passing in the bar on a white basis;
apron above the working area on the half-tone softer countertops;
floor color light cherry wenge.
And spectacular dark accents - anthracite accessories on white cabinets, black bar stool.
Council: interesting design effect - standing next to black and chair bar Orange, or black and white bar stool. the main thing, that they are the same type of configuration and material, for example plastic.
The combination with a black apron, gray countertop, green wallpaper
If you closer soothing colors, give preference to the orange and white kitchen, with dominant gray shade:
gray (possibly metallized) wall;
Dome steel hood with glass apron panel;
pale peach apron;
orange and white built-in or modular kitchen (upper cabinets orange over white, lower - white on orange);
dark peach half (laminate);
chrome fittings on furniture (Handles);
pyramid-shaped bar with a gray granite worktop;
bar chrome tube (from floor to ceiling) with metal and glass in one piece and mesh shelves, attachments holders for wineglasses, or a trapezoidal wire in a daisy bottle rack
Metal bar stools.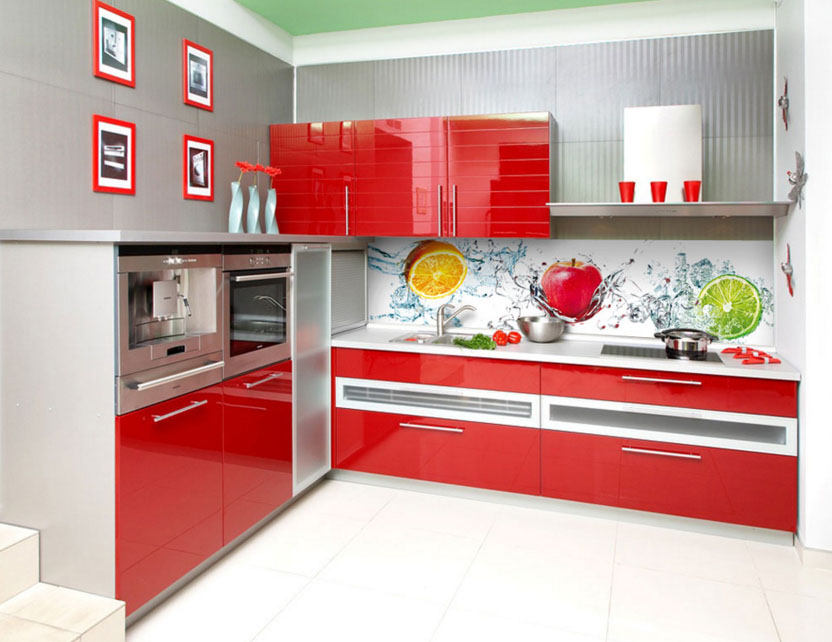 Council: It looks interesting combination of chairs on the standard four legs and one leg for support with expressive footrest
You do not recognize any standards - Use bold splashes of contrasting colors in the form of accessories, decorations:
transparent glass and glossy-matte figurines;
ceramic figurines in ethnic style;
color photos in diversified one framework;
blurred picture with picture and clear lines;
pillows in different shades of orange and white and gray;
miniature bas-relief;
bar stools from the unequal material and various configurations (chair-wine glass, metal and plastic, plastic chair with long legs and a deep back, metal chair with elements artificial patina or rust on forged flowery legs and upholstered seat of twill, wooden chair, stool).
Each item will be appropriate and will emphasize the individuality of the exclusive interior.
You can povarirovat and combination of materials for window decorations. fits the, what you like:
basket;
sitec;
linen;
silk;
bamboo;
organza;
jalousie;
Roman and Austrian blinds.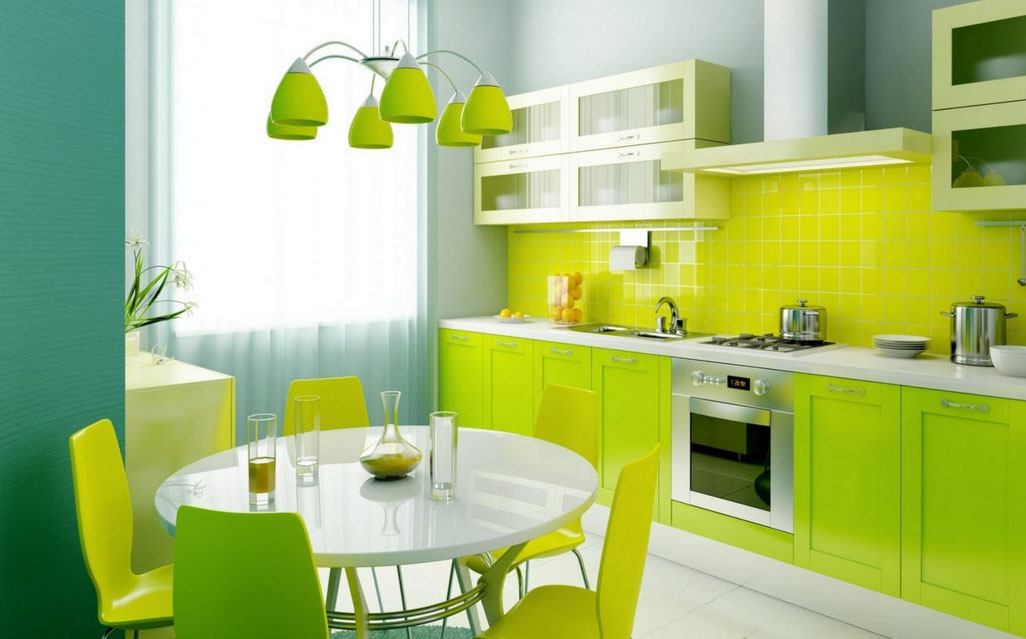 by the way, orange curtains in the interior may be the only bright spot for the kitchen, with dominant white color. Hang them - the interior transformed, become emotionally richer, removing excess white bitterness dominant.
What should be the bottom and top
Another interesting to check the working area. Apron for Orange kitchen can be any:
matte and glossy tiles;
plastic;
bung;
Rogoza;
processed and wild brick;
MDF panels;
color print;
mosaic;
glass with floral and animal prints.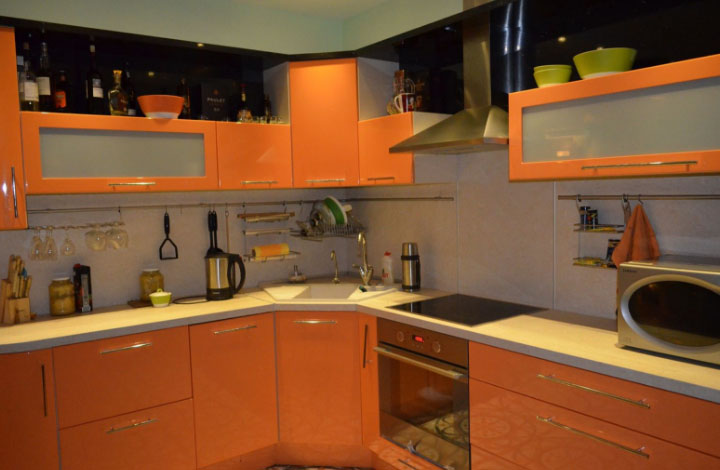 The choice depends on the color scale, mood and wallet sizes. Orange white kitchen loyal to any budget.
They have only a small nuance: if you care about your figure, saturated orange color should be replaced by muted, gentle - it excites the appetite. Here's a she, white-orange kitchen.