Criteria for selection of the apron for a white kitchen: 5 design secrets
White kitchen sets look graceful and elegant. White is a classic color, suitable for any flat finish. But to buy a set and not enough to paint the walls. Important role in the kitchen removed apron - protective panel from the water and hot temperature. What better apron combined with snow-white furniture, tell our article.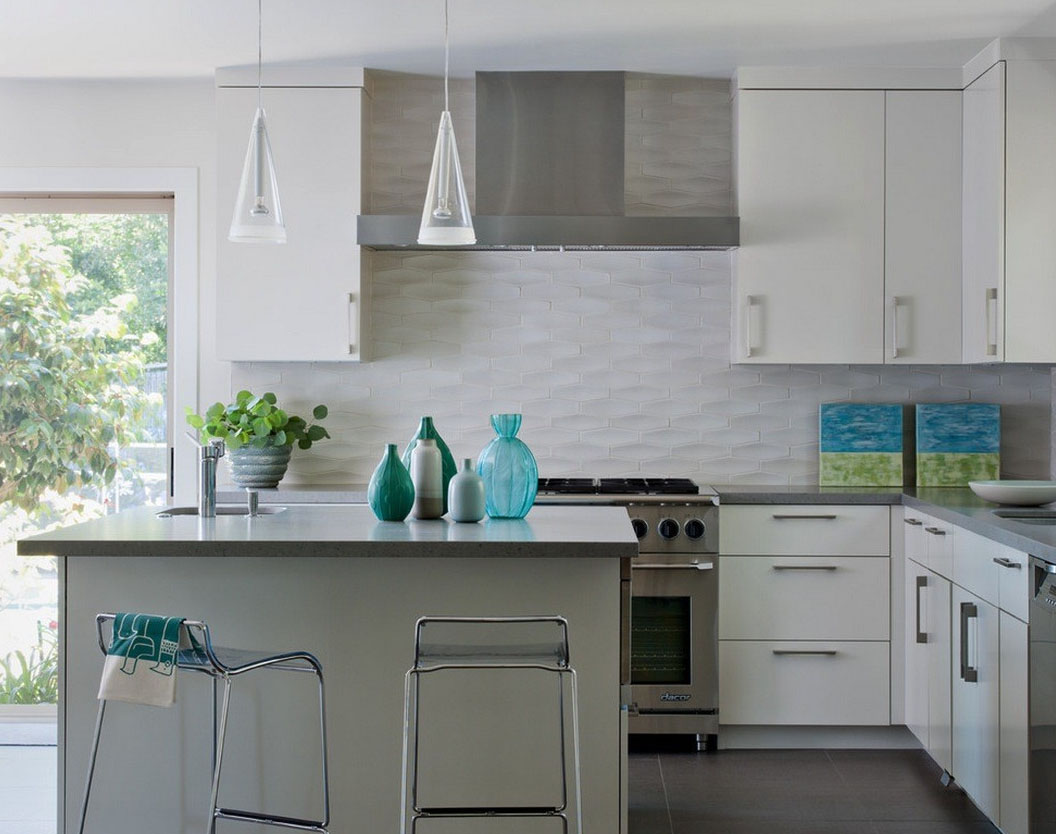 Ceramic tile
Ceramic tiles - one material for manufacturing protective panels. It differs fortress, but just looks and outstanding. But, However, Most apron is made of this material.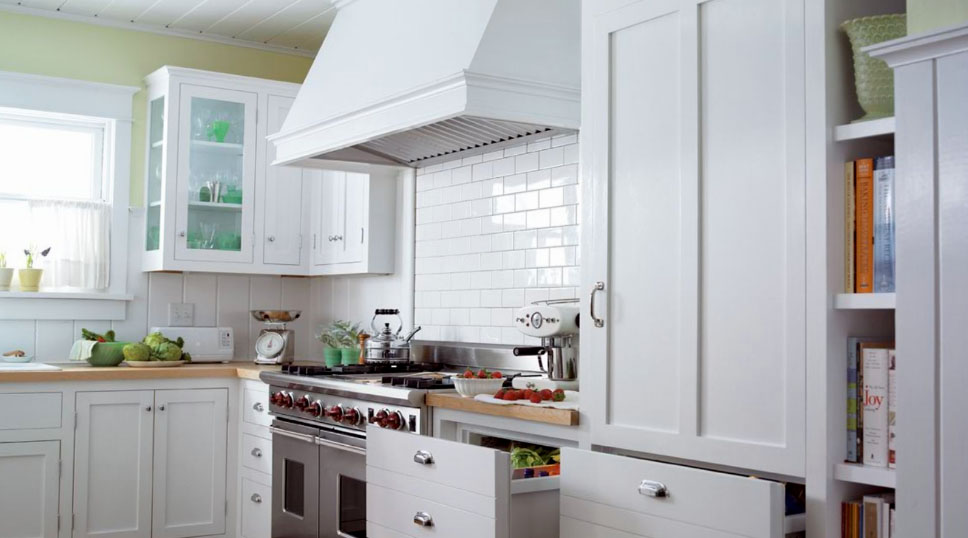 Many people believe, that the pure white tiles with white kitchen set looks amazing. But designers do not recommend combining them together with white finish walls. The space will be discharged. If desired to make the protective zone of the white ceramic, selected tile on an apron for a modern kitchen with an ornament or pattern. White glossy tiles great headset in a modern style, and white ceramic tiles with a matte shade is suitable for kitchens in different styles. According to the designer, white tile for the kitchen - a versatile option. Light color blends with all shades, especially black. Therefore, if the set in black and white, then allocate a protection zone better ceramics without additional ornaments. When pure white headset selected tiles with decorative elements.
If desired, highlight white ceramic protective zone can enjoy designer "secrets":
Материал с орнаментом кирпичной кладки подчеркнёт оригинальность гарнитура

in the style of Provence.
Tile, imitating a wooden array is combined with classic furnishings.
Ceramics natural stone, such as marble or granite organically fit into the modern interior.
The original pattern "crocodile skin". It looks expensive and stylish.
Furniture in high-tech style is used tiles, imitating metal.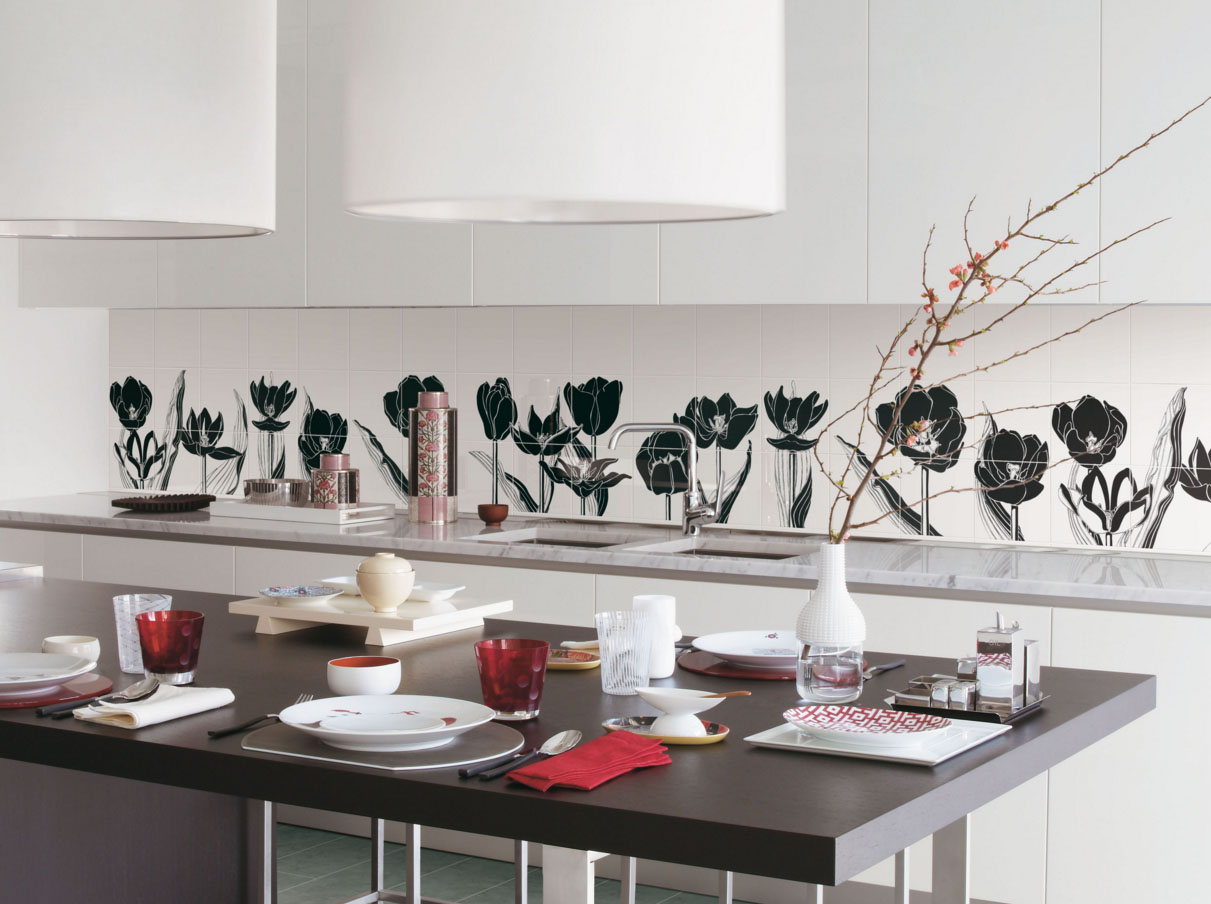 To isolate the security zone using colored ceramics. Bright and saturated color of the material focuses on the apron, It allows to differentiate the furniture from the work area. The assortment of ceramic tiles strikes. Today, it is sold with bright prints, Uni colors and original patterns. But the primacy belongs to the photo tiles. Under this kind of understood picture, which is laid out in ceramic squares to create an apron. This picture will serve as an excellent alternative to glass panels.
By applying to the ceramic image, you can create a "masterpiece" in the kitchen in a city at night, a photo of a loved one, landscapes paintings of nature or kitchen theme.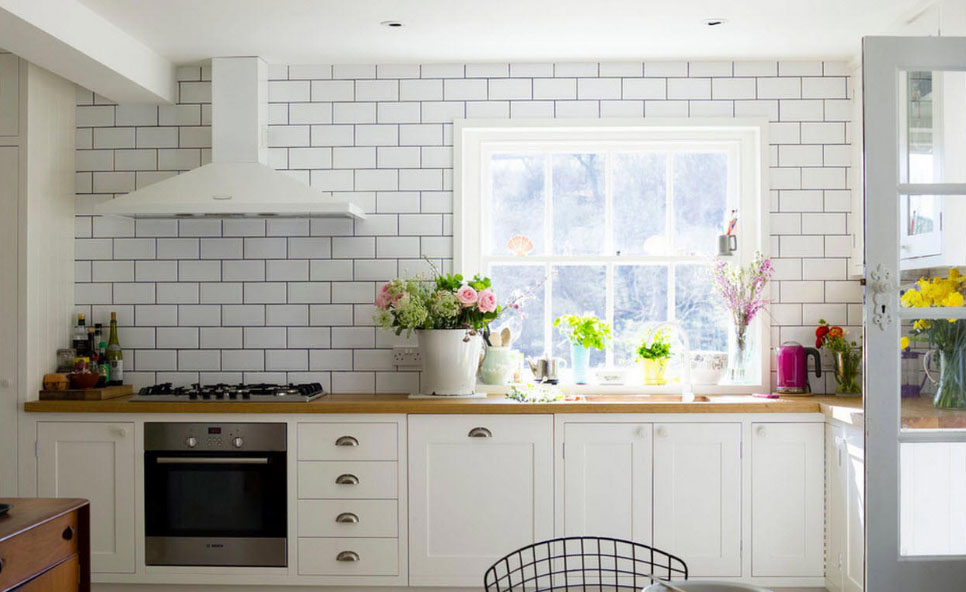 For white furniture is considered a harmonious combination of colors:
Black and White.
Lactic.
Cream.
Orange.
Violet.
Turquoise.
Green.
Saturated and bright shades visually increase the space, but with the help of the dark are accents in the interior.
Mosaic Zone
Mosaic aprons look stylish and expensive. But it is worth noting, that ceramic tile has a mosaic pattern. At first glance, such a hard ceramic is difficult to distinguish from the mosaic, but it costs much cheaper.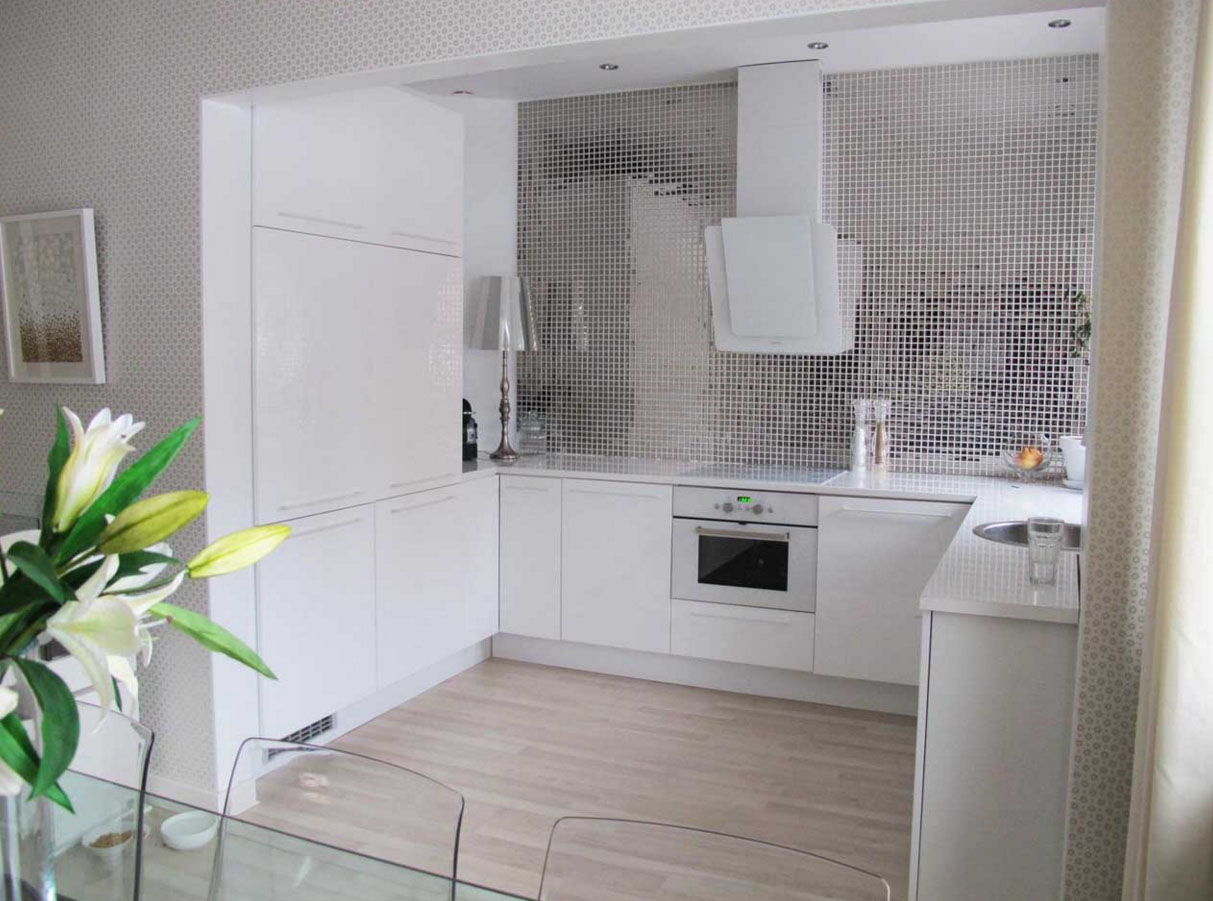 If desired, create a protection zone of a mosaic worth remembering, that laying the mosaic process itself is long and time consuming. But the result will shake its refinement. For light furniture suitable color and white mosaic. The presence of bright and rich colors make the room lively and dynamic, and pastel tones will give peace and comfort. Mosaic is made of:
pottery.
glass.
metal.
Mosaic advantage lies in the possibility of its installation on uneven walls. Mosaic apron white kitchen walls will hide irregularities. For a harmonious effect of bright kitchen decorated with mosaics in part to avoid the effect of "nalyapistosti". For monophonic sets of white or light-colored suits color zebra. Under the "zebra" refers to a combination of white and black color mosaic.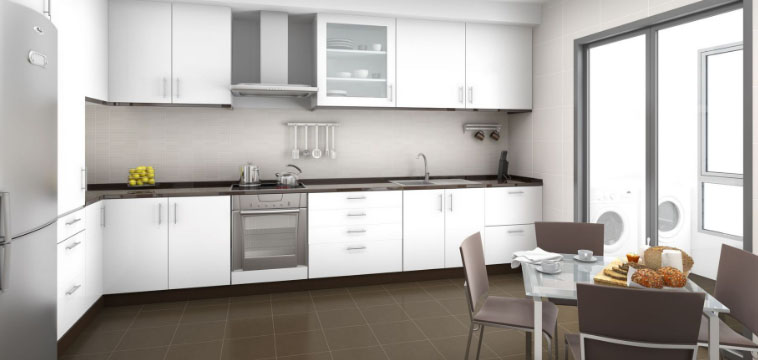 For a more interesting surface mosaic combined with ceramic. White tile on an apron for the classic dishes laid out on the sides, and the center is made ornament or picture, which serves as a central aspect. Black-and-white ceramic tiles combined with bright elements of glass or metallic mosaic help decorate set in high-tech.
For calculations protective surface is not necessarily mosaic entire area.
It can serve as a base material, and for additional framing or insertions.
original solutions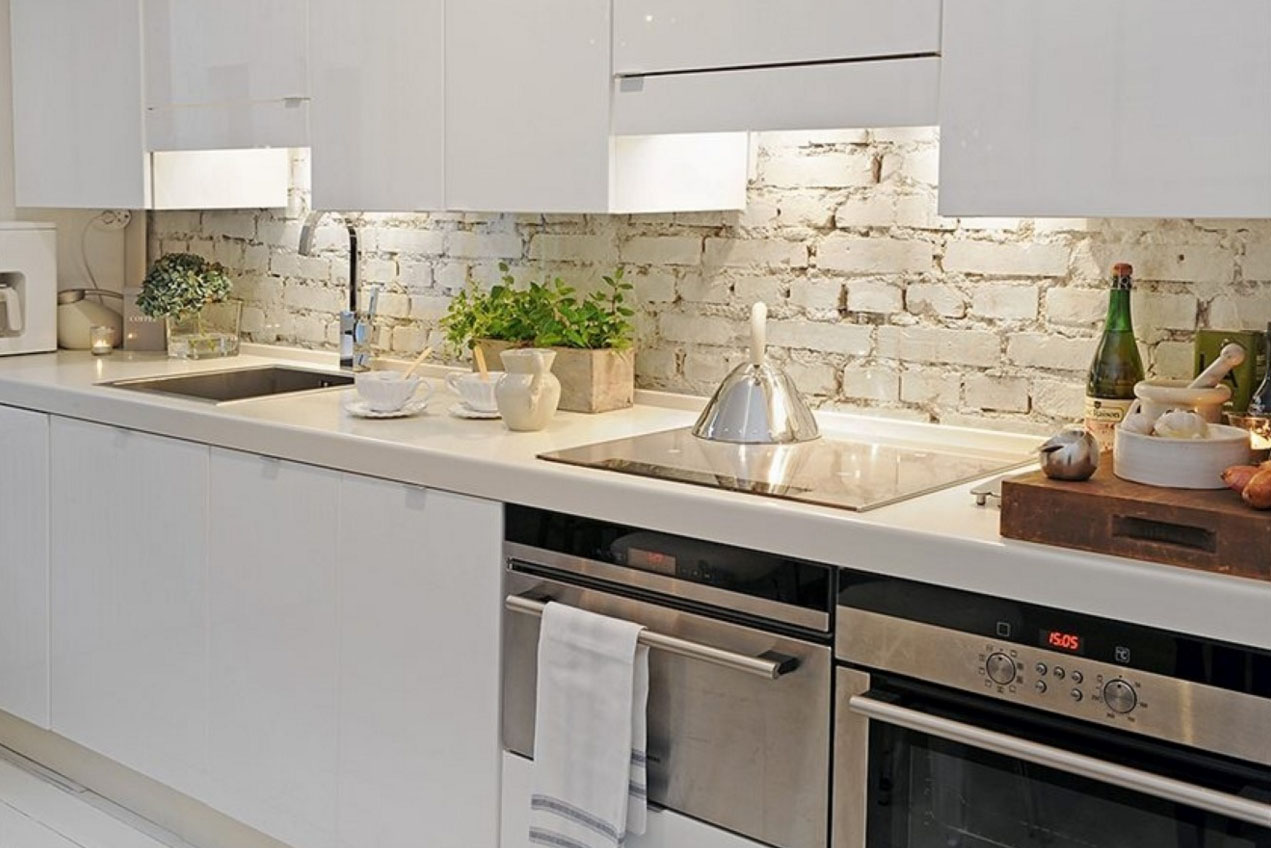 Since ceramics most common material for manufacturing protective surfaces, the version of the design of protective surface many of the classic monochrome painted up with their hands.
Depending on the style of furniture can do an imitation of a brick wall, or make the surface "wooden ornament".
In the style of Provence Country, and an original and harmonious look white tiles under a brick. Wall tiles under brick at first glance no different from the present stone, but for such a surface care easier. Glossy tiles with imitation wood is perfect for a headset of solid wood. If desired, you can be ordered to the kitchen of the apron shaped ceramics. can apron sets in the art deco style of cuisine to choose from glass tiles. In such products pattern is inside glass. This pottery is very similar to skinali. But different from the size of the glass panels and the manufacturing method.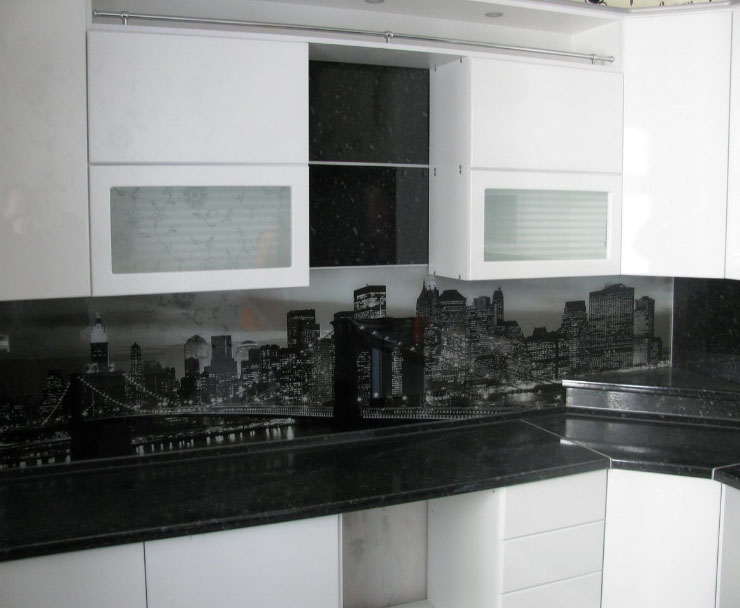 glass panels
Glass surfaces are very popular. Due to variations in manufacturing, they can create an imitation brick wall, glossy or matte surface, volumetric 3D drawing, etc..
Skinali durable, They do not require special care. They quickly installed and removed as desired to change the pad or drawing.
Skinali manufactured with a pattern and without. Skinali depicting imply the presence of a vinyl film, paintings, pictures or images on the back side of the window. Skinali drawing without transparent, or tinted in solid color.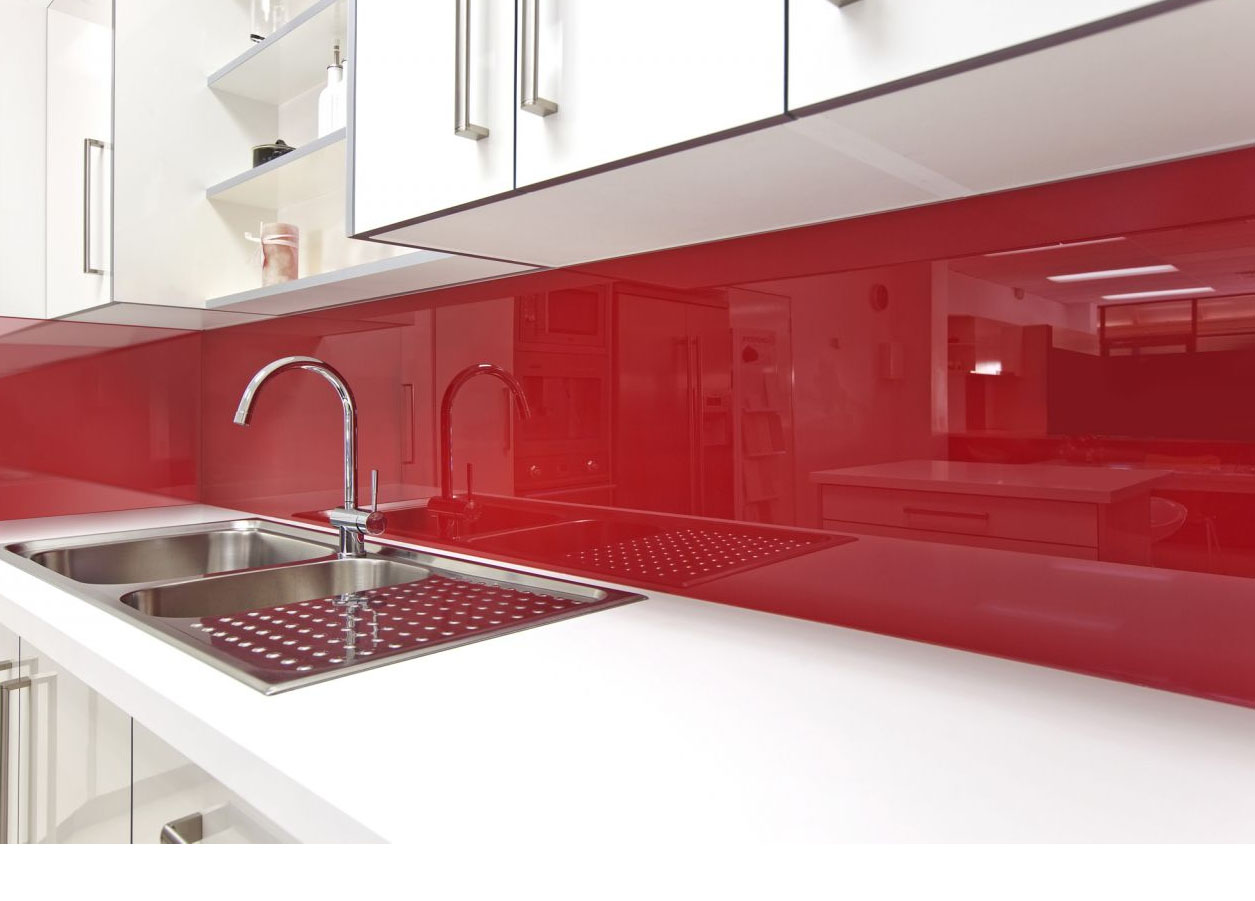 MDF panel
Compared with other protective MDF panels does not look so colorful and attractive. Its advantages - it is moisture resistance and environmental friendliness. He is not subject to mechanical damage, not afraid hot temperature.
Metal protective panel
To create such protective zones are used stainless steel sheets or tiles. Metal panel organically looks only in the industrial style. The metal is seldom used as a material for producing panels. More often, it is complemented by plastic, ceramic or glass elements to impart a presentable appearance. Disadvantages of a metal surface - good visibility of pollution, so behind the panel requires careful and regular care.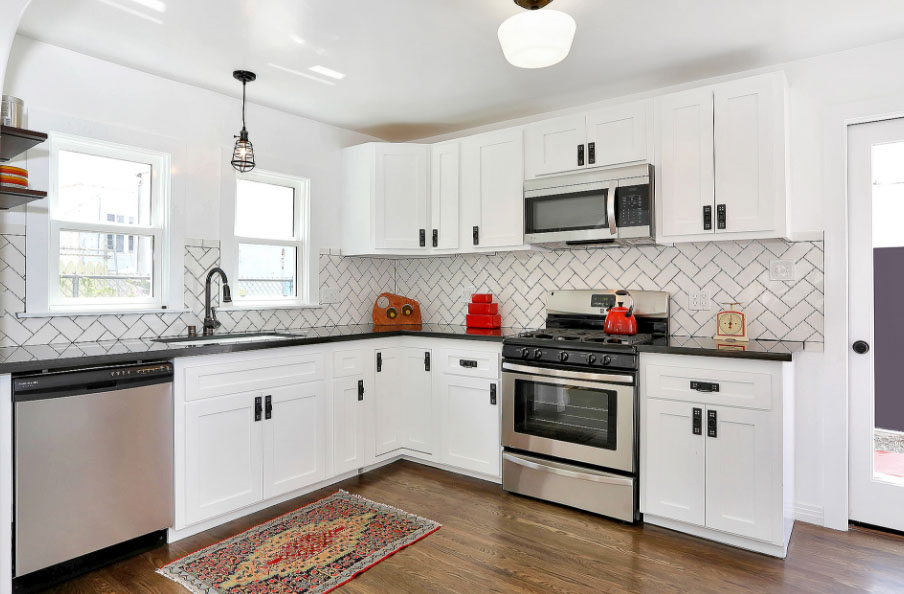 conclusion
Despite the variety of headset selected aprons blue or green. When a light beige or lactic range, harmoniously integrated into furniture panels of pink and peach.
Popular apron on the kitchen tiles under the stone. For its production uses embossed ceramic tile. But it is worth remembering, imitation brick wall and marble does not fit all headsets. In the style of hi-tech or art deco such panels out of the general style rooms. For these styles is selected mosaic mix or skinali.
White apron in the kitchen is not worth doing at cold and saturated white shade Headset. It will blend in with the furniture in the interior. If there is a desire to get a pure white kitchen surfaces made of ceramic tile, it is necessary to dilute its bright and colorful flowers. To create this effect, you need to pick up the white ceramics with elements of color decoration: picture, ornament, edging, Mosaic, etc..