The design of a large kitchen: options for placement of kitchen equipment
The most important role in every home reserved, perhaps, namely kitchen, where everything is cooked, boiling, the whole family is going in a good and warm atmosphere. Therefore, the room should be not only beautiful, but also meet the main criteria - functional, comfortable and ergonomic. If you comply with all the rules, the family home will warm and delight of residents and their guests a warm atmosphere. A kitchen amenities, Firstly, depend on its layout.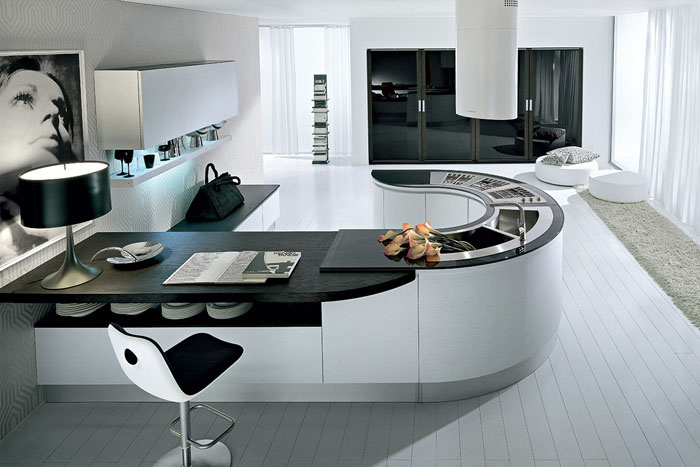 layout options
Disposition of the room depends on several factors, such as the location of the room in an apartment, its dimensions, number of guests, communications location. All this is taken into account during the design process. The layout will depend on the functionality of the room.
The following plan forks:
Angular or L-shaped. It is the most convenient and advantageous variant, It allows you as comfortable as possible to arrange furniture and equipment, creating an excellent working area. D- shaped kitchen allows you to create a full dining area. true, there are also minuses. Such z-shaped plan kitchen not very successful for the overall or narrow spaces.
linear. Such a plan is called a single-row. Perfect for small spaces. Such planning of equipment and furniture put along one wall, placing a refrigerator and a stove so, to their shared washing. The disadvantage of such a plan is, that there is little space for work and dining area. Also, linear kitchens have their own difficulties with the deployment of additional equipment.


Option linear arrangement of the headset in the interior of a large kitchen

parallel. Such a plan could be called a "parallel". If the room is large enough, the equipment and furniture can be placed along two walls. This type of technique allows to place additional, but at the same time it is not easy to plan a dining part.
U-shaped. Placed along the walls and kitchen appliances. Plan kitchen in U-shape quite successful for rooms of different sizes, but again there are difficulties with the organization of the dining area.
The island. This option is only suitable for large kitchen. Premises with an island layout is often combined with a living room or dining. With this arrangement,, working and dining areas are in the center of the room, as if forming an island.
For each of this type of plan is developed a version of the interior, taking into account all the nuances.
Option two-row kitchen
Two-row layout provides the location of the equipment and furniture along two walls. This allows as much as possible to place additional equipment, used in the interiors of various kitchen utensils, the main role is given to the kitchen work area. Often everything for the dining area used loggia. The advantage of two-row kitchen - the ability to manage in the same room at once two of.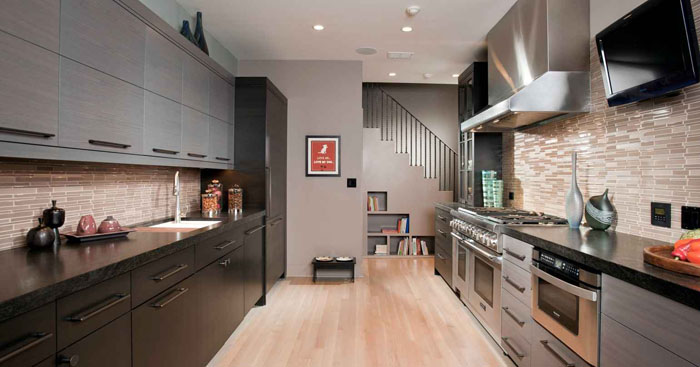 Since the main space is occupied by kitchen and dining area there is no place, should consider the main ideas was her everything. There are several design options such kitchens.
If the room is narrow, then it can be expanded with the help of light and colors. To do this, it is best to choose kitchen furniture and utensils bright colors. A kitchen, which has access to the loggia, usually connected with it, in this way, Divide the room into two zones: working and dining. They delineated a seating area and breakfast bar. You can also use an arch.
The linear layout of the kitchen
The linear layout of the kitchen for those spaces, where it is impossible to use angular modifications. Such planning of the furniture and appliances are exhibited in a number of, allowing all compact and functional place. As with the arrangement of one side of the room is free, you can organize a spacious area for lunch. You can put a large table, designed for a large number of family members and guests. You can also put a kitchen comfortable chairs or even a mini-chairs.
Win-Win to be white colors, which will give light and fresh interior. Also on the bright glossy surface is not as noticeable drop of water or prints. So that, the way light colors are not afraid of frequent cleaning. Also added, and ease cabinets with inserts of frosted glass.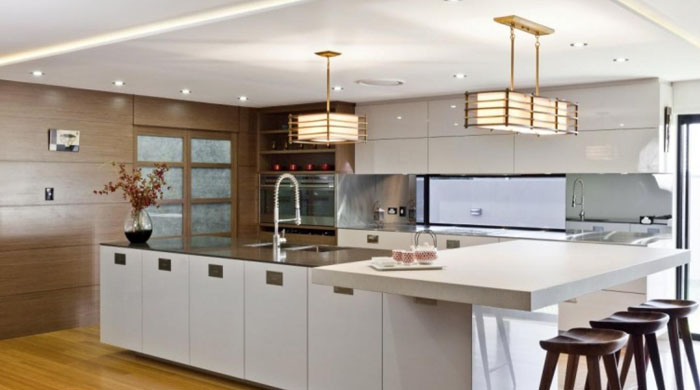 Linear kitchen layout provides, as an alternative to white, pastel shades. In the room, formed in such colors, It is not only roomy, but also comfortable.
Variant with an island layout
Making a large kitchen can not be imagined without the organization of islet, which has versatility. There are several options for decorating the room with an island layout:
The classic interior harmoniously fit "island" streamlined.
A practical and convenient embodiment will island, combined with a bar. It is also a great way to space zoning.
Create a special cozy islands with elegant pieces of furniture in the "Provence" style.
Decorative effect will give a countertop island with backlight.
L-shaped layout
Room z-shape is the most popular. This view allows you to place freely and kitchen furniture with built-in appliances, a dining area and a full.
The design of the L-shaped kitchen It involves the use of bright colors: yellow, green, blue or red. Kitchen z-shaped angle used headsets. They are executed in a variety of styles. However, the most suitable one is the classic headsets, made of solid wood with a variety of exclusive additions.
Design for the kitchen with a U-shaped layout
The most successful large room is the kitchen in U-shape. This room can accommodate all the necessary equipment and furniture, also there is a place for kitchen Group, which is designed for a large number of family members or guests. This plan is suitable for kitchen-studio, where once located and dining area, and living.
Since the U-shaped room is usually very large, the design is not necessary to use light and neutral colors. In the interior, you can use warm colors. Spectacular and colorful combination will look bright interior elements. Originality and uniqueness in the interior of a room can make a colorful apron, which will serve as a bright accent. Particularly effective would look glossy surface with glittering facade furniture elements of chromium or stainless steel. The design of a large kitchen are best left to the professionals, if you have little experience in this matter.