Black and white comfort: kitchen in the home design
Recent years, with admirable speed growing popularity of functional styles in design. People prefer clear and simple geometric shapes and function rooms, and covered with bloom time bulky cabinets, dressers and sets give way to the shelves, shelves and hinged construction. Heaviness thing of the past, and its place is taken comfort, lightness and originality of forms.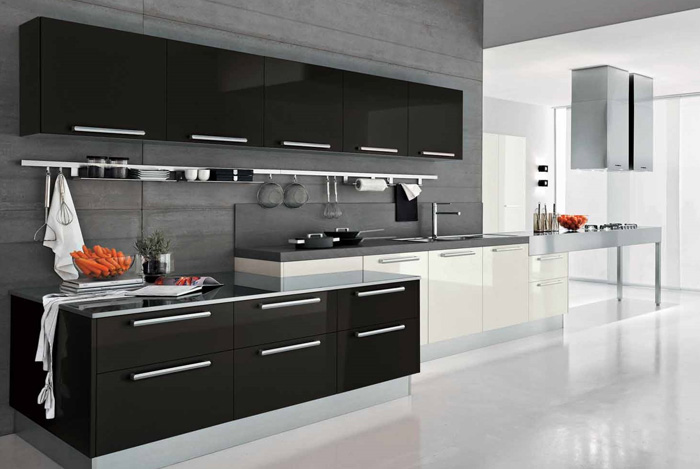 Nepytlivomu glance seem, Such a combination of colors creates a cool atmosphere, devoid bit of comfort, but a closer look reveals, it is not so. The overall tone of the kitchen adds to its piquancy, the room is filled with a harmonious combination of two contrasting colors. try to understand, than this duo is attractive to an ever-growing circle of people.
design Basics: what should be a black and white kitchen?
At the heart of any style are specific basic requirements, to avoid unnecessary descriptions, let's get a look, which requires us to design black and white kitchen:
Lighting a combination of black and white plays a leading role. Here there is a departure from the traditional repose of the centralized lighting. Professionals are advised to use the fill light, local lighting for furniture and equipment - it's not cheap, but pragmatic and juicy. This principle of decentralized lighting will help to make the room a soft tone, If black and white kitchen with bright accents was chosen
Accentuation on walls. The work area is permissible to use a third color apron, bright and saturated. Selected for this purpose, eg, Red color. The material for the apron becomes a granite, tile or mosaic art. In rare cases, the apron is a relief


Black and white kitchen - a craze or a universal version of the design?

shades curtains. It uses the principle of contrast, in which the curtains in black and white interior are chosen the opposite color, than the base color. A more or less uniform distribution of used curtains geometric pattern, but, Black curtains or chess black and white curtains in the kitchen are always welcome· A few words about the technique and headsets. As with all styles require kitchen sets black-and-white, where the black color is given a place countertops, and a variety of sliding elements made with white on a black background. design kitchens in black and white style and allows the use of unusual elements in common infrastructure system. In this way, black wash in the interior of the kitchen will be a wonderful complement
floor and ceiling Palette. Gender in such kitchens laid most tiles, however, high-gloss white laminate interior is able to give the room a special charm and create the effect of walking on clouds.
From these recommendations, it is obvious, that the rigid framework and there are no absolute rules, however important the right combination of contrasts and the ability to pick up there, where it is needed.
four walls: how to beat the bare concrete?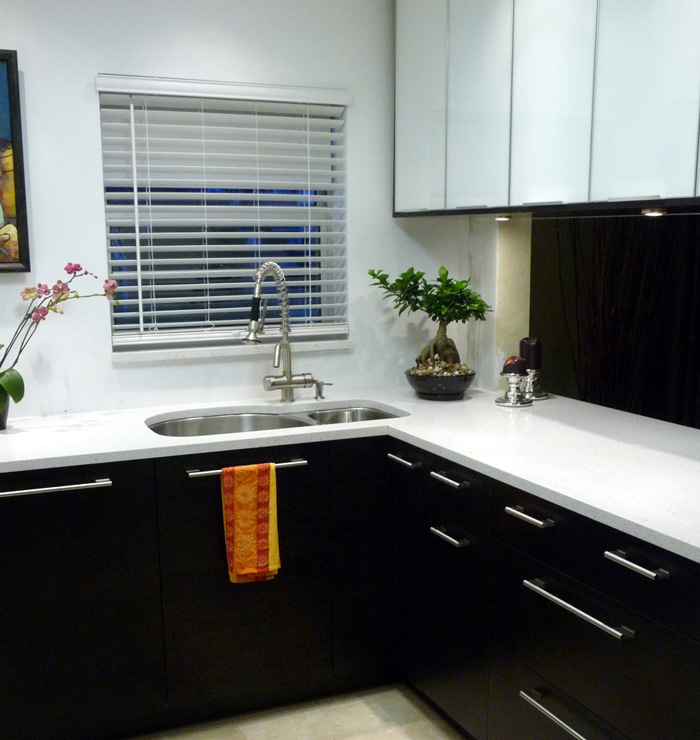 Again, it's up to taste. Again, consider the popular options harping walls:
The easiest option: Traditional wallpaper light-colored or with a soft, but angular geometric pattern. An interesting option would be the use of photo wallpapers
Stickerbombing design. Use themed stickers in various sizes, from the smallest to the whole drawing. For minimal style suit drawings graffiti-cubist and minimalist, However, this solution is suitable for young people, rather than the category average, who prefers white walls in the kitchen
Stencils and independent figures. This option will suit the most industrious and creative. true, We need to invest in supplies, however, the results are simply fascinated with proper approach
Thematic decoration and architectural design on the walls create an atmosphere of independence from manufacturers, but, Consequently, and as such. Now touch on the principle of general harmony in the room; how to achieve, It is recommended that designers, see below:
floor clearance. Sex in black and white kitchen is patterned, but is allowed and the use of monophonic material. In this scenario, a black laminate in the interior play a dual role: add sharpness to the entire interior, and serves as a good reflector


black- white design: checkerboard floor

Window sizes determined pattern curtains. Spacious rooms are not required and plain curtains, with good lighting and wide frames major figures used in the pattern. Otherwise, use plain or curtains with a fine pattern
Use plain white wallpaper - to overload the room. So use these wallpapers worth zonally, eg, in the working area, provided, that you have a black countertop in the interior of the kitchen and there is a white household appliances
Pawn E4: checkerboard flooring
Kitchen design in black and white style requires care to all. We have already said, that the floor can be decorated with laminate or tile, but there are laws, traced in the floor design. First of all, common version of a chess board - this is one of the neutral options and win-win fit into any specific interior.
Specific considered light floor pattern. abstract patterns, geometric shapes and broken lines constitute the basic outline of the floor.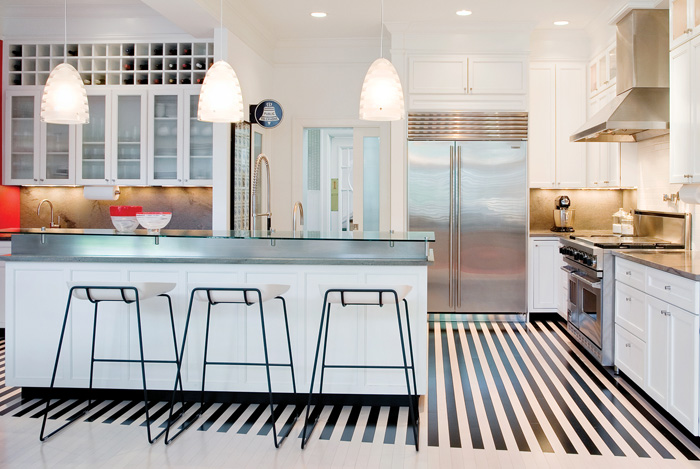 And stylish, but dangerous in terms of saturation, become monotonous sex. The problem is, that black and white kitchen should be that such, but not white and black, and vice versa
A third color in the design
Our basic colors - self-sufficient, so the shades will look pale and so the third color should be bright. Strong color red is considered. He abruptly acts on vone duo and dilutes a black and white design, eccentrically supplementing it. This color is good use in the apron area, or on the desktop engineering. Curtains for the black and white kitchen, with plenty space, You can also accent color.
As originally zoned red kitchen, appropriate to use it in the dining area and to implement in the table and chairs with the addition of metallic.
Finally
Getting a kitchen layout, the first step necessary to determine the basic color. On small areas should give preference to white, and his companion highlight black and white curtains. The spacious rooms dominant permissible to give black, but then it is important to inclusion of a third color. Do not forget, the contrast must break into space: bright color is selected.
We have to admit, that black and white kitchen in the apartment - this is a bold decision and with proper and a sensitive approach, your design can be compared with the results of the top creative agencies.