Black-and-white glossy kitchen - a classic, which is always in fashion
Surrounding space influences our perception of the world. It exerts its positive or negative effects, even if we do not we return ourselves to this report. Therefore, for someone in the room black and white will be the epitome of classics, while others perceive it as too boring and concise.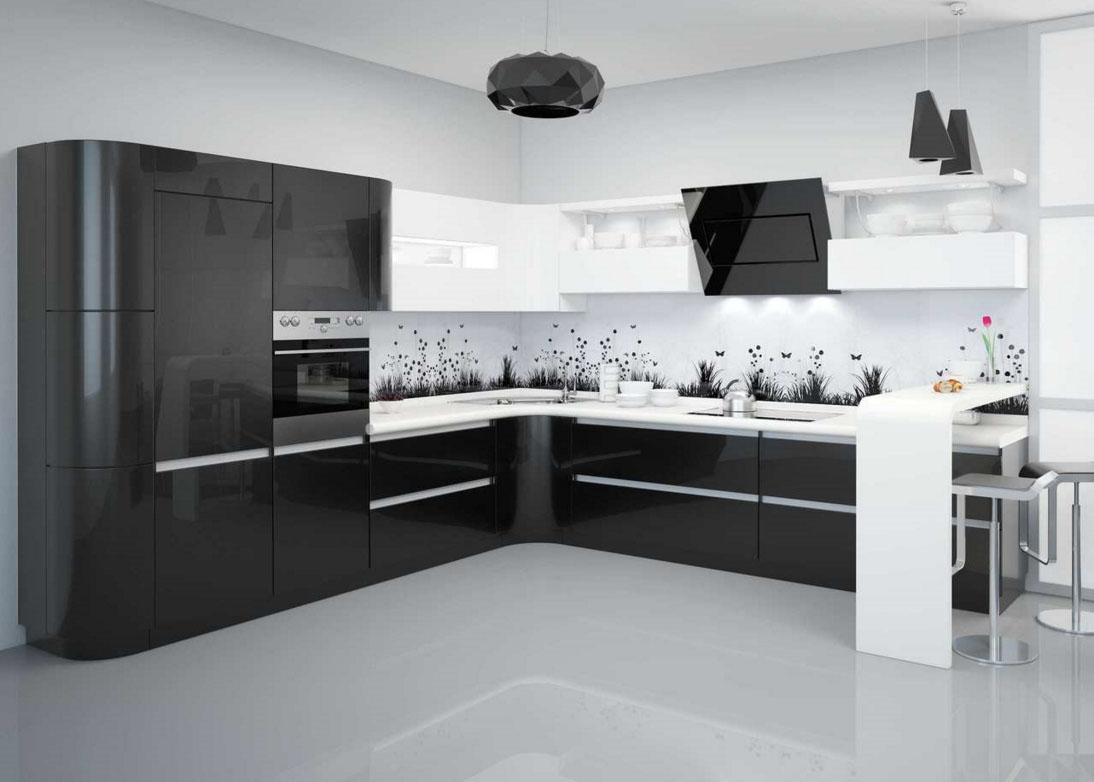 Choosing home spectacular and delicious combination of white and black, remember, you have to exist in the interior of every day.
Common mistakes
In practice, evenly distribute color for a "domino" cuisine, choose the right texture of materials and finishes, to determine the tone of the individual elements of the interior is not easy. There are four rules, which will help to make a choice.
Decide to start, which of the two colors will be the soloist in a duet. The easiest way to find the right balance in the event, when the kitchen dominates high-gloss white. He adds to the weightlessness of space and freshness. If you prefer a pompous luxury, which give the interior a black gloss kitchen, do not rely on their own strength, and consult a professional designer. Important! Balance in color will make black-and-white corner kitchen harmonious, does not cause negative emotions.
At the forefront of the black-and-white decision premises comes a variety of textures, the play of light and shadow. The contrast of smooth and rough, shiny and matt surfaces make the space more expressive. for example, gloss kitchen black and white interesting to look at the background of black plaster.
Do not forget, that with well chosen color, you can easily create desired visual illusion. expand the space, will give it a weightless white on the walls and ceiling. Conceals volume black is suitable only for well-lit and large rooms, but will give depth to the individual elements, such niches.
For chromatic interior an important role in their perception plays a light script. Black and white corner kitchen seem warmer and more comfortable on success overhead illumination. Glossy facades for kitchens with LED sparkle flashes of the Northern Lights. Local lighting emphasize the interesting textures or make faces shine crystal in the closet.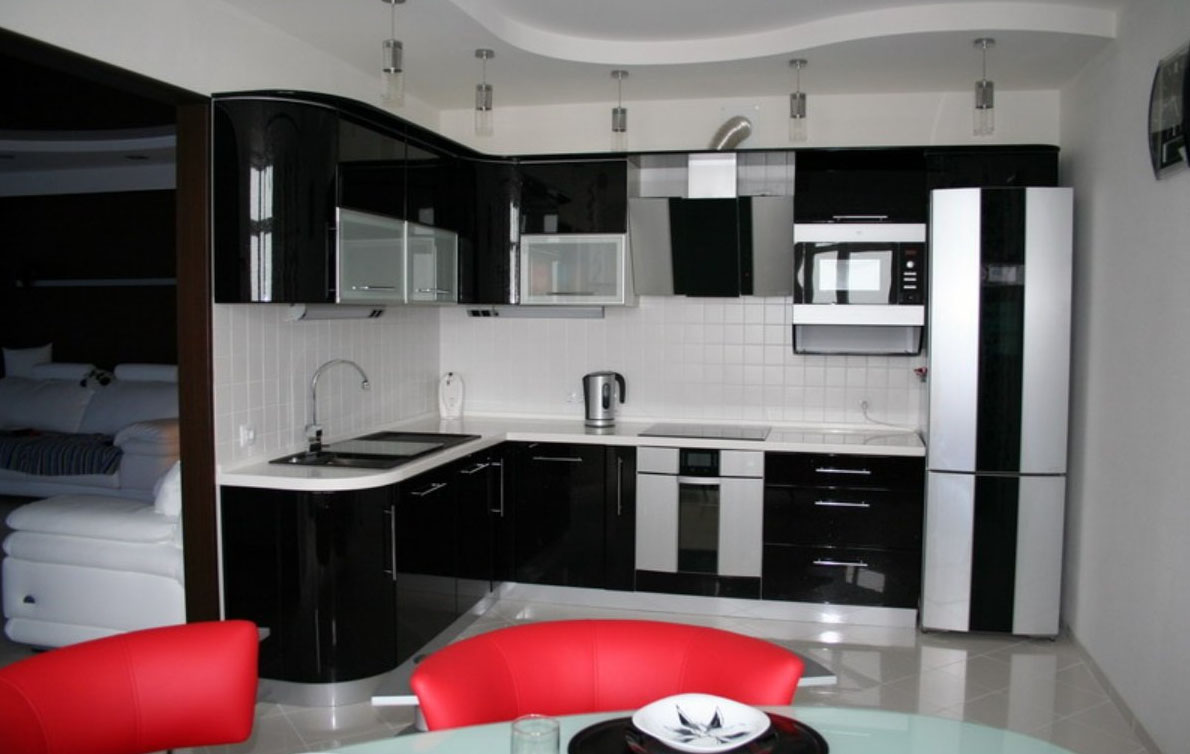 On the interior in the colors of "domino"
Classic "Domino" is suitable for all style decisions, except, where the emphasis is on the "rustic" surroundings and closeness to nature.
people, prefer modern style, hence striving for simplicity and elegance, will approach this kitchen, black gloss is shiny diluted, chrome accents and glass.
The spirit of an old movie filled with glossy kitchen in a retro style, especially if, like raisins in the cake, on it there are decorative elements, handmade.
The foundation of modern styles (high-tech, minimalism, avant-garde) - clarity of lines and contrast. Exclusive look glossy kitchen corner, made in certain subjects, reminiscent of piano keys, harmony of Yin-Yang or frivolous coloration Dalmatians.
For the realization of the classical style is the best suitable kitchen, white gloss which looks at the background of plain walls smooth calm and cool.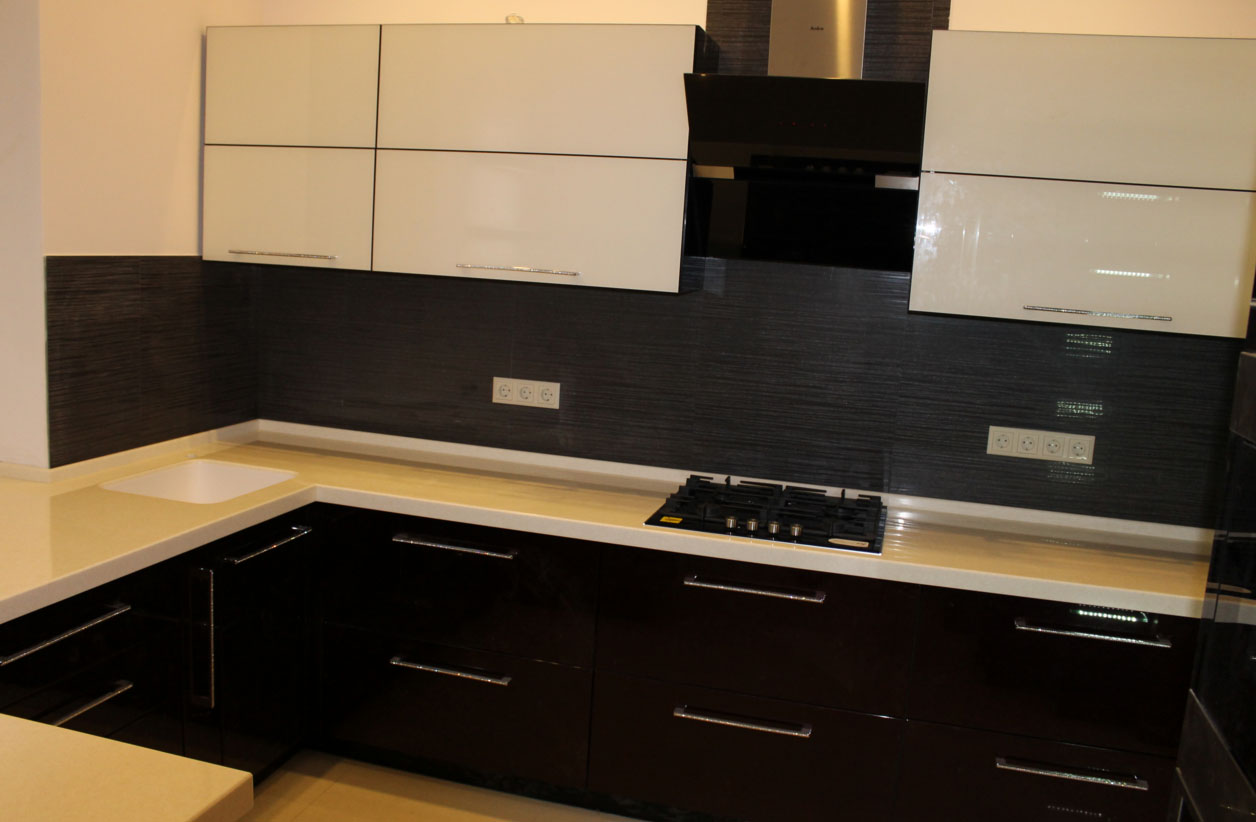 Black color - not always a symbol of darkness
Owner cramped kitchen in the choice of base color can not be doubted. it, It will definitely be a glossy white kitchen, reviews of which, though it noted the impracticality, but still more than positive. It expands the space and increases the amount of light in the room. Contrast design give details, eg, Kitchen table, black gloss which only accentuate the overall interior weightlessness.
But the happy owners of spacious and bright rooms can afford a chic black interior. Lighting plays a crucial role. fixtures, placed not only on the ceiling, but in separate zones (working or dining), allow turning dark space in an incredibly intriguing fairy the cave of Ali Baba. streams of light, reflected from glossy surfaces, give them a mysterious depth and solemnity.
Council! To the black color does not cast a dreary and bleak mood, be sure to dilute the white walls and furniture, or fragments of bright décor.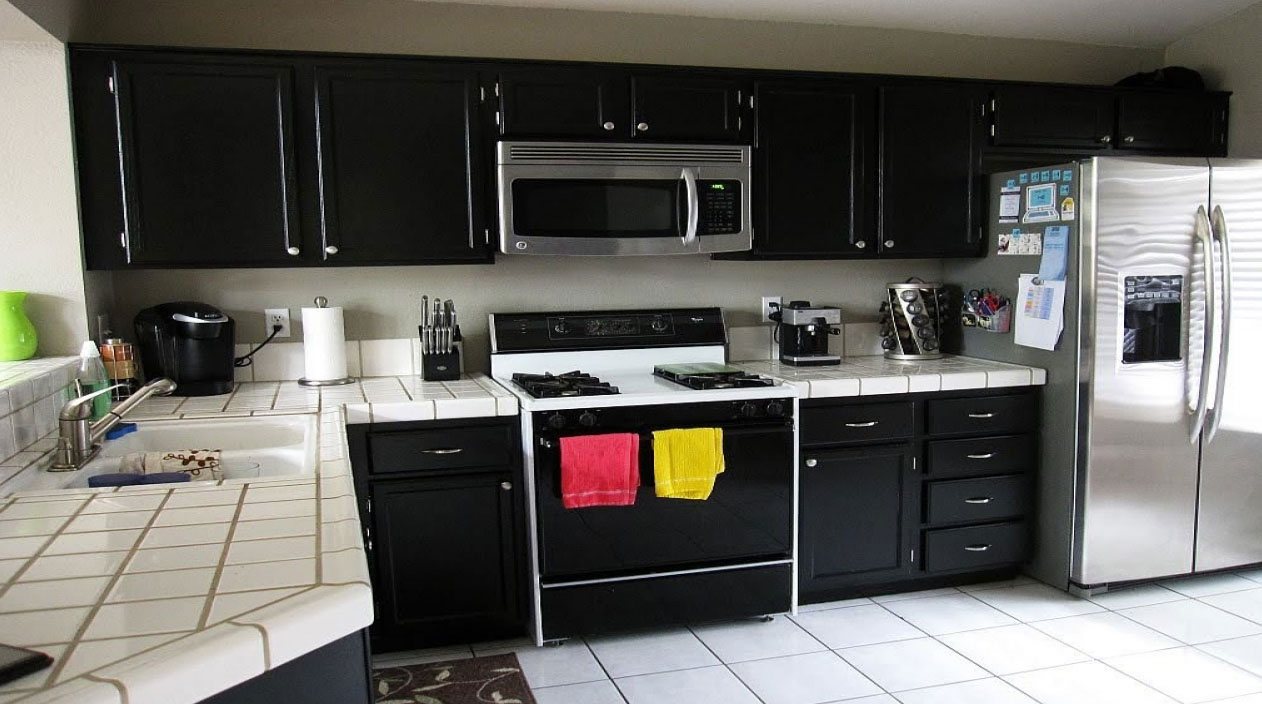 spatial solutions
When you create the interior design is important to take into account the geometry of the room. This is especially significant for the sounds close and dark rooms. Glossy corner kitchen successfully solve this problem, pushing the space due to the effect of reflective facades. Light colors visually removed the wall, therefore a good solution for a small space will be white corner kitchen. But it sure is diluted with splashes of other colors.
Council! To create a feeling of solidity make in black floor portion headset, black and white cabinets worktop give the necessary balance.
In the kitchen there are always protruding parts or niche, which is necessary to smooth or emphasize. They can be interesting beat, Using the ability to zoom and white visually increases, and black - to reduce and postpone.
Council! Emphasize optical effects help gray shadows.
When the use of furniture in black and white, especially glossy surfaces, owners are faced with one unpleasant disadvantage - so the interior is very impractical. Glossy kitchen wash accounts more often, than its counterparts of other color combinations. But this is the case, when beauty demands victims, however, not-so-large.
Council! With today's variety of household chemicals and household products is a snap to find a suitable cleaning agent and buy a soft microfiber cloth. Always keep them at hand, and glossy care suite will not be any problems.
We design solutions to achromatic colors, there is one indisputable advantage - it blends perfectly with virtually the entire palette of colors. If desired, you can always find options, how to mitigate its excessive strictness or revive clearance, creating an entirely different mood.