White and green kitchen: Summer in the house all year round
Modern man among gray, dull buildings and crazy pace of life desperately lacks harmony of nature, which carries green. Green kitchen interior apartment - it's just that, that is recommended by doctors and psychologists in order to maintain peace of mind.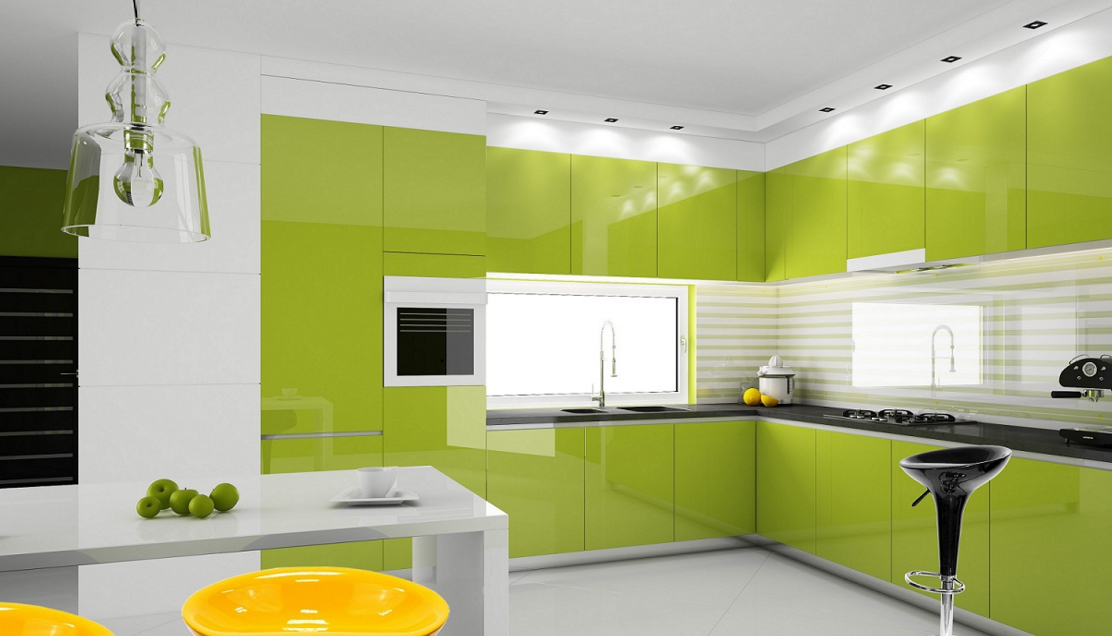 The palette of green hues is so diverse in its manifestations, that everyone will find it easy to your version of the interior. harmonious, fresh and unusual combination constitute green and white shades.
Green and white interior in kitchens
The variety of colors allows you to do so, to white and green food to create different moods at the choice of its owner.
Dark nephritis adding cobalt gives interior thoroughness, It is making it more expensive and more solid.
design green kitchen with blue and turquoise notes - cool and fresh. It is good for rooms, where you want to feel cool.
Kitchen apple-yellow colors will cheer up in the morning with a cup of coffee.
Calm and bottle olive colors create a sense of peace and serenity at the end of the working day.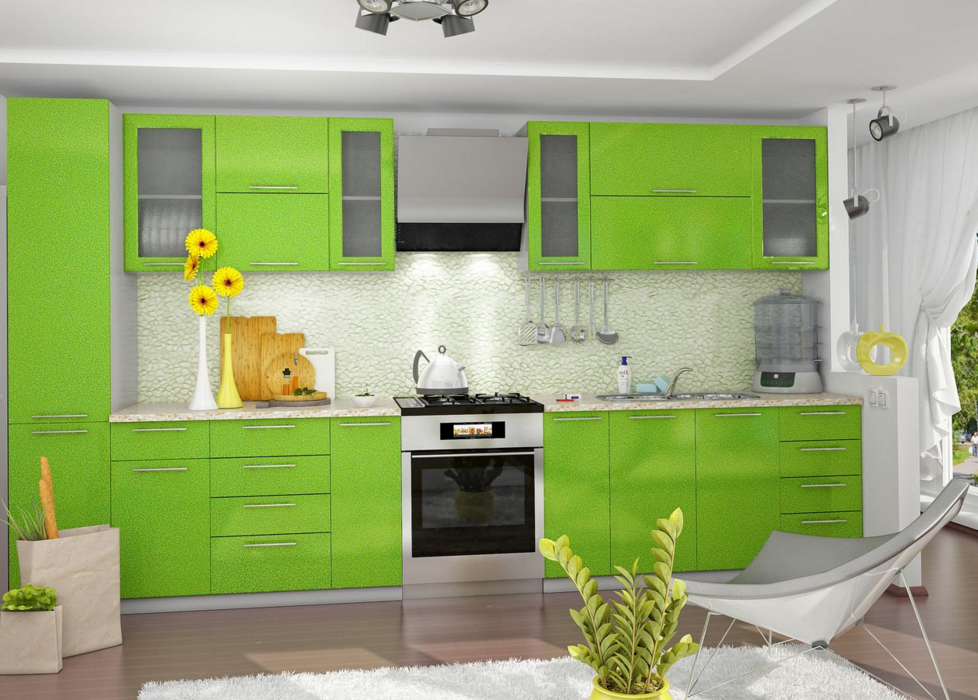 Council! White on green kitchen - very out of place. After an elegant alabaster or opal comfortable doing so, that the kitchen in shades of green and looks fresh air.
Combined, these two shades are a huge variety of options. The most popular version of the following four:
Malachite in the bottom of the interior (floor cupboards, floor, dining group) and boil-and-white top (hanging lockers, walls and ceiling).
The entire kitchen in white and emerald green hue parts facades, countertop and apron.
Kitchen design in green color, emphasizing furniture ivory.
Jade headsets, clearly stands out from the alabaster-white walls and floors.
emerald
Dark emerald luxurious classic look, but only in the details: facades, aprons, dining Sets. But for the walls and ceiling, he categorically does not fit.
Unusual and spectacular emerald color combined with black accents, which will add space nobility and some assertiveness.
Combination emerald with other colors for sensing produces unexpected combination. Incredibly pompous and looks elegant emerald set in a classic style near the interior details in dark wood.
In the separation of kitchen space in the horizontal bottom of the emerald color of furniture emphasize strict classical design solutions and at the same time remind summer lawn with floating white clouds above her locker.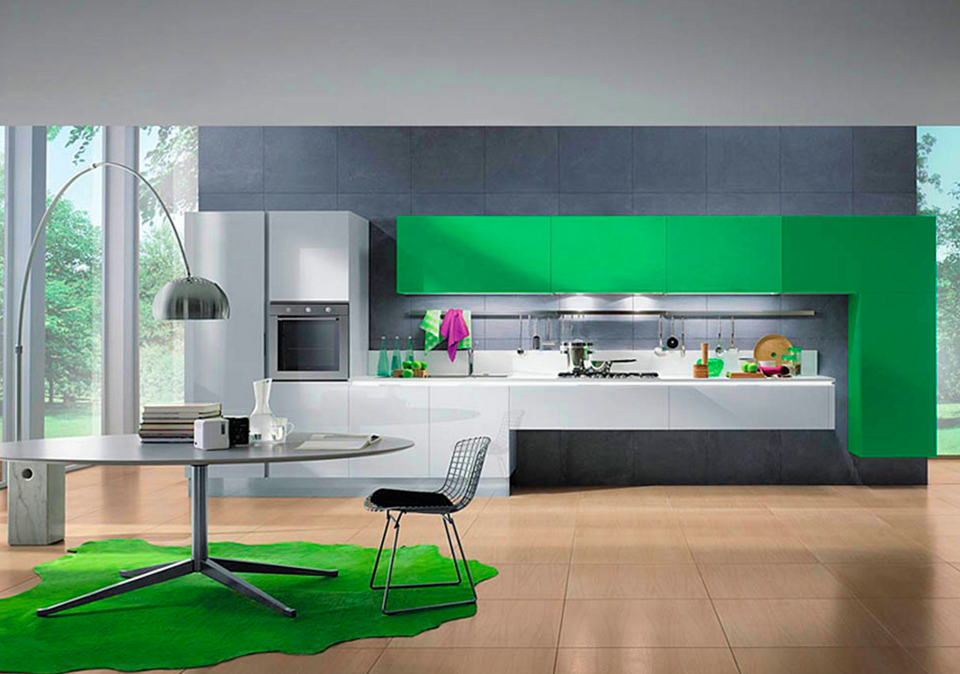 Council! Emerald green hue kitchen suitable for people, who want to get rid of excess weight. His coldness suppresses appetite even for gourmets.
pistachio cuisine
The most "delicious" and a popular shade for the kitchen - pistachio. Its versatility allows you to make a variety of combinations.
It looks wonderful snow-white set against a background of pale pistachio walls.
Cozy and bored looks creamy pistachio kitchen with the addition of bright and warm colors red and yellow range, eg, in Figure apron.
To create a relaxed atmosphere to the interior of the pistachio is good to add elements of light wood.
Pistachio green more than the rest is suitable for dark shades, northern premises, sun and warmth bringing them.
Noble and serene looks combination of pistachio biscuit-headset on the background of pale gray walls.
Council! Excess paint in pistachio headset dilute white details: tabletop, apron, dining Sets, but textiles and lighting better pick up the tone.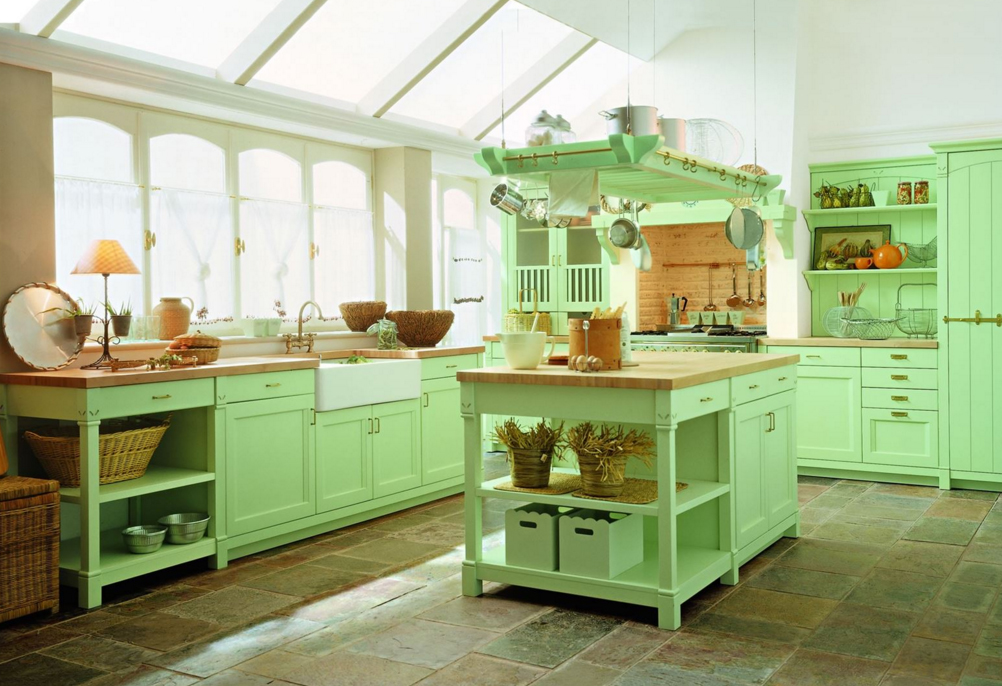 Kitchen lime green
For those, who does not want to part with the green, but wants to have a modern minimalist space, the best choice - kitchen lime color.
The strongest effect is produced glossy and glass surfaces citrus hue.
For the eccentric and cutting-edge selection of natures combination lime and chromium, the diluted snow-white background of the walls - the surest way to impress friends and acquaintances.
If you definitely want to have a kitchen lime hue, It would be wise to order it two-tone, leaving only the bright facades, and as a partner picking up chocolate, black, sand, blanzhevuyu paint.
Council! To the kitchen space is not irritating, and instilled courage, closely related to the amount of lime in the interior. Suffice it to have separate pieces of furniture, lighting and apron of the shade.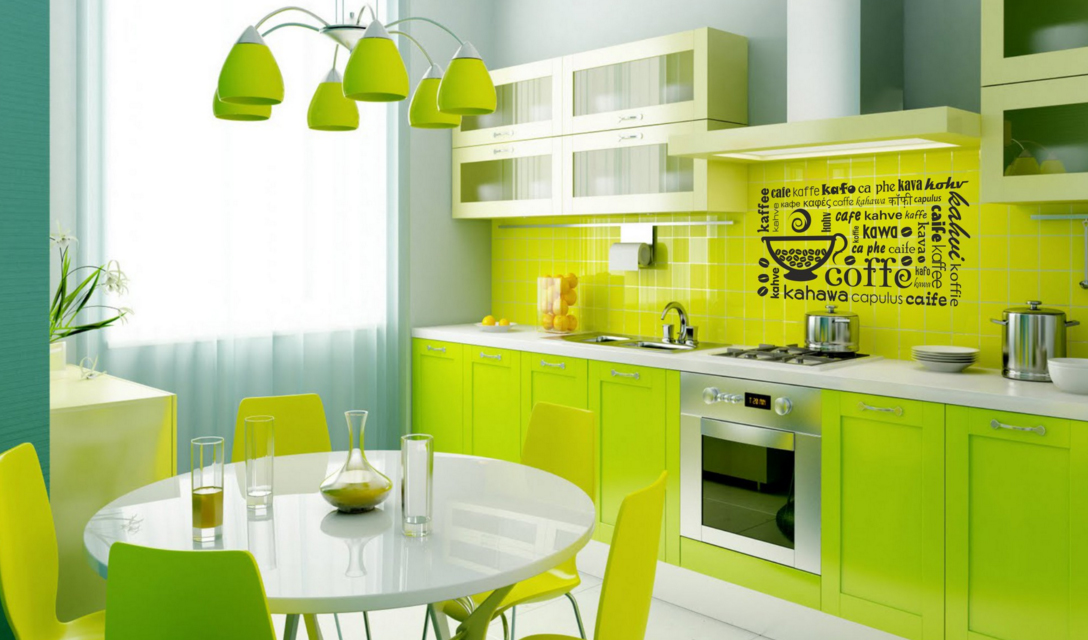 How to decorate the kitchen in white and green tones
Correctly chosen color combination not only creates the right mood, but also helps to correct certain imperfections in space.
Bright and saturated green shades suitable only for large areas, and a small kitchen will create a feeling of tightness.
For dark northern premises choose soft and bright colors. They visually move apart walls, and notes of yellow add warmth and light.
To the south are well lit kitchen is not afraid to choose cold emerald jade tones or dark olive and marsh paint.
Ceiling to make the green in the same interior should not be. Leave it white, a bright hue, add a lampshade or pattern (if the ceiling stretch).
If you want non-standard solutions, then do the ceiling emerald or lime, but then all the rest of the space to be totally white with small patches of juicy details.
The floor in the green-and-white interior is adjusted for the tone of the walls or furniture. for example, if there is more in the design and black, it will be interesting to watch the chess floor of the large tiles. Even more impressive looks jade tiles.
Green - the most optimum paint for interior. It carries both the depth of the blue and yellow colors glow, merging into the calm stillness, saturated internal energy. During that turn this potential, It depends on you. Here's a she, white and green kitchen.