White kitchen with black worktop and other harmonious color combinations
To select a color worktops not apply any rules. Important in this process should take into account the, that it must be appropriate, combined with interior room, facade and an apron. To make it easier to determine the color, It can be compared to samples of the facade and countertops, in the catalog. To make a long and painful not to compare various options, you need to decide, what color spectrum rather, it is much accelerate the process of. it happens, we can choose several options and it is difficult to determine, after all, he and this variant. In this case it is necessary to look, what greater is the soul.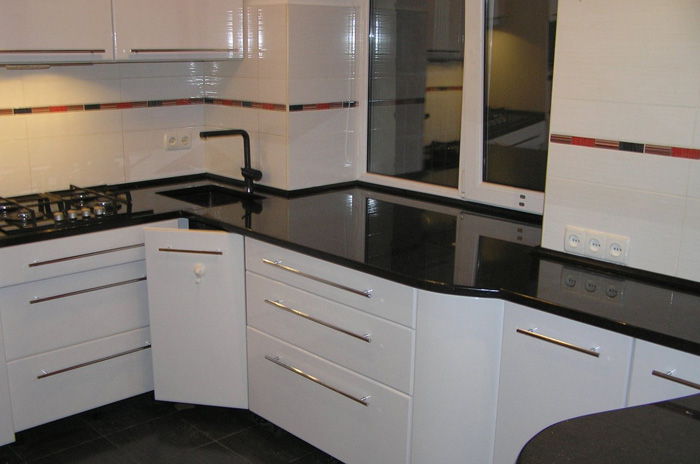 Choosing countertops colors
Choosing a countertop is necessary not only to chase the latest fashion trends, but remember, that there are some color selection rules.
First takes into account all the shades, which are present in the room: colors wallpaper, of the headset, textiles, dining group, etc.. Worktop must integrate harmoniously into the overall picture, complement the interior of the kitchen.
You can choose the color in the wash tone. It is not quite standard and familiar solution. But, it is worth recalling, contrast should not stand out from the general scheme and violate common design pattern.
Do not forget about, that the choice will not only affect the overall appearance of the interior, but also in the room atmosphere. The kitchen should be comfortable, give the household atmosphere of home heat. therefore, It is to decide, it is preferable: relax or increased appetite, it will affect the color of countertops. For relaxing environment may prefer blue or bright green, and to improve appetite - Orange.
As it is necessary to take into account the size of the room. After all, a small room visually can be increased, Playing with light and color shades. If the window of the room goes to the east or south side, you can stop the choice on the cold tones: sirenevom, light blue. В данном случае также будут уместны глянцевые столешницы. If the side of the north - are allowed only neutral, pastel t: peach, beige, powder.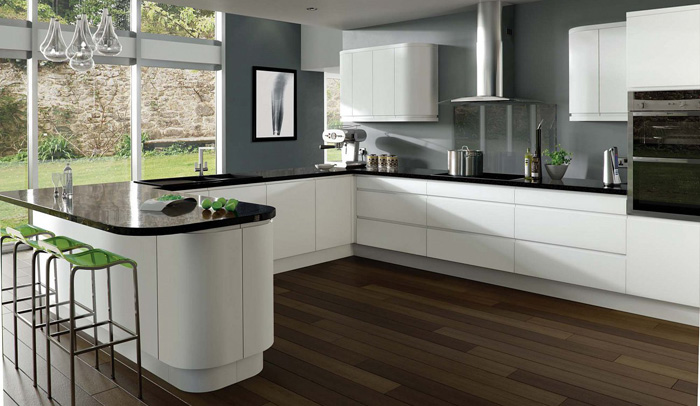 The color can be selected and a separate kitchen elements:
The most common embodiment considered - a combination of hue and countertops individual lockers. In this case, a contrast.
It is recommended to start from the apron - this is the simplest solution. And using the same material for these two elements, automatically solved several issues: with texture and colors. As for the white kitchen apron stands a bright accent, the overall picture is quite interesting leaves.
More unusual variant - to choose shade, blending in with the shade of a wooden or stone floor. You can use the same material. This option is not out of budget, but, However, this room look noble and even solemnly. Is taken into account and shade plinth. Thus it is possible to create a rather unusual ensemble.
A win-win - countertop combination with dining group. This assembly is ordered and under the order, then not only suitable color, but the texture of the product.
Often meets, that the choice affects colors, wherein the formed sill. Looks a solution kept and colorful.
It is recommended to play on the contrast and. The most popular is the white kitchen with black worktop. The most important thing - is to remember, that the result should please most mistress and households, so the choice is to do in the direction of their preferences, rather than fashion trends.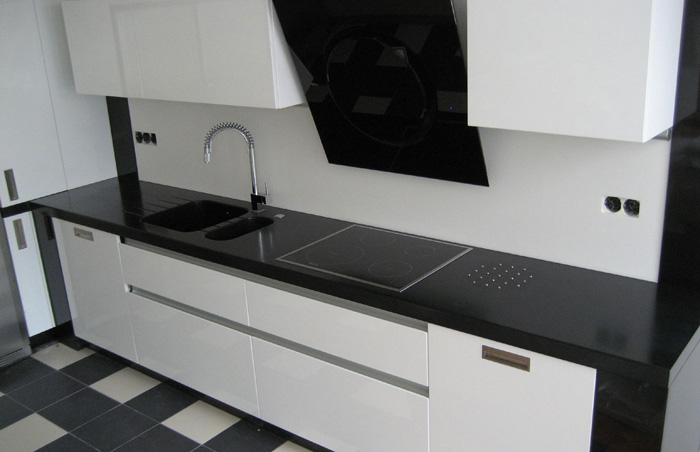 Combination of kitchen and table tops in black and white
After that, both color scheme selection rules sorted out, question has remained unresolved: "How to combine one or another color?». This issue should be approached no less responsibility.
White kitchen worktop with light
White kitchen countertops involves the use of neutral colors or imitating the natural design or pattern under a stone or a tree. Giving preference to wood, should opt for a lighter shade, otherwise dark kitchen worktop less elegant looks and loses its shape.
The classic version of a headset in white, looks refined and noble. Besides, it is appropriate for any design style: and for hi-tech, and even to Provence.
Elegantly accentuate the dazzling whiteness of chrome accessories and decorative objects, made of dark glass.
If the room, Made in white, It does not seem warm and cold, it is recommended to opt for beige or pearly shade countertops. Such a composition is as feminine, thinned, weightless and easily. This is a peculiar feature of. Look fresh food such, light and airy, but require a thorough and careful care.
Dark countertops for the kitchen light
looks colorful bright kitchen with the dark countertops. Such a cool tone - great for white Headset, especially if used for worktops black granite. To white kitchen with black worktop not look gloomy, the surface should be glossy and well reflect light.
The optimum combination of, whereby light room ceases to be boring and monotonous, It gives it a certain mystique and depth - it is a black table top for white kitchen
Interesting color combinations kitchens and worktops
Today, there are plenty of options for interesting combinations of kitchens and worktops:
A stylish combination of colors and bold at the same time - it is white with red, which looks bright and expressive, and will appeal to the temperamental mistresses.
Tasty look rich browns, which are associated with chocolate icing and bird milk, causing the desire to eat something.
Diluted with cold white color with bright and saturated colors, eg, mint, olive or fistashkovыm. But cheer up, and give a feeling of cheerfulness under the force of orange.