Kitchen small area: fresh ideas and planning of repairs 7 points
Small kitchen in the apartment - it's always a problem when it is repaired. How to place furniture on a square, especially necessary kitchen appliances such as refrigerators and stoves while maintaining free access to washing. But still I would like to put a dining table. Let's discuss ideas for the renovation of the kitchen.
Small repairs - ideas
When it comes to small kitchen, first advice, which can be heard from the steep professionals - tear down a wall and combine the room. good advice, but not always feasible. There are several obstacles: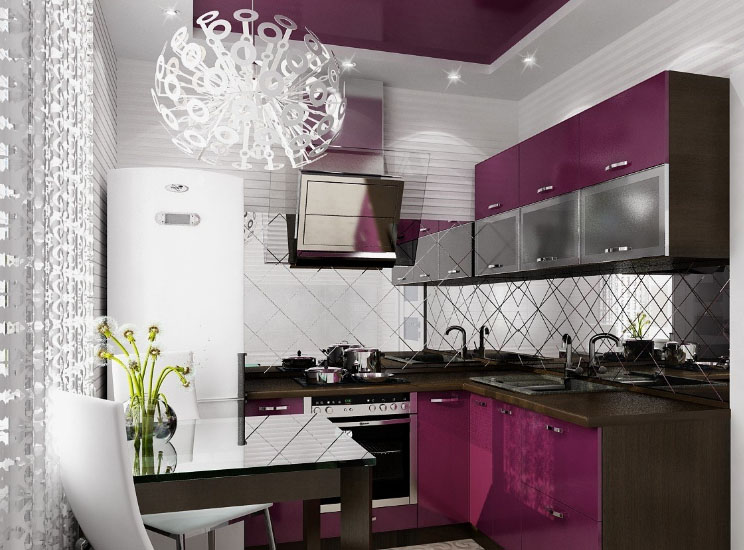 wall can be a carrier;
the elimination of the wall - a redevelopment of apartments, it takes a special permit, which is not easy to obtain;
such repairs will result in a round lot of money and takes a lot of time and effort.
Need ideas for repair - how to cost-effectively achieve the best results. As a result of repairs to get a comfortable and functional room.
Formation of the plan impossible without clear planning.
To get started you want to draw a detailed plan of kitchen space, which should be specified - the room area, width and height of the walls, the presence and location of windows and doors. Besides, you must specify the place hoods and ventilation arrangement.
Separately it is necessary to draw a diagram of the available electric kitchen and make a list of electricity customers, to be placed in the kitchen. This is required, to determine whether alteration of kitchen electrical needs. Without this repair can not begin. After shtroblenie channels to outlets for wires and holes with switches - this is a dirty job.


Decide in advance with the light

According to the plan drawn up by the kitchen space is divided into zones, which should be placed in kitchen furniture and appliances. For clarity, you can make a layout with carved squares on the scale of furniture and components. For a small kitchen it is justified, in it every centimeter counts.
During the planning phase deals with the repair of floor and ceiling of the kitchen facilities. Here too there is no detail. In small room important every detail. For example, color shade materials on this kitchen should be light. It always creates a feeling of spaciousness.
The result of the repair depends largely on the choice of furniture. For small areas the best option is built-in furniture. It can be ordered on the individual sizes, in such settings, which are best suited to this area. In this case, the best option is needed on the number of work surfaces and storage cabinets. Immediately selected countertop, the size and shape of which must conform to the design project.
An important point - the choice of material for the walls.

Рассматривая свежие идеи

ремонта для маленькой кухни

, we can conclude, that the best solution is to choose a kitchen apron of glass with photo printing in 3D or, at least, with monotonous light or mirror background. In this case, absolutely necessary to use the tape for illumination svetoidnuyu apron. experience shows, that this design allows you to create the illusion of increased space.
Mandatory element of the plan,

от которого зависят

ideas repair

— это расчет количества необходимых материалов и

, respectively, Money, that it is necessary to invest in the repair.
When there is a small kitchen, We need ideas repair their own hands. In this room all the major work is quite capable to perform. To solve some special problems, eg, sololift to install kitchen sink, you can always hire a specialist.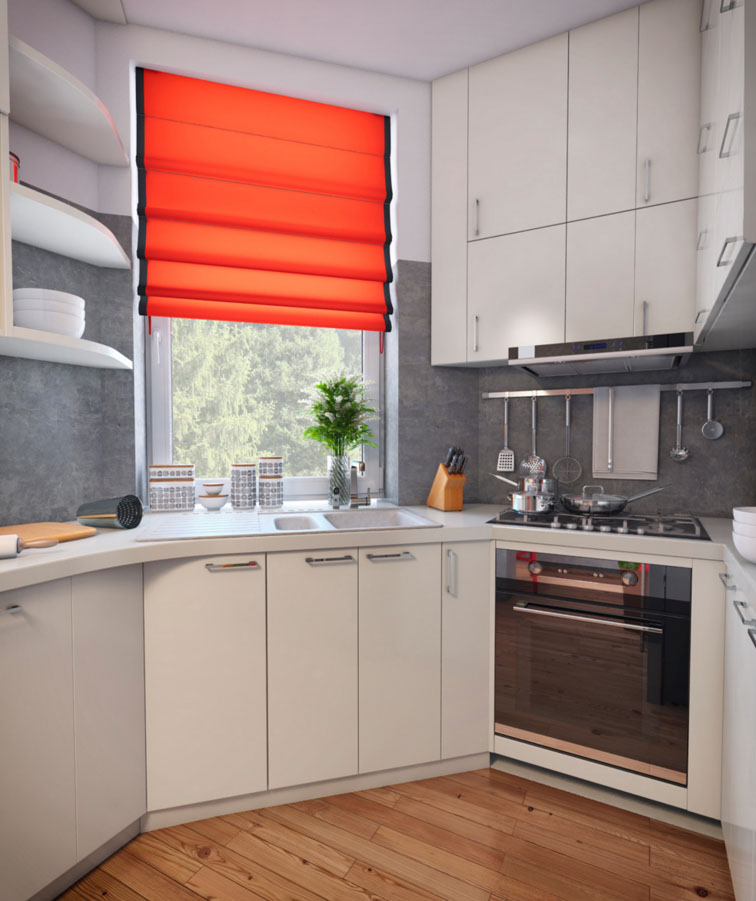 zoning
Repair small area of ​​kitchens has to do with the release of life zones in the kitchen. It is assumed, that should be:
work zone, including cleaning, work desk and a plate;
dining area - implying at least a dining table and chairs;
kitchen units location area.
windowsill
The small space small kitchen each individual area has a value. In this sense, the window sill on a kitchen can serve as an additional platform for the placement of small household appliances, e.g. grinder and coffee makers. For these purposes,, while it is desirable to repair to the spot to build and install the electricity socket, it is desirable to double.
In this important window, as a source of light and fresh air. In this kitchen it is better not to frame the heavy and dark curtains.
tabletop
When ordering the kitchen built-in furniture is required to pay serious attention to this element, as a table top. This is the main work surface. It should be durable, on it there should be no trace of the kitchen appliances, such as a knife. Besides, it must be heat-resistant and completely neutral to the effects of moisture and fumes.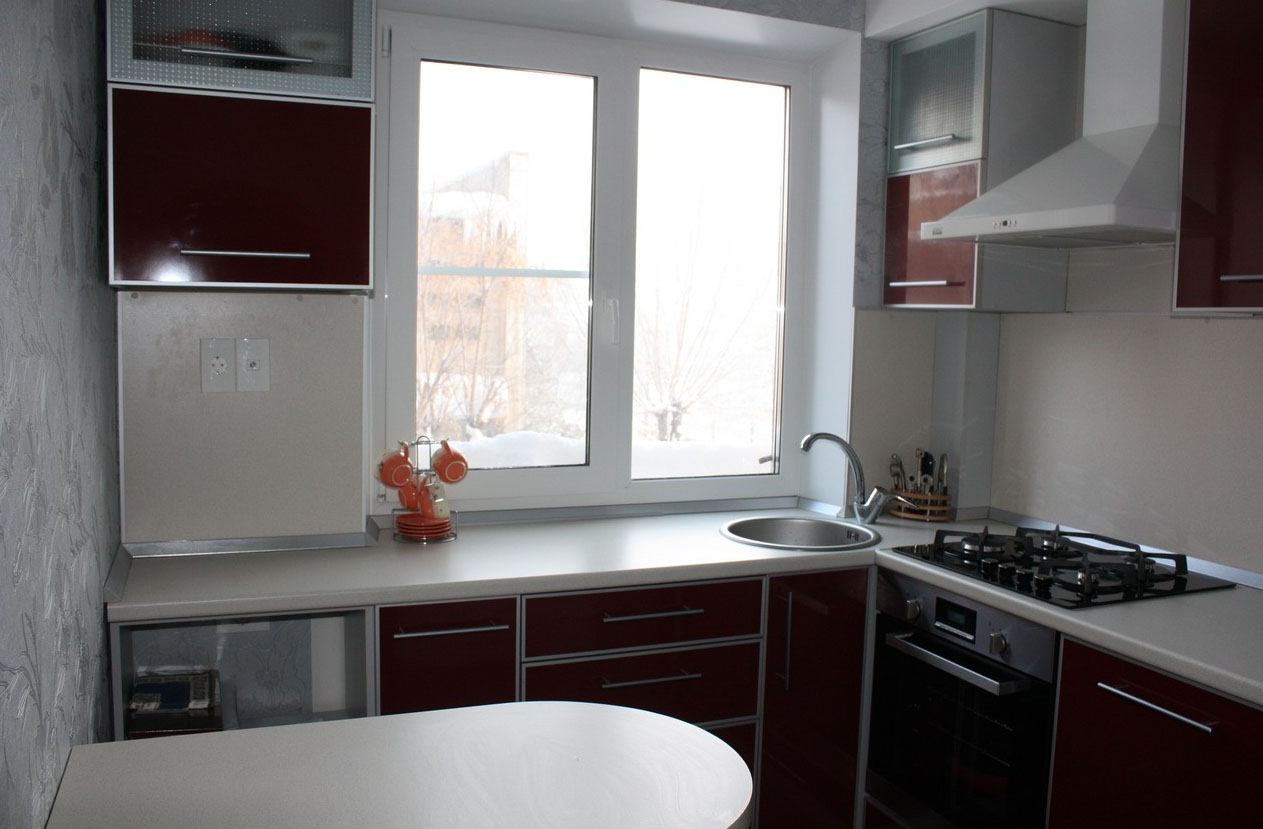 Harmless to the surrounding and environmental compliance - an important point in choosing this piece of furniture. Its surface should be easy to clean household articles.
Working area with sink
Without a doubt, the main space in the kitchen due to the work area. In this area means finding wash, desktop plate and. And in their placement should be determined by the procedure of SNP.
You can not have the stove and sink next to each other. Between them should be not less than the distance 40 cm. Given the small size of the kitchen to be repaired, You need to carefully approach the selection of kitchen utensils.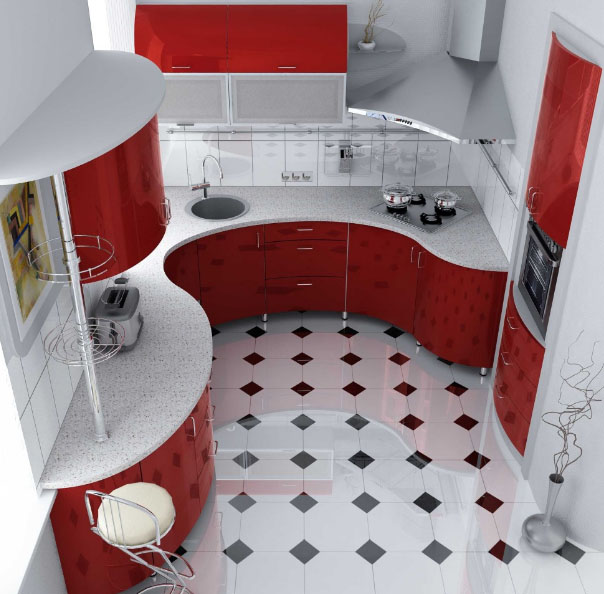 They should be as small sizes. Of course, there are appropriate standards. However, commercially available original shell, well suited to the requirements. The same can be said of the hobs and ovens.
experience suggests, that in a small kitchen best one for the working zone is the angular location of furniture. Sink, usually, located at the corners, and flanked by tables combined single worktop.
Dinner table
Dining is equipped in such a small kitchens. This is best suited a round table top. Also, there are options of dining tables for small spaces, part of which consists in some way. Chairs for this area is best to choose a small size, lungs, it is also possible folding.