How to restore the old furniture in the kitchen
Over time, things are deteriorating. The exception does not apply and kitchen sets. But many housewives sorry to part with the old, but the favorite and has long been familiar furniture. Therefore, many people decide to give new life to the old headset using the refurbishment of.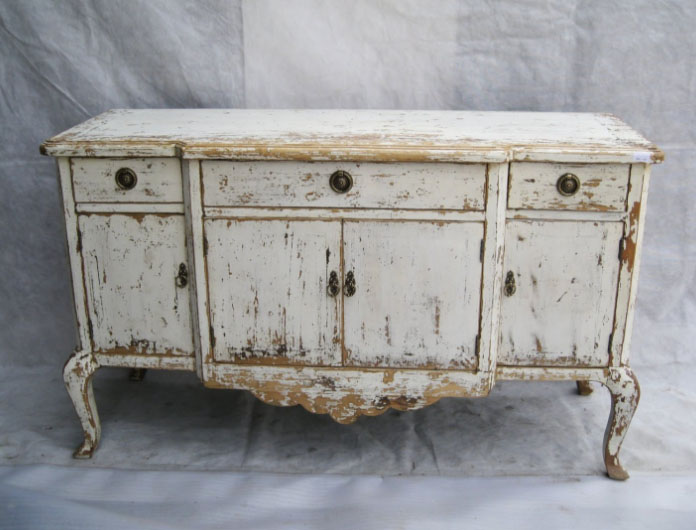 Most people decide to buy a new instead of the old furniture. But the acquisition requires considerable financial investments. Therefore, the best option to turn headsets - this restoration of furniture with his hands. Before the restoration is necessary to understand, This process takes a lot of time and effort, therefore it is necessary to have patience. But this has its advantages. Restoring furniture at home, people save a very significant amount of money.
Before the decision on restoration of the old headset should find out, who will engage in the restoration: master or procedure will be carried out independently. Of course, recovery of their own hands will cost several times cheaper, rather than a challenge to master. In addition, you will gain valuable experience for the future. When restoring kitchens need only purchase materials. On payment of the wizard you will save.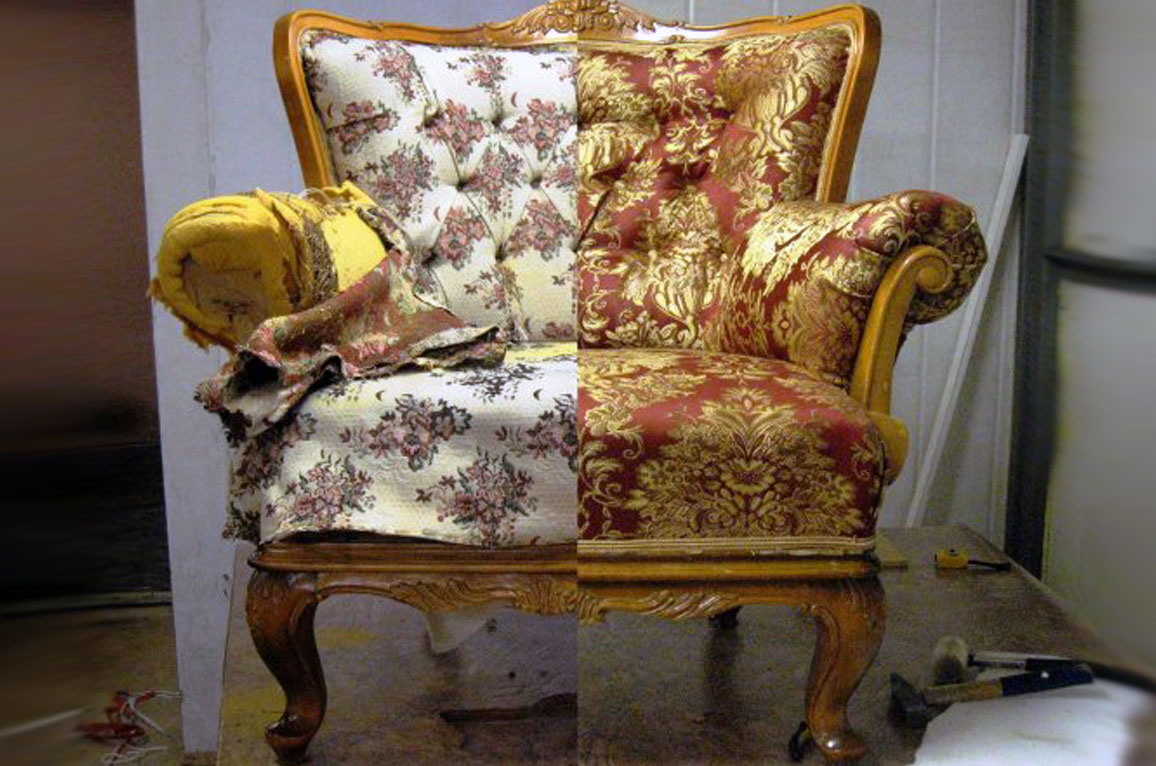 Methods of restoration of furniture with his hands
Refurbish old furniture, you can use the:
painting. The paint is selected as desired based on the overall style of the room. It is not expensive, it is easy and simple to operate.
PVC pasting, paper, cloth. An inexpensive option recovery. But it is a long and time-consuming. Therefore, if you want to restore the furniture quickly, taping you will not work.
varnishing. For varnishing is not necessary to have special knowledge and skills. Varnished facades even people can, who have never experienced this not.
veneer bonding. One of the most popular ways to refurbishment of. Glued veneer is not difficult. But it is worth remembering, veneers tree, which costs very not cheap. Therefore, an economical embodiment finish veneer restoration does not fit.
full facades replacement garnish. The only way to radically transform the kitchen. Recall, facades - a door, lockers, the "front side" Headset. Changing old parts with new ones, creates the effect of the acquisition of new furniture.
Better to restore the old paint or foil furniture. These are the cheapest options, It does not require much effort on the part of the kitchen owners.
Required tools
To restore the headset is prepared such tools:
Putty knife.
Stationery knife.
Drill.
brush.
building roller.
The fine-grained sandpaper.
Coarse sandpaper.
By necessity screwdriver or screwdriver.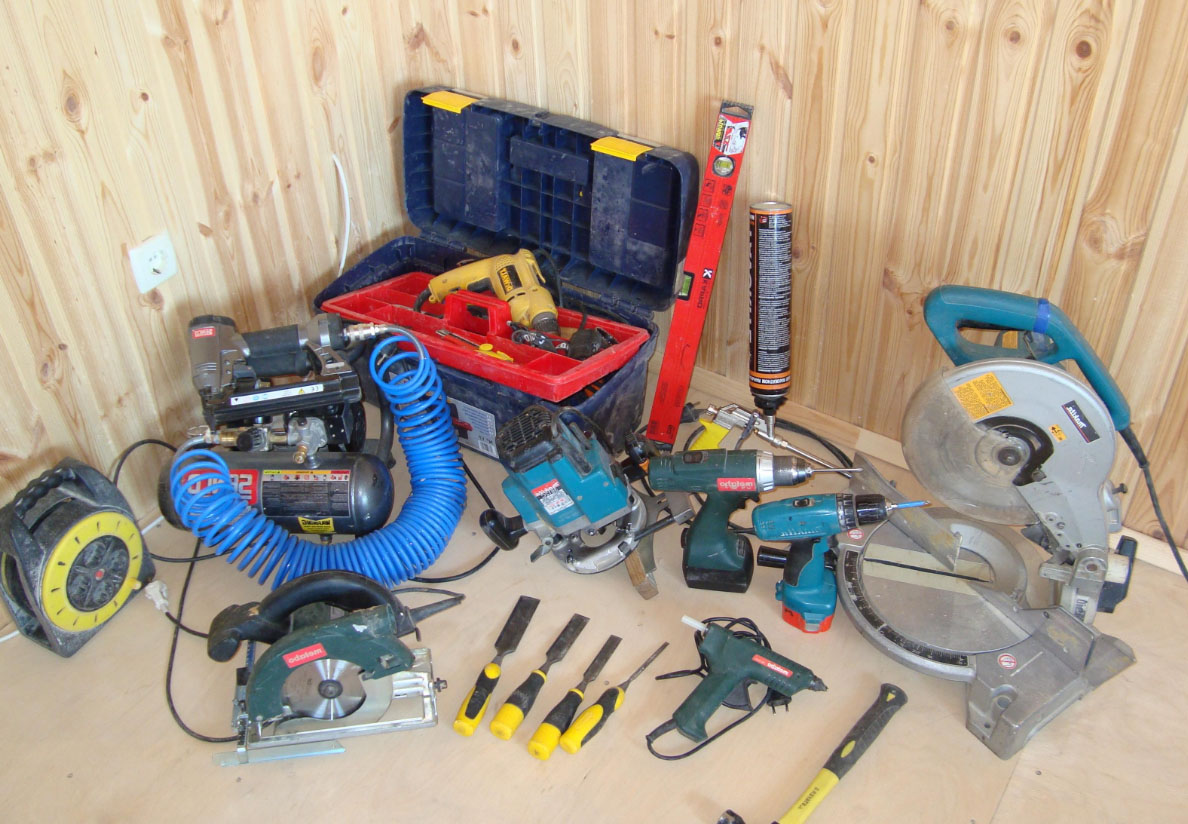 Preparatory work
Restoration of kitchen furniture with their hands It involves initial training elements headset to recovery. Most often, the furniture is made of finely-dispersed fraction (MDF) or chipboard (DSP). Less commonly, the furniture is made of solid wood. With this material should be handled very carefully and cautiously. After all, the wrong procedure for preparation of the material can negate all the efforts for the restoration of.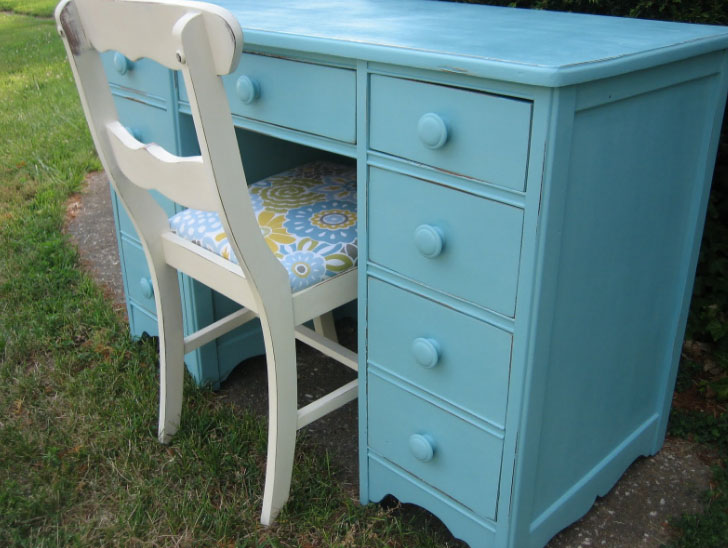 In order to make of such material from old furniture with his own hands a new need:
Unscrew all the doors and facades. To do this, use a screwdriver or screwdriver.
On the facades and doors are removed the handle. All furniture is restored separately.
Previous door is placed on a flat surface and sandpaper are stripped. First use a coarse, followed by a fine grinding.
In the presence of deep scratches gloss over them with a special putty, designed for solid wood.
Next, on the surface primed. Ready primer sold in DIY stores. It is not recommended to do it yourself. This will damage the furniture. "Production" primer protects against the appearance of mold and mildew, and water.
Leaves dry on 2-3 o'clock.
Apply the material to restore.
After that all the knobs are screwed and facades are hung up on the old place.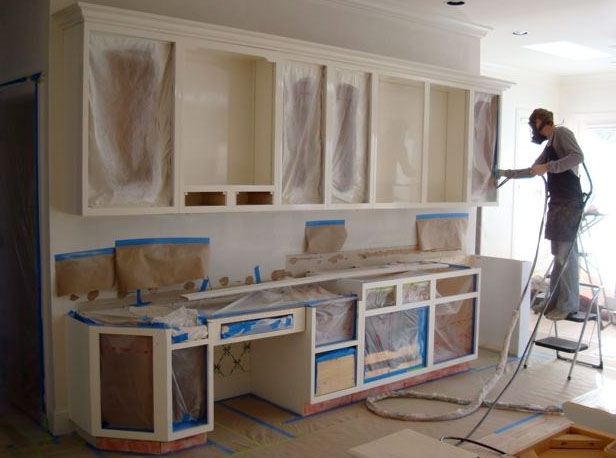 coloration
If the restoration of old furniture with his own hands is done with the help of paint, then you need to follow these instructions:
Pour paint into container construction.
Wetting roller container, wring out the excess paint and evenly applied to the surface.
seats, where not to paint roller, paint out using a brush made of natural material.
Leave to dry completely. usually enough 3-4 hours to dry. But it is recommended to leave a day.
After drying the surface is inverted and again covered with paint. The number of layers depends on the desired color saturation. recommended 2 layer.
varnishing
If a restoration kitchen furniture done using lacquer, preference is given to acrylic varnish with. He has such a cloying odor and dries quickly.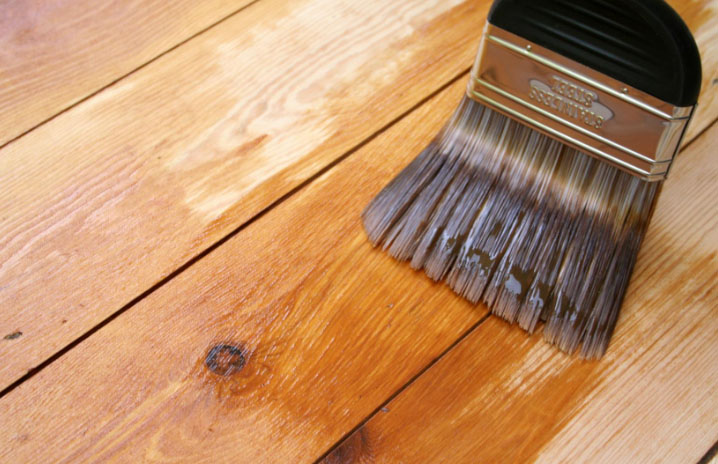 Pasting of PVC
If the restoration of old furniture is made with a cloth or paper, on the first primer smeared glue, and then adhesive bonded fabric or paper. As bonding is formed to remove air bubbles under the material. This is done with a spatula or soft cloth. Experts recommend before restoring headset cloth originally trained on any unnecessary items. Pay attention to the density of the material. We should choose the material medium density. Otherwise the adhesive will bleed through to the surface and spoil the appearance of the.
If the restoration of old furniture made film, then lubricate the glue is not necessary. In plёnke PVC prysutstvuet samoklejushchajasja Tape. Enough to remove it and stick a piece of tape to the front. Before bonding measurements with facades worth filmed.
Council: It is better to cut off a bigger piece of film. If you cut off a piece of a smaller, there is a possibility, that the film does not cover the entire surface. If the film remains after pasting, it can be cut with a knife stationery.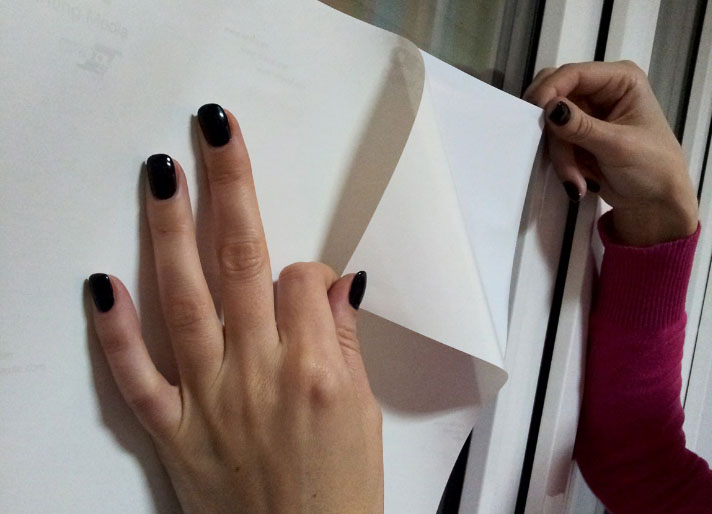 important aspects
When restoring the headset is worth paying attention to aspects such:
Suitable for coloring paints, not all. Selected paint for interior decoration.
If we restore old furniture with his own hands with the help of coloring, it is best to use spray (pulevizatorom). Otherwise, you may leave streaks on facades.
For coloring selected shaggy building roller. He did not leave any streaks. Do not use foam rollers or pupyrchatye.
Restoring scratches
Recovery often requires not only headsets, but dining group (table and chairs). They often appear notches and scratches.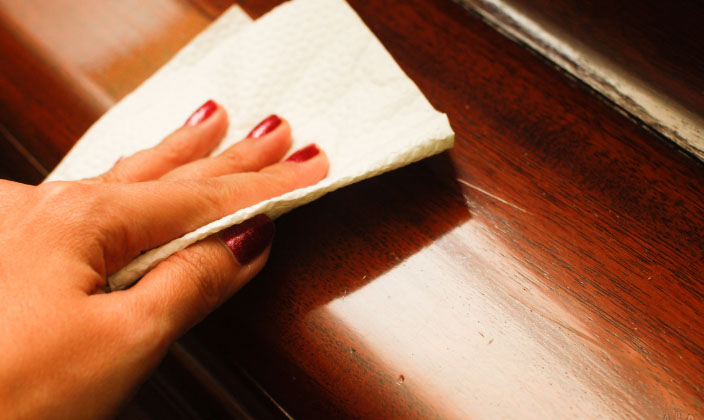 All these elements of "life back" in such a way:
Restoration of the old table starts with the disassembly of the table. You need to separately remove the countertop and remove the legs. All the elements are restored individually.
Next, the surface degreased with alcohol.
If the surface is scratched or recess, it will take their "mask". To do this, you need to "fill" the recess and scrapes melt paraffin. To cook it you need to break the conventional candle.
After the recess has been filled with, You need to leave the wax to solidify. If the wax protrudes above the base surface, it is cut with a spatula. Do not use sandpaper to clean. This will damage the surface structure. Sandpaper is used only for solid wood.
Continuing restoration tables coated with varnish or polish processing for furniture.
If deep scratches are not used wax, and shpaklёvka, designed for wood.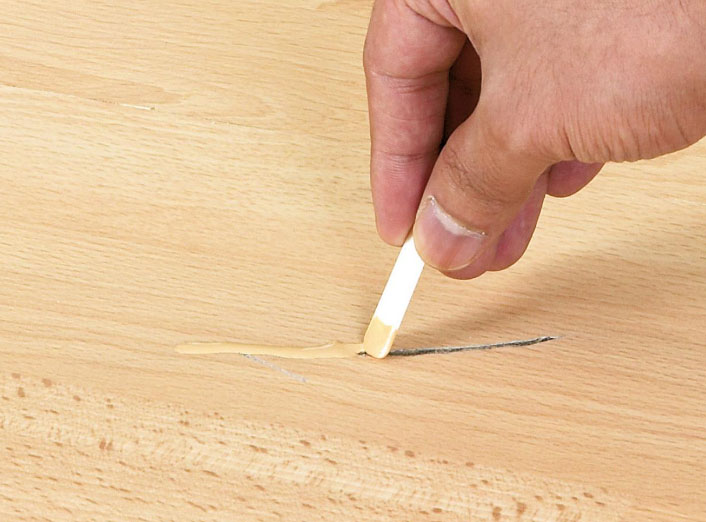 Restoration countertops can be made and paint. But in this case, you need to restore, and all other elements of a dining group for compliance in the colors. Restoration of the chair comes in the same way. It should also be initially disassemble, degrease and then paint and varnish.
Chips on the end parts are painted a special marker, tucked under the table color.
It recommended after the restoration of use of furniture polish. It protects from dust headsets, It gives shine and attractive appearance.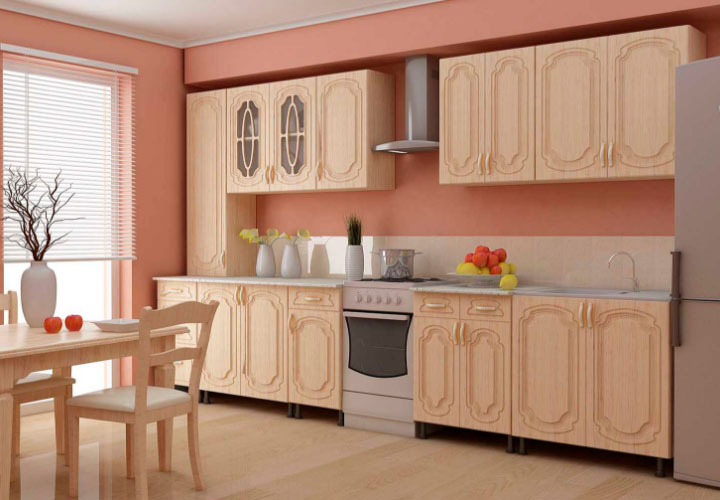 further care
Kitchen sets often are manufactured from high quality and durable materials. But if you do not follow properly for furniture, even the most high-quality material for a long time does not serve.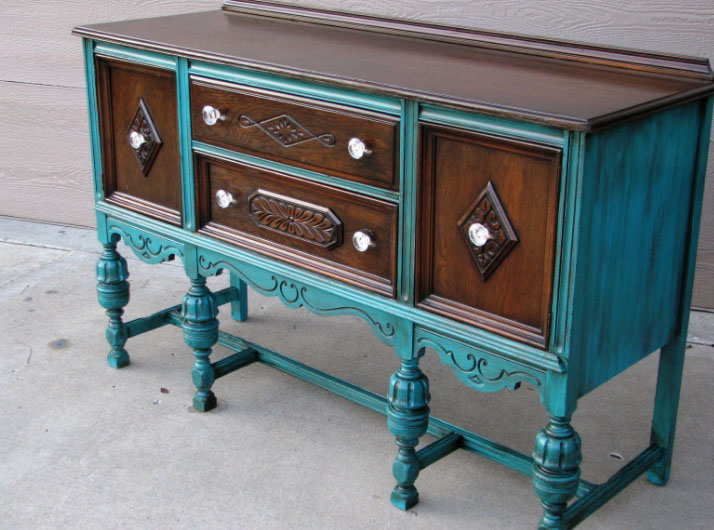 Care Measures:
Care should be taken humidity working surfaces on the headset. Material and special impregnation to protect from moisture, but they do not cope with excess moisture.
Try not to leave scratches on the surface of the headset. I do not mean to cut on the table without plates, not to put the dishes and appliances on the sharp legs on the table top.
Hot items and items to put on a special stand.
conclusion
"Return Life" can be headset, made from any material. But it is necessary to take into account, the tree - whimsical material, who does not like coloring. Restore wooden facades better varnish. A detail, made of chipboard, MDF and particleboard better to paint or paste film.