Can I make wood furniture with their hands
When it comes to, whether it is possible to make wooden furniture for the kitchen with his hands, the answer to this question can be positively. But there are some mandatory conditions - you must be at least a cabinet. Wooden furniture with their hands - it's not put together a box, and perform original work of art (special, when - carved furniture handmade wood).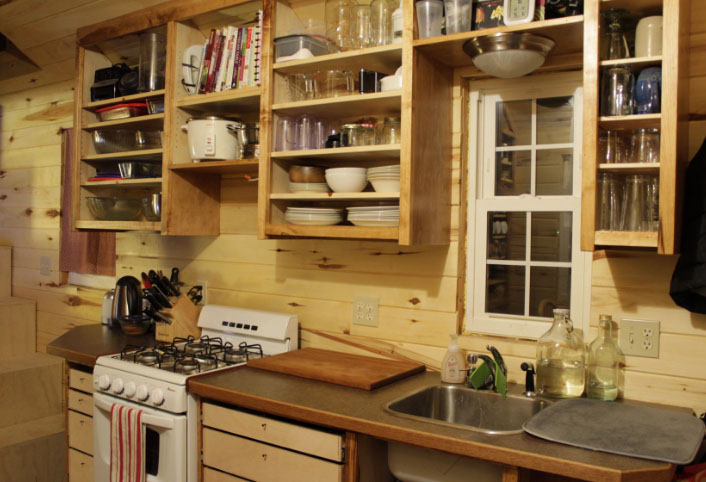 Freestanding furniture for the kitchen from wood with their hands
But you can do and some pieces of furniture without passing special training. for example, table and stool made of wood with their hands the kitchen. And if the master even with the "hands", the food manufacturing results, using carved wood décor, It will be of particular value. Such a self-made wood furniture with his own hands was formerly the property of museums and wealthy families. Today, anyone can become the owner of a similar example woodwork. This dinette complements any home interior, becoming a real highlight in design.
If you come to thoroughly thought, exactly what you want to build wood products with their own hands (dining table made of solid wood and several chairs), we must clearly grasp the number of basic steps:
Marking and sawing wood raw materials.

Processing elements.

Manufacturing and mounting holes for connecting elements.

Coating lacquer compounds.

varnishing.

Assembly of constituent parts.
Dinner table
make table of tree with his own hands is acceptable for a novice cabinetry if desired, and the availability of tools.
Table top made of solid natural wood
For the manufacture of the most important and beautiful element - worktops need 4 board 50x150x1000 mm. Suitable oak or conifers like supple and do not deform the raw material. it is recommended to cut the board at the same thickness and width along. Also pay attention to the cutting accuracy, that any cut was square. Dining folding oval table made of solid wood (as the sliding table) you can build with their own hands, but it is much more difficult. This option is not for beginners in this business. The process consists of the following:.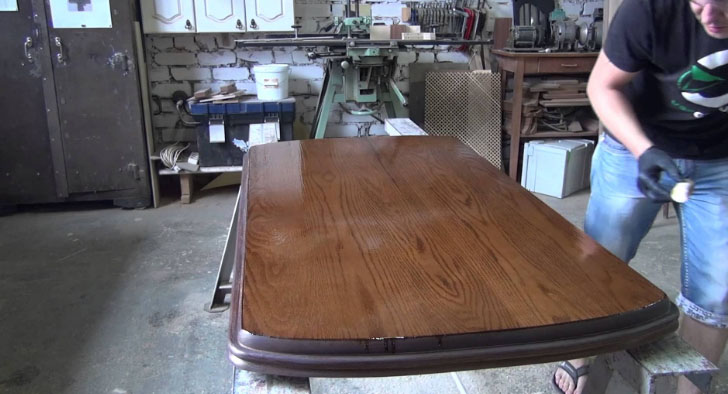 Fugankom processed end surface for a snug fit. In this case, the worktop will look object holistic. To create a flat edge is recommended to regulate the pressure on the tool at the time of jointing.
When drying wood narrows, This leads to gaps in the joints. In order to avoid such shortcomings recommended to lay the boards with a mirror arrangement of fibers.
For fastening elements are used dowels and glue. In this case, wood furniture is becoming tougher. Then, the side end surfaces are applied at a distance markup 0,10-0,15 m, while strictly symmetrical layout on a nearby chalkboard. For convenience, you can draw in the middle of the side of the line and at equal distances to make a mark for drilling.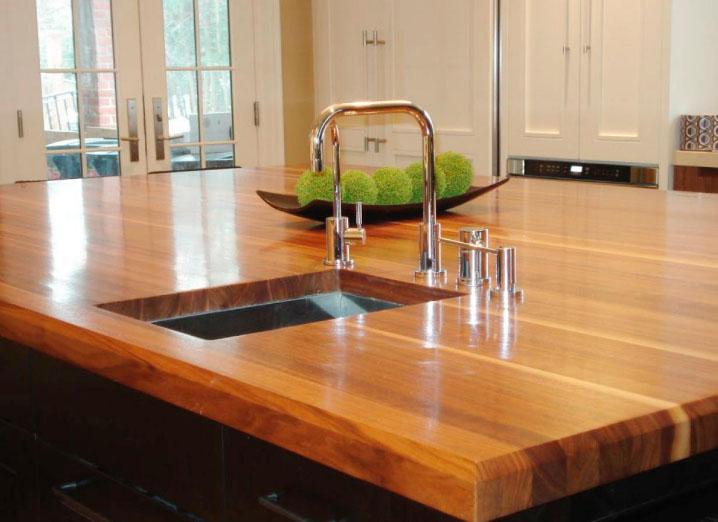 The next step - drilling holes, into which the dowel with glue smeared. Boards similarly lubricated and slipping between them. The construction is dried and grind.
The edges of the countertops are subject to grinding processing, rounded corners (optional).
legs
Manufacture of wooden kitchen furniture does not provide for a strict implementation of the template. In this way, Leg cut free form. The process is repeated, only now for the first pattern. They are then thoroughly polishes.
The next stage - the collection of legs. To do this, cut jumper with oblique angles, to place them on the diagonal. They also polished. Adhesive joint allowed only, without shkantov. Then pull a rectangle recommended using clamps. The design is left to dry on 24 o'clock.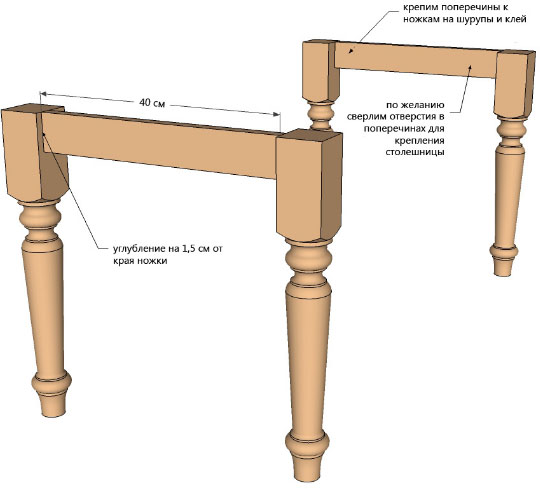 Assembly
At the end of the day finished design is attached to the table top and is circled with a pencil on the inner and outer perimeters. Markup and tabletops with legs in the center of the front plane of the holes for dowels run. Further, they are lubricated with glue and are connected to the common structure. Now the dining table with his hands ready for painting.
Tables made of handmade wood stain treated and several layers of lacquer, to maintain the appearance of a natural material and create a glossy effect.
pouf
Stools of wood with their hands, as usual, perform an initial element in the manufacture of a handwritten.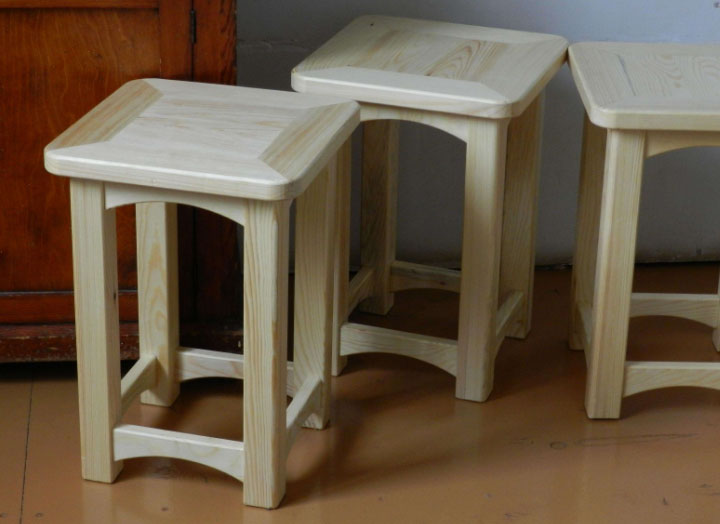 legs
Among those with available sample material boards is carried out, which are suitable for legs and drawer side. They are not allowed loose knots, cracks, as well as old nails and other foreign things. Because of their reduced design quality.
With the help of jigsaw to be cut 4 feet and 2 tsargi for the pair combination. Connection method crosswise strengthens stool. It is recommended to follow standard size length of the legs and drawer side (0,45 m.) and seat (0,35 on 0,35 m).
If you want the same curved legs, cut pattern, and on it are cut four legs. Then grind surface sides, or processed by a router.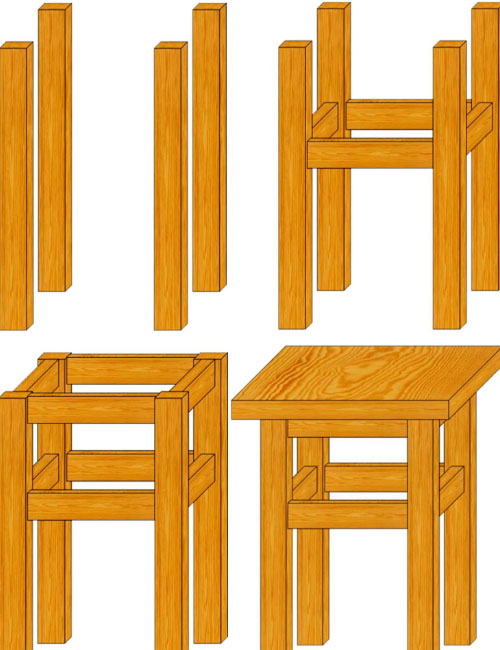 Performed the slots in the legs. For this extreme reams holes (2 PC.). Pins and holes must be proportionate. Next, perform the opening between the groove edges.
It is recommended that their common axis. wood residues in the grooves are removed chisels. Bond strength is caused precision fitting groove and tenon.
It provides a method of combining under the name of "another thorn". Here, in two superposed elements are executed slots. Separately, cut the spike is treated with adhesive and aligned with the two slots.
The drawer side performed square cutouts for future connections crosswise. The width of the cut-out and side-bar correspond to each other, Depth - ½ tsargi width.
Before assembly, it is recommended to collect solid components without glue to verify the accuracy of coincidence of spikes with notches. Caused inaccuracies can be corrected. With precise connection studs and grooves are processed by glue, foot dock with tsargami. The resulting construct is compressed and dried clamps (On average, this period comes to 24 hours, or refer to the instructions in the glue).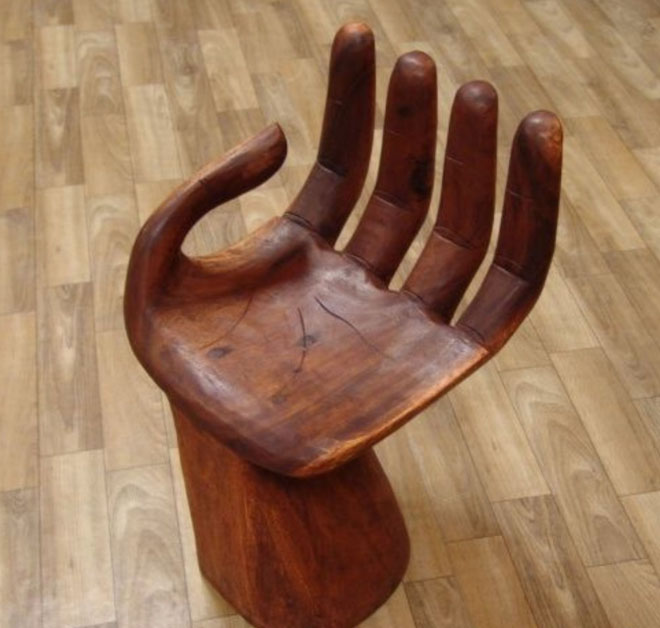 Seat
Sample is held among trimmed boards. grind the surface. It is recommended to pay attention to the surface faces, to be bonded - the latter should be equal.
When collecting shield is recommended to monitor defects (cracks, knots and so on.). They should be placed only on the underside (lower) surface, so as not to spoil the appearance of the stool.
It is necessary to try to collect the shield without glue, using clamps. Only when normal communication is recommended to glue. Further lubricated surface faces and clamped by clamps.
Assembly
Gather dried up the constituent elements of the stool:
removable clamp, removes excess adhesive from the surface and held an additional quality control adhesion. A base portion connected to the adhesive and dowels. For this proportionate drilled dowel holes in the middle of the two base slots. Standard dowels - 8 on 30 mm. All smeared with glue, introduced dowel, a base connected with a seat and contractible clamp.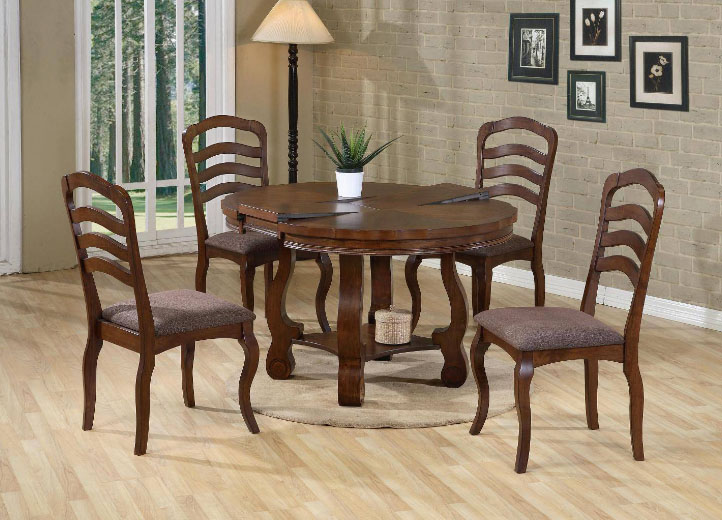 At the end of the stool is polished and coated with a paint and stain compound. The varnish protects the stool from wear and moisture exposure.
Some things you can build and own, while their cost is obtained solely from the value of the timber and energy costs. Having mastered the skills to make a table from a tree with his hands, probably, proceed to more complex items of furniture and gradually become a qualified cabinetmaker.