Top kitchen made of natural wood: 6 the most popular breeds
Wood - is the most demanded materials in the construction of homes and furniture making. Two or three centuries ago, this material was in every home, as the other materials did not exist. Now the wood is considered a luxury, but natural wood said the high status of the owner of the house and prosperity. Fashion is fickle and rapidly changing, but the cuisine of natural array is always in demand.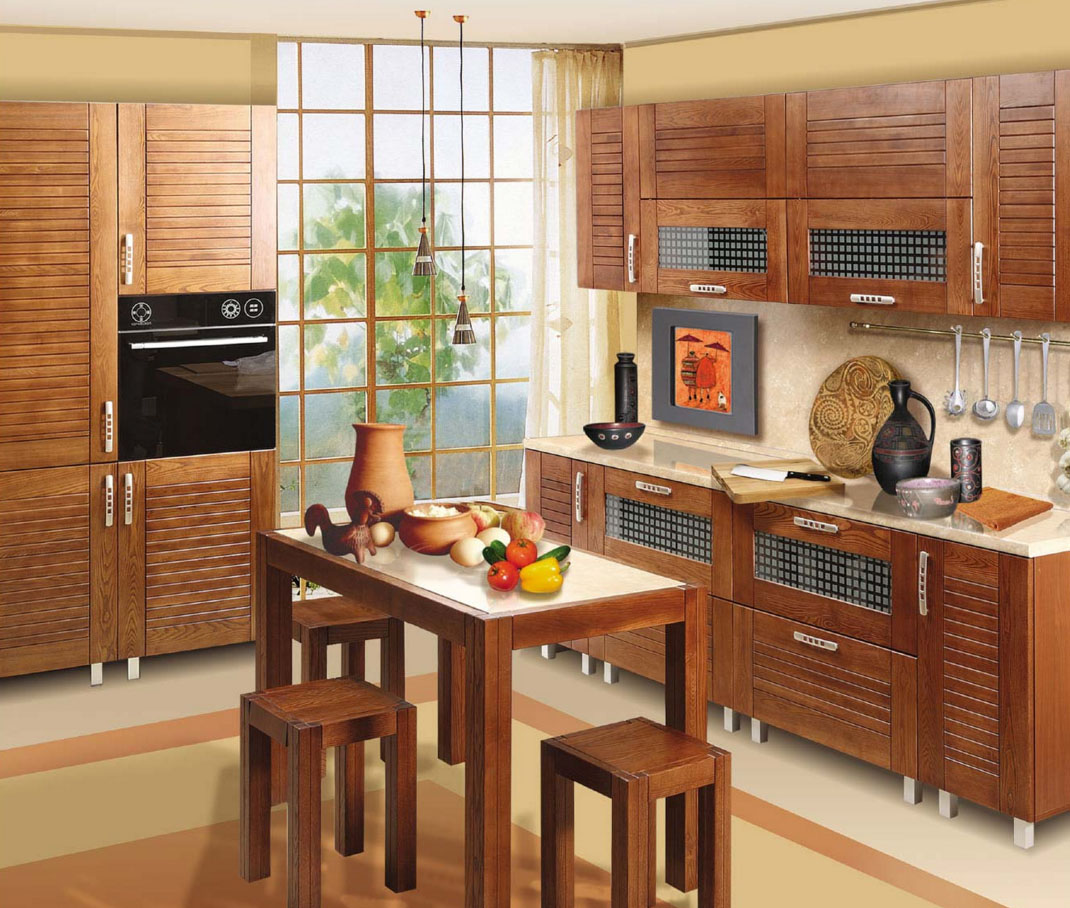 As materials for the manufacture of such kitchen are - pine, alder, oak, the Red tree, beech, cherry and birch. Each individual species has its own characteristics and physical properties, why choose this furniture is important to carefully.
Popular breeds
If you are resolutely choose furniture kitchens in solid wood, then first of all consider the popular wood species: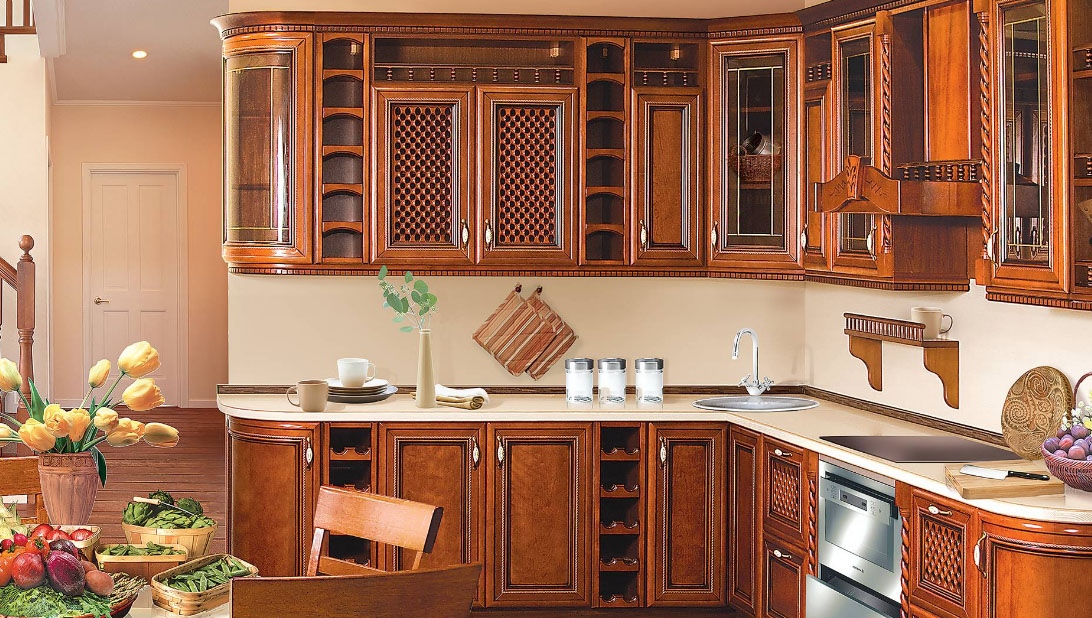 Ash. This type of wood is easy to work, therefore choose those, who need elaborate design with curved facades and elegant lines. Besides, strength not inferior to oak ash.
Oak. The kitchen is solid oak - is not only a status and elitism, but also reliability. This species is characterized by high strength and wear resistance. Kitchen will last for many years and will not lose its aesthetic qualities.
beech. According to its characteristics beech exactly the same, as oak. But this material is chosen ones, who love interiors in bright shades. With toning tree gets soft and pastel color.
Cherry. This breed is softer than all of the above, a pinkish hue transmits light and tender.
Pine. When planning to use this kind of wood is better to prefer rustic style.
Nut. The material is almost as soft, like cherry. Easy to process and does not cleave. This breed is used to create curved and carved kitchen sets.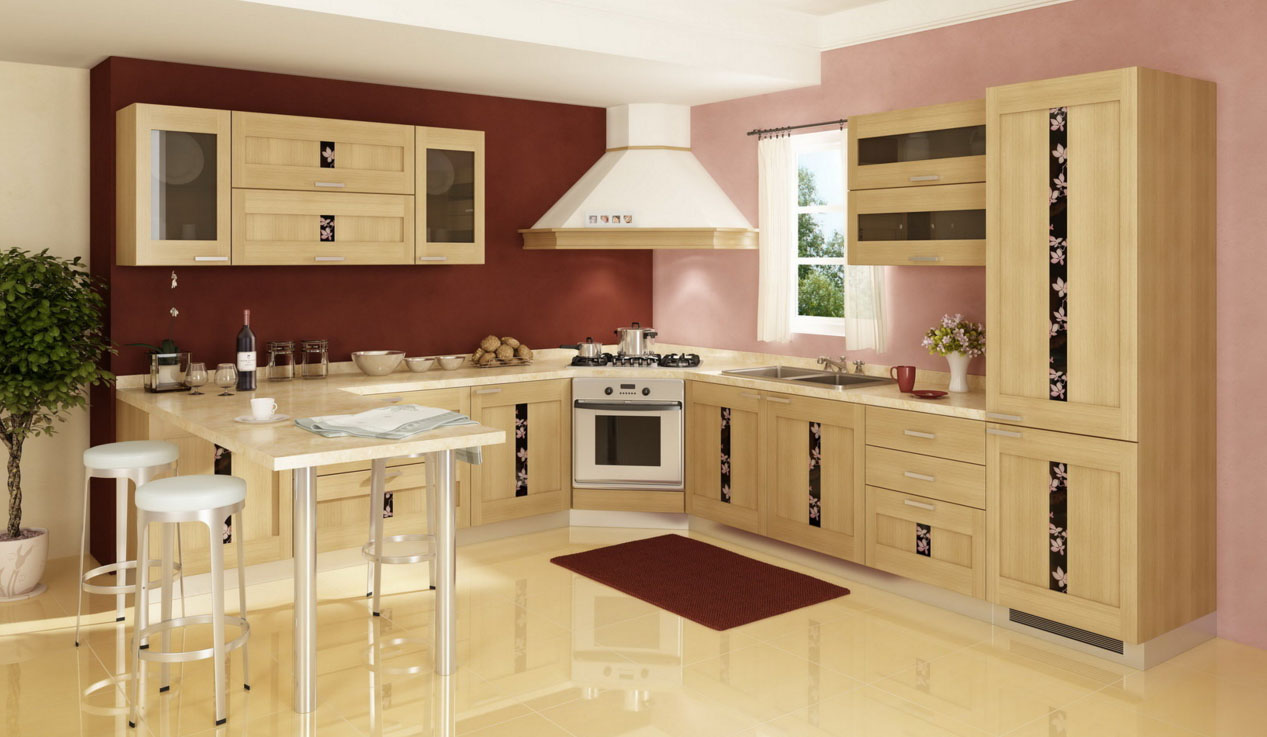 Oak
Oak gives the impression of stability. This breed is used to make expensive, but at the same time restrained interiors. Oak looks elegant and thus has a high performance. The great advantage of solid oak It considered the, its color varies from light yellow, to dark red. In this way, you pick up furniture, that matches your taste fully.
Besides the noble shade, oak has a fine figure, which does not require any more decorations. Through 15-20 s wood will darken, but it is only a positive impact on the appearance.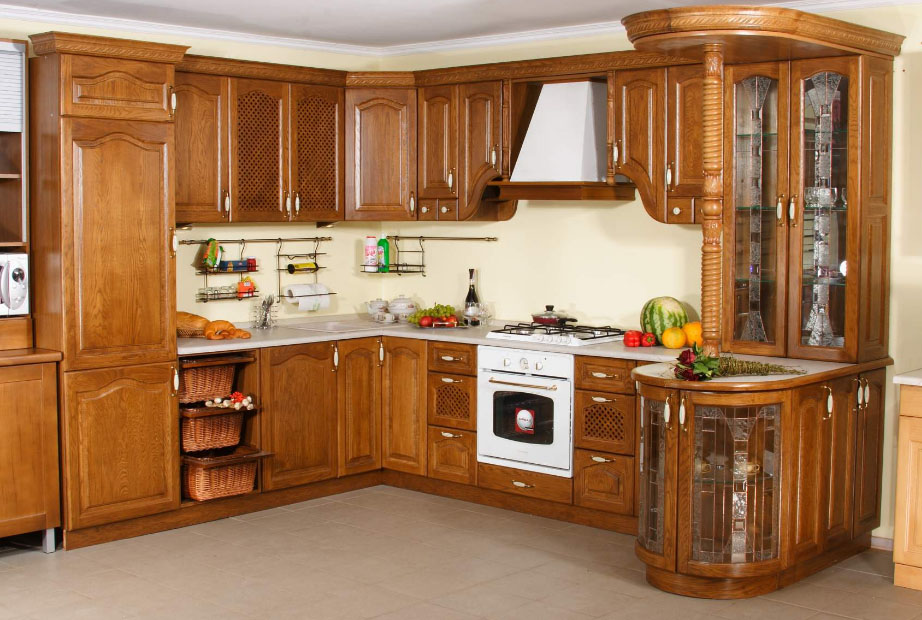 beech
Kitchen made of beech in their appearance is absolutely no way inferior to oak. Besides, This material is as strong. The main advantage of this breed - tinting in any color. With this furniture you realize all your design ideas. Thus wood processing occurs naturally without the use of toxic substances.
Ash
Color ash - a calm and gentle. It is best to this option is ideal for small kitchens, to visually expand the space. Ash has high flexibility, so it is used for kitchens with bizarre shapes. If for such furniture properly care, it will last for many years, and it does not change its appearance.
Cherry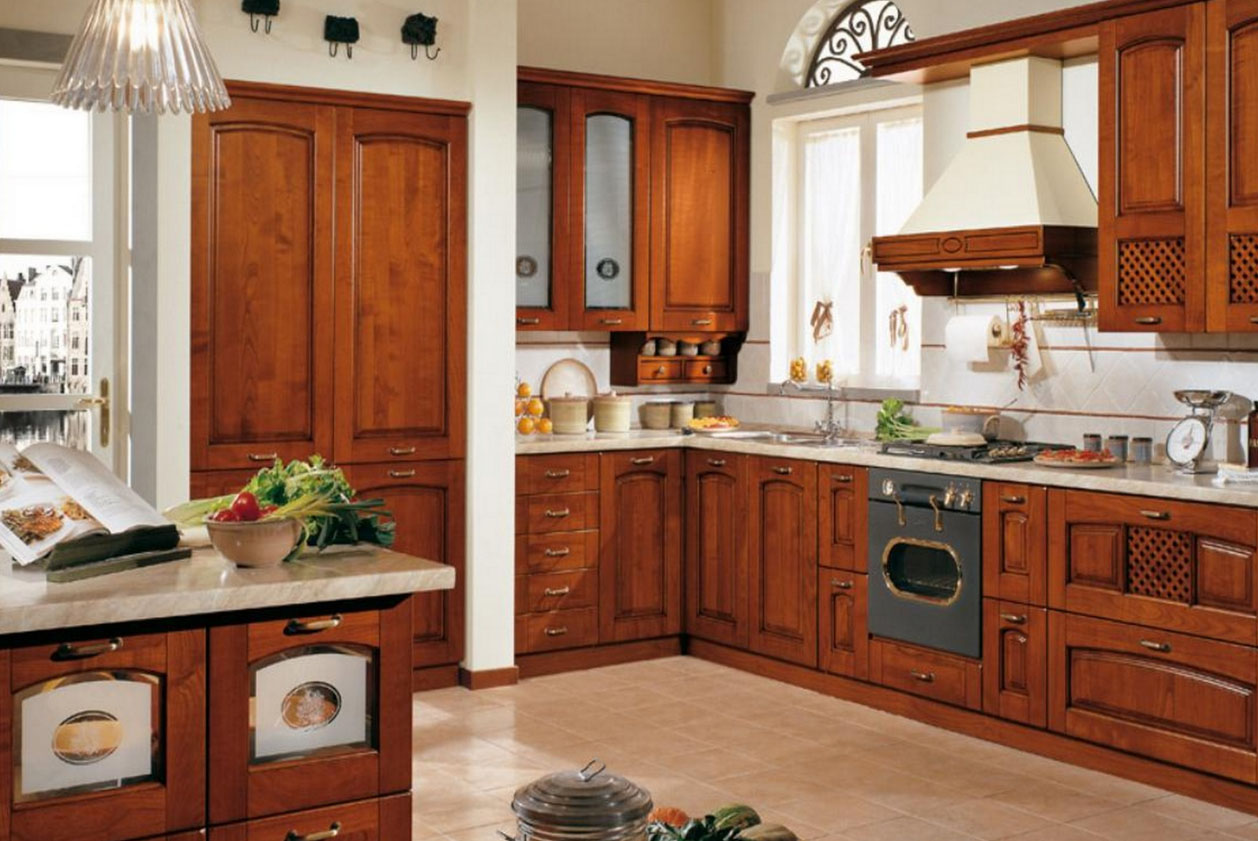 Cherry - a freshness and tenderness. This breed selected those, who prefer the romantic and delicate pastel shades in the interior. This interior is not necessary to overload the small details, otherwise lost light and airy. It is better to add a variety of stained glass or clear glass inserts. Even a two-meter cabinet, cherry, It looks neat and sophisticated.
Features kitchen furniture, wood
When planning a kitchen design from an array, it is important to first familiarize yourself with the characteristics of such furniture, not to be mistaken with the choice. Advantages of Kitchen made of natural wood: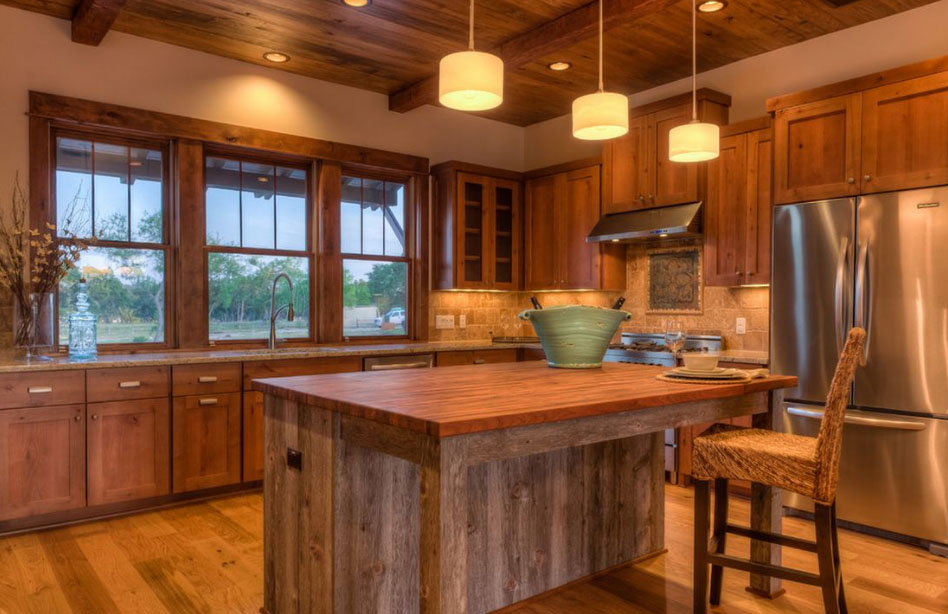 Wide choice for a classic or modern design.
Wood - is an eco-friendly material.
Substances used for treatment, to prevent deformation of the array.
Durability.
The material is resistant to mechanical damage.
The main disadvantages:
The choice of colors is limited, so you have to pick up the overall style of the room the color of the furniture, and not vice versa.
The tree does not tolerate moisture. In contact with water the wood becomes soft and fragile.
To care for such furniture you will have to pick up the special detergents, since solid wood is sensitive to chemicals.
When rapid temperature changes deformed tree.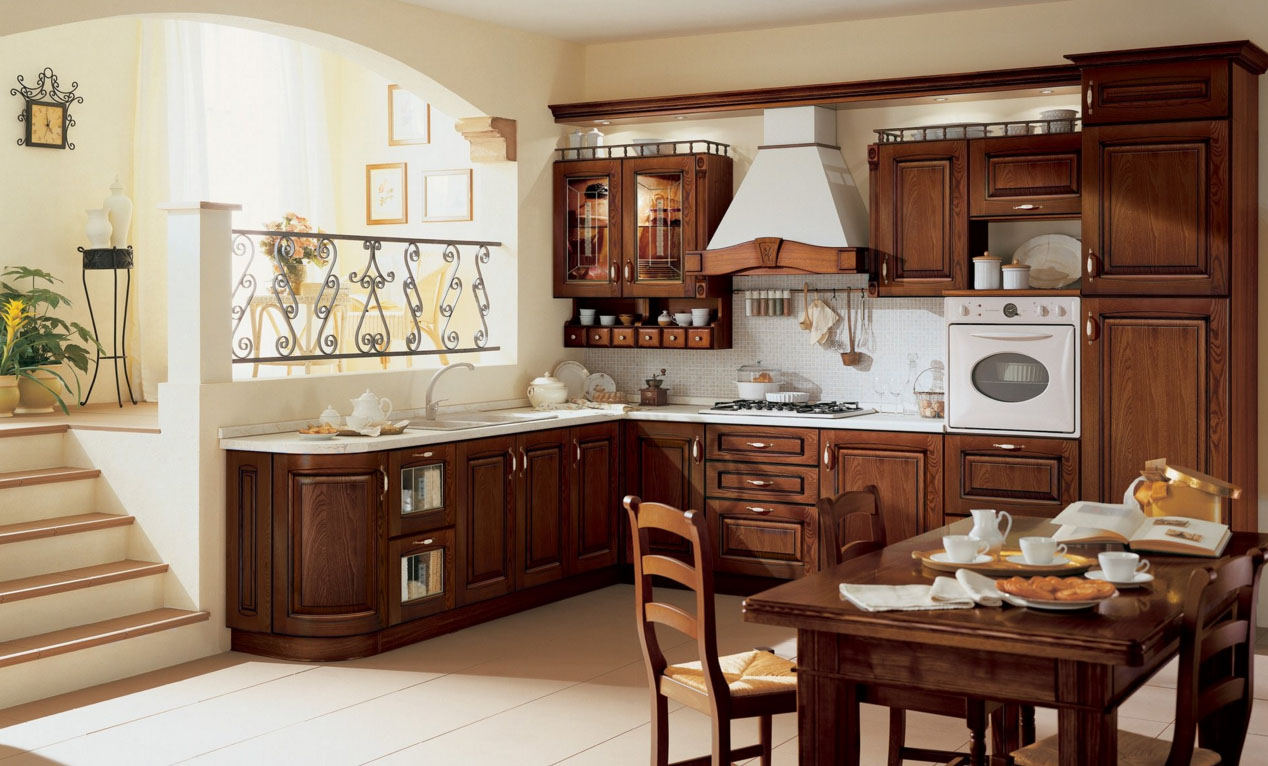 manufacturers
choosing furniture, give preference to the Belarusian manufacturers. Cuisine from an array of products from Belarus differ quality and reasonable price. Besides, you have the opportunity to choose the best option from thirty tints.
The choice of shapes and sizes of oak kitchens, ash, pine and alder is wide enough: choose a model according to your taste easily. Besides, Belarusian furniture equipped with the latest accessories - a box smoothly put forward and are installed shockproof elements, doors close quietly.
Council: Before buying, make a detailed plan, taking into account the height of the ceilings, the position of windows and pipes.
Do yourself furniture from solid wood
If you want to create their own furniture made of natural wood, it is important to consider these nuances:
Correctly pick up the height of the table. Optimal height - ten centimeters below the elbow.
It is not necessary to use only continuous facades, better to alternate them with open shelves and cupboards. It's a little refresh the overall look of the room.
Countertop should not do made of solid wood, better to give preference to the laminate.
Important, to position the refrigerator no more than 1,5 meters from the washing, and washing at a distance 60-90 centimeters from the plate.