wood kitchen: 6 strengths and 4 the lack of this type of furniture
Durability and attractiveness, luxury and elegance - these concepts immediately appear in the head, when you hear the phrase "kitchen wood». If not for the high cost of wood furniture, most people would have chosen it was her. but wooden kitchen - it's not just furniture. If you live in a log cabin, then your kitchen is too wooden. Therefore, we consider, how to equip the kitchen in a wooden house, as well as how to choose a kitchen set made of solid wood for a city apartment.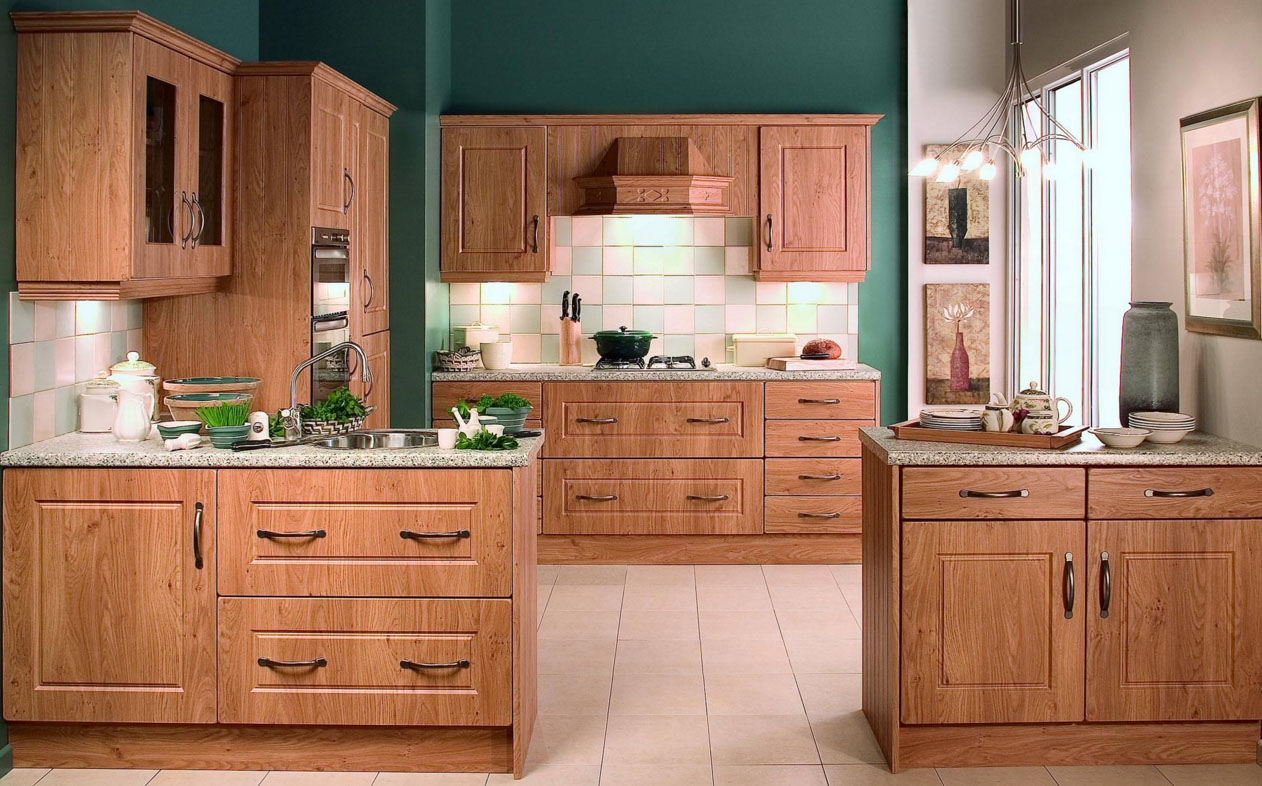 Once again on the pros and cons of natural wood
First of all, it is environmentally friendly and naturalness. There are no poisonous impregnation or plastic, released into the environment harmful compounds. In wood surroundings it is always a piece of nature with its unique energy.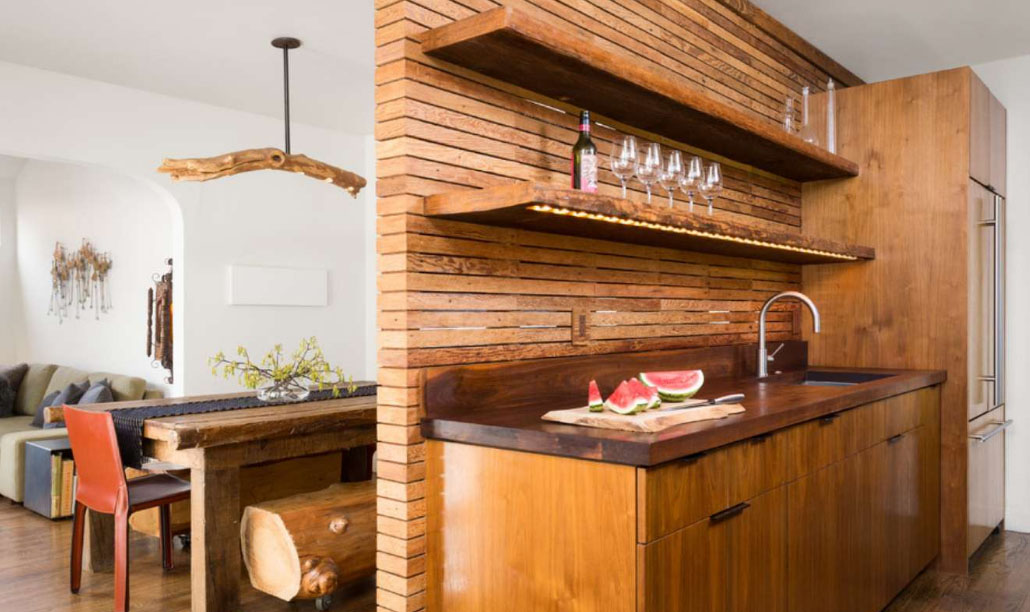 Apart from the two main advantages, are the following advantages of wooden furniture:
Durability - if you follow the guidelines for care, the furniture is decades
Atmosphere inherent chic, elegance, presentability
A wide range of products - wood products for the kitchen run in economy or luxury version
Wood emphasizes taste, status, wealth owners
The disadvantages of natural furniture recently attributed to the instability of a wet environment. However, modern technology make it possible to cover the wooden parts with special impregnation, which prevent the ravages of moisture.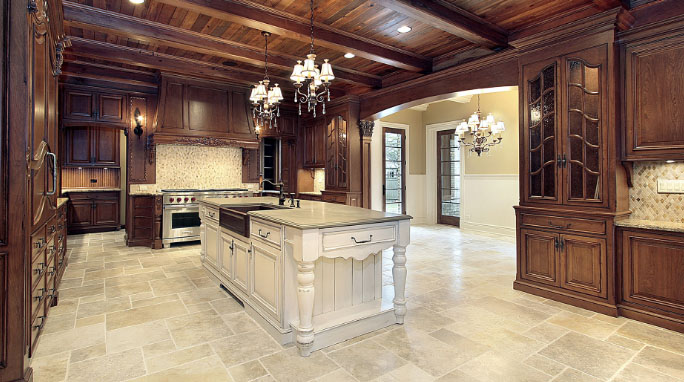 The main disadvantages of furniture made of natural materials are considered:
High cost - it depends on the type of wood
Absorption of light - in the kitchen with furniture made of wood is always a bit dark, thus necessitating additional or brighter lighting
Lean color palette - approval applies only to natural shades. This is a different tone brown, beige Color, reddish. However, a wooden set can be painted - then select the range is greatly extended
Gentle care - despite the factory impregnation, pouring water on a wooden surface, or be used for cleaning abrasives inadmissible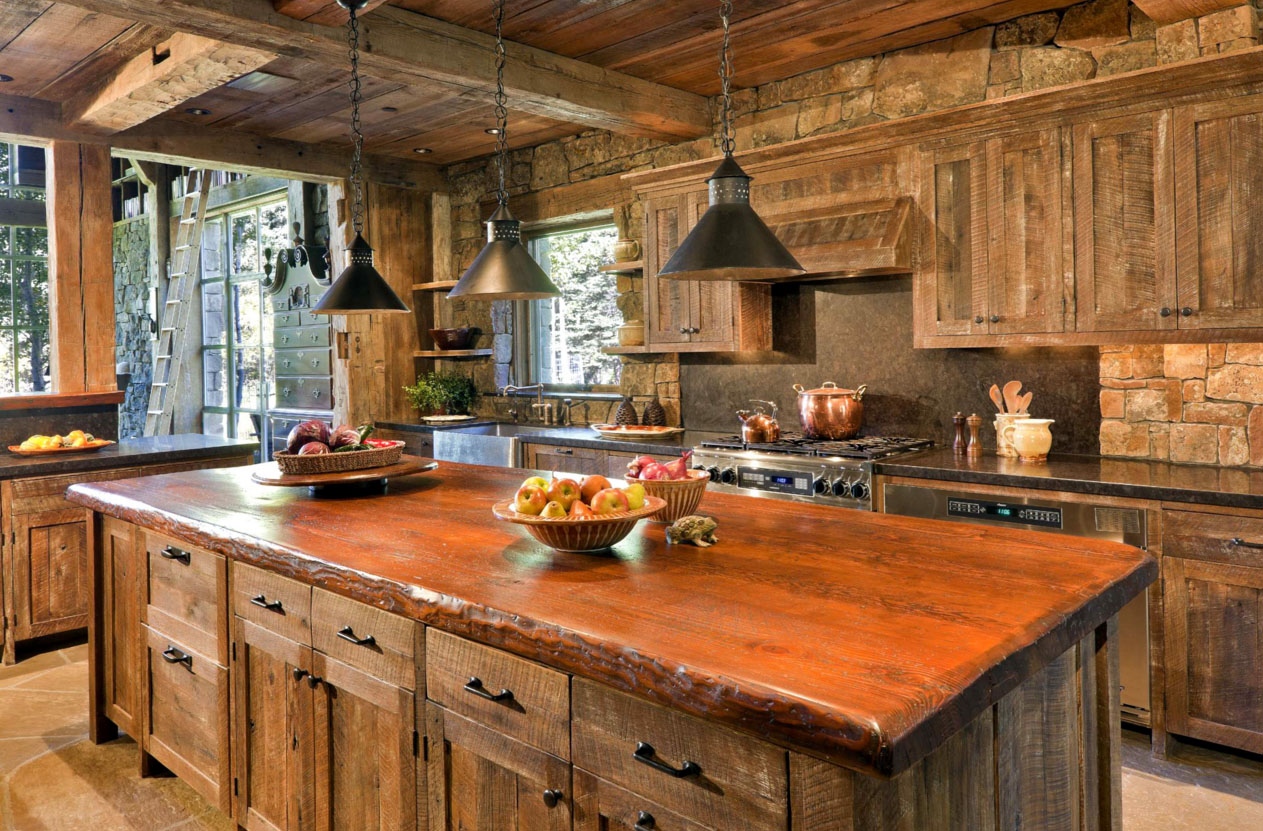 From what is solid wood furniture for the kitchen from the manufacturer
The main requirement for material, of which makes the headset, chairs, tables or cupboards for the kitchen from wood are strength and a beautiful wood pattern. In practice, this:
Oak - a reliable and prestigious material
Ebony - has a dark color, very expensive due to the complex processing
The Red tree (mahogany) - the standard of taste and style
Beech - durable, easy handling
Cherry - easily handled, It has a nice pink-brown surface
Ash - pinkish tree is not inferior in strength to oak
Birch - light, light
Alder - strict wood becomes a beautiful frame for design decisions
Do not think, that the situation of a tree only available to rich people - judging from this list, will pick up furniture for all incomes
The kitchen in the log cabin
It makes no sense to close the natural beauty of this kitchen. Despite the fact that the tree in the room is the main material, Here it is appropriate to put a wooden furniture.
wooden styles: white, natural color, gloss, dark, the black, light coloured
Preserve the natural aura will help the interior in wooden style, which is suitable for implementing one of the following solutions:
Hunter's style - the dining area is organized closer to the fireplace, the walls are decorated with stuffed animals, weapon
Eco-Style - the furniture made of wood is diluted with live plants
Country - furniture chosen white, light textiles, open shelves
Russian style - carved placed, but a little rude furniture, which goes well with tiles or flooring apron. Design specific complement wooden products for the kitchen - dishes, Nested, stools, and the samovar, wicker baskets, textile
Rustic - Furniture, if knocked together from boards, rough coating or almost finished with floors and walls distinguish this style from rustic
Particulars of countertops, facades, chairs: Work with your hands in a modern style
We'll see, How to make a wall, floor, apron, the window in the kitchen in the log cabin:
Floor - laid tiles, parquet, a rock, waterproof laminate. Color darker selected, than furniture or other surfaces
Walls - interesting is the option, when the walls are painted and sanded, but not covered with lacquer: so we got to see the texture of wood
Windows - closed understated textile or wood blinds
Apron - tree combined with tiles, mirrored panels, plexiglas. It looks luxurious apron of stone or mosaic, but they require careful care. Transparent plexiglass allows you to set the backlight behind him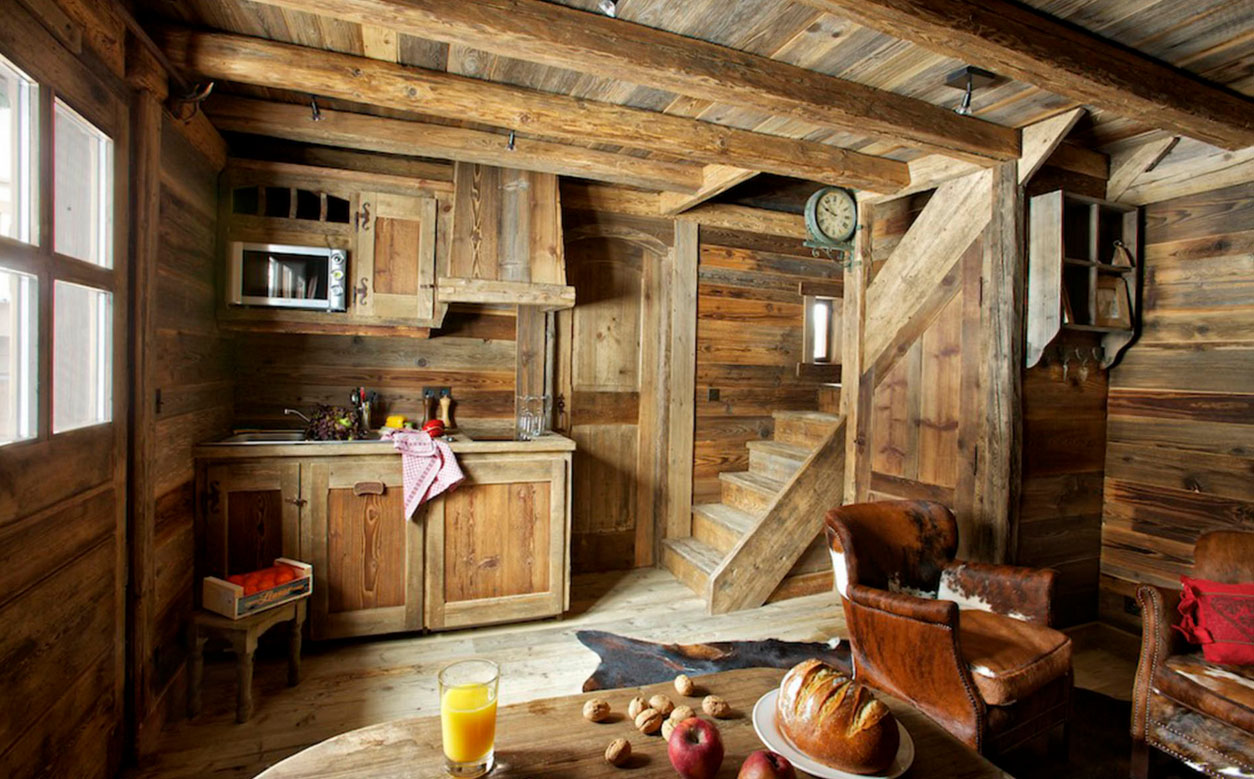 By setting chosen a dining table with chairs or stools set.
Wooden kitchen in a city apartment: trim in the interior with MDF
Installing kitchen entirely made of wood depends on the area of ​​premises. Dark or massive sets for large kitchens, where they will not cause a feeling of tightness in the space. Set of wood for small spaces selected in bright colors.
To set did not seem too heavy, It recommended to install with glass facades, and the height of the hanging shelves do not bring to the ceiling.
Support the wooden interior decoration will help.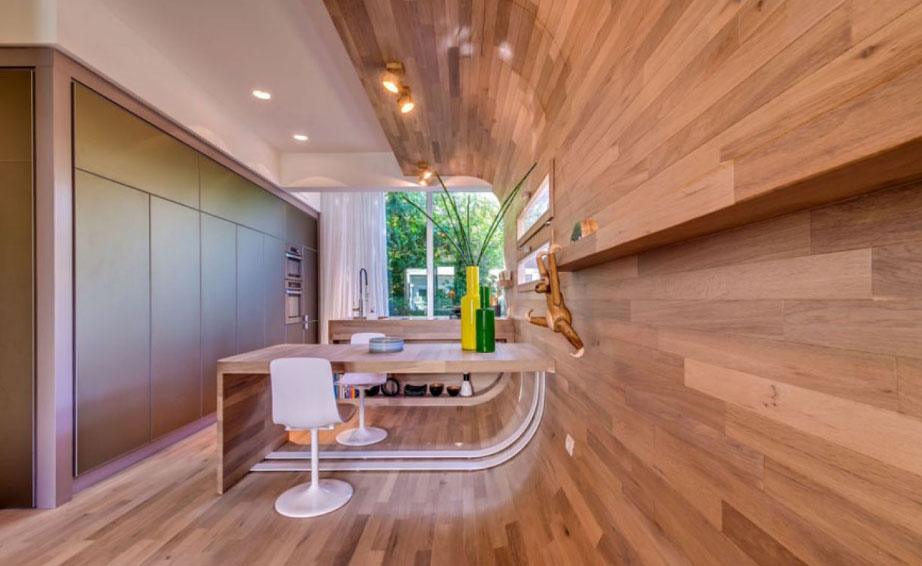 How to care for wooden kitchen
Furniture should not dry up, so it is recommended to ventilate the room more often and humidify the air before 40-60%. If the windows overlooking the sunny side, the light tulle should always be set to close, buffet or table with chairs from the direct rays. When the sun gets on the furniture she fades. Despite the special impregnation, refers to wooden surfaces should be carefully - cleaned with a soft sponge without using scouring powder, avoid dry spots, immediately collect spilled water. To the furniture looked like new, rub it polishes. They give proof protection against moisture, fire and insects.
Furniture made of wood or wooden kitchen - it is not just a fad, but also a reasonable choice of the person, who appreciate comfort and environmental friendliness. Presentable and chic sets of valuable wood, as well as a decent look inexpensive models make it possible to create comfort for any kitchen.