We do the kitchen in the Italian style 3 simple steps
Experimenters Italians are famous for their culinary skills. Therefore, the kitchen for them ─ a special place. It can be called the center of the house.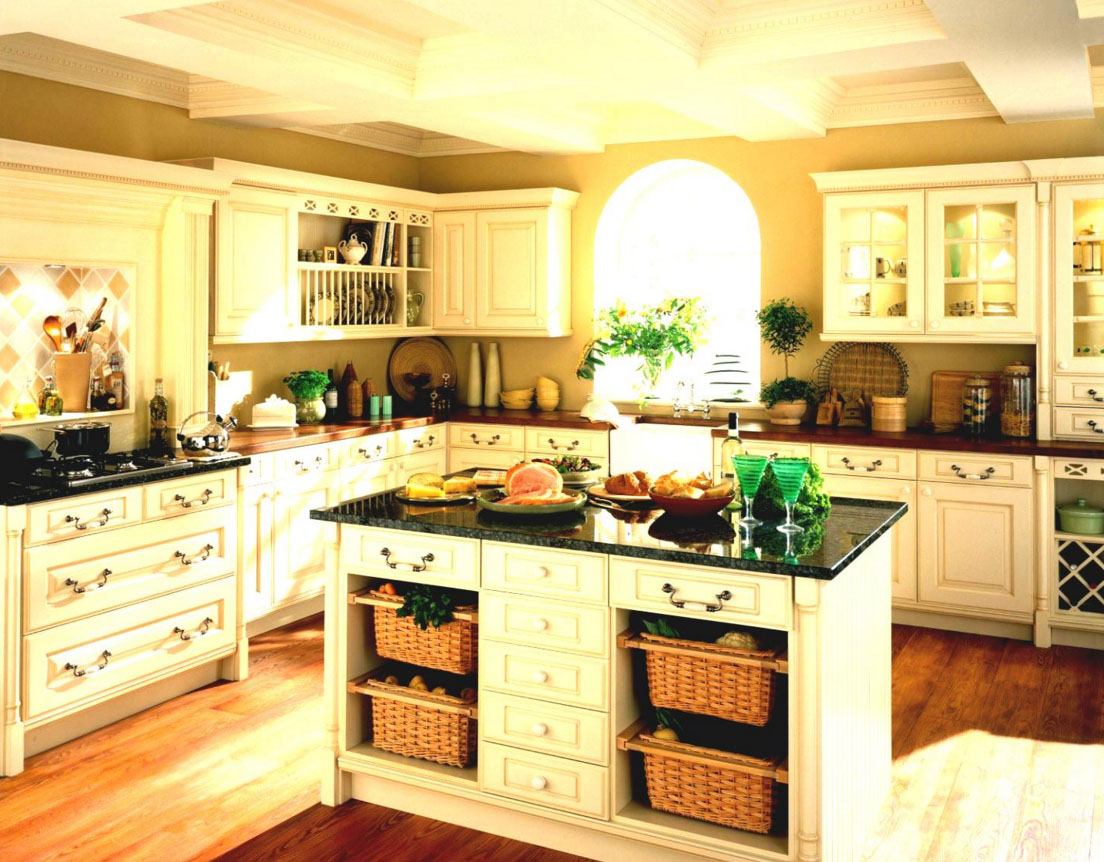 Kitchen design in Italian style It requires a special approach, because it is not so simple, as it seems at first sight. In it are closely intertwined elegance, whose roots are in the ancient, with ease, characteristic Italian villages of Tuscany. Often this style is called Tuscan. What is characteristic of him?
Features Italian style:
rich natural color in the interior;
a combination of simplicity and sophistication;
use of natural materials;
organic combination of traditional and modern elements;
contrasting approach in the selection of textures;
a large number of decorative elements.
instructions, how to decorate the interior of the kitchen in the Italian style, write hard, because the people are famous for their ingenuity, not only in food. But some still follow the recommendations.
Stage One - Finish
To finish the kitchen only natural materials are used in the Italian style: tree, metal, a rock, ceramics. Permissible quality substitutes, although their price is almost on par with natural.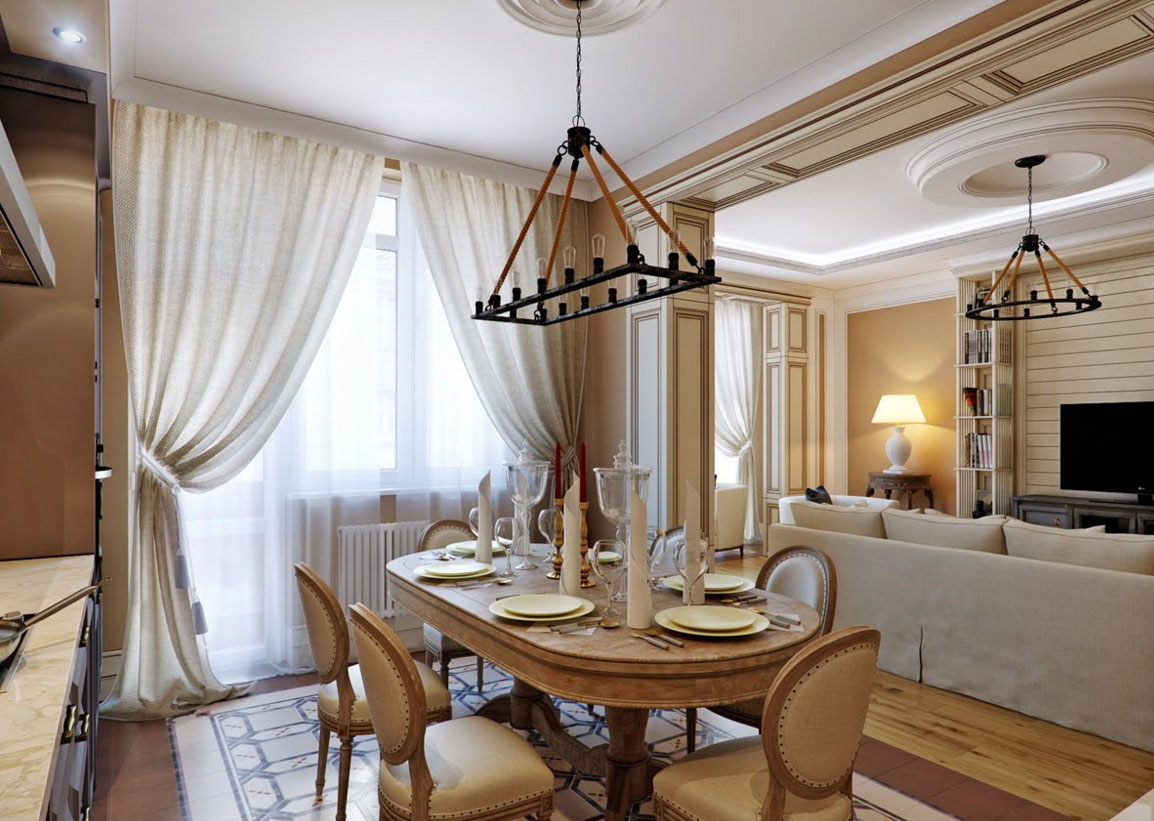 Walls
A better option would be for the walls decorative plaster. Welcome mix of materials, but within limits. If you want to wallpaper, choose a plain, for painting. Apron, part of the wall, columns and a fireplace overlaid stone or brick. Quite often, kitchen apron decorated with tiles, which shows the food and everything, connected with it.
To add warmth kitchen, Add in the interior shades of orange and yellow. Besides, use of color, reminiscent of the sea and nature in Italy. Blue is associated with the sky and the sea water, ─ with green hills and vineyards, ─ claret with fragrant wine, lavender conveys the beauty of flowering meadows.
Fireplace ─ one of the main attributes of the kitchen Italy. Apartments for used electric models. For private houses and cottages, build a real fireplace.
Fireplaces for wood houses with their own hands to do wrong and gravely. Short instructions:
Make drawing.
foundations;.
Brickwork.
Make arches.
Masonry chimney.
decoration.
Decorating of fireplace with decorative plaster is most often carried out in the interior in the Italian style.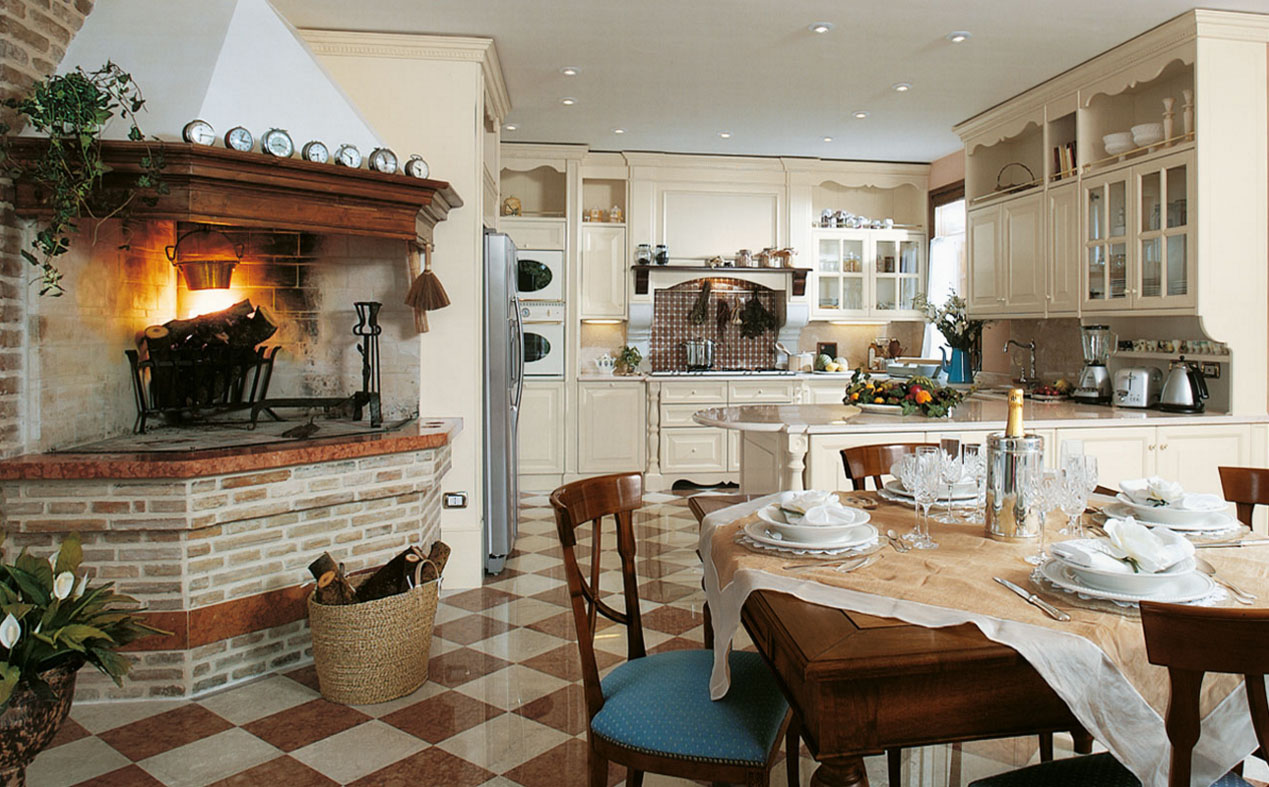 Council! To finish the fireplace is used special formulations. The usual decorative plaster will crack after a few days.
Floors and ceilings are white and other colors
In a kitchen with high ceilings, wooden beams look good. They can be the same color or contrasting. Low ceilings decorated with wood, and carefully align blanch.
Traditionally, the floors in Italian cuisine stone. Modern Italian cuisine depart from this rule. For floors choose a tree, marble tiles, granite, natural stone or synthetic origin.
Windows and doors in the direction of Provence
Down with plastic windows of the double-glazed windows! For the Italian style, they are not acceptable. Windows must be made of wood only. Sill overlaid with tiles or stop for the embodiment of stone.
Zaveste window curtains of light materials. Curtains Italy, characterized by elegance. Their peculiarity is, that they can not fully open. Italian curtains of cloth can replace wooden blinds or roman blinds.
As a material for doors is better to choose an oak or pine. With dark massive doors are well combined door handles in gold.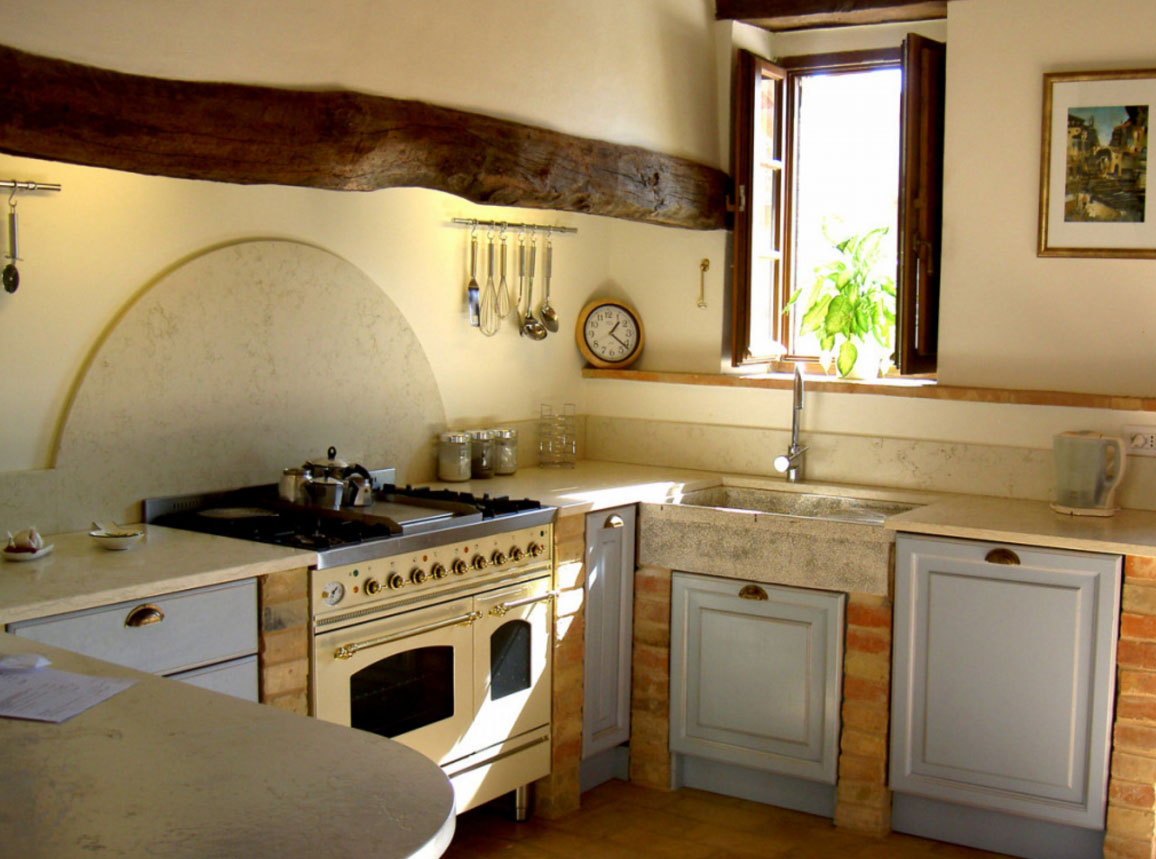 Step Two - furniture and lighting
Kitchen unit - detail, which falls look immediately at the entrance to the room. Beneficial to apply the nuances of Italian style will correctly set and adjust the lighting.
Kitchen furniture in Italian classic, today,
rustic, country and loft style
Italians by any means show a special relationship to the traditions. Italian furniture is no exception. Her appearance should indicate, that it did many years ago. For this purpose, various methods of aging. Often present in the house with antique furniture.
We accept only the models made of natural wood. Facades can be painted in natural shades. To save the national colors hanging lockers should be replaced by a massive buffet. Encouraged thread with use of plant cells. Italian kitchen furniture handles ─ metal, can be of various shapes, or vice versa vary in its simplicity.
Center for Italian cuisine ─ a large dining table. To choose a natural stone countertops. Budget option ─ impose the surface of the wooden kitchen table with tiles made of ceramics, imitating stone.
Italian cuisine in a contemporary style involves the use of household appliances metallic colors. It should not be evident. Over the stove, place a large dome hood.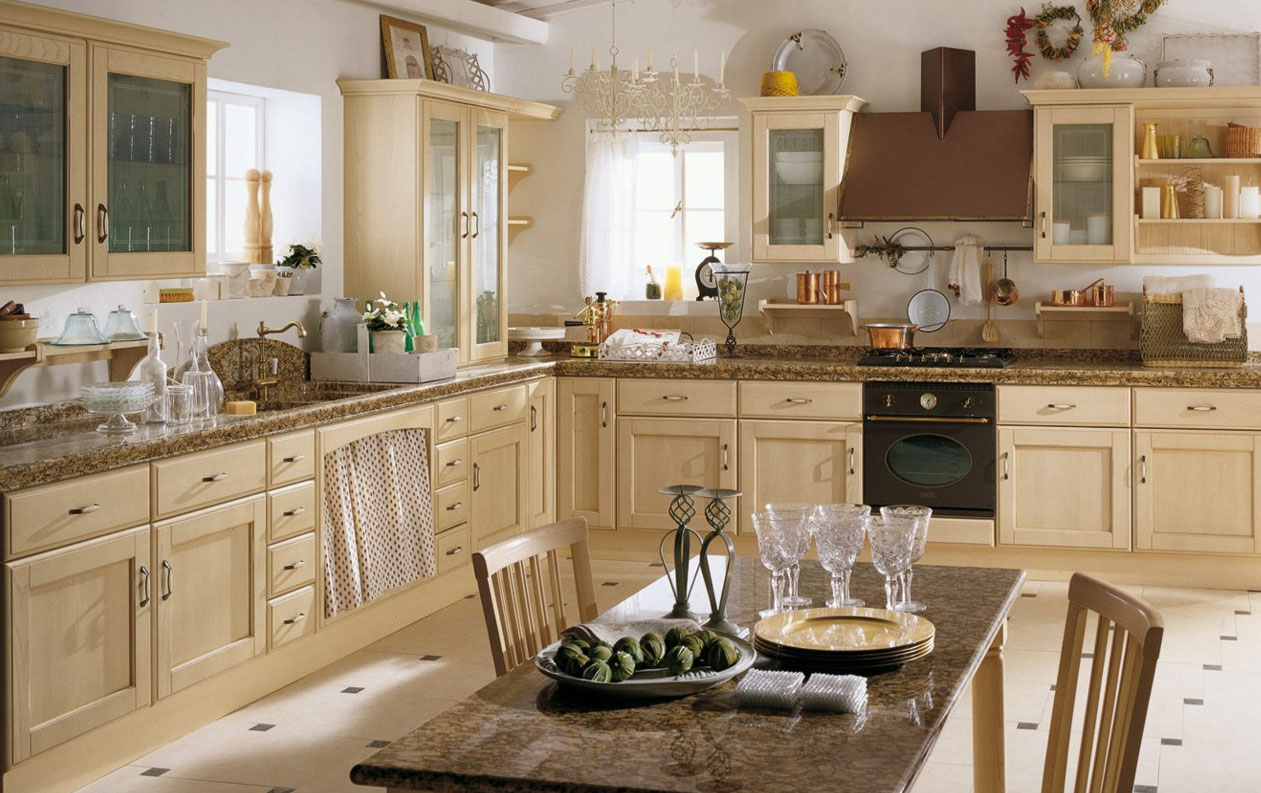 fixtures, blinds, Mediterranean-style apron: design with an island
To create in the kitchen sun in Italian, take care, so that the light was diffused and warm. Traditionally, the room must be darkened center, so the fixture is most often used as a decorative element. Be sure to pick up her extra fixtures or sconces. There should be a lot. It is interesting to look fixtures in the form of oil lamps, lamps or candlesticks.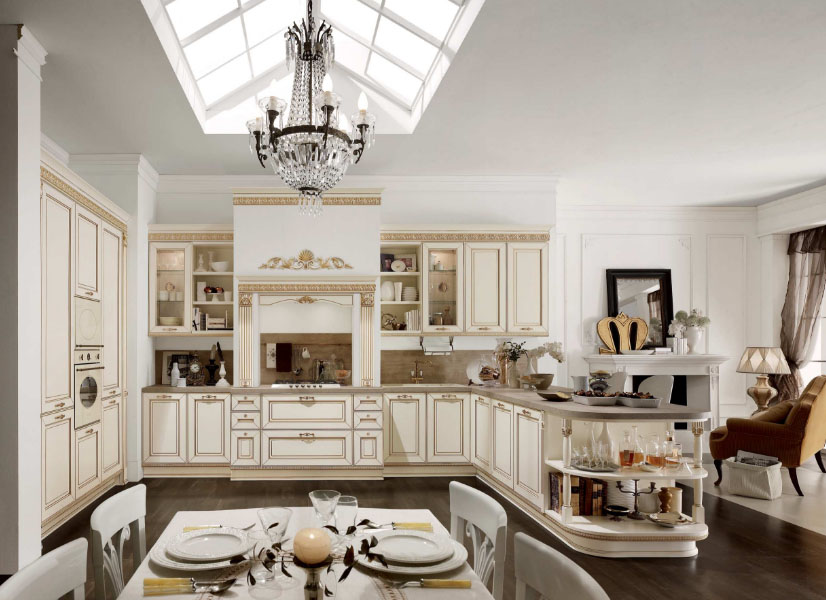 Step Three - decoration and design
For the interior in the Italian style is characterized by a creative mess. Furniture threaded attractive, but the inhabitants of Italy prefer to store kitchen utensils in sight. They are arranged on shelves or hung on hooks.
Atmosphere of Italian cuisine emphasize using embroidered tablecloths, cushions and patchwork pictures with national motifs.
Help revitalize the interior beautiful bottle with olive oil, Jars of spices, fruits in wicker basket. Do not forget to put a lot of clay pots with live plants and vases with flowers. Hang bunches of dried plants and onion bunch in the kitchen. So you and surprise guests, and elements of Italian interior in the kitchen will make. Here's a she kitchen in the Italian style.