Artificial stone sinks, as an alternative to metal
The invention multifunctional home appliances (electric, microwave, Multivarki and aerogrill) the hostess made no contact rooted before panels and wind cabinet. The design of some modern kitchen does not provide even retraction of the last places.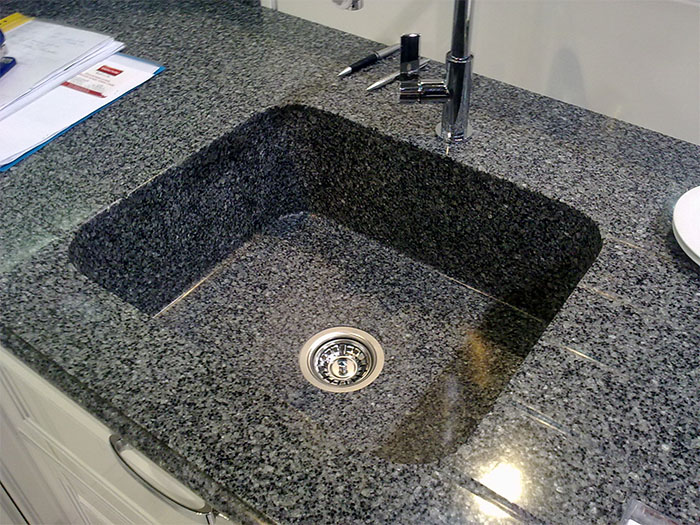 Unlike traditional kitchen thermo alternative the washing sinks yet not fortunate enough to invent. And the dishwasher will not replace it, since we still have to wash and much more in addition to the dishwashing: products, recline pasta, wash the other kitchen surfaces, etc.. All this is not possible and spend unhygienic sink in bathroom.
In addition to that, shell upgraded, they give a comfortable shape and additional functional properties. Kitchen sink made of artificial stone - one innovation, by leaps and bounds to achieve popularity among consumers.
What kind of animal - artificial stone?
Companies manufacturing stone sinks few, they have won the favor of the hosts. These commercial brands used in the manufacture of kitchen use products exclusively to its special patented raw material. so, Artificial stone - a collective term, and the composition of raw materials depends on the enterprise technology, manufactures these products.
This is - a composite chemical compound, made of granite chips and binding polymers in a proportion of 8 to 2. therefore make artificial stone nbut 80% of chips natural stone and only 20% of high molecular weight acrylic resins. In appearance it is similar to the raw materials of natural stone, However, the hallmark of a good compliance acts. For this reason, the kitchen sink made of artificial stone are nizheperechislenny set of models:
round sink.
corner sinks.
rectangular sinks.
As the functionality of sinks are divided into the sink and one with a different number of cups (double sink for the kitchen) and addition of functional elements.
In addition to describe the benefits of this material was lighter in weight, and it decreased porosity due to filling of the latter resin. For this reason, it has become waterproof (vlagoottalkivayuschey) and with smooth plane.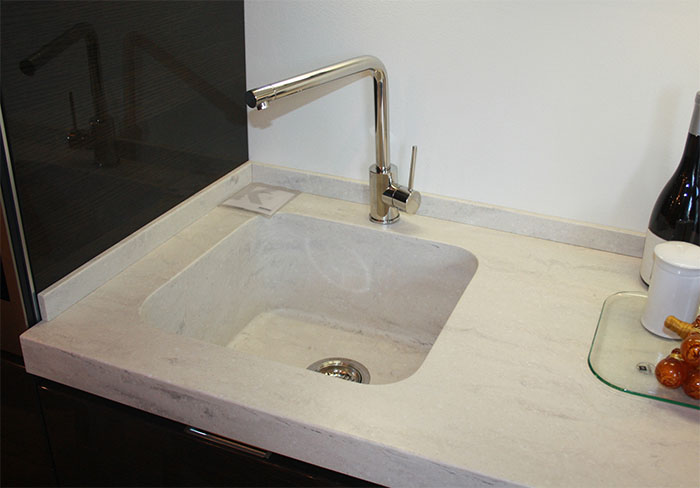 Raw materials and trends
Each trend Company, which is produced from an artificial stone sink for kitchens, It has its own specific raw materials with its own patented technology. Of the most famous in the market of kitchen equipment should be called following: White (Germany) - cilgranit, Franke sink for kitchen (Germany) – fragranit, Benthor (France) - novokvarts and Kerman, shock (Germany) - kristalayt, «Gran Party» (RF) - lityevoy marble, sinks made of artificial stone Poligran (RF).
The pigment components are introduced into the mixture, therefore sink made of artificial stone is resistant color with a diverse range of colors.
Such sinks made of artificial stone for kitchen, having a wide range of tones well fit into any refined design solution.
Benefits
Sinks stone comply, that apply to such articles the genus:
Inertness to household chemicals based acid, alkali and the presence of abrasives and coloring components, allowing greater use of disinfectants.
Easy to clean from grease.
Inertness to thermal extremes.
Wide range of colors, allowing the product to give stylishness. They go well with the color scheme countertops, kitchen fronts or other significant elements of an interior.
Material muffles the sound of water flow.
The ductility of the material allows to produce a product in different form and with different depth.
A single flaw sinks - high price. but, manufacturers claim, the metal washer will not be able to serve for such a long period, like a stone.
Brand "GranFest"
Brand «GranFest» offers in the Russian market sinks made of artificial stone, "GranFest" mixers for the kitchen and accessories. international certification evidence suggests, that are made of stone sinks for the kitchen based on ecological and harmless raw materials. They represented a wide range of products of the twelve color options for natural stone. Dimensions of shells are shown in accordance with the requirements of the applicable standard.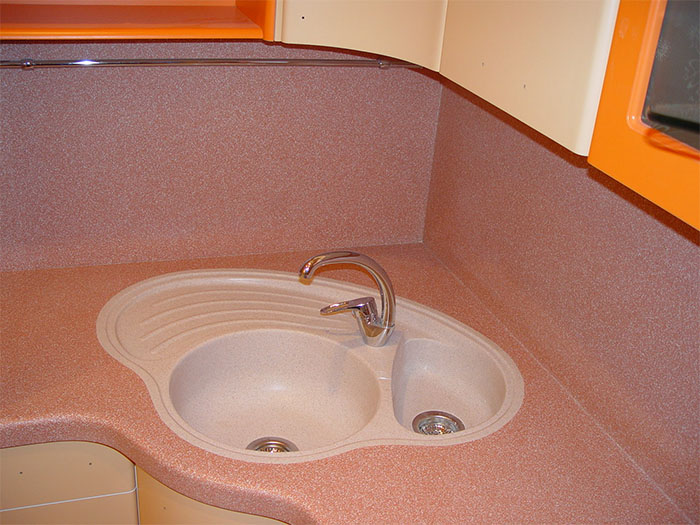 Products "GranFest" undergoes three-level control:
Check the conformity to the technical requirements.
Conformity check forms to manufacture.
Bench control of finished products.
"GranFesta" dignity
Washing the Russian producer has several advantages:
1. designer exclusivity. A diverse selection of color selection, assortment of shells (flush, bill and integrated sink made of artificial stone) mixers and meet all kinds of customer wishes.
2. Full hygiene: thanks to the innovative raw materials (gelcoat) on the shell surface there are no pores, and therefore it becomes perfectly smooth. protectional layer, exceeding 0,2 cm, It allows you to clean a sink made of artificial stone washing and cleaning agents, without fear of the emergence of small defects.
3. Inertness to chemical compounds, used in everyday life.
4. absolute convenience. Due vlagoottalkivayuschey wash cleaning surface of artificial stone enough sponge with a few drops of.
5. Resistance to high mechanical stress and vibration. Hardness cast marble is compared with the granite material, and several orders of magnitude superior to natural marble strength.
6. Warm tactile surface (raw materials characterized by low thermal conductivity coefficient)
7. Protection for human health and the environment: Liquid marble - ecological and harmless raw materials, the basis of which the natural marble chippings.
8. The versatility of shapes and sizes. Stone sink under the kitchen, It has no slot for the mixer, therefore, refers to reversing. Consequently, the latter can be left- and right-hand drive.
9. Body options: drain santekharmatura with mesh release of stainless steel. Options reversible models provides the cutter to perform the opening tap.
According to the results of a 15-hour test using a large amount of food, cosmetics and household chemicals slight traces appeared only on the juice of a lemon, acetone and polish in a liquid state.
Necessarily interested in sinks made of stone, produced in vitro, and the presence of individual empowerment and change from one set to the home kitchen old metal washing tubs. You define the difference instantly, and will always be true followers of this rare innovative raw materials.