Folding kitchen: different versions
For small area apartments excellent solution is a fold Kitchen Area. This element of the interior space allows with minimal cost to equip a comfortable dining area, which can simultaneously perform other functions. Actual organization is hidden drawers for storing things or arrangement berth with a sliding mechanism. All these options should be considered in more detail.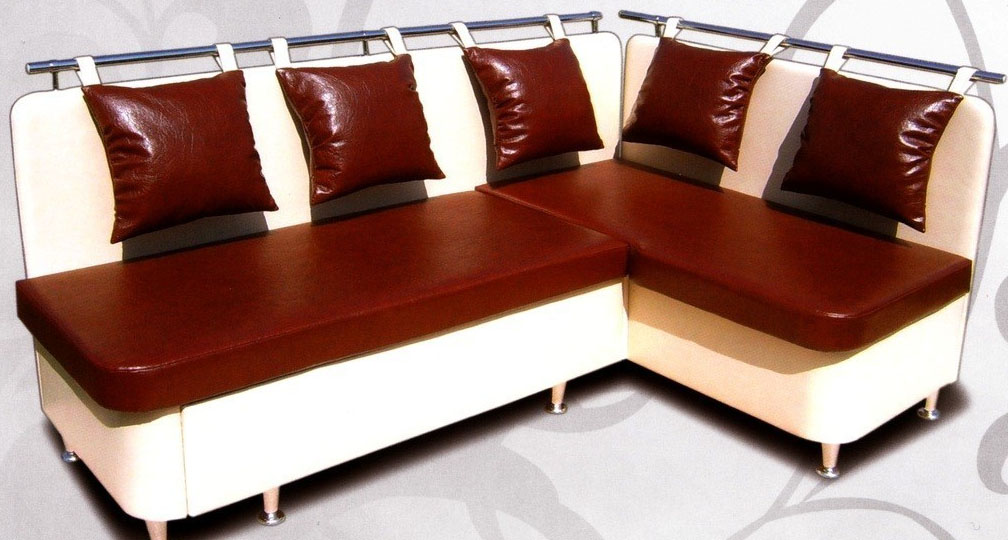 Options folding kitchen corner: with table, model mini spring from imitation leather sleeper
In today's market the category of kitchen corners is still relevant, but because the range of models is increasing every year.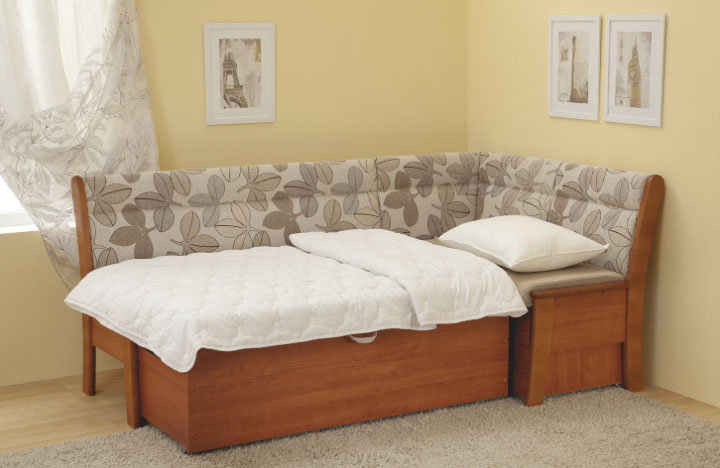 You can select the main category of such furniture:
Bench is not a convertible. Cheapest option simplest configuration. The structure includes a soft wood frame with seat and back.
Sofa couch sofa. For a small kitchen the area is more suitable option, as in this case the line bench can be transformed into a mini-bed.
Folding corner of the kitchen with a sleeping place. It consists of two straight elements. Connected at a right angle. If necessary, it can be unfolded to a full size bed.
combined models. In addition to the ability to transform into a bed, Such furniture includes boxes for storing things. You can build a shelf or cabinet at the sides or at the junction at the corner of the sofa.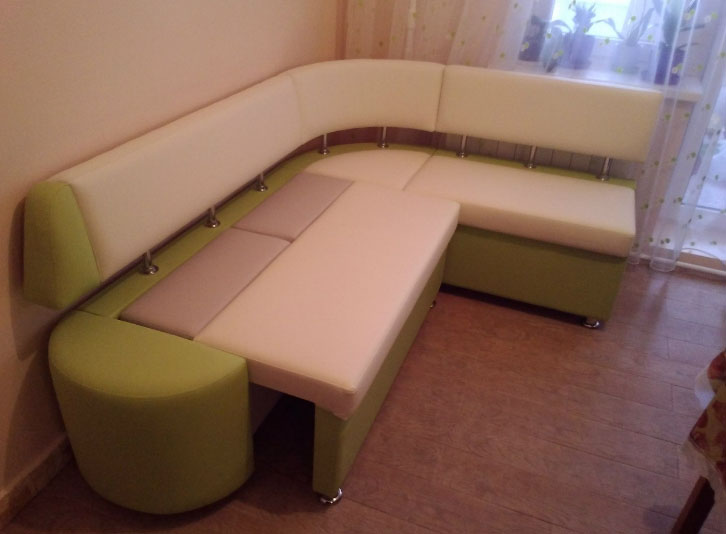 Bargain will fold out couch in the combined type of cuisine. He will decide the problem of storage of linen, kitchen utensils, conservation and other household items. Boxes are placed under one of the seat sections, sliding portions inside, at the back of or separate from the soft design. corner of the sofa is rarely used for sitting, so it can transform into a comfortable desk with shelves. Small stand on the sides also did not interfere, but it is necessary to consider whether they interfere with a person, sleeping on the couch.
sliding systems, used for kitchen furniture, often presented types of "Dolphin" and "evroknizhka". In the first case under the seat extends soft continuation of the sofa. The seat itself is moved evroknizhka, and the resulting empty space closes movable backrest.
In terms of practicality advantageous acquire evroknizhka, because it leaves more room for arrangement of storage locations. The dolphin can make folding boxes, pedestals on neraskladyvayuscheysya section.
Several unusual variant - a small sofa the kitchen with auxiliary sections. It is characterized by a small length, but if necessary it can be supplemented with ladders poufs. If the table is not connected with upholstered furniture, it is removed at the time of uselessness, Puffs and moved to the vacated seat. This makes it possible to arrange a bed in neraskladnyh models.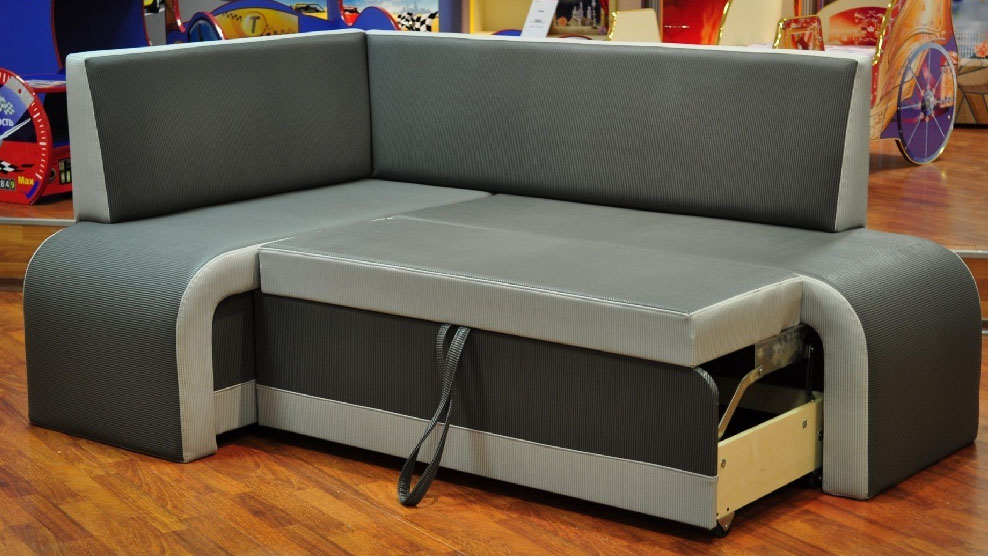 replanning
It does not always have the opportunity to place in your favorite model kitchen furniture. Partially solve this problem by re-planning space. There are three ways:
Rearrangement of furniture.
Transferring partitions.
Combining the space of two rooms.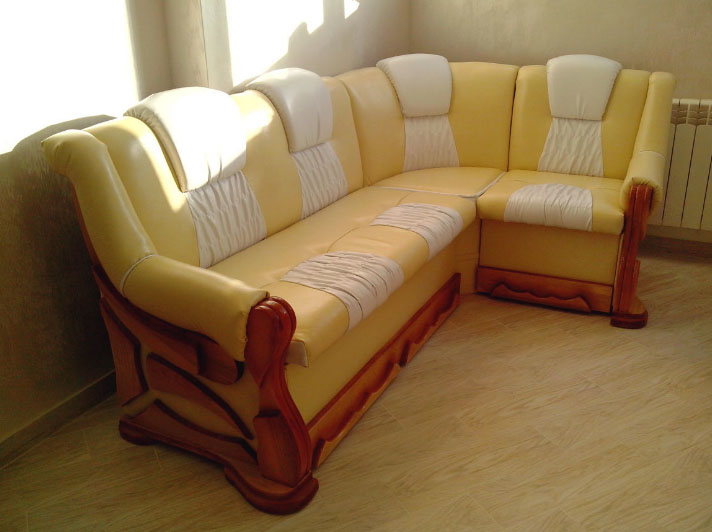 The first option is the most simple in execution, but difficult in terms of preparation. It is necessary to consider in detail alternative design variations, and placement of elements. The main problem is the massive set and refrigerator. Part of the problem can be solved, if you take out some of the techniques outside the kitchen. Then, the vacant place will be a small pull-out sofa. Kitchen in the Khrushchev is a good solution.
If there is such a possibility, not move some distance one of the walls of a room or a part thereof, necessary for installation of furniture for dining rooms Group. If the wall is load-bearing, you can build a niche, which will be convertible Area. The kitchen with such a redevelopment is given much more space.
The ideal solution - demolition of walls and arrangement of rooms Studio. Usually thus combined kitchen and living room, but you can add to it and the hallway. Such restructuring will radically change the type of housing, make it spacious and modern. It opens up prospects for the overall placement of convenient products. In addition, the kitchen corners, folding in bed, can be a central part of the room, representing a recreation area, combined with a dining group.
Alternative option - zoning of the space with the help of such structures.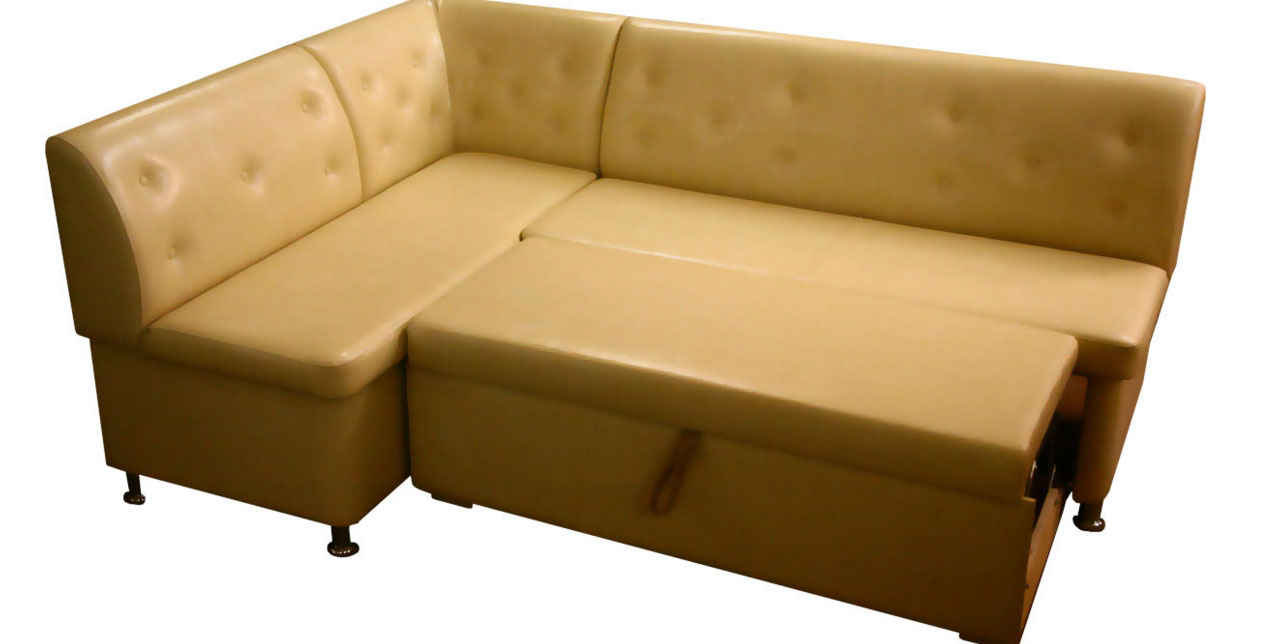 About the materials and tools
Buy sofa corner to the kitchen can be on the store directory, with windows or order on an individual project. In order to make possible savings its own. In this case, you need to prepare a number of tools and materials.
Of the tools needed:
raspilochny machine or hacksaw;
hammer;
furniture stapler;
Cordless;
drill;
konfirmatny key.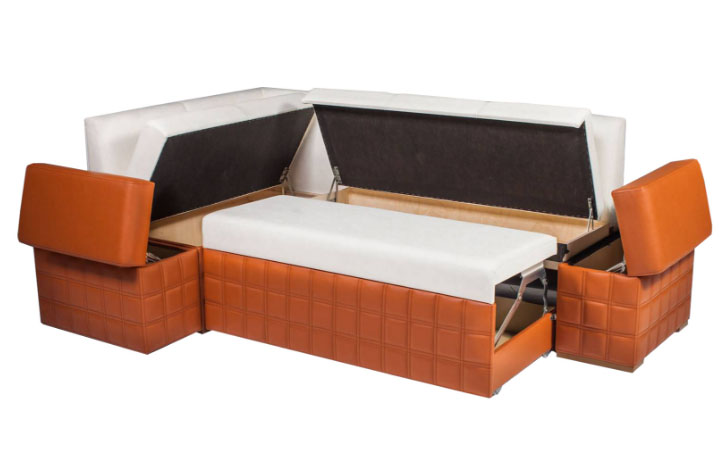 Advance is necessary to determine the size and structure of its main parts. For connection parts are used screws and nails, konfirmatы, brackets and special fittings, intended for the mobile sections. need wheels, loop, sliding mechanisms, etc..
Regardless of whether you get a ready-made product or do it yourself, you need to pay special attention to the frame materials and upholstery. The frame is most often made of wood. She has to be dried and processed protective impregnation. To fit chipboard boxes or more expensive and durable MDF.
Upholstered furniture can be filled with such materials:
foam rubber;
latex;
kokosovaya Coiro;
izolon;
polyurethane foam;
sintepon and sintepuh;
hollofayber.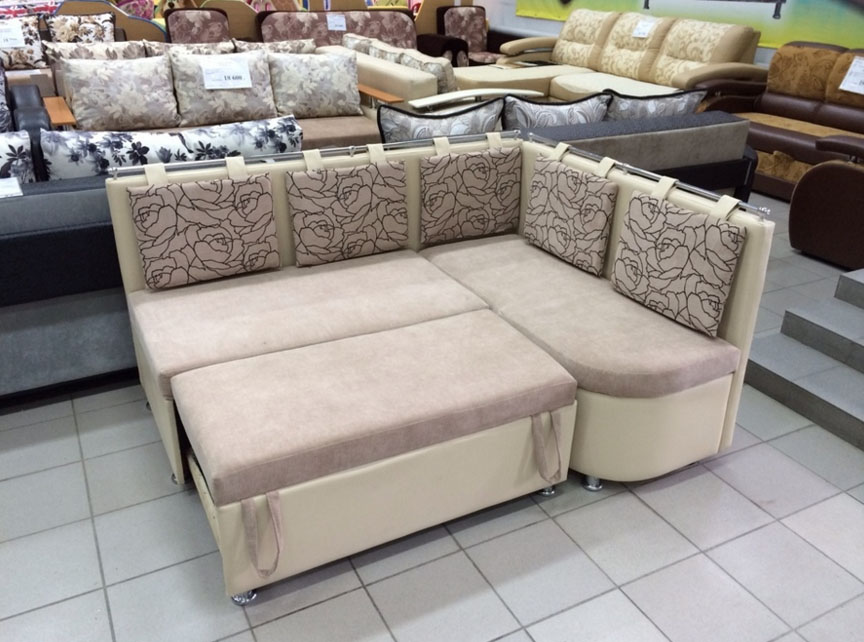 The best option - a dense polyurethane foam. He is moderately hard, and have minimal shrinkage during the operational period.
Any convertible kitchen must comply with the overall interior design, while being durable and practical. It is therefore important to choose high-quality upholstery.
Council: Choose breathable fabric with a dirt-repellent protective impregnation.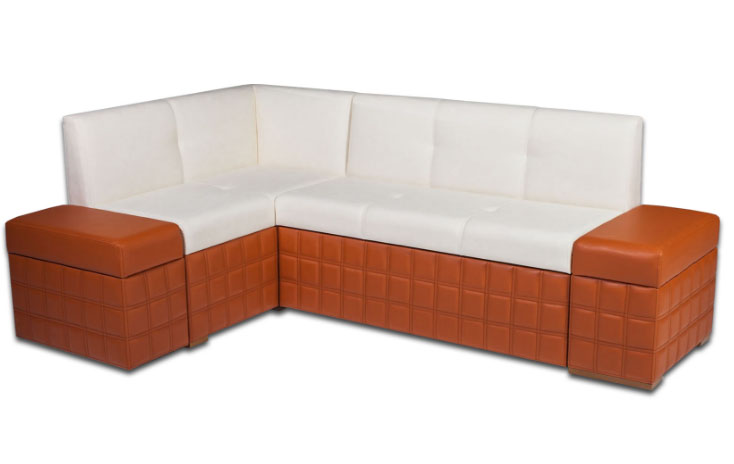 For the kitchen, you can choose upholstered furniture:
natural leather;
imitation leather;
jacquard;
flock;
Chenille;
microfiber;
velours.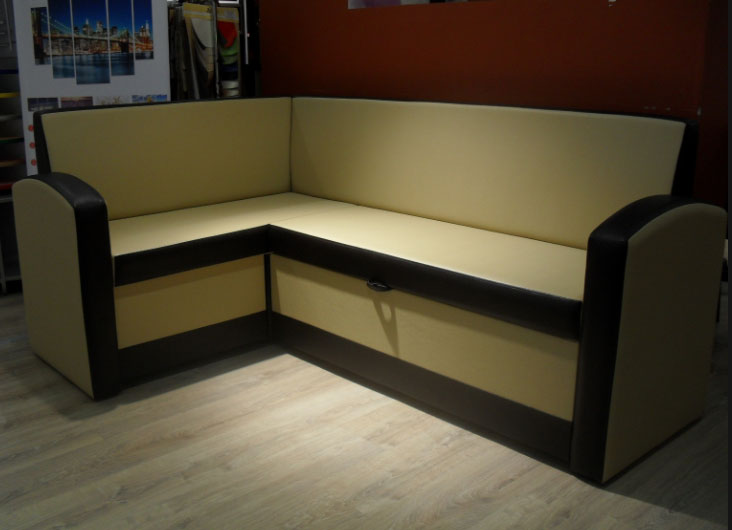 It should be taken into account, that on the skin in the summer and will be uncomfortable to sit kozhzama, and velor different soft texture and lends itself to faster abrasion.
Which to choose a folding kitchen - a private matter. For successful acquisition, use the above recommendations and consider the features of both the premises, and selected models of furniture.