orange kitchen: design for positive people
Orange in the interior - it's the warmest, racy and active color shade regardless of, although there are about 20. Its name matches the name of the most popular in the world of citrus - orange, It has long been considered the food of kings and nobles. Use it is recommended for spaces, requiring active physical and mental actions. Rooms for other purposes, designers are advised to limit bright orange accessories. Whether an actual kitchen in orange tones, and what are the rules of its execution?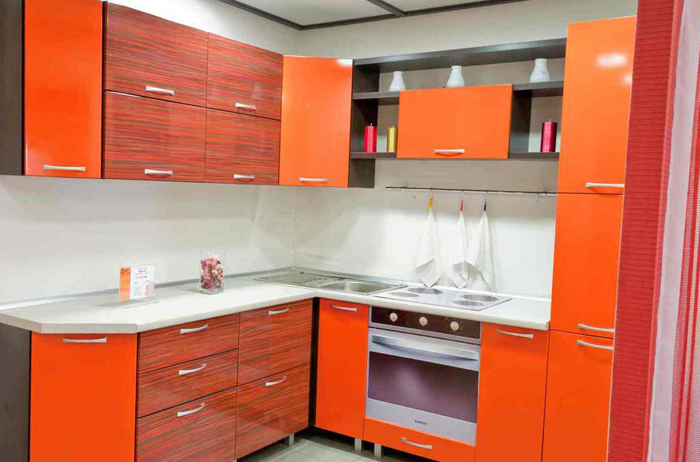 What you need to know when using orange
Orange - hot and intense color, He is always in sight, and it is impossible not to notice. Therefore, making out the kitchen or any other room in that tone does not hurt to learn some of the nuances.
Bright orange color can not be used in small spaces, located in the southern part of the house.
Orange is best combined with other warm, but less intense colors.
Combined with neutral colors orange: white, beige and gray.
In a room with a bright orange not using cold tone.
Orange is not suitable for all walls of the room decor.
Orange stimulates the appetite.
In addition, it activates the brain appetite and physical activity, so it is so like to use in the decoration of rooms, dining room and children's playroom.
How can you apply the color of the sun in the interior
Orange kitchen in the interior of the house - it is the most vivid and joyful spot. Orange may be present in kitchen furniture fronts, obivke furniture, curtains, dish, worktop and even flooring. Trendy today Zebrano original color combined with orange sun. Both colors are combined in the facades of the upper and lower boxes.
Orange curtains - a popular design method. They are used in cases, when the task is to combine into one coherent composition scattered around the room decorative objects orange tones. Orange curtains in the kitchen is used in the classic version and as a Roman. Roman blinds looks laconically, stylishly, it is practical and functional.
If the wallpaper used in the decoration of the walls, they should decorate drawing. The wallpaper appropriate geometric patterns, ethnic motifs, circles and even strip.
Orange furniture used in creative design. This may be a marker orange sofa on chrome legs, decorated with brown and turquoise pillows with patterns. In small rooms as a bright spot using a single carrot or pumpkin chair interesting design. large headsets, consisting of a plurality of seats, sofa and ottoman single tone is better not to use.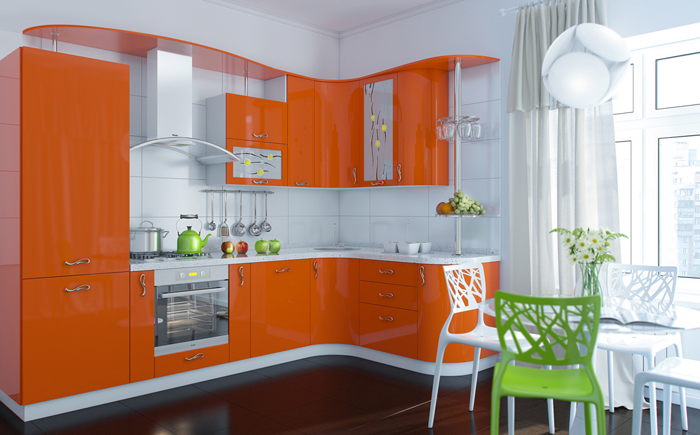 Among the small interior stuff prefer orange shades:
table lamps;
floor vases;
photo frames;
decorative pillows;
small tea tables;
panels for walls.
Kitchen orange in color tone will require a suitable cookware, table napkins, flower arrangements, eg, tulips.
Orange in the kitchens of various styles
Orange and bright colors are always welcomed in Japanese, Moroccan and minimalist interiors. Each style in this case tends to separate methods, It requires individual methods of finishing and material combinations.
In minimalism kitchen orange can exist only in the details. The largest of these acts worktop, but bright orange, and more muted - terracotta, rusty, copper or bronze. Zebrano kitchen with their characteristic wood textures can be supplemented by lamps with coral. So it will be supported by a minimalist kitchen ideas.
Zebrano is used in the interior in many styles, eg, African, Moroccan and other ethnic areas. Texture of wood or material, made by him, successfully combined with all the warm colors, creating a harmonious impression.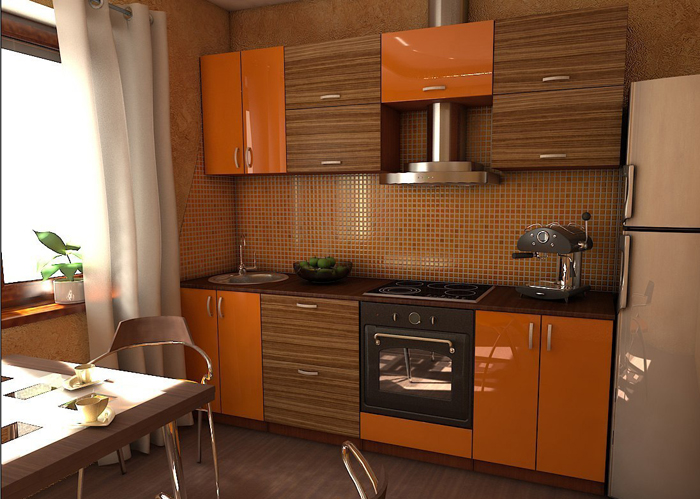 Design orange kitchen is often used in Moroccan style. Here a warm welcome all, cheerful and east. The color of the sand and the desert, baked clay, reddish copper - all convey noble shades of orange. Orange curtains for the kitchen in the Moroccan style - it's neat multicolored fabric, hung from the ceiling to the floor.
There are a lot of attention is paid to the mosaic. It can be on the floor, Working on the wall, in the decoration of facades countertops and drawers. Characteristic of the style are lined with ceramic tiles and mosaic carpet. This floor decor almost always contains ceramics warm shades: Red brick, tyerrakota, sand, yellow.
Kitchen with orange facades inherent in the Japanese style. This color is combined with brown, wherein the clear separation does not exist. Orange boxes hang at the top, at the bottom, and even mixed with brown. Sometimes, the main color is combined with black and natural wood.
The role of illumination in a choice of colors
Bright kitchen do not like too strong lighting,. From this, they irritate the eyes and seem to be exciting, especially if the glossy facades Headset. It is better to use spot lighting above the work area, and a chandelier over the dining table.
Design Orange kitchen includes its sources of natural lighting and daylight. Orange does not tolerate cold light and will appear in its rays disharmonious. If the design project involves the bright orange curtains for kitchen, they can illuminate the LED ribbon, divorced from the ceiling. The degree of ambient light color in sunlight should be on an average level.
Kitchen design in orange color - some risk, that can only be justified if used this bright shade of red focusing light or the predominance of basic colors. It is preferred by nature cheerful, positive, optimistic, loving life in all its manifestations bright. Orange kitchen is the perfect design and style.