Red kitchen in the interior space— interesting design solution
Bright saturated colors have always been a highlight of design. Particular attention should be red kitchen interior. This design has the nuances, to consider more. They relate both to the specificity of such a palette, and features decorative elements such premises additions.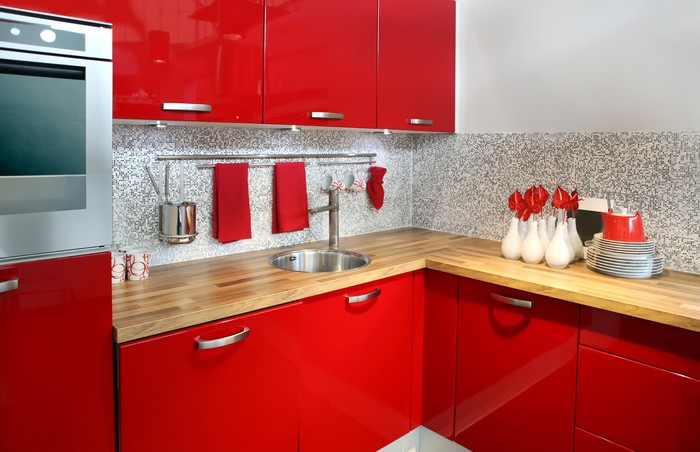 Color design
First you need to clarify what is the function of the red color in the interior. By itself, it carries a charge of energy and passion. The psychological aspect of the red gamma excites the human brain and awakens the inner feelings.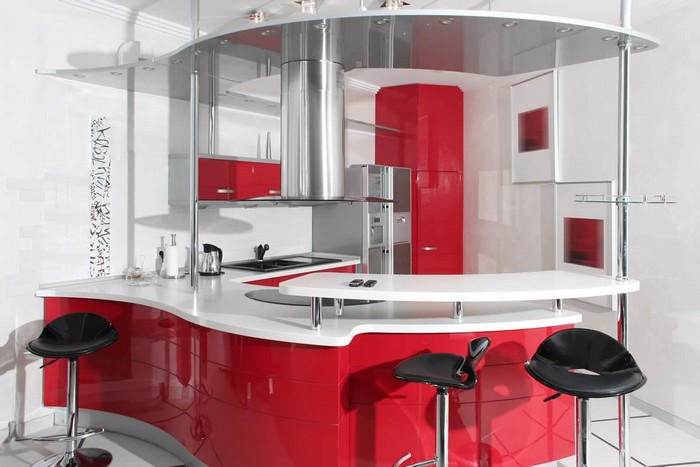 It is worth noting, that red accentuates the feeling of hunger, and can become irritated when a long stay in a room people.
As for the visual perception, it all depends on what kind of shade was chosen as the primary. For the avant-garde modern style characterized by the use of bright flashy colors. But for a relaxing design should confine muted shades, dilute other colors. The red color in fashion is not the first year, but it recently came to the leaders of such derivatives, as: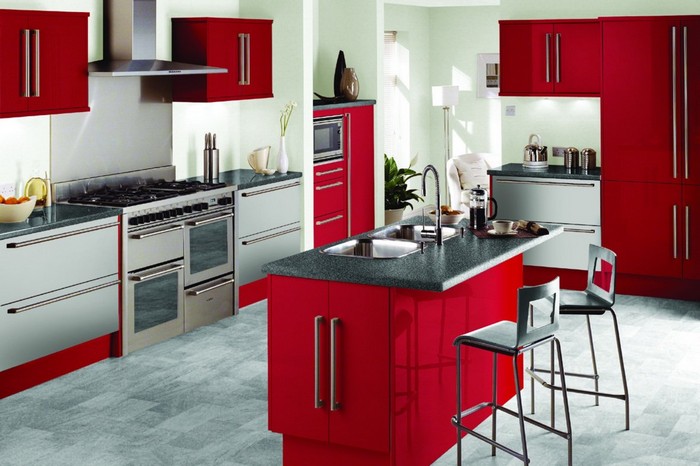 pomegranate;
crimson;
cranberry;
Marsala;
carmine.
The kitchen is made of similar shades, dining room furniture group, decorative items, etc.. d. Thus in one room it is not recommended to mix more than two similar shades, especially if they relate to the scales opposite heat.
Features bright interiors
If we consider just the interior of the kitchen, pay attention to the pros and cons of the use of bright, saturated colors of the palette. If we talk about the positive aspects of, allocate such aspects: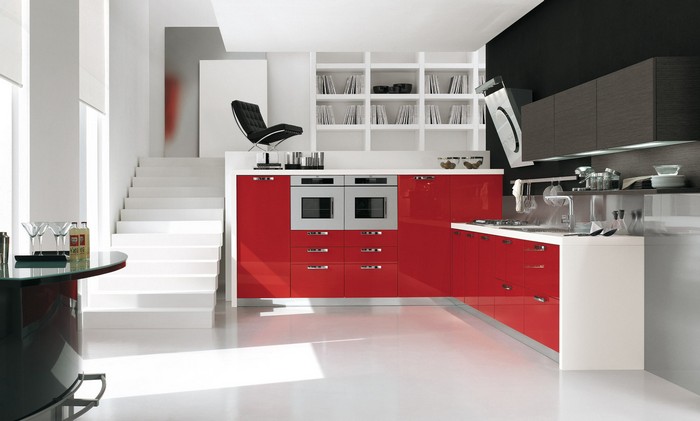 Red creates a festive atmosphere.
There is a feeling of luxury.
Animated emotions of people, in the room.
Distracted attention from the shortcomings.
It is worth noting some shortcomings. The first dark shades visually reduce the room, and most kitchens already not differ significantly area. Also, it's not the best assistant for slimming, as the bright warm colors stimulate appetite. If there is such a possibility, limit to cool derivatives and dilute atmosphere neutral colors. Also, red - this is not the best choice for emotional people, because it can cause a feeling of irritability and mental exhaustion. In general, this applies to all the bright interiors.
Rule kitchen design in red tones
To red in the kitchen naturally I looked at the big picture and do not have a negative impact on the human psyche, you need to choose the right shades companion for him.
The most successful combinations in this case are:
white;
beige;
black and gray;
pearl;
chocolate and wenge.
If we consider the kitchen with red facade, white base in this case is able to dilute the bright décor and accent on it attention. This is one of the basic combinations. A kind of a classic is to use black, making the interior more stringent. To warm shades suitable option with beige and brown. When it comes to cold derivatives, then the best is to combine with gray and pearl.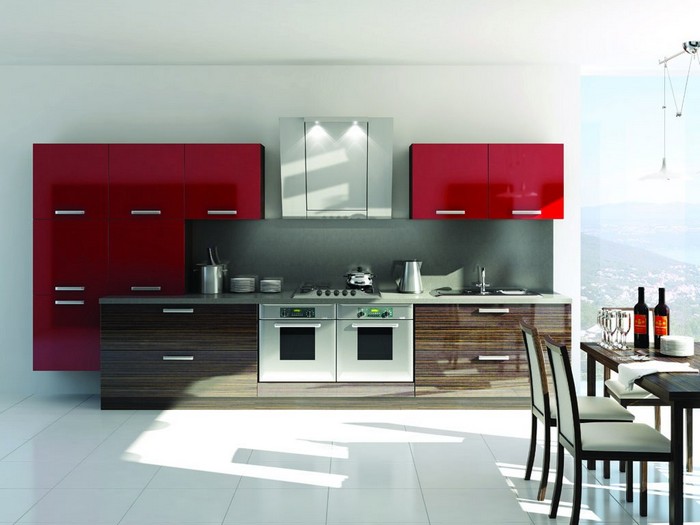 It goes well with similar colors such materials, as ceramics, tree, glass and metal.
Optionally do and furniture, and the walls in a single scheme. For adequate perception of bright accents should be at least: if you make furniture cherry, walls, apron and laminate must shade it. If, conversely, you want to select any area outside the headset, facades worth making neutral, eg, white or milk.
Red kitchen - classic or new trends
Much more accustomed to see the red color in the interior of modern kitchen design. However, one can not say, that is the only option to use it. For modern and pop art mainly uses bright colors and shiny texture.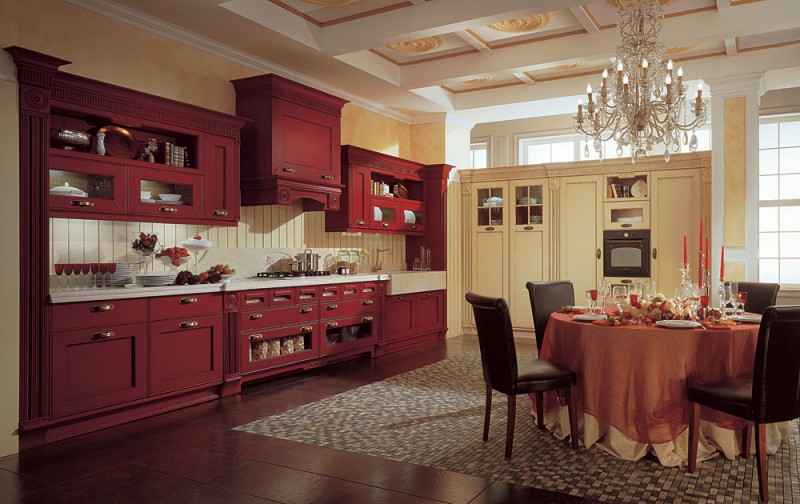 If we take, for example, wine tone, it is no less advantageous to look in the classic interior. Such variations and registration details - this is not a novelty for today. Introduction of red shades in the kitchen area has been used for a long time, because such design draws its unusual appearance and features of perception.
The modern approach to the creation of furniture allows you to beat the usual colors in a new form, adding ultraglyantsevuyu, satin or matte texture, glass inserts, new materials, etc.. d. Using fotoprint allows you to create unique patterns on surfaces and ornaments. Optionally, do a solid fill scarlet, You can use the bright parts are fragmentary.
Decorate your own kitchen
Red kitchen - it is a must in the range of virtually every furniture store, so order it will not be difficult. However, you can create a similar interior and on their own. To do this, you can decorate old furniture and make some new accent pieces in the overall picture.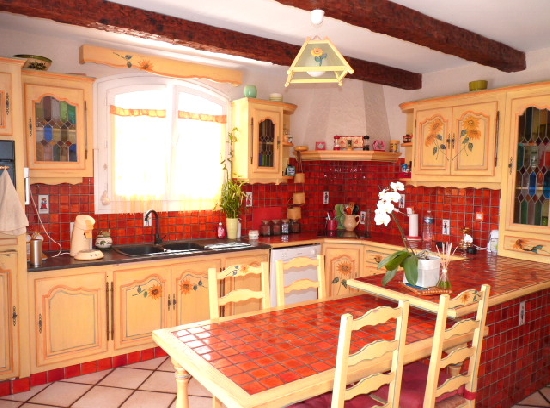 Radically change the perception of the headset can ordinary tabletop. It can be made of red tiles or mosaics, diluting the appropriate shades. You can also book cover "red granite".
An interesting solution - glass top, but it is not suitable for frequent use and plays a more decorative role.
If you want to update the kitchen, the best option - adhesive tape. With its help, you can quickly transform the old lockers. Assortment of material is enormous, where there is any shade of red, and a variety of prints with their use.
Additional clearance may be expressed in the use of pictures and photographs in red tones on the walls. You can also buy home appliances such coloring or utensils.
When creating bright design it is important not to overdo it. Saturated aggressive tone must be balanced with a calm neutral shades.