How to make every day a holiday: cuisine in the Baroque style
Luxury kitchen Baroque produces a refined taste of the owner. The hostess at a kitchen of Cinderella turns into a queen and reigns in the realm of pots and pans. Baroque style in the interior - it's elegant shape and solemn atmosphere. Gilding, stucco, candles with candelabra - all these are signs of the Baroque.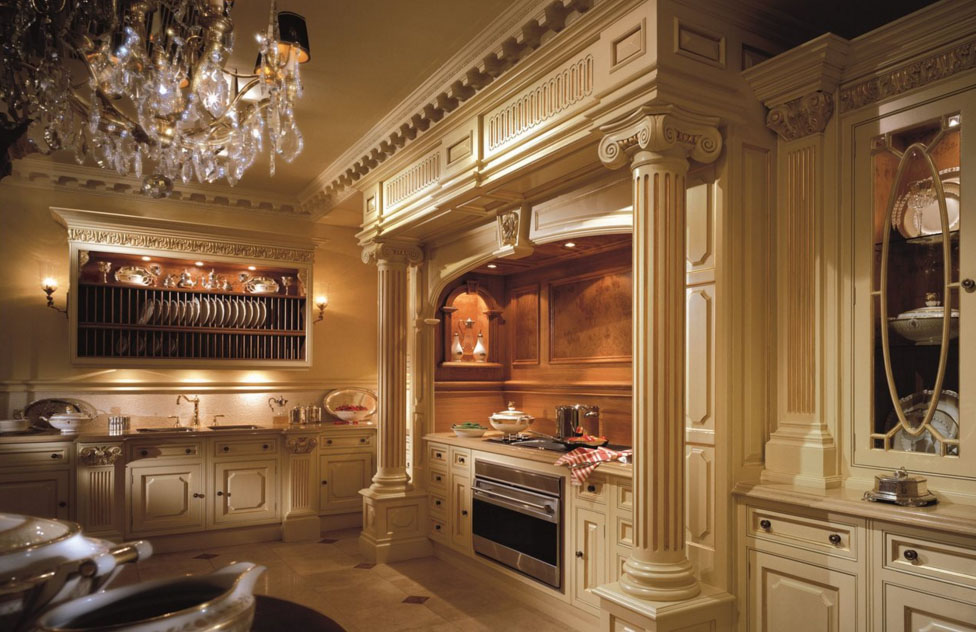 The kitchen in the Baroque style requires space. This design is appropriate in a large and spacious room. Although modern technology and creative approach can transform the little Khrushchev in the highest praise worthy example of cuisine in the Baroque style.
Baroque: fundamental aspects of design registration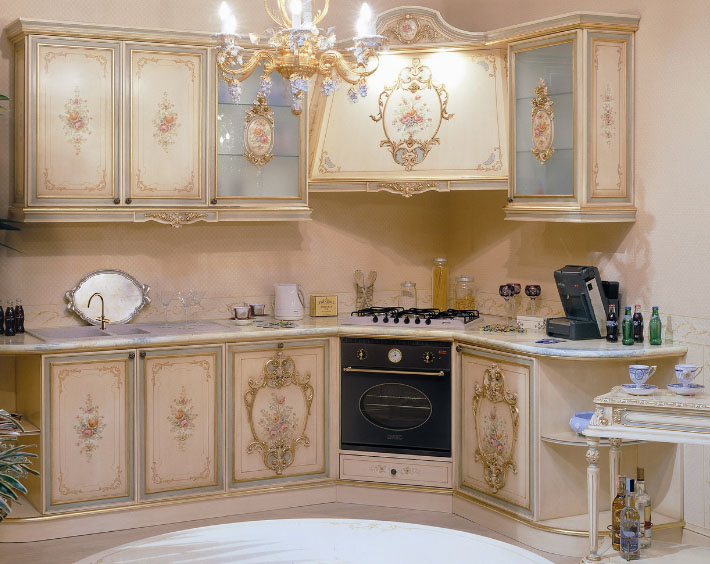 Baroque in a modern interior acquires its characteristics, but it requires strict adherence to the principles of design:
vertical power: sophisticated style tends upward, kitchen predominate vertical lines - column, baroque curtains, oblong shape cabinets, etc..
bulk finish: interior decorated with ornaments and convex patterns - fretwork corresponds to the solemn mood of the interior.
expensive materials: Natural wood furniture, marble worktop, gilding pens etc.. For wall decoration uses textured plasters, wood panels or textile wall.
Knowing of limits: Baroque not tolerate bad taste, Numerous gold-plated parts harmoniously intertwined and emphasize the refinement of style. Elements of the Baroque style of the kitchen is not supersaturated.
Attention to details: pompous kitchen design involves, that all the elements match the style of the interior. Modern windows in an old luxury looks at least strange. Windows must be double-wing and gold.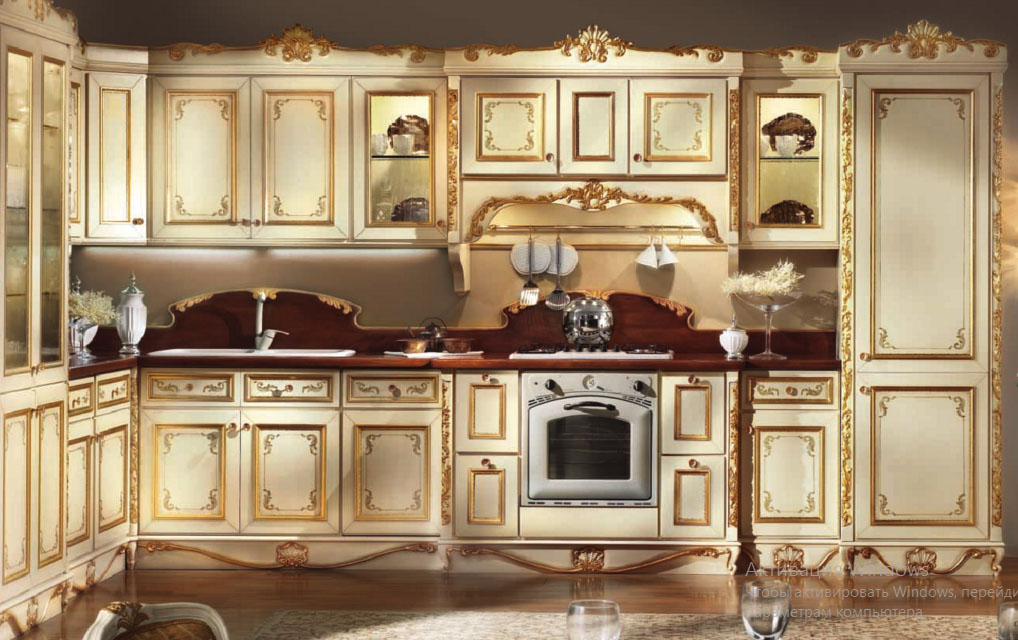 Kitchen in the style of Baroque: features decor
Emphasize the Baroque style in the interior only natural materials. Modern manufacturers meet demanding design high quality fakes. distinguish, eg, natural stone from artificial virtually impossible. Solid wood is replaced by inexpensive MDF or chipboard, hidden behind paneling veneer. Today pompous style became budget. Its accessibility has attracted a growing number of admirers of luxury and comfort, beautiful.
Repair Baroque begins with a wall decoration, ceiling and floor.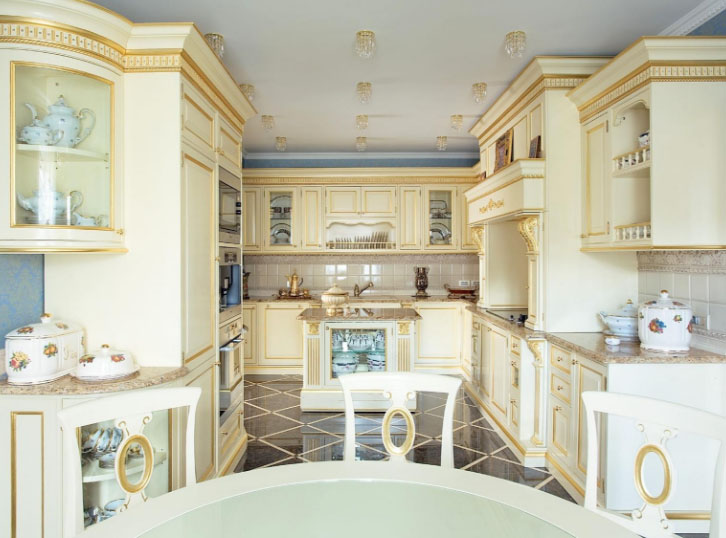 Choosing the material for the walls
For the walls, wooden panels are used, textile wallpaper or textured plaster wall.
Wallpaper. Ideal - luxury textile wallpaper. They match the style of the fashionable views. But these wallpapers for the kitchen decor contraindicated. An important disadvantage of such a coating - moisture phobia. By the kitchen atmosphere and they do not adapt quickly lose all presentable.
For the walls in the kitchen best option - Vinyl wallpaper on non-woven backing. This coating can be smooth or textured. The service life of not less than 10 years old. The main advantage - they can be washed.
Council: Glue for washable wallpaper should be moisture-resistant.
Wooden panels. Expensive material made of wood - a luxurious and practical option walls. Optionally substituted on MFD or chipboard panels. Recent accurately mimic the natural material. Economical and practical option - plastic panels under the tree view. Advantages coating - ease of installation, long service life and ease of maintenance.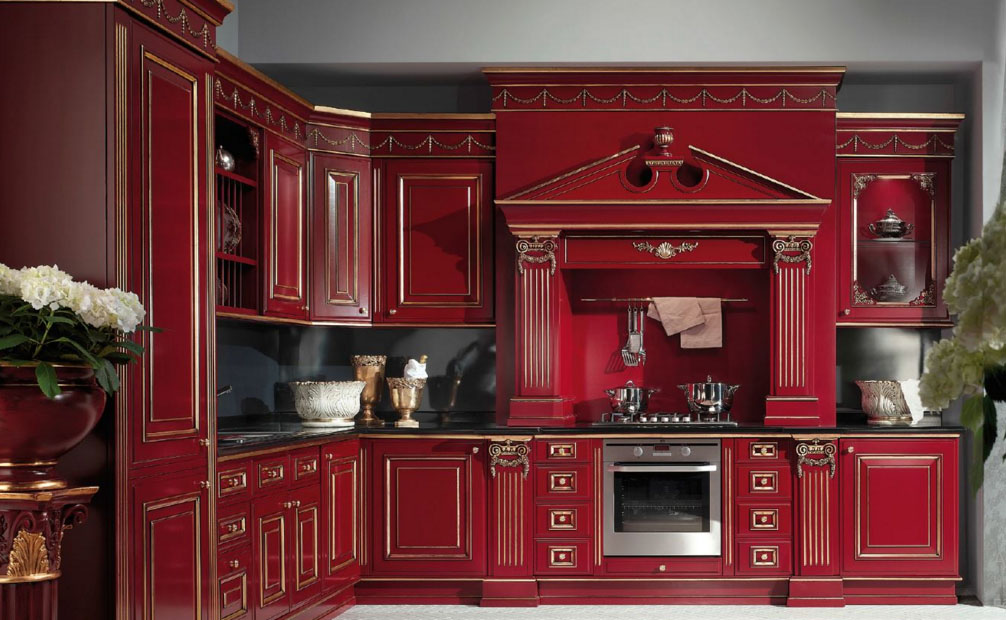 Textured stucco Baroque interior has a special place. The peculiarity of style in bulk decorative elements. Wall decor plaster - is the creation of floral ornaments, relief paintings and three-dimensional drawings. This finish can imitate stone surface. Venetian plaster with its glossy sheen and marble as if specially designed for a luxurious baroque.
Material sold as a finished product or as a powder, to breed on their own. After applying it remains malleable. The master has a half hour to create a unique pattern on the wall. Textured plaster with your hands - an opportunity to create a unique atmosphere of chic style in your own kitchen.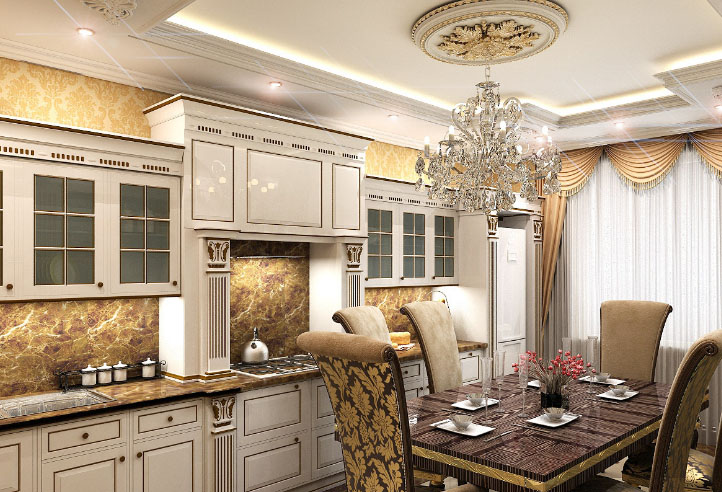 Wall decor plaster performed in five consecutive stages:
Purification of the old coating, alignment.
Priming for better adhesion of the coating to the wall.
plastering. At this stage the volumetric pattern, if provided design.
Coloring in the selected color. If necessary, adjustment of convex elements is done with a special grater or sandpaper.
special solutions treatment to impart gloss or mattness.
The material for the walls is possible and necessary to combine
Apron above the working area can be arranged with the help of Venetian plaster, and the remaining space to glue wallpaper. Wall design one material, even the richest and most presentable, It does not give a true baroque charm.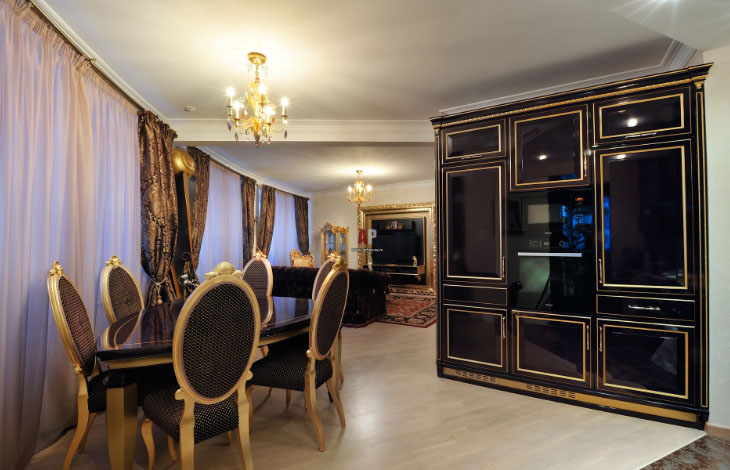 Making the ceiling and floor in the room
Design Baroque - a painted stucco ceilings. The material for the ceiling on the choice of cuisine master. The ceiling may be a tension, plasterboard or plaster. It is important not to forget the main principle - blatant luxury and wealth.
style creators moved on a wooden or stone floor. Modern luxury zealots used for finishing the floor parquet or ceramic tiles. If the block parquet made of natural wood is expensive -, it can be replaced with laminate. Floor tiles necessarily imitates natural stone - marble.
Constant attribute Baroque room - gorgeous handmade carpet. In the kitchen, it is appropriate in the dining area.
A characteristic feature of the baroque decoration kitchen - design integrity. Walls, floor and ceiling are complementary. This is not acceptable contrasts and sharp transitions.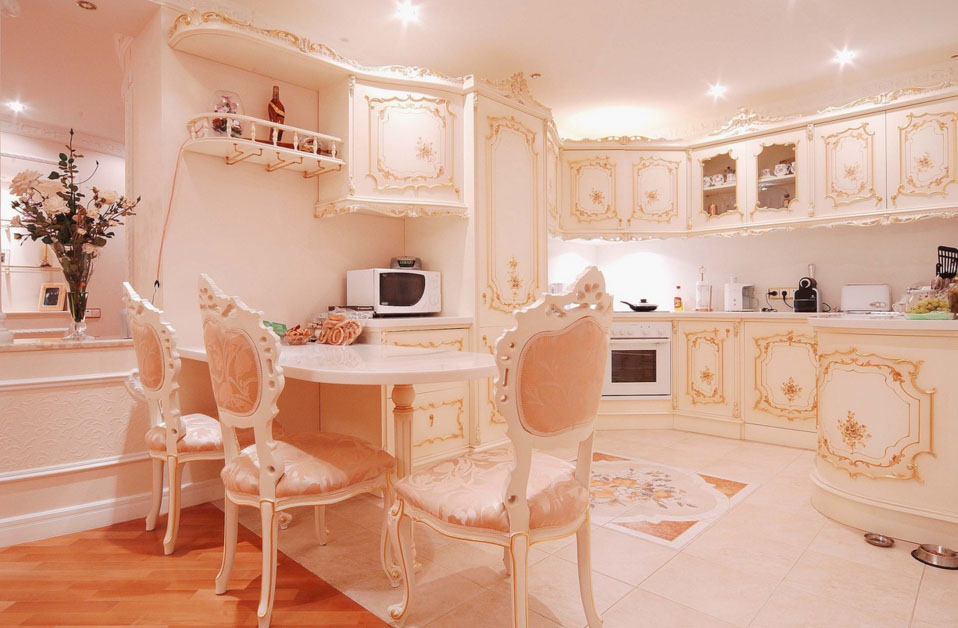 Lighting features in a small room Rococo style
On every kitchen should be two types of lighting - general and a point above the working area. Baroque style is no exception. Otherwise cook will be very inconvenient. Feature lighting baroque cuisine - the choice of fixtures.
Baroque style - a soft and warm light. For general lighting - crystal chandelier in the center of the ceiling. To spotlight the work area - small lamps to match the chandelier. Ornate shape with bulbs as suppositories - the basis for selection of the light source.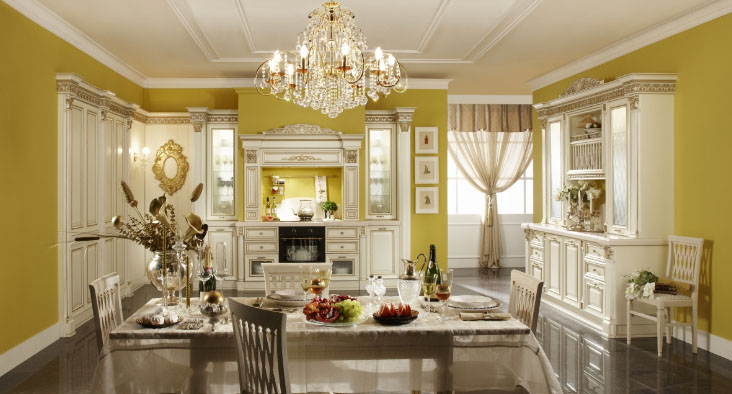 The interior of the Baroque: furniture, blinds, ornamentation
Baroque furniture is different fancy shapes and rich finish. Frilly direction sold a large number of gold-plated parts. Kitchen cabinets look like dressers. The glass doors are decorated with engraving. Handles inlaid bone.
On this kitchen does not flaunt pots and pans. Ease country is irrelevant here. But in terms of functionality luxury style in no way inferior to other styles. Modern furniture makes an elegant functional furniture.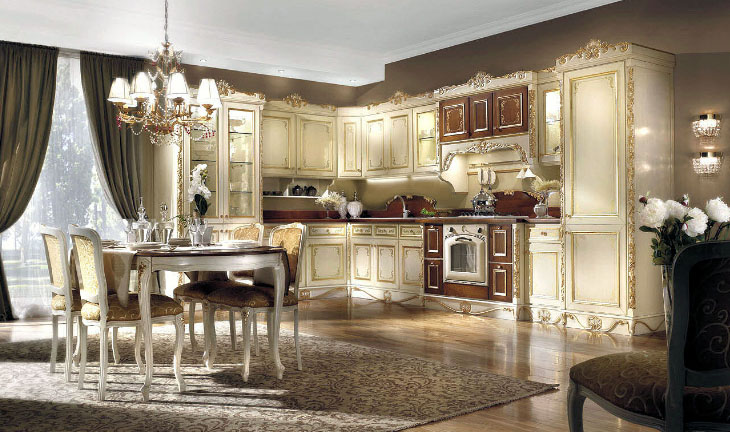 Furniture loaded with decorative elements. Under complicated swirls and gold leaf virtually invisible wooden base. The kitchen of this style is difficult to imagine a sofa. Its lush pillows are not very relevant. Much better looks classic furniture - a round dining table and chairs with curved backs.
Baroque elements - statues, vases, clock, pictures are always present in the kitchen decor. The inherent style of heavy fabric curtains on the windows of allowable substitutions elegant curtains with drapes.
Interior style cuisine for Baroque - it is an eternal holiday. The usual dinner at this kitchen turns into a dinner party the best traditions of the XVII century.