The attractive kitchen in high-tech style?
hi-tech style a person chooses, who is interested in technical innovations and the latest generation of technology. The kitchen in this version is suitable for those, who appreciate the ease and convenience, artificial materials and severity of forms. Unchanging ergonomic space for easy storage products and kitchen utensils, and also provides space for culinary experiments.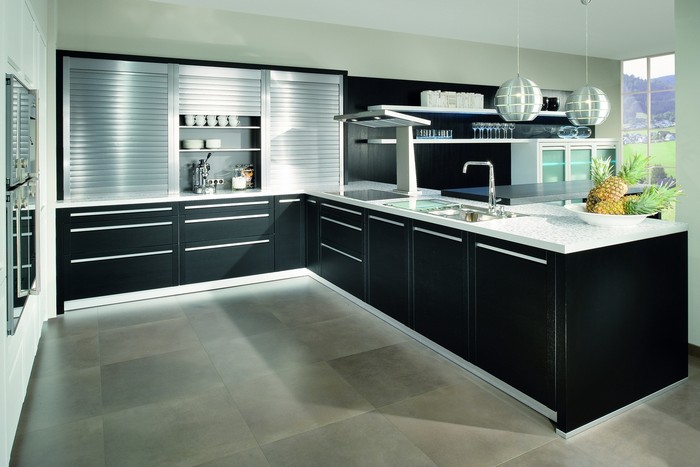 Benefits of registration
For rigor design hides an amazing functionality and practicality. repairs in high-tech style It takes time and care, However, the future kitchen will exceed all expectations. It has the following advantages:
Functionality and ease of use, regardless of the size of the room. The interior of the high-tech involves the use of modern devices and technical innovations.
Minimalism in design, a ban on the bright accents. Welcome discreet shapes and geometric.
The decor does not imply a large number of colors. Designers in the design of the kitchen prefer one color.


Unusual decor revive kitchen interior

Order. Ergonomics and strict design will not lead to chaos in the kitchen.
Saving. Original furniture paired with cutting-edge technology requires no maintenance and lasts longer.
Furniture and decoration
Selection of furniture depends on the size and shape of the room. High-tech style in the interior implies the use of square and rectangular cabinets with a dull façade uncluttered. Designers retain the integrity of the kit and countertops, without diluting them with unnecessary elements. Furniture hi-tech in the first place should be comfortable and roomy.
High-tech style in the design of a kitchen fit for a young student or for a family with three children. Properly thought-out arrangement of drawers and table tops of furniture frees up space for a dining area.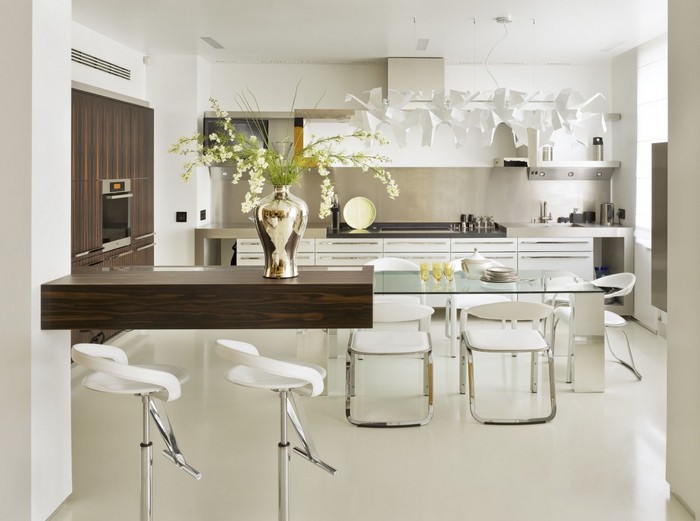 Glass table with chairs made of durable plastic is a classic attribute of the kitchen in high-tech style. They are easy to maintain the style of the room, and fit into the dining space. Large kitchen hi-tech optional bar counters are accompanied by unusual shapes.
Materials and trim elements
In traditional materials in high-tech style has its own role:
Glass. Texture can be any. Use frosted and clear glass. Drawings and designs should be large and symmetric. Scope - hardware elements, legs, countertops and chairs.


Metal in the kitchen in high-tech style fits perfectly into the interior

Metal. For registration of fittings, lamps and some items of furniture for the kitchen in high-tech style apartment for used aluminum istal. Metal undergoes special treatment, which protects it from external factors.
Plastic. Polycarbonate, acrylic-based and polyethylene is the main material for the creation of furniture. Durability and environmental friendliness - the main principle of plastic kitchen items.
Despite the traditional set of materials, permissible use of wood. It is framed by metal or plastic inserts. In some projects, using painted wood panels texture preserving cut.
High-tech in the interior does not imply wallpaper. The walls are decorated with paint and acrylic paintings with abstract drawings or photographs. Kitchen design allows high-tech inlay in the form of masonry stone or brick and steel panels with rough welds.
Floor coverings have a glossy surface. For this purpose a tile, laminate, parquet, artificial stone or linoleum. The simpler the floor, the more it fits into the high-tech style of cuisine intereere.
Kitchen design high-tech welcomes overlay planes, layering and fractures. Suspended ceiling structures used. To highlight the features of the architecture used special lighting.
Standard wooden door extra. It is better to get rid of it or replace it with a glass.
Colors
Modern kitchen in high-tech style suggests a certain set of colors. Not allowed tones and semitones. For style appropriate red, yellow and green. They are used individually, in combination with white, gray or metallic. Properly selected colors hide the premises shortcomings and emphasize the advantages.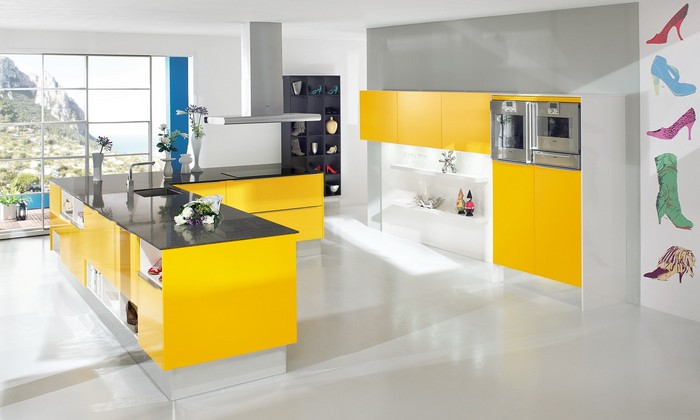 As the main color of the kitchen use black, white or steel. They emphasize the simplicity and brevity of the interior. Black and white kitchen in high-tech style - a classic representative of its category. only the background is a blank wall. The emphasis is on selecting equipment and furniture elements.
Progressive appliances
The basis of style - is the introduction of functional elements in space. Household appliances and engineering structures can be the basis for kitchen design. Priorities are skewed in favor of the technical elements. Designers strive for full automation appliances and kitchen systems.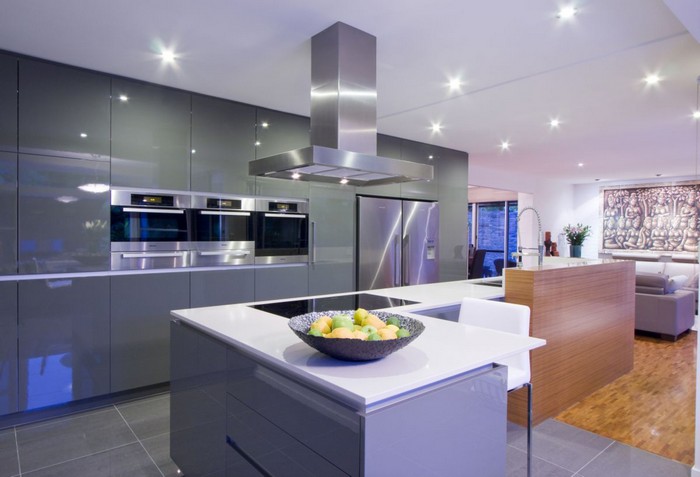 Induction hobs, Metal hood with glass inserts are popular among fans of high-tech. This technique fits well into the style and becomes an independent decoration.
kitchen attributes must be styled. It is recommended to choose a dish from the same color from the same collection. Tea-set, pans, coffee maker and stove should be in harmony.
Lighting
Since the design in hi-tech style involves a steel color, room lighting in this case plays an important role. Properly designed lighting will emphasize the strengths and hide weaknesses cuisine.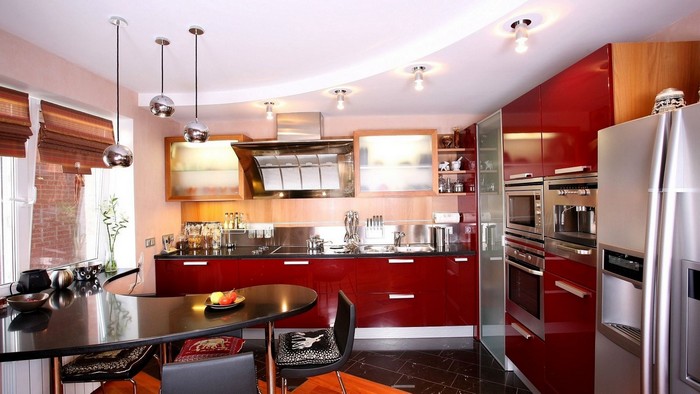 Lighting is provided by several methods:
spotlights focus on a specific area, emphasizing its importance.
Local lighting highlights key places, It performs the function of zoning.
Chandeliers made of glass, plastic and metal stress eccentricity stylistic. Allowed only straight lines and sleek.
Window, as a source of natural light, help to visually enlarge the space.
Since the style is not intended textiles, on the windows instead of curtains is best to use blinds or plastic blinds.
Kitchen design in hi-tech style - it is unusual, but reliable solution. Minimalism and functionality to help transform the room into a place, full of creativity and joy.