Kitchen table away from the wall with his hands
Folding table away from the wall - a great solution for small spaces. He saves, because it understands only when necessary. Designers offer a huge variety of options such tables. If desired, you can make them yourself.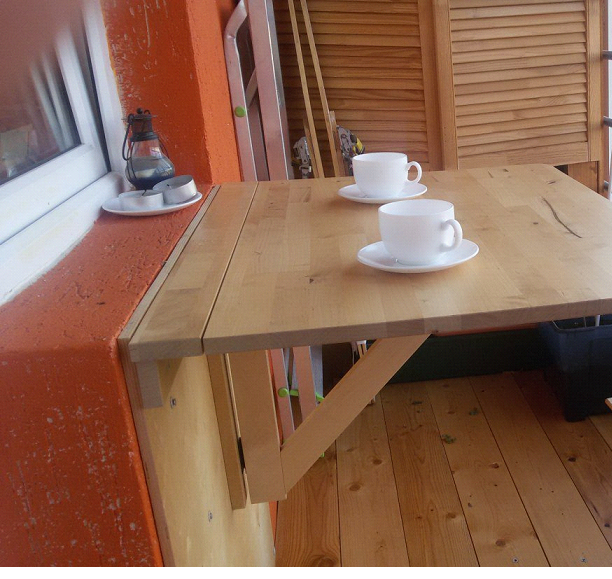 Folding table with fastening vertically to the wall
The simplest option - it is attached to a wall of wood on hinges and pick it up as necessary. But today's furniture and interior design moved on: table from the wall can become an independent element of decor.
The main advantage of this piece of furniture - compactness. It is ideal for balcony, loggia, small kitchen. During cooking, it can be folded, and for lunch and expanded to meet family.
Compared with conventional tables, folding is much cheaper. But the downside is small surface - it does not arrange the festive lunch 12 meals.
How to choose and buy a hinged table
Not every form countertop will ideally look in such a construction. Kitchen table away from the wall, probably, will square, calculated on 2 person. This should be considered when choosing a.
If you want to make your own furniture, You need to calculate the area of ​​the table top, that it can be hang on the wall. Mounting stand is not very big weight.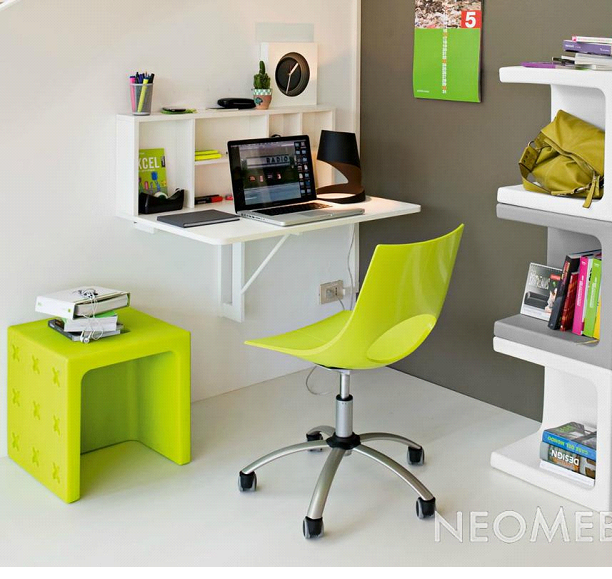 If you buy ready-made kitchen table in the wall, producers are calculated for you. Most often in stores meet the square and round shapes countertops. To narrow elongated kitchen manufacturers offer rectangular shape, but using them is not so convenient.
types of materials
The ideal material for a folding table in the wall - this tree. In theory, You can use other materials, but they are not so convenient to use in a folding design.
The most popular material is MDF. Its value for the low cost and ease of. You can find water-resistant plywood, it is the best fit for the kitchen. Natural wood suitable medium hardness grade:
Pine;

Oak;

Maple;

Apple tree;

Nut.
types mechanisms
Qualitative fastening theoretically can withstand any material: and glass, and plastic, and tree. But it's best to take into account, on the table will stand plates, computers and other items. Therefore, you need to choose a reliable mounting.
There are three options for mounting the table-transformer to the wall: one backup, with two props, with legs. The latter option is the most stable, but also the most difficult in the performance of.
A mobile folding table
Roll tilt table to the kitchen is familiar to all from childhood. During a big family "get-togethers" he fetched and laid in two directions. The disadvantage of this design in a large weight. When folded, it takes up little space, you can move up to the wall and used as a stand for vases and souvenirs. In the unfolded form can fit around 8-10 person.
Make a table with his hands in IKEA
Simple table away from the wall in the kitchen, you can make your own hands, to deal with that even a person without training. First, select a model, material and type of mount.
Materials and tools
For the manufacture of folding table with fastening to the wall, you will need:
Material for countertops and cutting tools for its;

Antiseptics and varnish;

brackets;

Dowels, nails and screws;

Screwdriver;

Drill.
The distance to the floor
When calculating the size of tabletops need to consider the height of the table mount to the wall. Measure the other pieces of furniture in your apartment, including chairs. look, which table is more convenient to sit the whole family. For a man of average height optimum height of the table - 70-80 cm. Respectively, the length from the wall to the edge of countertops should not be more than 65 cm.
making
manufacturing phase:
Cut out the countertop of the desired size and shape. Treat the surface with sandpaper or a grinding machine. For the safety of the Round Corners.

Treat the surface with an antiseptic for wood, apply a waterproof coating. After drying is recommended to cover the tabletop with two layers of varnish.

Try on a table against the wall, Apply markup for brackets. This is best done with assistants. Observe a right angle between the tabletop and the wall.

Attach to the wall folding support. It is best to do them at a distance 6-7 refer to the table edges on both sides. This will improve the stability of the construction.

Make a hole in the wall under the dowel-nails. Put mounting on the wall and countertop.

The spirit level check, exactly it is necessary to your design. Business complex mechanism Protestyruyte.
For a better understanding watch the video:
Folding table in the interior: decoration
With the right approach, folding table to the wall can be an original piece of furniture. It can be positioned under the shelves, in the closet, decorate pictures and posters. It all depends on your imagination.
study
If you have a full cabinet, possibly, folding table top to the wall you do not need. After all, you have enough space, to deliver a complete desktop.
If, however, a separate office and no work is necessary in different parts of the house, this solution can help you build a workplace. Good idea - to equip the cabinet of folding chairs and a table, which is convenient to hide behind doors. This can be done as usual cabinet, and in the closet coupe.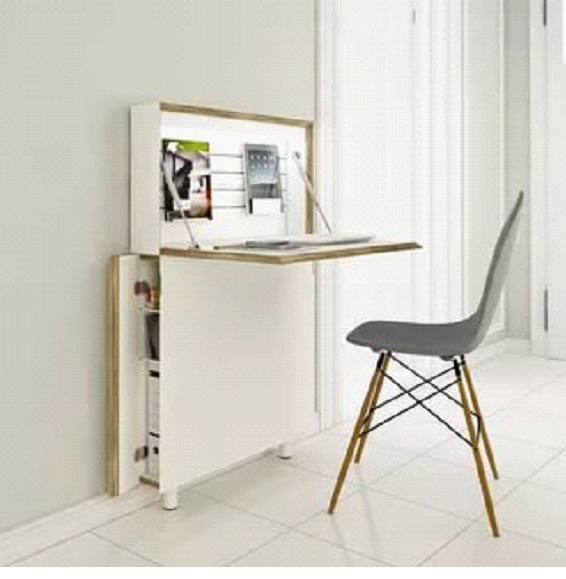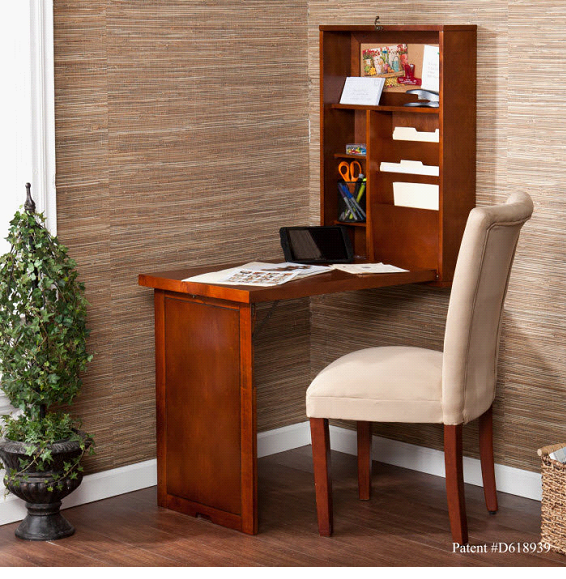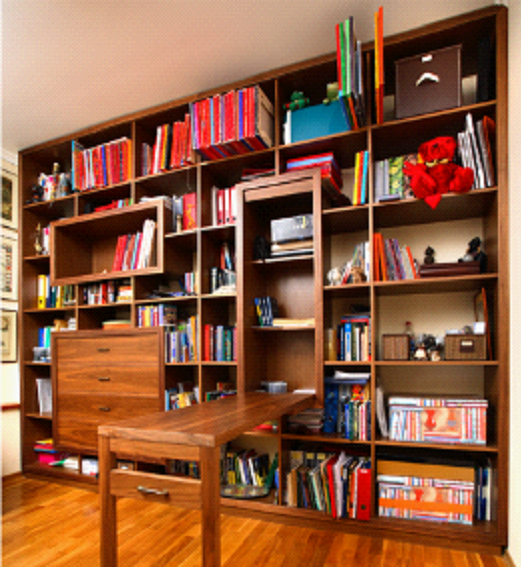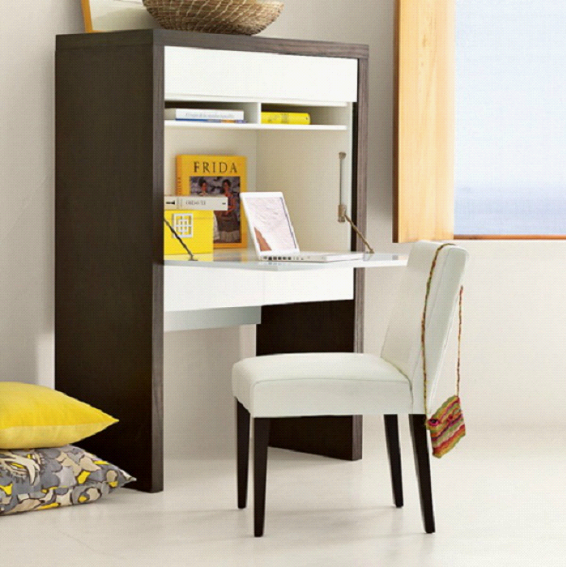 Balcony
Great idea - make on a balcony or loggia workplace. Modern designers offer many options of furniture for narrow spaces. From one wall you can recline the table, but on the other - chair. In the corner you can hang a shelf for books and organizers.
Balcony can be turned into a place of rest. To do this, attach to the wall folding table, Put comfortable wicker chair, hang a few plants. In this corner is pleasant to drink coffee in the morning or read a book.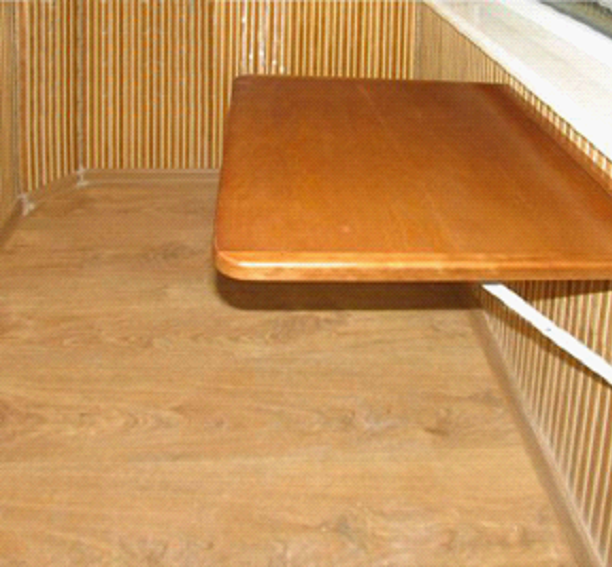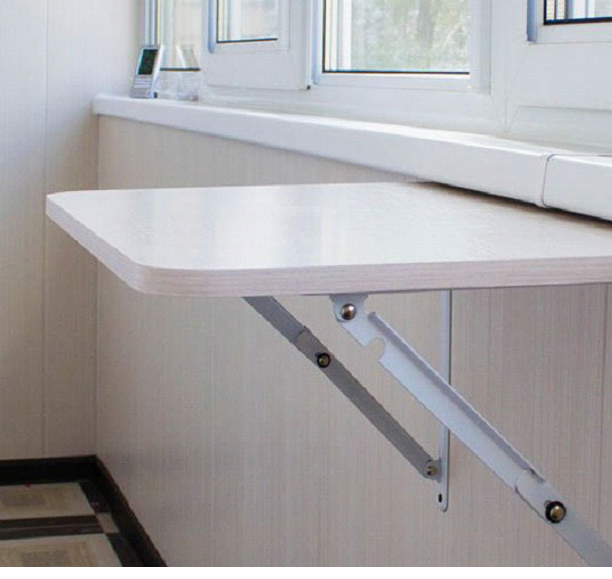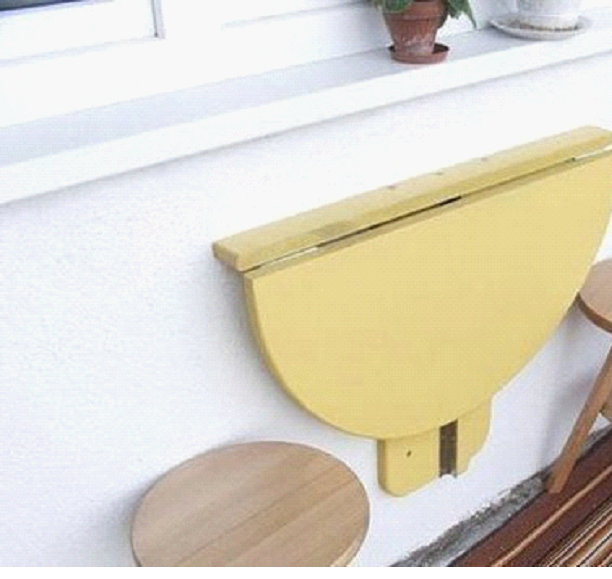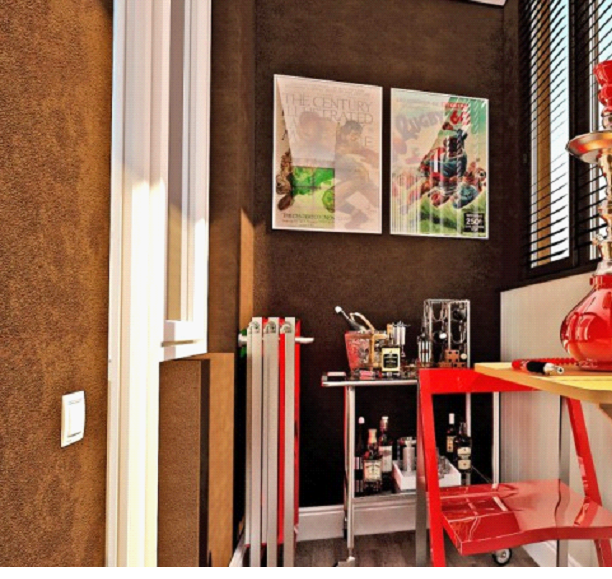 nursery
If the children are still small, they are constantly running around the room, and playing outdoor games. In this case, a large table with sharp corners causes injuries. To reduce the risk of children's tears, you can position a few folding tables along the wall. They will not take up too much space. During outdoor games can be folded up and not worry about the risk of injuries and bruises.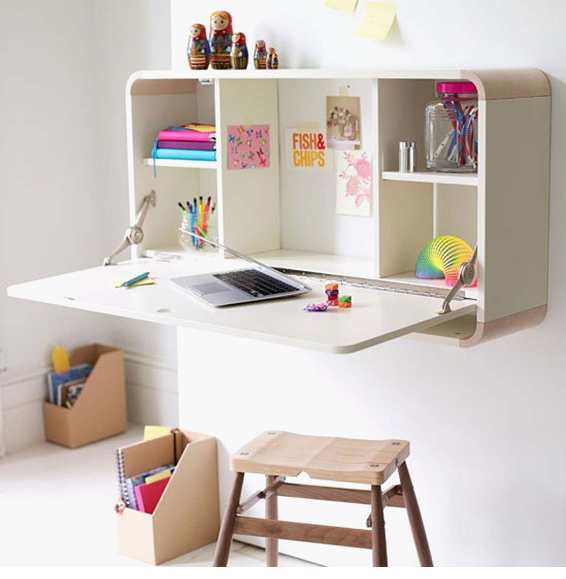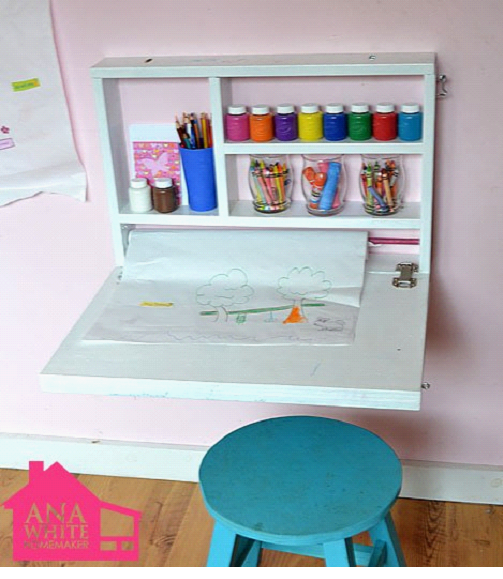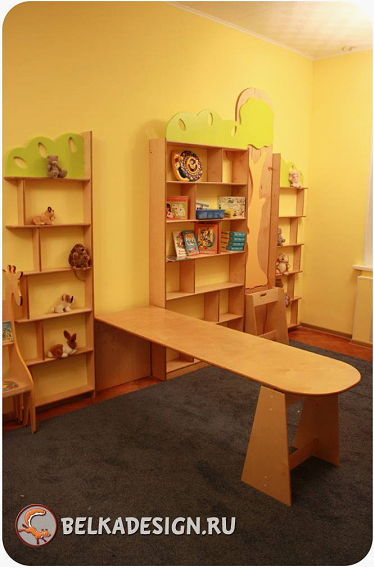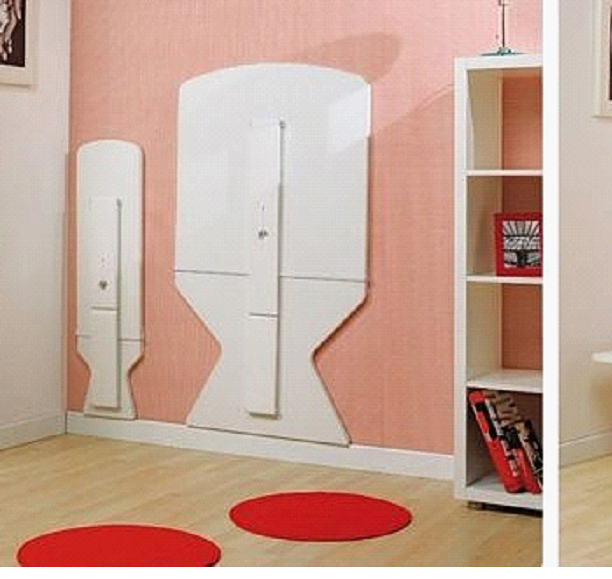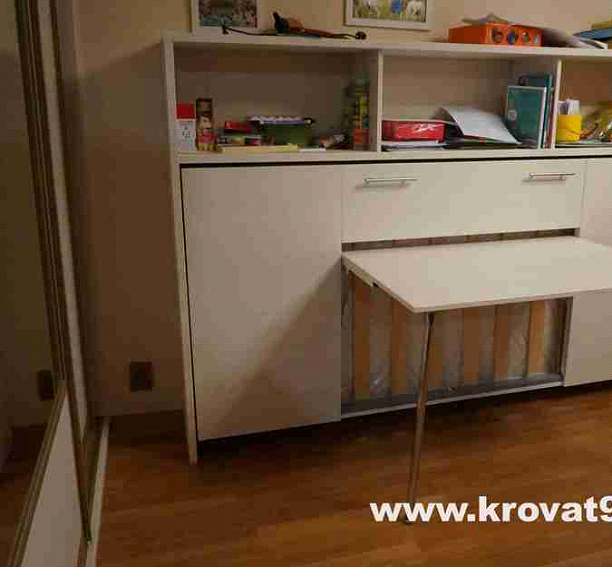 Kitchen dining tables
It is difficult to make a small kitchen suitable for a family of 3 person. More often than not forced by space wardrobes, much space is a refrigerator and a table. Lunch and dinner in the kitchen such shifts come, since accommodate the whole family comfortably impossible. The solution to this problem would be a folding table and chairs. During cooking, do not interfere with the hostess, they are lifted only for serving and serving dishes.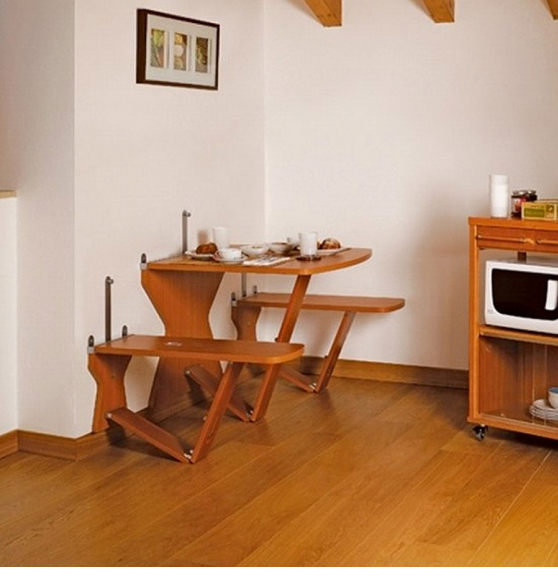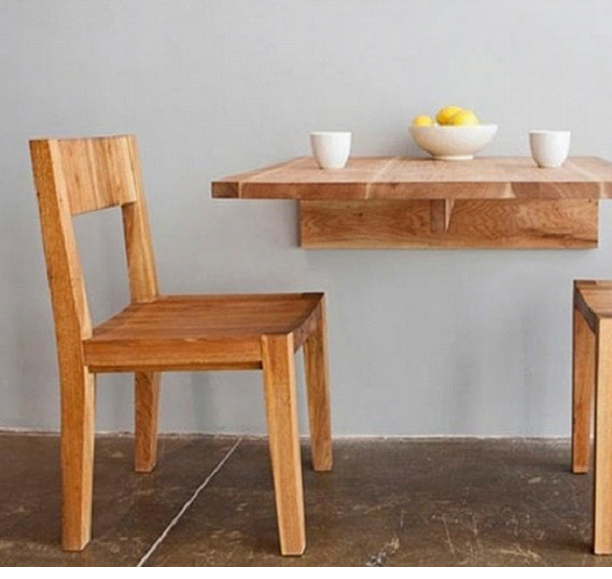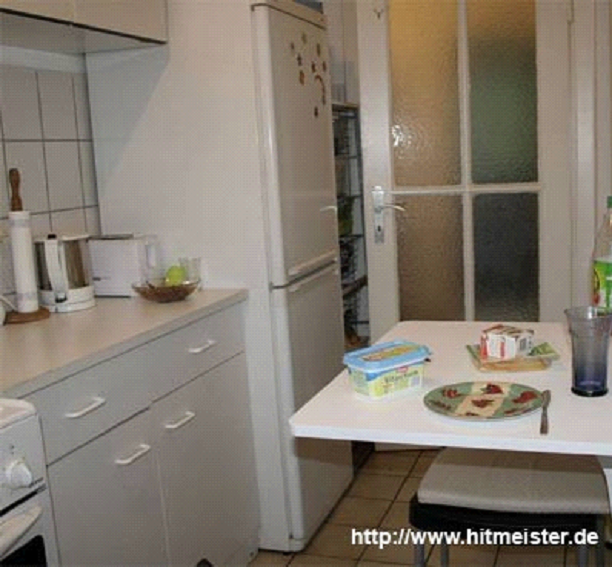 creative table: how to draw and how to decorate
Variants of folding tables in stores assume a different shape and color. They do not require decorating, as always fold-versed. If you want to build a creative space around, Use wall decoration: pictures, posters.
It looks interesting set of several photographs or paintings, than one large image. You can hang narrow shelves and put on their decorative vases, souvenirs, writing instruments.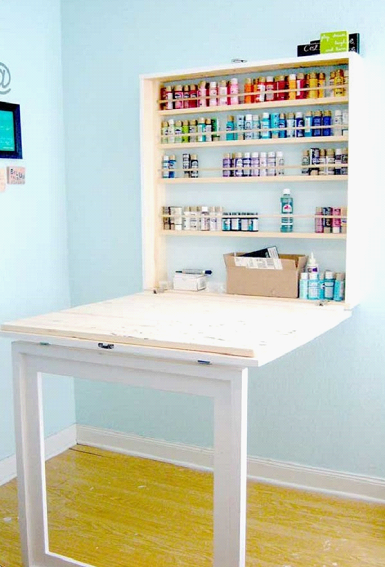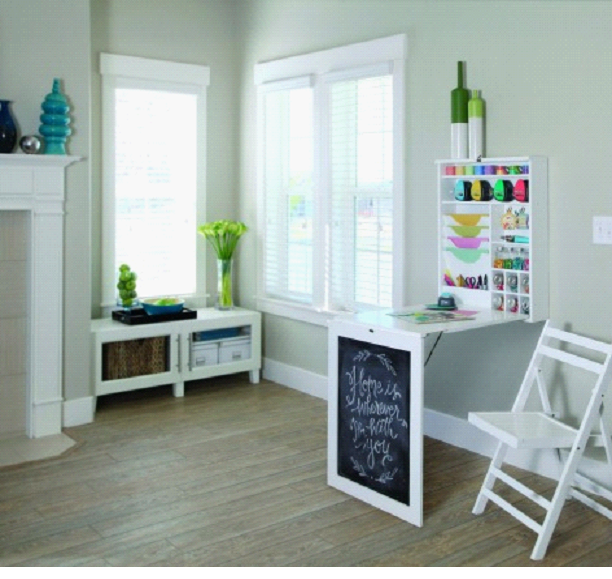 Convertible table-picture
Table-picture - a solution to the problem of the folded table decor. On the back surface located poster, Folded it hangs on the wall. Feet thus hidden inside the structure.