Decor cans with their own hands: 15 original ideas
"Beautiful" is not always equal to the "expensive". An example may be a decorative jar, which can be easily done by hand, enough to show a little imagination and make little effort. A lot of time and money on an embodiment pans in life do not need: most of the ideas have a minimum list of consumables is extremely affordable. Everyone can be inspired by ideas, how to decorate the jar with his hands.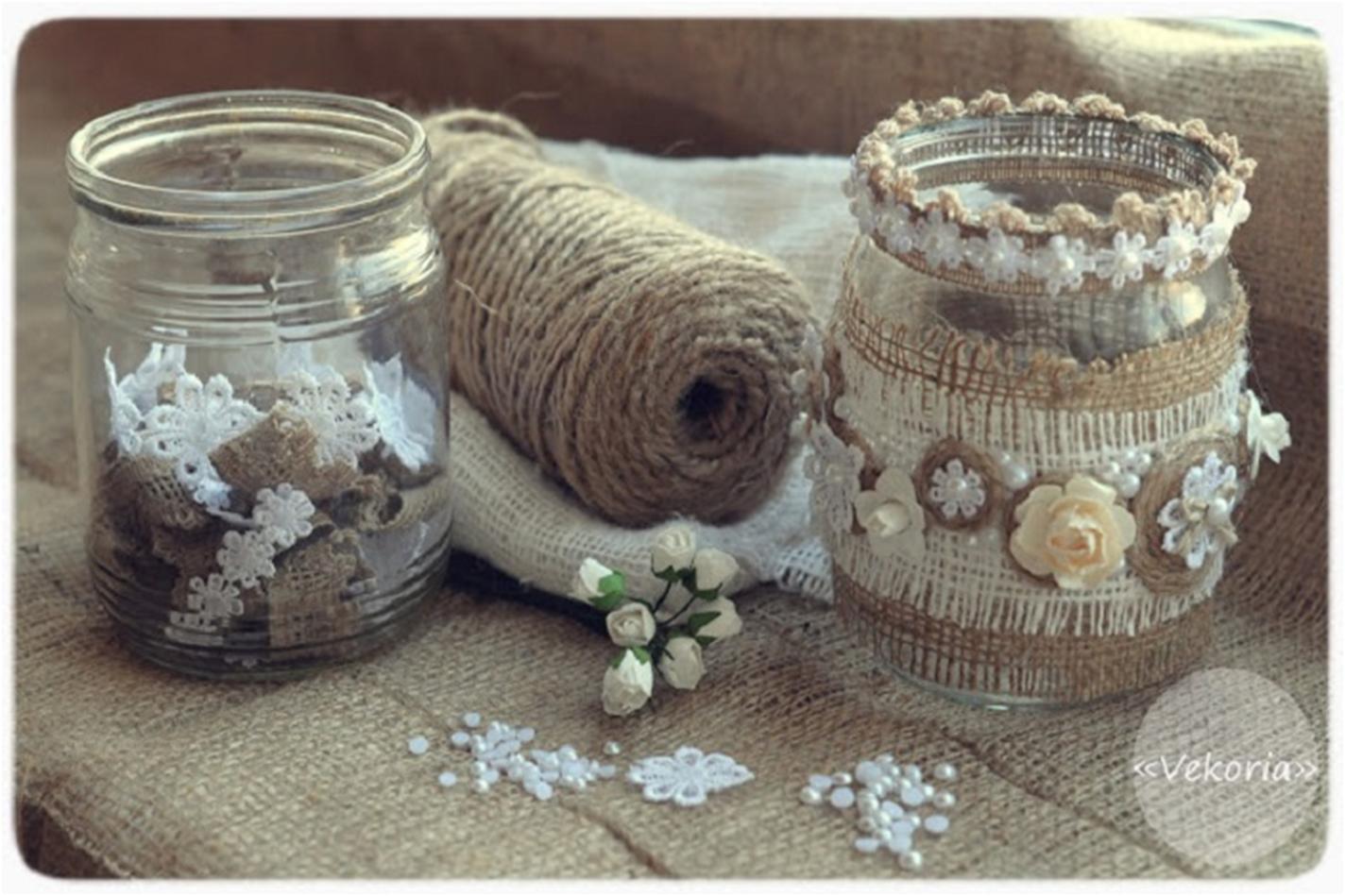 cans decoration in vintage style
Jars for decor, decorated antique, help decorate any interior because of its neutral color.
Necessary materials:
Beautiful jar of glass;
in burlap 2 shades;
Lace;
satin ribbon;
Twine;
beads;
Glue.
Clean and dry jar wrap rectangular piece of burlap in the middle, glue it. Repeat the procedure from the top with a contrasting color burlap, cut it should be less than the first. twine twisted into flowers decorate the jar in diameter. We make lace flowers and ribbons, in midway put beads. Bottle opening is made in the same style. Allow to dry materials, and a beautiful jar of ready. It can be used for storing small things or the candlestick.
Jars for storing spices
If you accumulate enough cans, You can create a set of bulk products. Bank's own hands adorn the open shelves in the kitchen and create a cozy atmosphere, inherent in the author's things.
How to decorate a jar:
Stock up on a linen cloth, lace and glue. It will be fine, if you can first apply to the web name of, that they will be stored, or just abstract graffiti;
Paste over the entire central part of the can with a cloth, let dry for 1 o'clock;
Stick the narrow strips of lace on top and bottom fabric. They should surround the central portion;
Make a beautiful cover for on the basis of old cans: you just need to wrap them in neat piece of fabric, treated with glue. Top can tie a ribbon of the same material.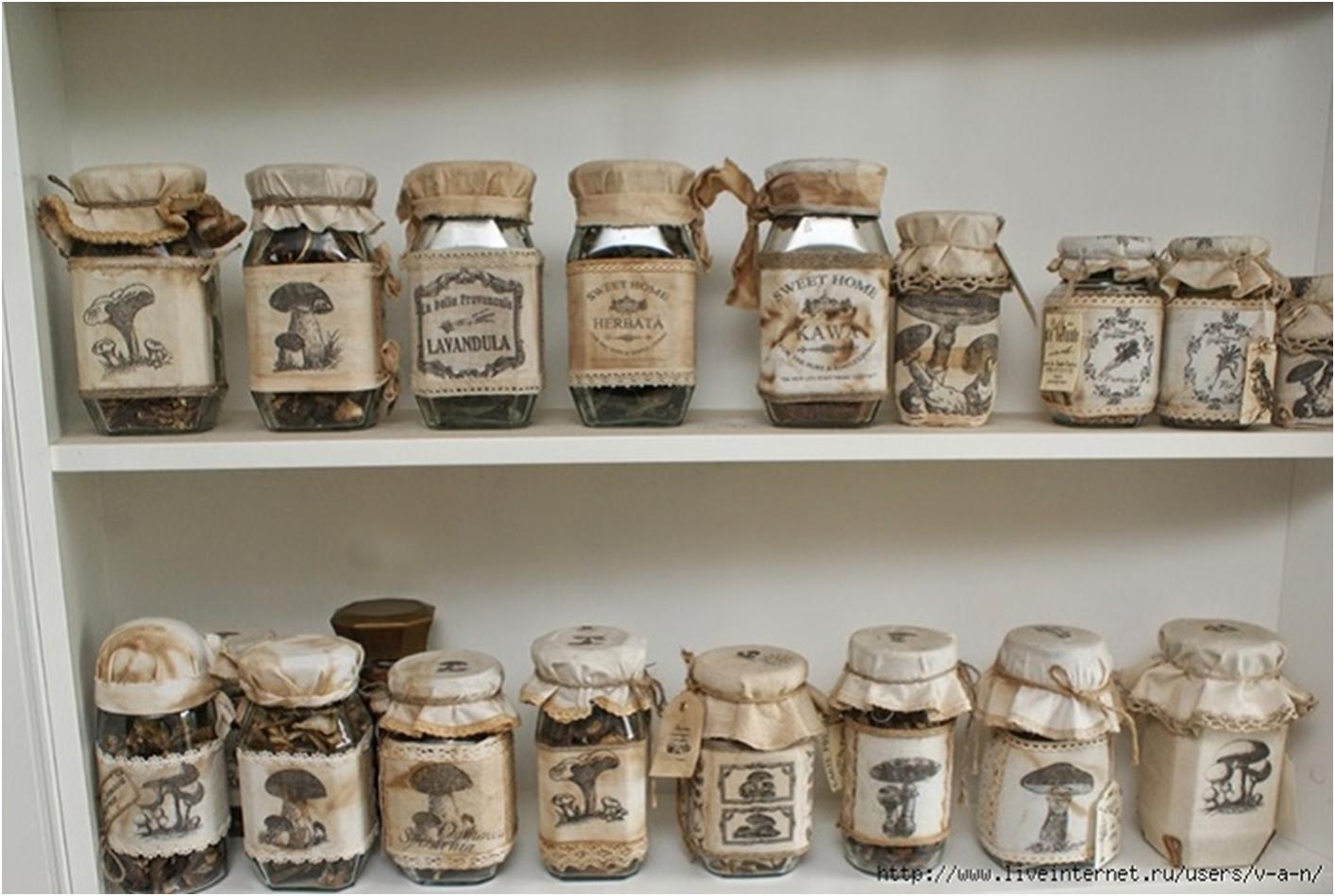 Decor coffee cans with the help of newspaper tubes with video weave
Very often, the stores there are beautiful coffee jar with interesting form, and sometimes texture. But keep in the house a jar, meaning there is no. If a jar of coffee from under the very liked, there is reason to think, how to decorate the jar with his hands.
Jar for coffee storage
Decor jars - is a great way to save money and create a unique interior detail. Decor cans of coffee can help make a change of capacitance in a constant.
To make a beautiful jar with your hands need:
newspaper tube (they are made using knitting needles: needle is placed on the edge of the paper sheet and a multiply wrapped prior to the formation of dense rolls);
PVA glue;
Scissors;
cardboard;
Paint;
Water-based varnish;
Brush a medium-sized.
First you need to cut 2 circle diameter of cardboard cans, circumferentially bore holes in the region 2 cm. They glued paper "vine" and all of the second cardboard blank is clamped. On board puts the bank and raising up the tube, thus we create the product frame. Weaving is done way, "Rope" is available via the link to the video details weaving scheme.
Very convenient with the help of pegs fastened to the neck of the paper tube banks.
In this manner, braided bank to the top. After only need to paint it in the color of the wood and varnish for durability. It remains to consider, as it will be framed to cover the banks with their own hands. This can be a decorative ribbon or fabric cover.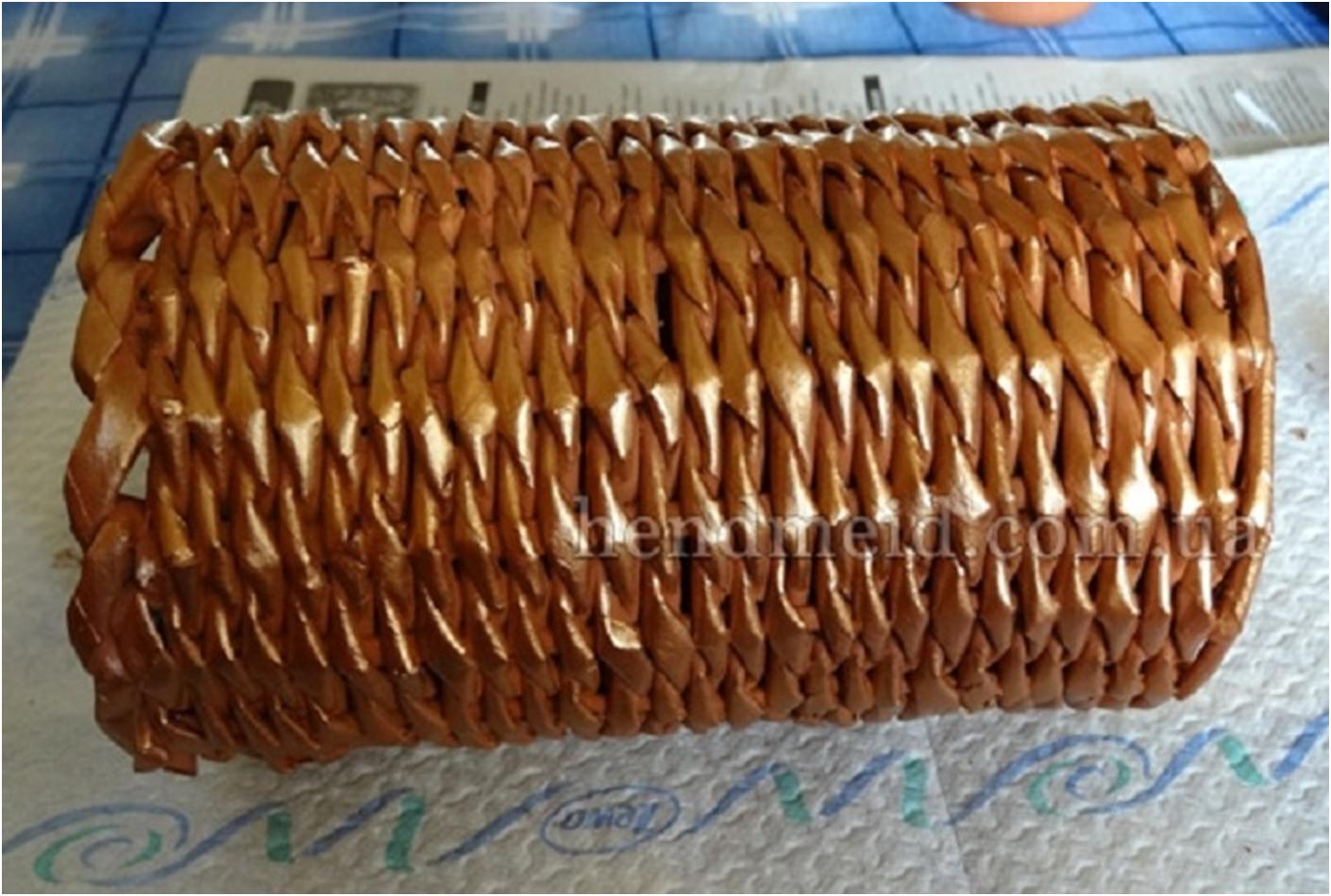 Decor jars salt
Magic wave of skilled hands salt from a standard kitchen accessories is transformed into the original design of the banks with their own hands. There are several options for, to decorate the jar with salt.
Candle with brine spraying
For product design need:
Salt (rather large, marine);
Food colorings;
Glue (suitable PVA);
tinsel, rhinestones, beads - optional.
You can go the easy way and buy a ready-made colored salt, but the design of jars with their own hands - a creative process. When mixing different dyes can obtain unique hues, that will make the finished product even more extraordinary.
Salt lends itself well to dyeing, it is important to only mix thoroughly mass.
Bank outside promazyvayut glue well and immediately dyed sprinkle salt - thick layer should turn, adhesive can be added if necessary,. Then the product should be given to dry: it will take about an hour. Beautiful ready candlestick!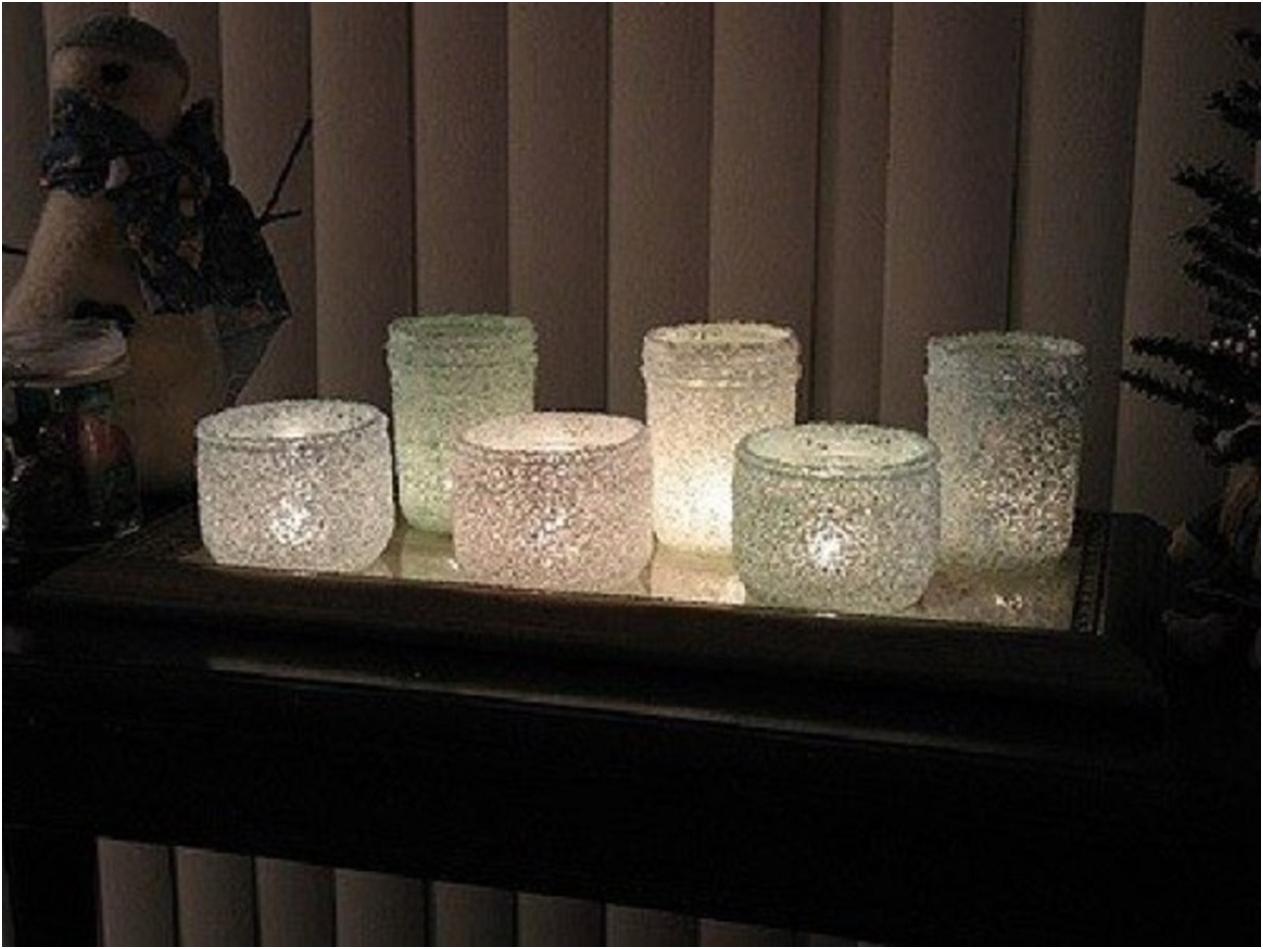 jar, filled with bright colors
Beautiful Bank receives, if you fill them with colored salt layers. The technology is very simple, and the result will please long time: We need to mix several shades of salt and turn to sleep in a jar.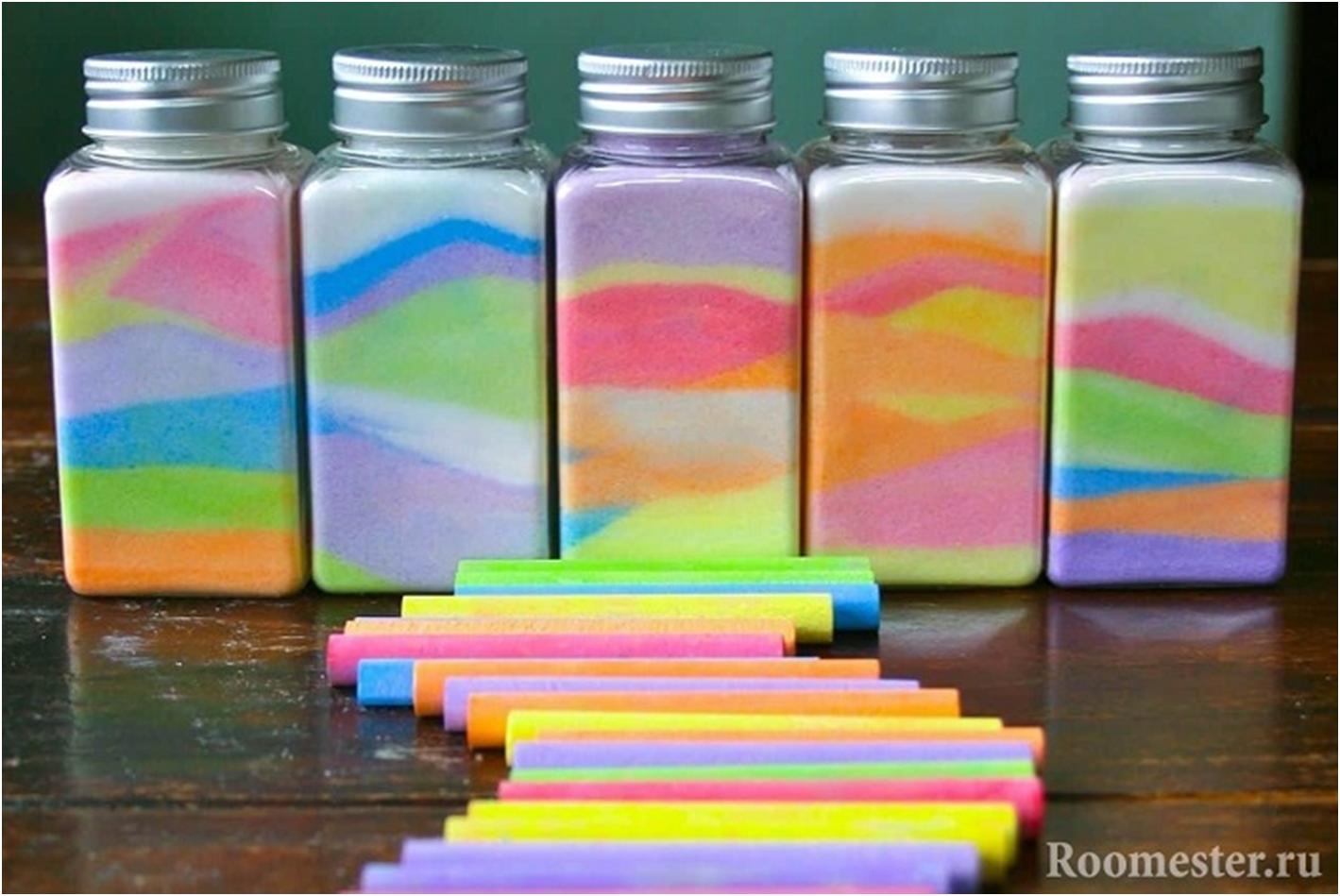 The second life of cans
Tin in the right hands can become not just the contents of the bin - painted in beautiful colors, it can serve as an excellent pots for seedlings, cacti or succulents. To use the jars for this purpose it is necessary to do the drainage holes at the bottom.
Before decorating the banks be sure to disinfect any alcohol solution!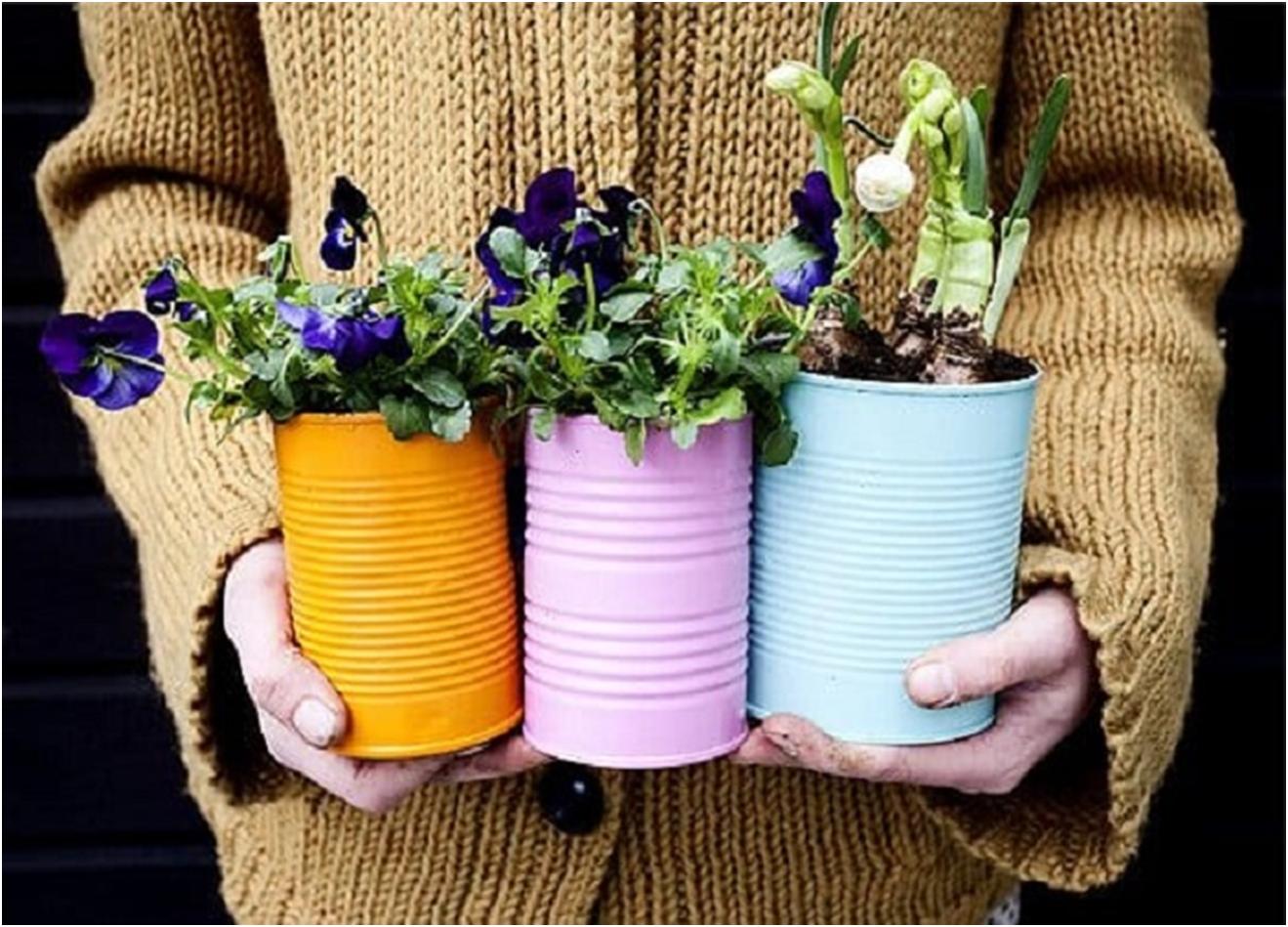 iron vase
Vase from cans can become the main decoration of the table, or in the romantic style of the country. Belted satin ribbon, with bouquets of wildflowers, they look inimitably. Such a method is suitable for, to decorate a plastic jar.
Decorate the jars with their own hands: need dry branches of the same length, twine, glue and dense fabric.
Collect branches with glue on the string: they must be installed exactly. For the strength you need to secure the top and bottom branches;
Okleyte tin thick cloth: it should be a neutral color, like the branches;
Clay also connect with the workpiece surface banks of twigs.
An hour later the vase is ready for use.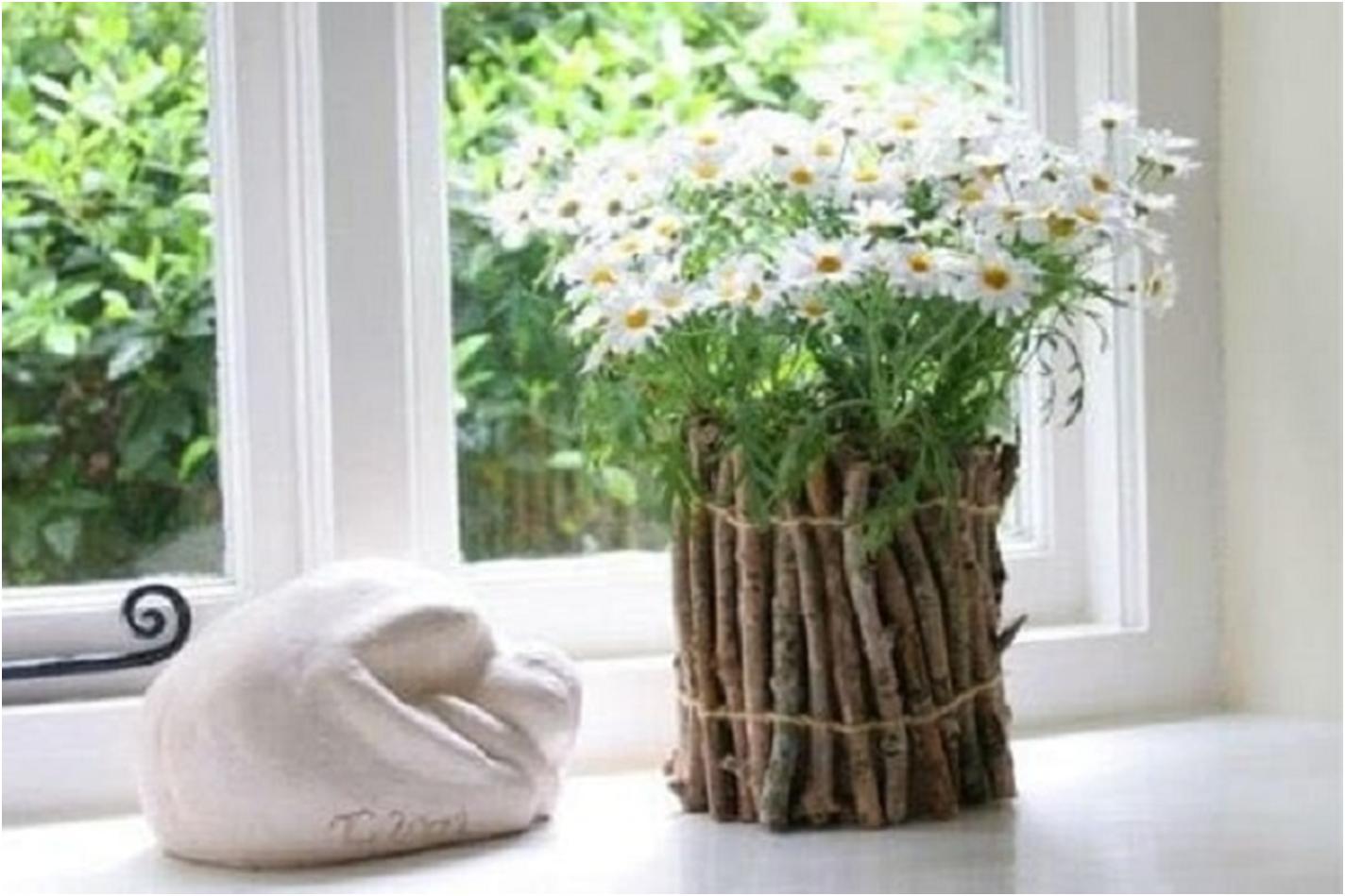 Master class on the original painting bottles with photos
Add color bottle - an original interior solution, which will help to place bright accents in the room. The main advantage of this design - simplicity. In the bottle to pour until the middle of the selected paint color and a good shake: packagings must be uniformly colored inside. Then it is necessary to fix the bottle in position upside down and let the paint dry: it will take the whole day. Then the process is repeated to achieve the best result.
If you doubt the issue, than dyed glass jar, stop your choice on acrylic paints - they fit could not be better.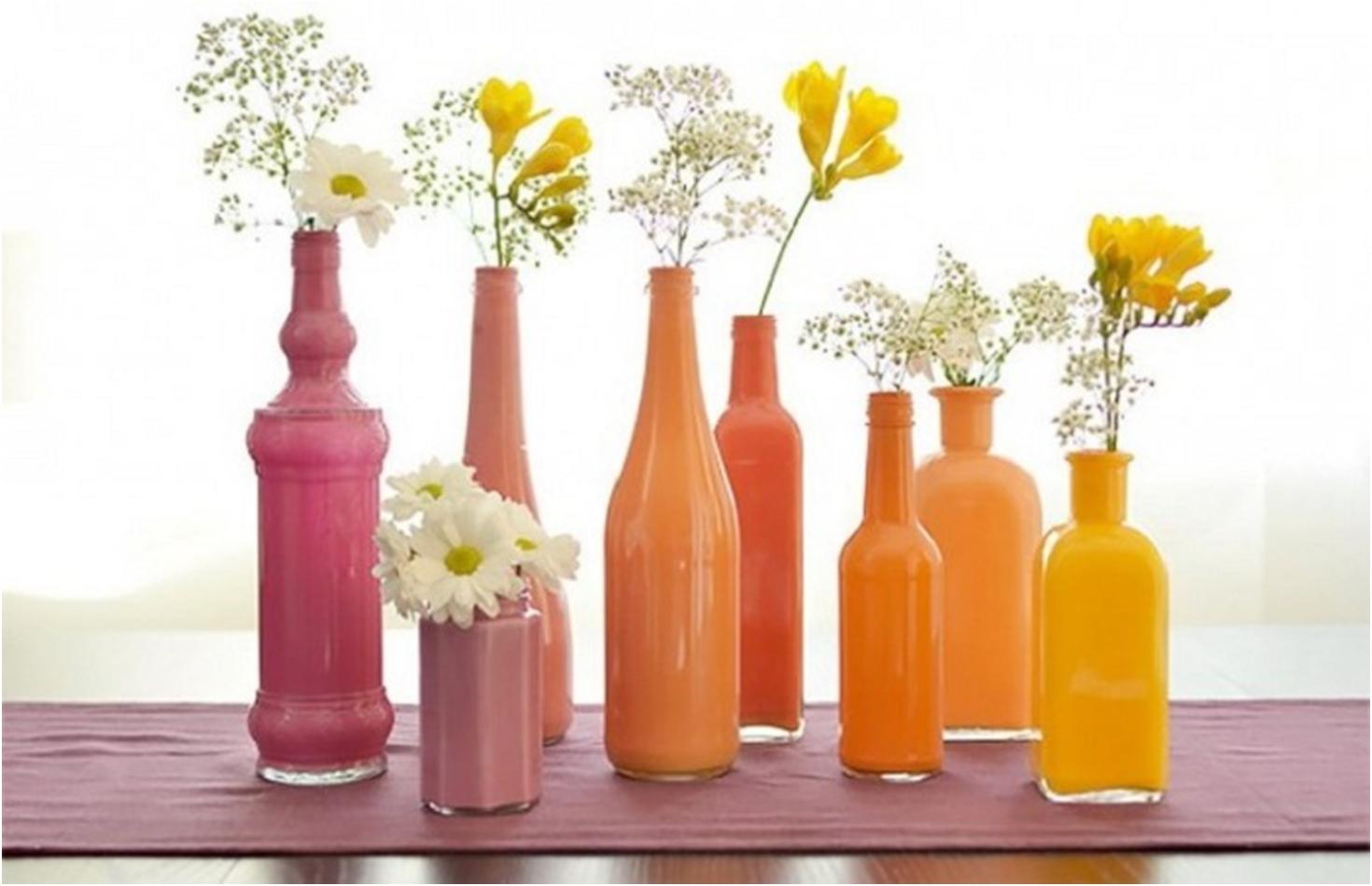 It looks nice and external design of the bottles: it allows you to create intricate designs on the decorative surface. The procedure is virtually identical to the internal staining, It needs an additional fix tape in places, where there will be pattern.
If desired,, After drying the base layer, unpainted strip of adhesive tape can also be toned in a different color or glitter. The same way you can decorate a glass jar with his hands.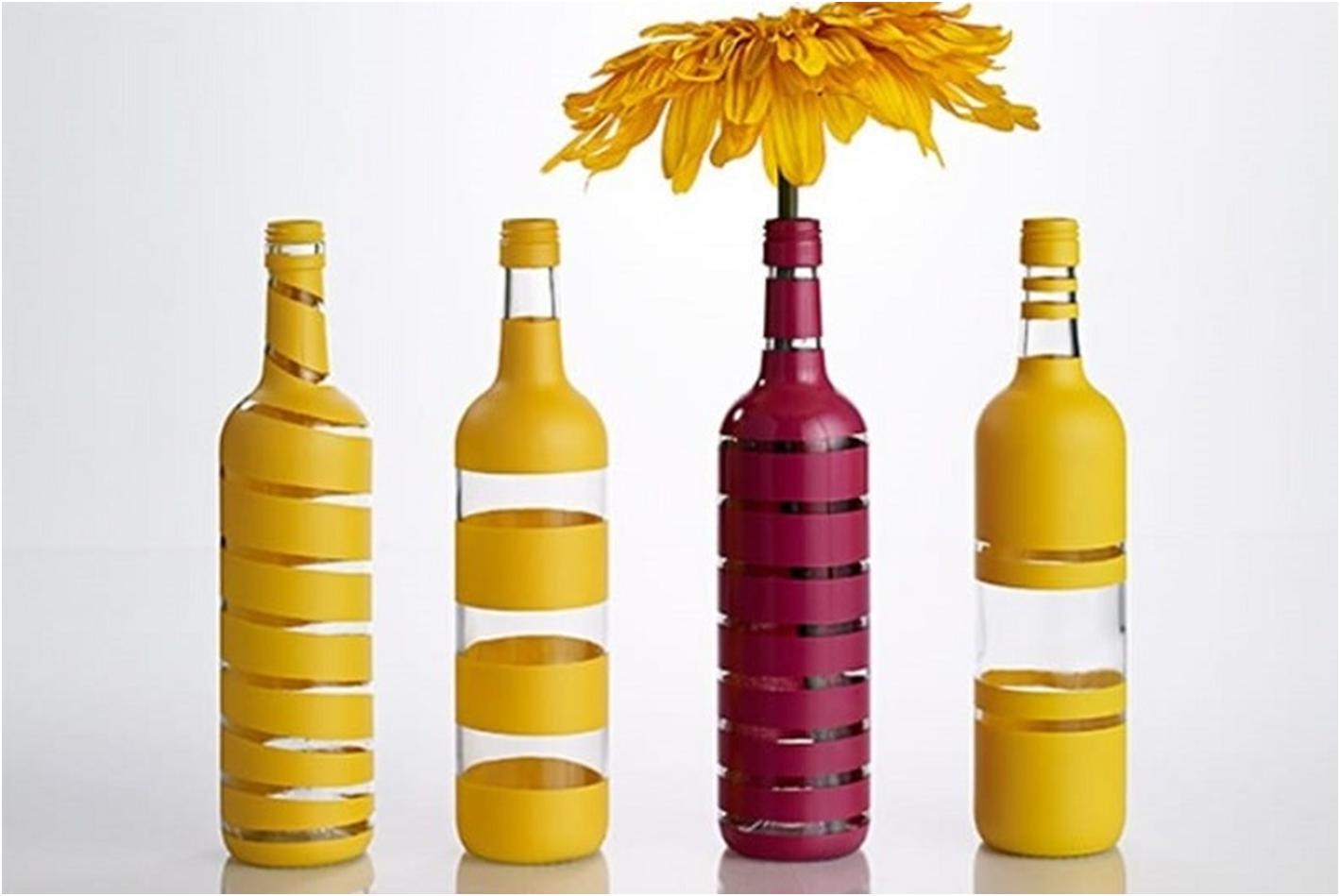 Manufacture of glass jars mugs
There are many original ways, how to decorate a jar. One of the most trivial ideas - using banks as mugs! This idea is perfect for picnics or receptions outdoors: apply in such a dish best chilled drink with a straw. Guests will be delighted.
How to make a jar:
Stock up on dense skin: it will need to create a handle.
Thread for stitching details (it is possible to replace the glue "Moment")
Leather pieces cut workpiece holder and handle future. They need to be glued to the bank. Work carefully, to glue residue does not have on the future mug.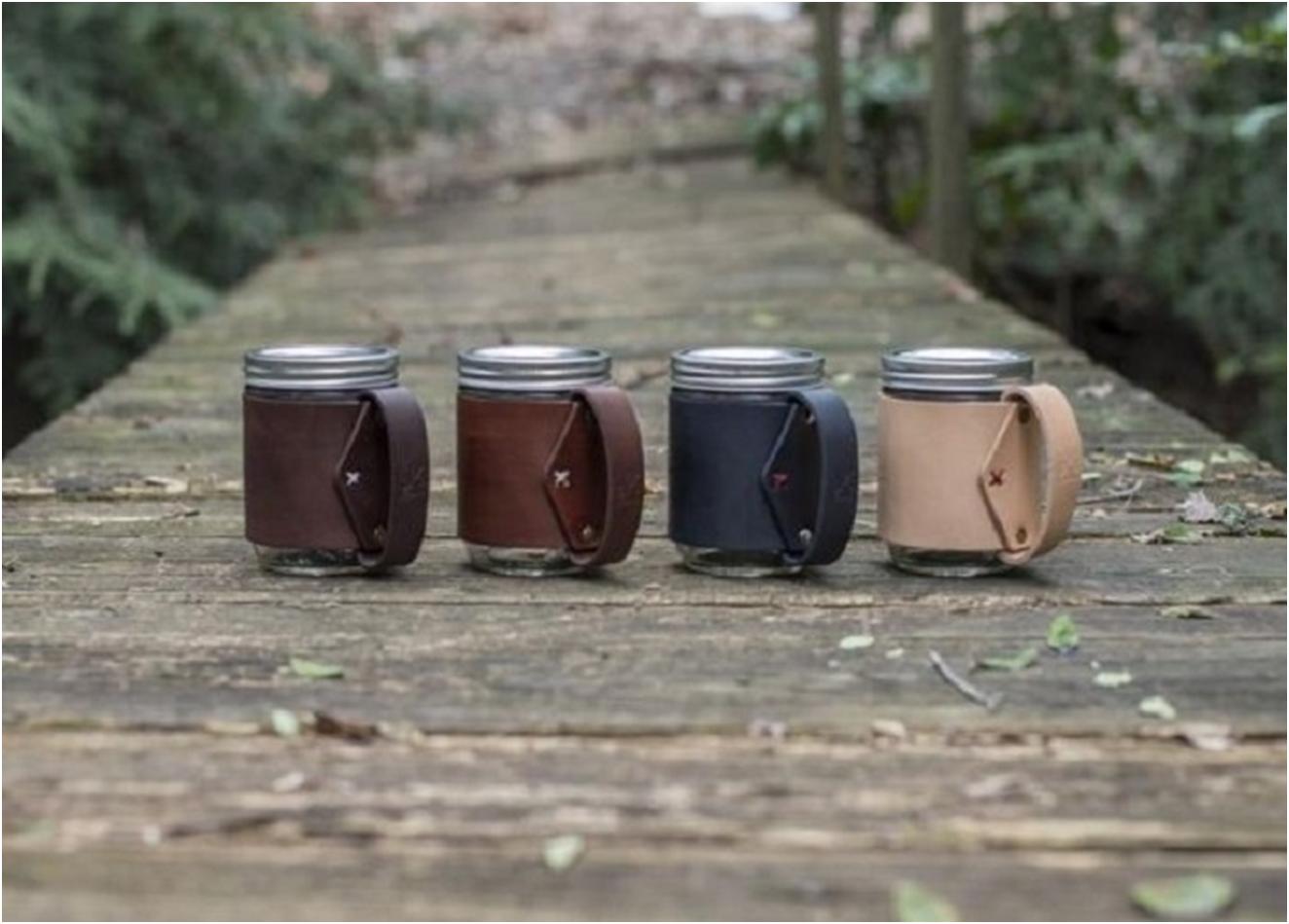 There is nothing easier, than, how to make a cover for cans - mugs: you just need to drill a neat hole in the middle, sufficient space for the straw.
Frame from a jar
wondering, that can be made from glass jar, note, that in the final form it can serve as not only a capacity for storing products, but also a complete frame for photos. This original idea will move away from the bored photo frames and make the space totally unique.
Performs work in 3 steps:
Photo to fit the size of the jar, if necessary, trimmed;
Placed in a jar picture face down;
Bank turns over and is set in the space provided.
An unusual picture frame ready.
For cans vertical portraits fit most: so it will not be distorted face.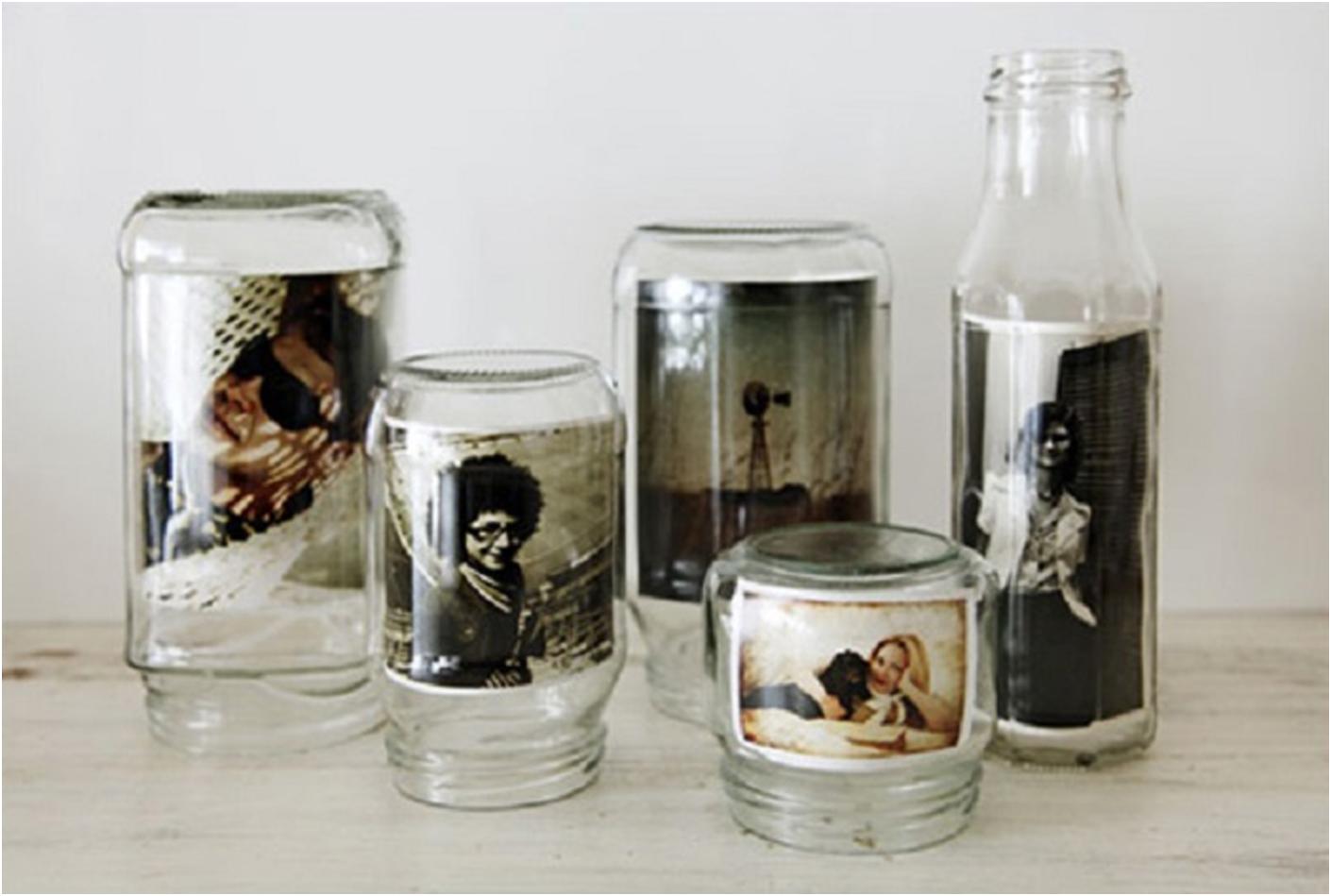 If further use sand, shells or other small items, get a full 3D - frame.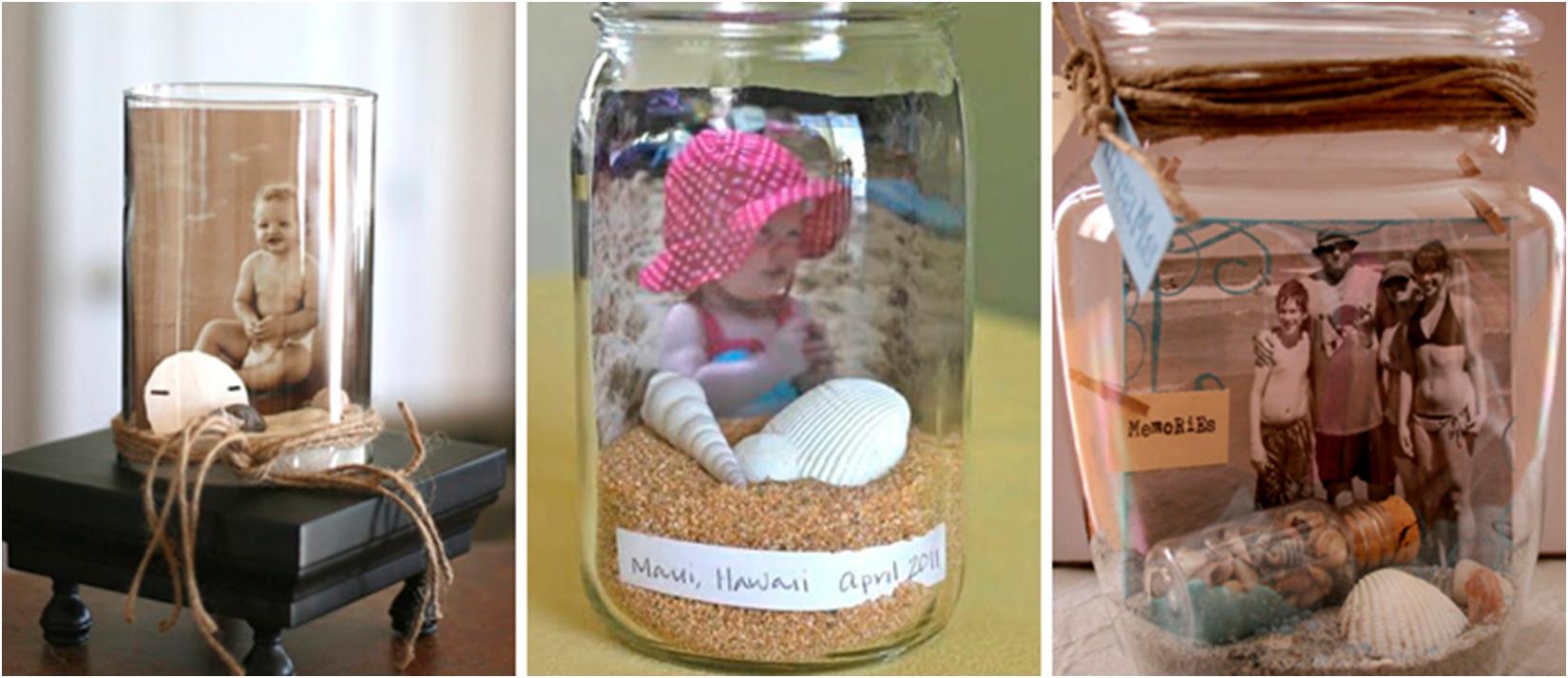 Bedside lamp and candle holders from the cans with their own hands
Beautiful jars with their hands can not be just the subject of exclusive decor, but also very useful thing. Give comfort and warmth atmosphere candle housing and lamp from ordinary glass jars.
wondering, how you arrange the bank, pay attention to the version of coloring with special dyes, who hoard light. At night, this will serve as a spectacular night lamp jar.
The decor of cans in this manner does not require any skills of the artist, or even accuracy: quite simply in a chaotic manner to put paint inside the can.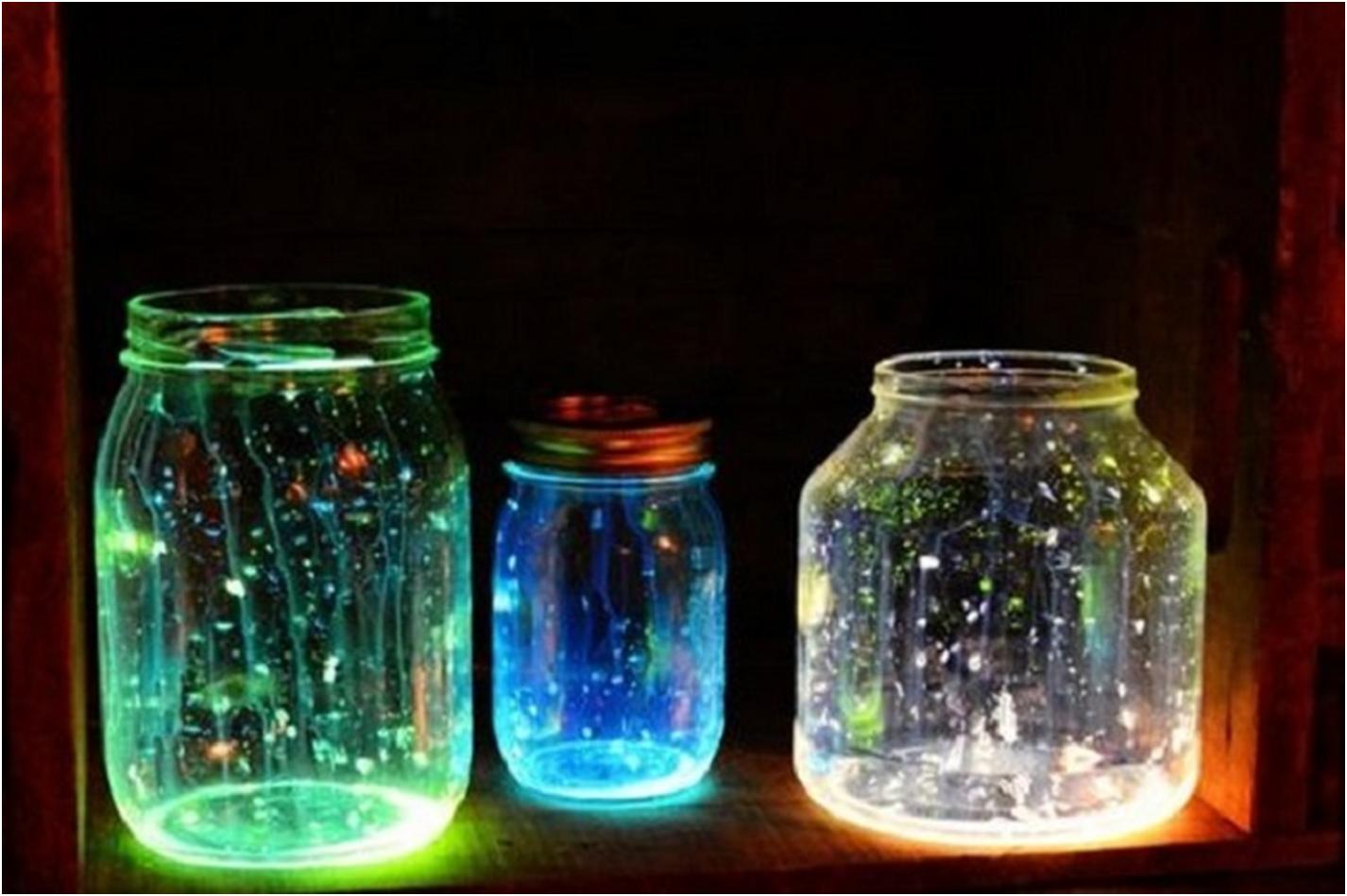 If you own knitting skills, you can get cozy candlestick: you just need to tie a jar of your favorite scheme and put a candle in it.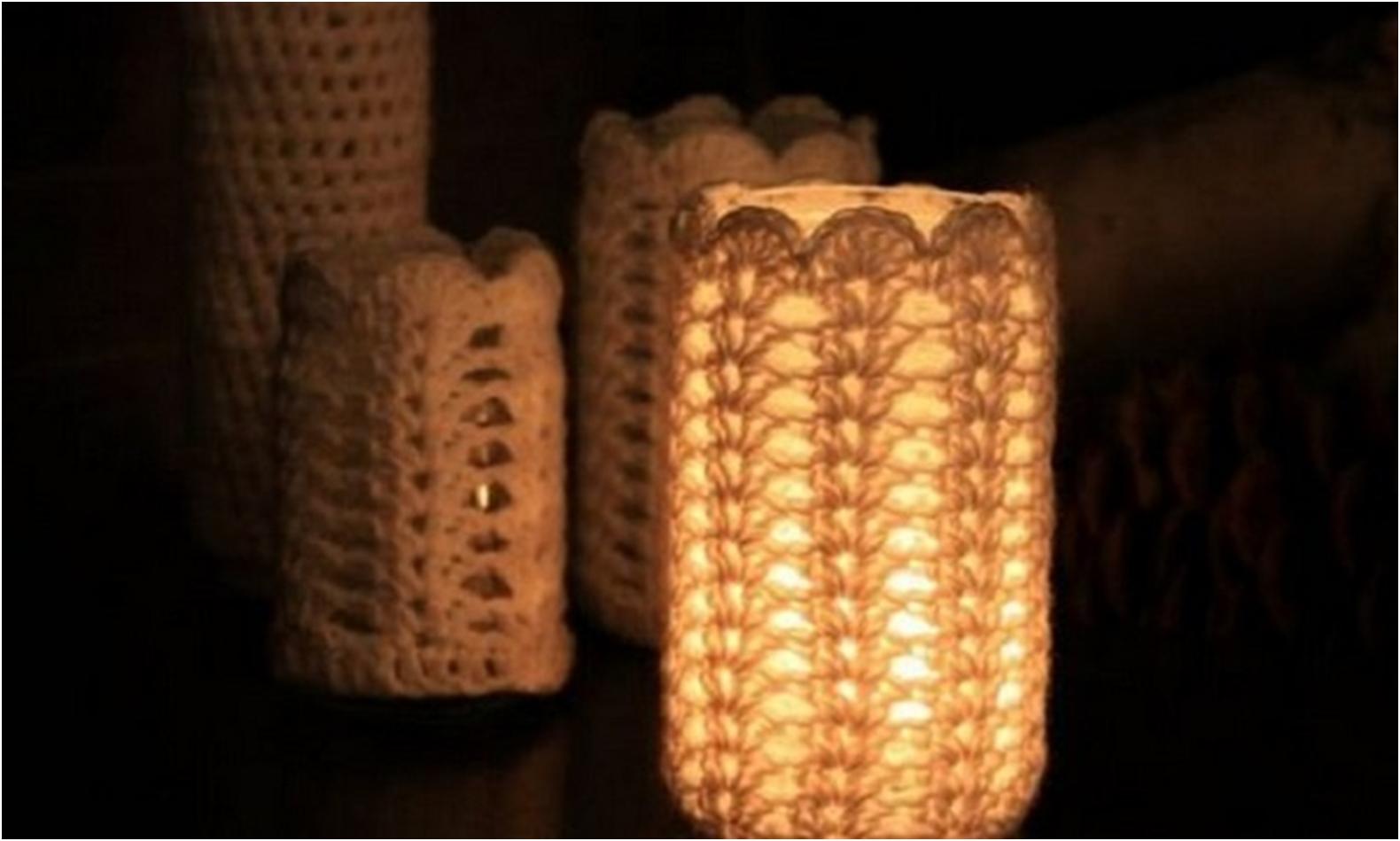 Exquisitely look candlesticks from cans, who were simply papered with lace. The segment solid lace glued to the outside of the jar with hot gun, and then it was placed in a standard floating candle. Such decoration jars will not leave anyone indifferent.