5 rules when choosing kitchen curtains and net curtains (a photo)
Curtains and blinds for the kitchen - an important element of the room decor, because they are responsible for creating a sense of harmony. A well-chosen, they transform space, make it cozy, special. They give the overall artistic design perfection and integrity.
Short or long, ready or custom-made, tulle and curtains in the kitchen are mandatory components of its. appropriate style, which decorated the room, they emphasize its atmosphere and uniqueness.
The main functions of the window of textiles:
the bright sun protection;

protection from the prying eyes of neighbors;

decoration.
Options window decorations are varied. making a choice, it is important to focus on the size of the room, the shape of the furniture in it, selected color gamut walls, tabernacle, facades.
Windows should complement the main idea of ​​Kitchen Design, and not to engage her in a duel by an awkward contrast.
Options draperies finished short and long tulle
Tulle, curtains in the kitchen with drapery can transform even the nondescript interiors. Using a fabric folds it is possible to achieve the elegant look.
Drapery makes the window opening expressive, gives it notes of solemnity. These are the tulle curtains or kitchen is ideal in large, combined with the dining room.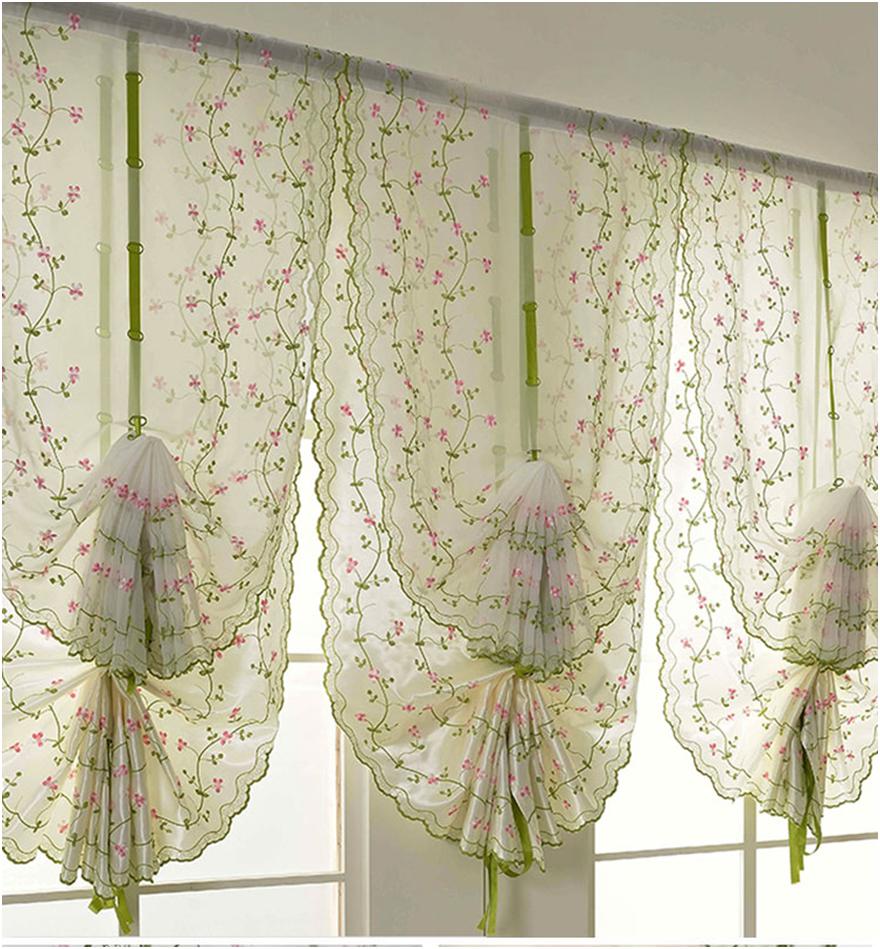 types drapery:
folds, formed at tailoring products. This fixed bends (longitudinal or transverse), which require proper care of the material during operation.

folds, created on the canvas it hang yourself with rings, magnets, bulavok, other accessories. Located such drape freely, allowing each time to create new and interesting forms.
These options are relevant for studio apartments, where zoning is carried out with the help of visual effects.
Rich drape inexpensive magnets
The easiest way to create a fold - to use special magnets, are matched by tissue color and do not hurt her.
Combination of the classical wave-folds with the top and bottom of the kitchen space drapery adds extra kick. View of the lush and luxurious window opening will give the kitchen a double tulle, allowing you to create both large and small folds. This is the least expensive way to update a room.
eyelets
Beautiful and inexpensive curtains of tulle to the kitchen on the grommet - a universal way to "dress" box elegant and stylish. The peculiarity of these products - their mountings. Complete sets of curtains for the kitchen are practical, affordable price, a wide range of colors.
Regardless of the length, These curtains easy to hang and shoot. They are sewn like fabric of the air, and from heavy brocade. Drapes and blinds to the kitchen on the grommet can be self-colored or patterned.
Tulle with lambrequins
Kitchen tulle short or long, able to create the illusion of extra space. One way to use the window decorations make the room above and more - use swags, partially or completely closing ledge for curtains.
Matter for such a product is selected depending on the type of pelmet and may be mild, to create a plurality of different rigid or draperies, for the manufacture of gangs. As additional decorative elements used neckties, fringe, tesmu, cords.
Great idea for a richly furnished kitchen - a combination of hard and soft tissues. Such window opening is particularly efficient
Photocopying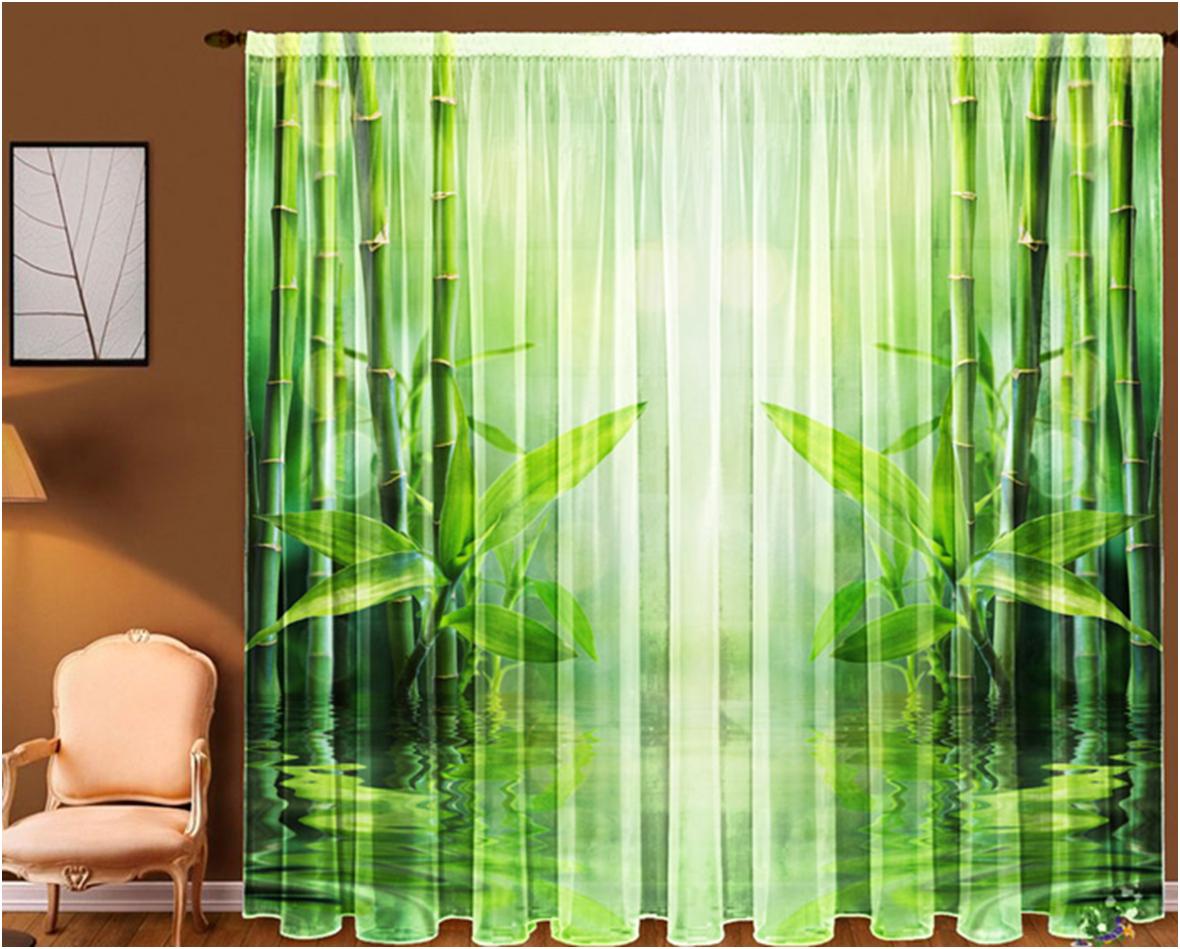 Interesting inexpensive tulle to the kitchen can be a photo printing. Popular are images of animals, people, scenery. Carefree choice - tulle for the kitchen with flowers in 3D.
These curtains can be bought ready-made. The range of colors is huge, presented in different styles and directions. In the shops, specializing in the sale of products of this type, Tulle can be ordered in the kitchen with a picture or a photo on a photo from the personal, family archive.
white muslin, color, with beads
Muslin - beautiful tulle, the kitchen curtains made of a plurality of layers of thread. Another name for these curtains - curtains rope. This choice is especially important for ethnic style. It is ideally combined with the most modern trends in the design space.
Framing the veil of the ropes are often diluted with threads, which strung beads or rhinestones. This is most often a long tulle, white or iridescent green, red, blue, yellow.
Beautiful tulle with Roman blinds on windows with regular or arch
Lace curtains for the kitchen with Roman blinds minimized greatly open the bottom of the window area. It brings a sense of discomfort, oholennosty. If tulle (short) the kitchen is combined with other types of curtains, the result is particularly expressive. Thus Roman curtain may be monophonic, multicolored. It is mounted in a window sash, and in front of her on the ledge establish a long curtains.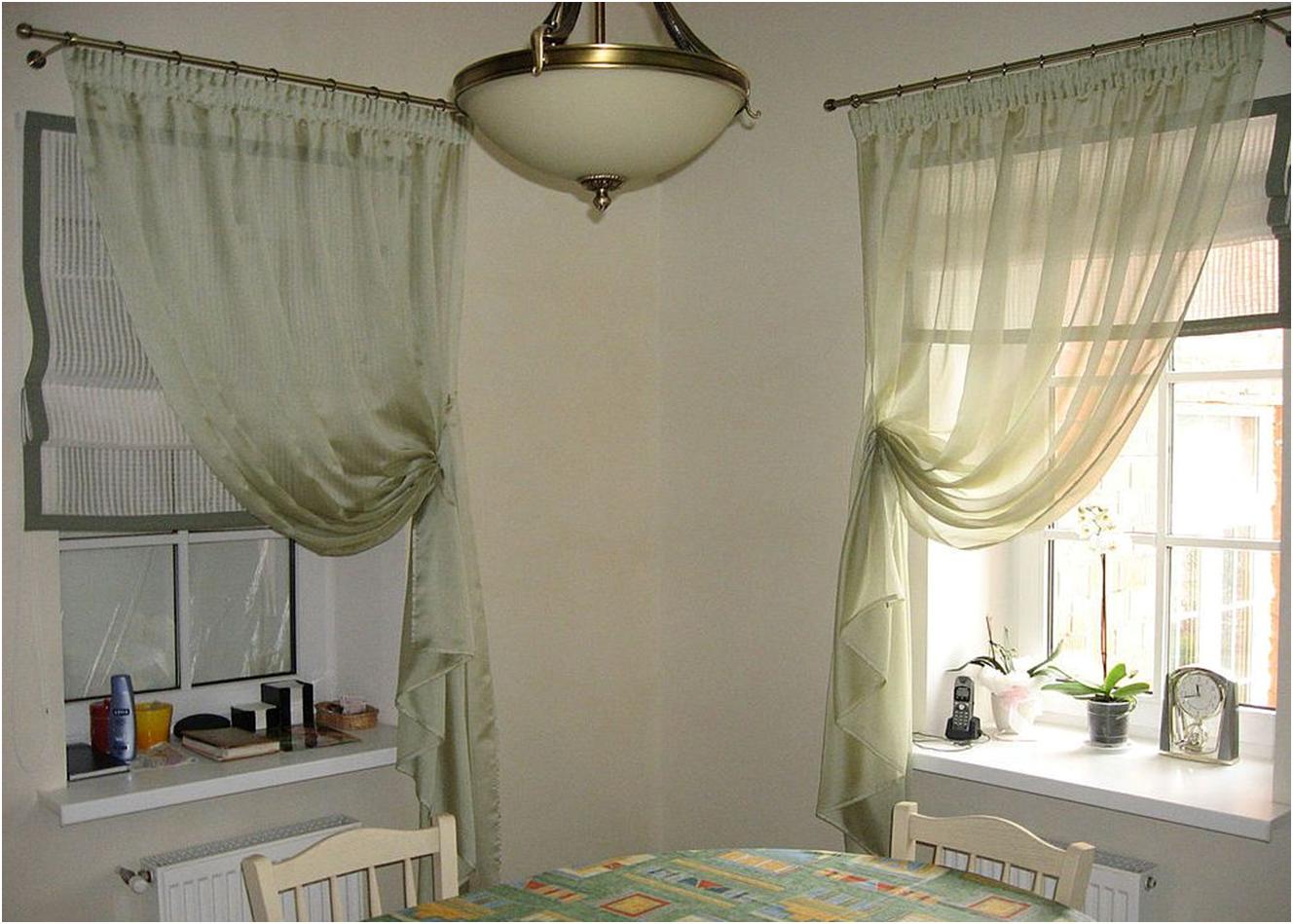 The combination of Roman models and additional tulle able to realize any whim of fancy, operates in the following styles: high-tech, nautical, colonial, minimalism, retro.
Rolling red curtains - classy choice in any room
Roller blinds with tulle resemble canvas, odnotonnoe, or with patterns. The canvas is mounted in the window opening and wound when winding on a special device - a shaft. Manipulation of the material web movement may be mechanical or electrical. Manage such curtains by hand is easy. It is enough, avoiding sudden jerks, gently pull the chain.
the, who wants to transform a kitchen without excessive cost, will be pleased to learn, that is interesting and inexpensive tulle presented in this proposal. Roll red tulle to the kitchen adds a space of aggressiveness, a white tulle Kitchen, conversely, it will create an aura of peace and purity.
5 rules for selecting a set of tulle in the store
bright, odnotonnaya, transparent or colored tulle on kitchen requires a literate approach to the choice. Wrong window decorating, You can spoil the rich repair facilities. Dobrotnaya, carefully selected furniture and appliances to "lose", non-compliance with the design of the window openings and arches. textiles should be chosen taking into account the Standard Rules.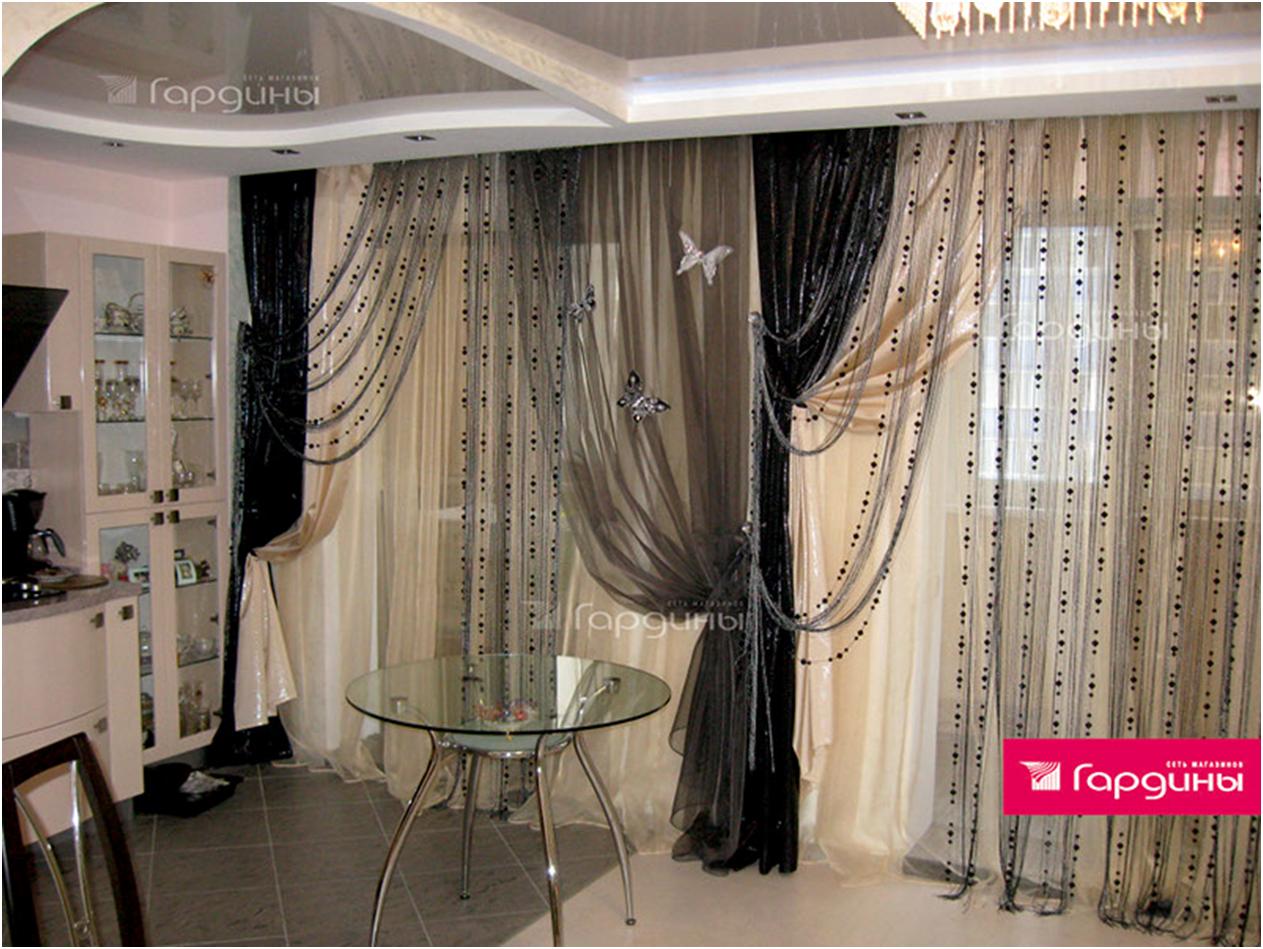 How to choose curtains and blinds to the windows of the kitchen:
By style, in which the design of the room is maintained.

of materials, do not fade from frequent washing, not afraid of fat and sedimentation of water droplets.

The product should not be completely darken the room.

It should be oriented on the color gamut surface of the walls, items.

For reasons of ease of use. So, eg, in family, where there are people with disabilities, Roman and roller blinds are more relevant, draperies than multilayered, no matter how rich and classy they may seem.
You can either buy ready-made kits, and combine tissue alone.
Care tyulyu
Caring for tyulyu be given tissue specificity. So, tulle green color in the kitchen can not be washed in hot water or bleach, whereas the white cloth is preferred to use bleaching agents. For each type of blinds has its own care requirements: ones can be wash and wash, others should only be cleaned with a damp cloth or take to the cleaners.