5 round napkins crocheted: knitting
crochet napkins again come into fashion as the original decoration of apartment, Private house or villa. Our grandmothers knitted them for, flocked to less dust on the shelves and on the TV. Today TVs become thinner, the number of cabinets in apartments decreased, but wipes, track and tablecloths still adorn our homes.
types of products
Crochet napkins - a great way to hone your skills, develop fine motor skills and spend nice time. The resulting product can be used in interior design, give to friends, put up for sale. maybe, The first products will be crooked and ugly. In this case, do not despair and throw needlework. With each new cloth is better prepared, eventually you will be able to hone the skills and knit big things - tablecloths and clothing.
Assign each napkin can hook. They can be divided into types of form:
Square - is the easiest for beginners;

Rectangular - kind more difficult, they can be used as a track on the table;

Round - the most complex form.
Methods of use
Today, you can find a huge number of schemes for knitting napkins
crochet. maybe, you do it yourself, or you knit family. Inevitably, the question arises, how to use the lace products. There are several options:
Photoshoot. If you like the photos in vintage style, you can not do without a pair of beautiful tea, wooden table and lace.

Storage earrings. If you pull the cloth in the embroidery frame or circular frame, it can hang earrings and other jewelry.

lampshade. If several products are connected and starch, get a nice shade for table lamp or chandelier.

Decorative pillowcases. Knitted cloth can easily sew the pillows or blankets.
knitting instruction with a description of
Below you will find a simple and beautiful napkins with crochet patterns. They are suitable for beginners and accomplished masters. It is best to keep the napkins schemes hook on the computer or the phone, to be able to increase their.
Simple little scheme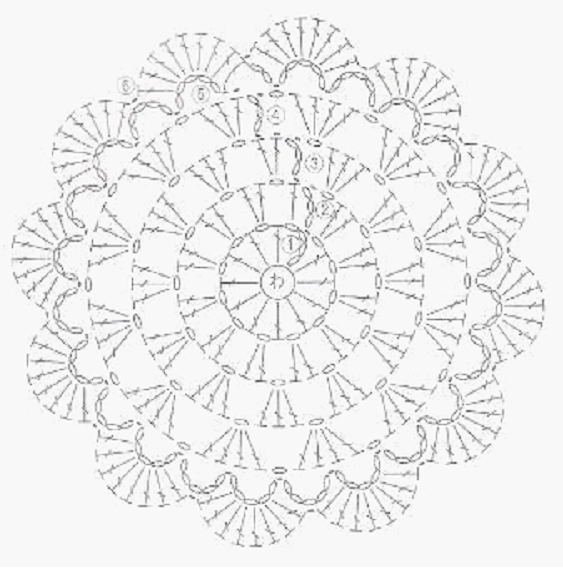 Begin to knit products "Iris" best of yarn with fine hook. This is a simple cotton yarn, which is inexpensive. Buy one skein, pick up the hook and start knitting. napkins hook, circuit description which you will find in this section, suitable even for those, who first picked up a hook.
Scheme napkins hook elements consist of simple: air loop, column with 1 or 2 sc. As their knitting, you can see in the video below.
The stages of creating swipe hook with the scheme:
Dial a chain of 6 stitches and lock them in a circle.

In the second row, alternate column with an air loop and sc. Make 12 such pairs.

In the third row alternate 2 column with sc and 1 air loop. Make 12 steam.

Fourth row - the alternation 3 columns with sc and 1 pp.

Fifth row - the alternation 4 columns with sc and 1 pp.

In the sixth row of arches do 5 stitches. You should have 24 arches - two on each "fan" of the columns with sc in the previous row.

In the seventh row on every second arch knit 8 columns with sc. Have your tissues will 12 "Petals".
Scheme crochet small circular wipes, it is suitable for those, who are not confident in his skills and is just learning to knit such items.
Beautiful openwork lace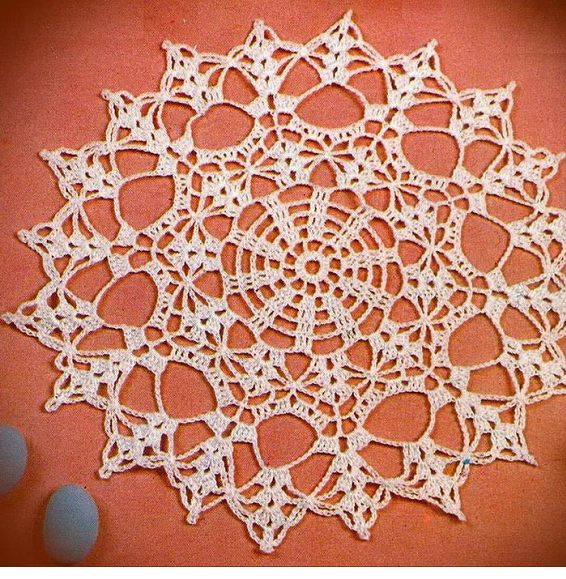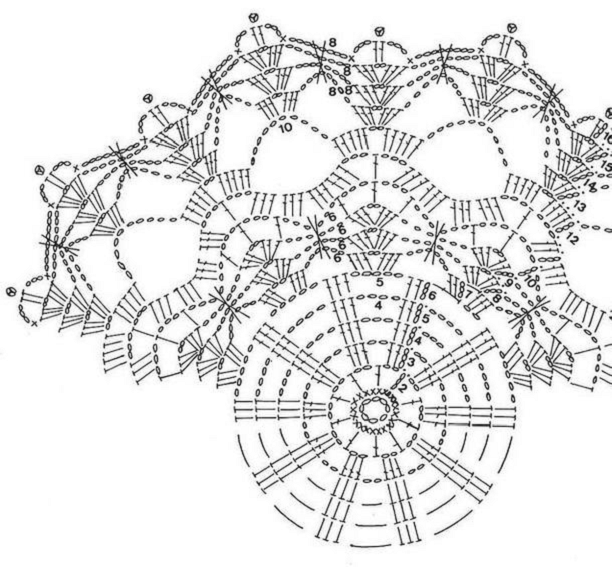 Openwork crocheting large wipes, schemes are presented below, knit difficult. It is best to take on these, when you accumulate skills. Do not be afraid to dissolve and bandaging, if you can not, it is a necessary part of the process.
Very beautiful napkins with crochet patterns you can use as part of the interior or decorate their clothes: dresses, T-shirts, svitshoty.
The square circuit for beginners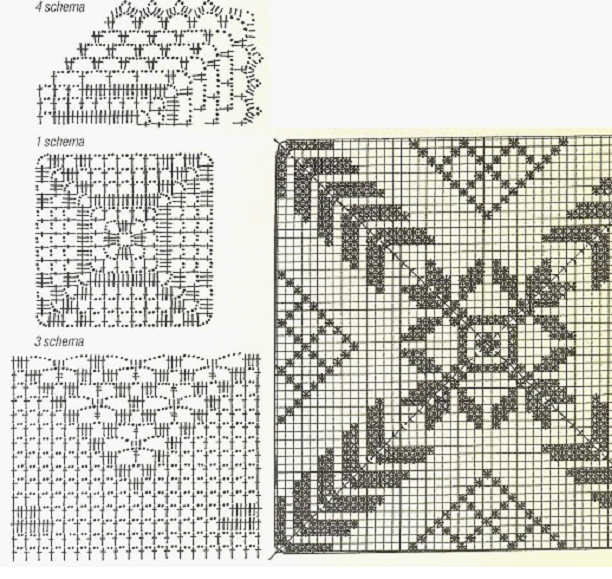 The easiest option for beginners masters - a small square cloth hook, schemes are presented below. They are made in the technique loin knitting, in which the pattern is formed from the blank and filled squares. They consist of aerial loops and bars with sc.
oval shape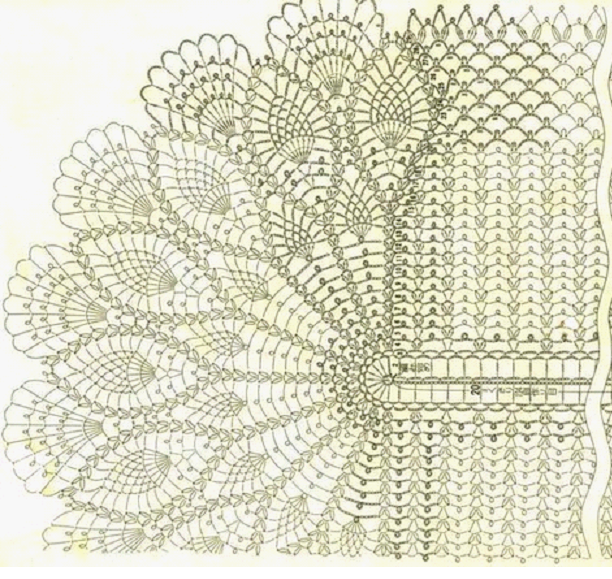 Scheme openwork napkins oval hook presented in this chapter. They can be used on the holiday table, combined with vibrant colors. This is a great gift for friends and colleagues, They will certainly appreciate your efforts.
Large rectangular fillet track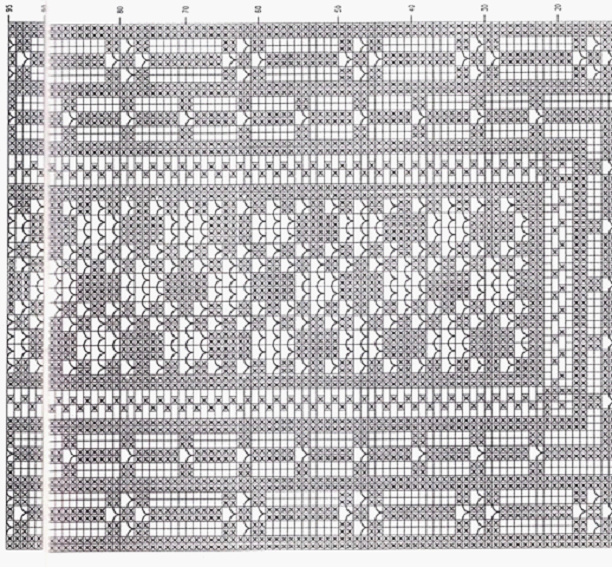 Instead, you can use the track tablecloths on the table - it does not get dirty, because it is only in the center. In this case, the track gives the set table a festive look. The easiest way to take a fillet crochet napkins crochet scheme, since they are easy to design.
Schemes of round products with Russian motives
Below you will find Russian and Japanese schemes described napkins crocheted. They are easy to understand, since the designation of all circuits standard. You can enlarge the image, to better consider their.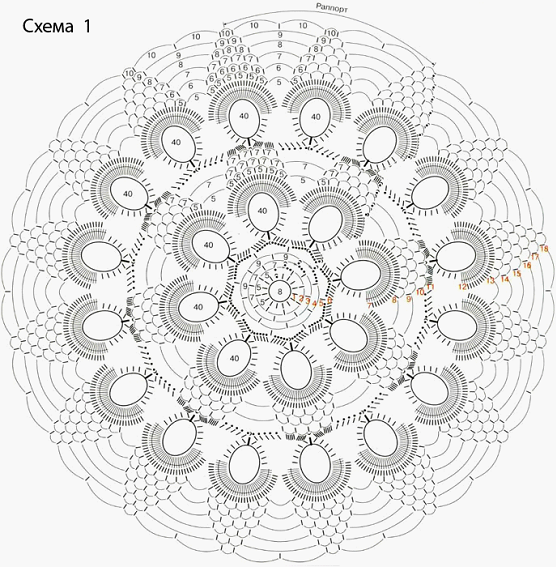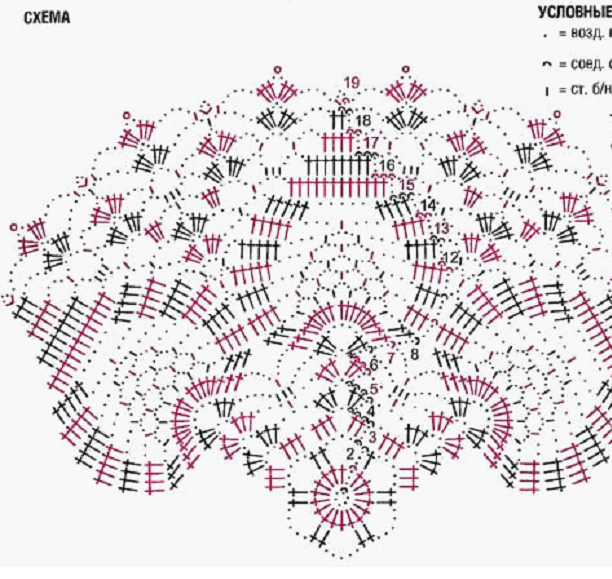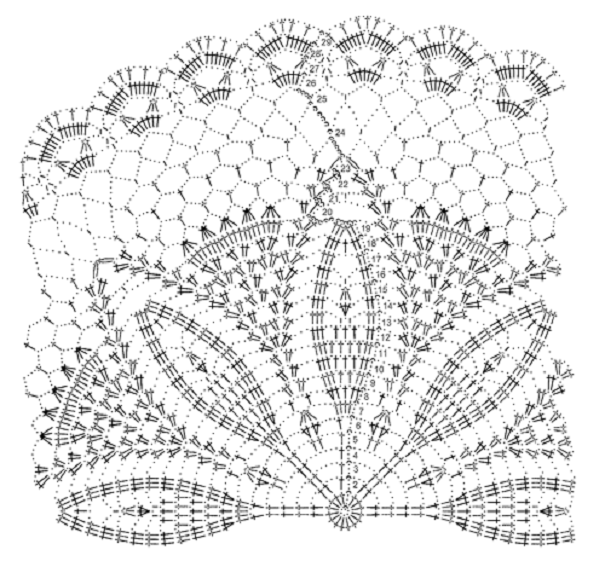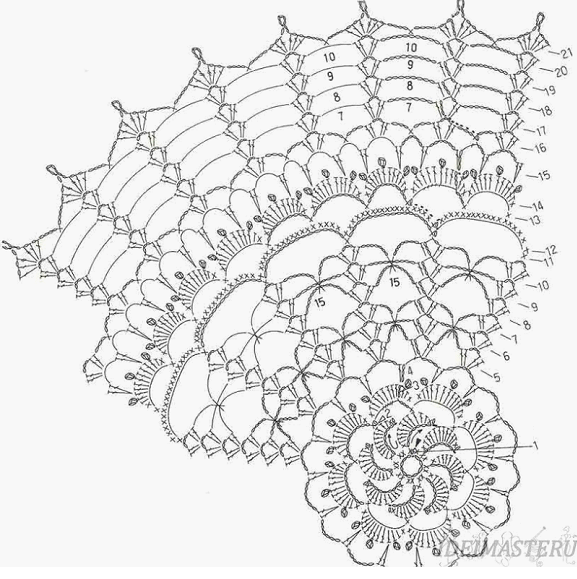 Video lessons
If you doubt their abilities, better knit beautiful crocheting cloth with schemes for video. They are removed by experienced masters, which describe in detail each step.
Knitting napkins - it is meditation and relaxation. In this way you can release negative emotions, but in this case it is necessary to destroy the creature, that it does not store negative energy. If you put the positive in the knitted cloth with crochet patterns, they will delight you for years to come.