The bar counter in the kitchen: why designers love these interiors
bar counter It continues to gain popularity. The image of the kitchen is becoming a modern and stylish, if in the interior there is the piece of furniture. Sometimes it is fulfilling its intended purpose - becomes a place for gatherings and snacks. Sometimes it turns into a dining table or a place to store utensils. The variety of solutions have transformed the rack in a favorite element in the kitchen - designers love to combine business with pleasure and invest a maximum of fantasy in space arrangement.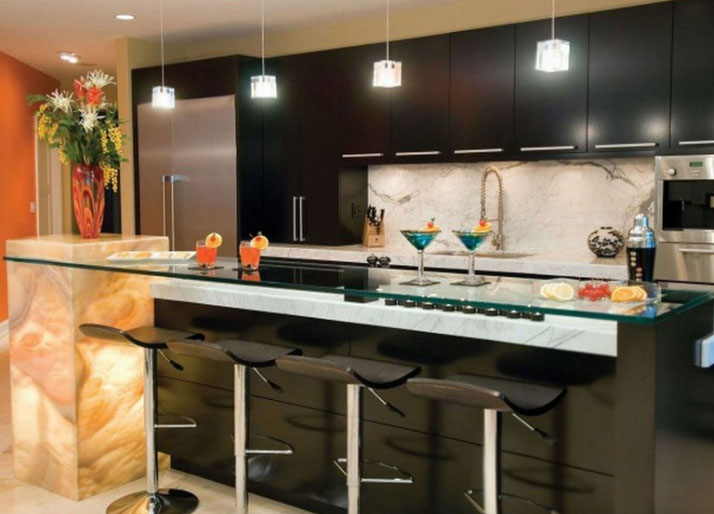 Bar counter for every taste
Modern kitchen units are often supplemented by bar counters. They are sold as a finished product, but more must be ordered by size - in many cases food requires individual solutions. Choosing the subject kitchen interior, consider the size of the room, design and purpose of the construction of the installation:
Replacing the dinner table;

Additional surface for quick meals;

space zoning element of kitchen-living room, studio apartments or a large area of ​​the room.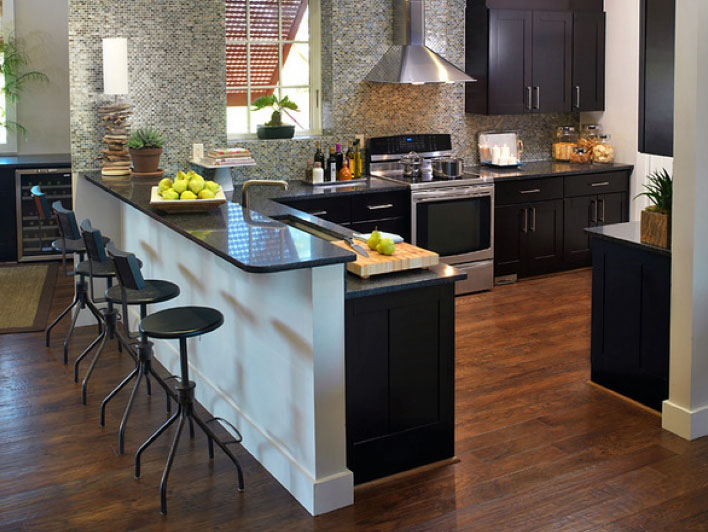 In all cases, carefully studied convenient configuration and aesthetic appearance of the product.
Sizes and materials
Standard dimensions are height 110-120 cm. In conventional kitchens, which do not differ large dimensions, products are set at a height 90 cm and are flush with top. Minimum width - 30 cm, optimal - 60 cm, perfect - 80 cm.
For the manufacture of the rack fit any materials, which are combined with selected furnishings - kitchen with breakfast bar must be integral and not cause a sensation, that newfangled device in the room extra. selected MDF, DPS or laminate, wood or natural stone, tile, metal or glass. In this case, often using a combination of materials. Particularly popular Corian - artificial stone, which resembles marble, but more resistant and durable.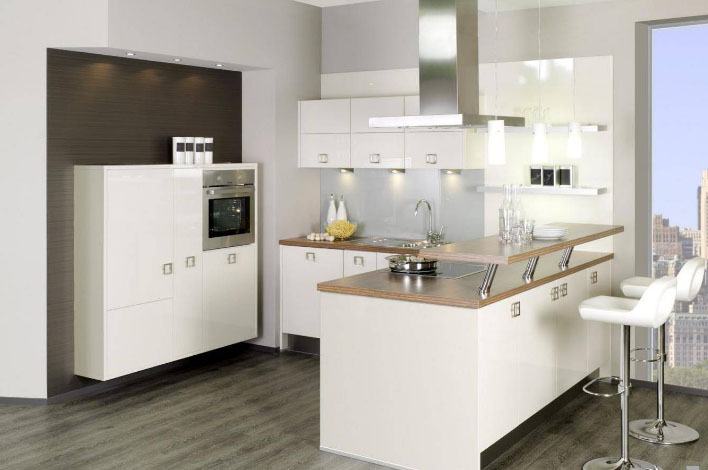 If you want to install the bar curved shape, Choose Corian - composite malleable in the process and takes any contours
Kinds, forms and methods of attaching bar counters
stands 3 type racks, which are direct, rounded, freeform or duplex:
Freestanding - is made in the form of the island, set in large spaces as a delimiter between the work area and a seating area. It can be a hob or a sink, but then it is better to choose a two-tier structure;

Continued countertops - reduced

height option

It is set perpendicular or as an extension of the main surface. A small kitchen with a bar of this type becomes the most functional and modern;

Attached to the wall - end or along the entire length, suitable for small kitchens, which can not accommodate a dining table.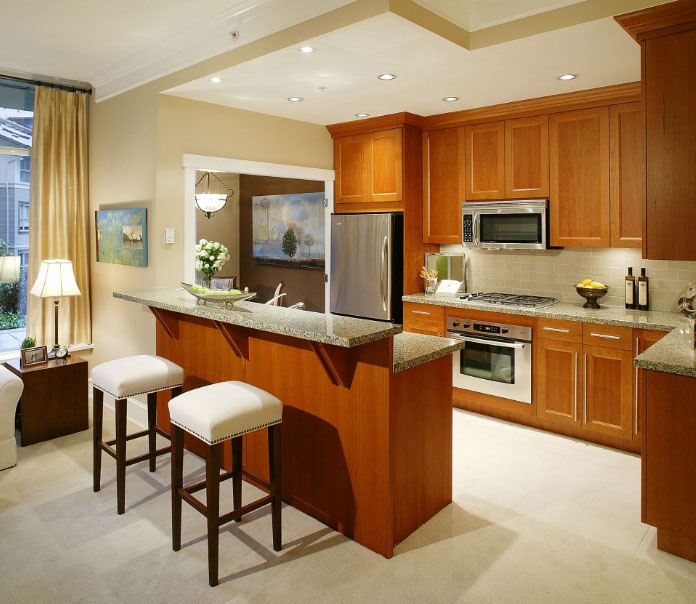 Hold the product to help pipe-support, which are attached to the ceiling, floor or roof-eaves Headset. The product can be supported on the nightstand, and if it is a second tier, then used straight or curved legs short version.
Accessories bar
First of all, purchased special chairs or stools. They are sold with or without backs, with soft or hard seats, but not necessarily a footrest. For short in height racks chosen shorter height bar stools 65 cm.
Secondly, set bar with cupboards, which are under it. Even a small product for small-sized room allows you to organize cabinets or open shelves for pots and pans.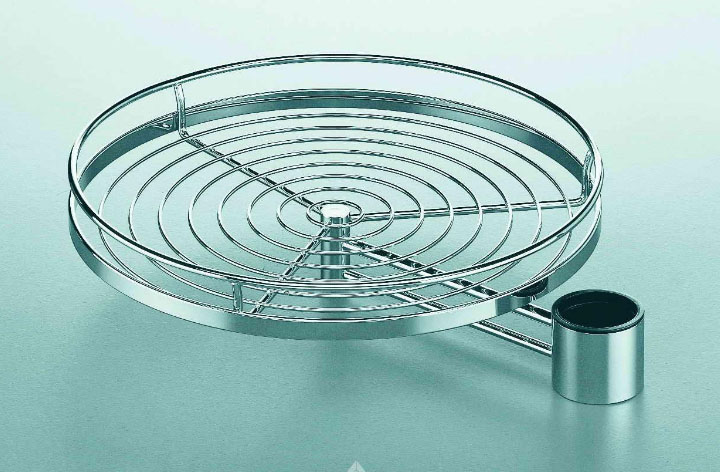 Thirdly, mounted on the metal tube Holders for wine glasses or a basket of fruit - it's great for decoration or storage.
Additionally, organized lighting - lamps are installed under the roof or canopy-like lampshades hanging freely. LED ribbon fastened around the perimeter of the interior provide a free-standing rack and giving it a futuristic look.
What to do, If the kitchen is small
For large kitchen the decision depends on the design and financial capacity. In kitchen corner with breakfast bar, which naturally separates the cooking area and recreation area, It becomes the optimal solution.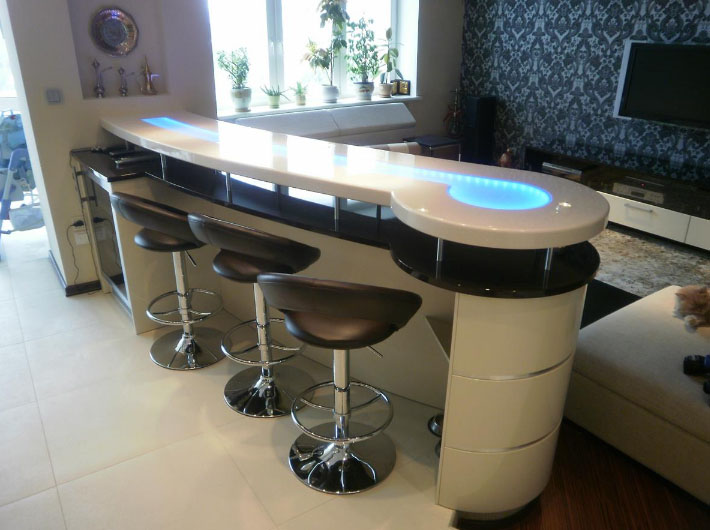 The small-sized space requires a special approach - a rack should simplify life in the kitchen, but do not clutter up the room. Designers offer the following solutions for the modest size kitchens:
If set and appliances are located on one wall, the rack is installed parallel to the working area and perpendicular to the window sill at a comfortable height. The distance from the wall - 50 cm, width surfaces - 40 See more. In such a kitchen entrance remains free;

A kitchen corner with a bar - an interesting solution, if there is no desire to get rid of the dining table. The design of the shelves located in the corner between the two sofas;

If the headset has an L-shape, the rack is mounted near the entrance and turns set in U-shaped. To save valuable working area, both surfaces are joined at one level and then this embodiment can be completed with cupboards. To get the height classic rack, it is placed above the last stone. As the holders protrude chrome pipes;

If the kitchen is narrow, the rack screwed to the wall a long part. Look into the blank wall is very uncomfortable, so it will draw arts - suitable wallpapers, a beautiful painting or a false window.
Bar counter of impact-resistant glass or products of simple shape with rounded edges for safety as much as possible will facilitate small-sized kitchen.
In all cases the selected stools, which are pushed under the desk. Organization of a mini kitchen with a bar is also possible. Here will suit folding options, Drawer, folding systems.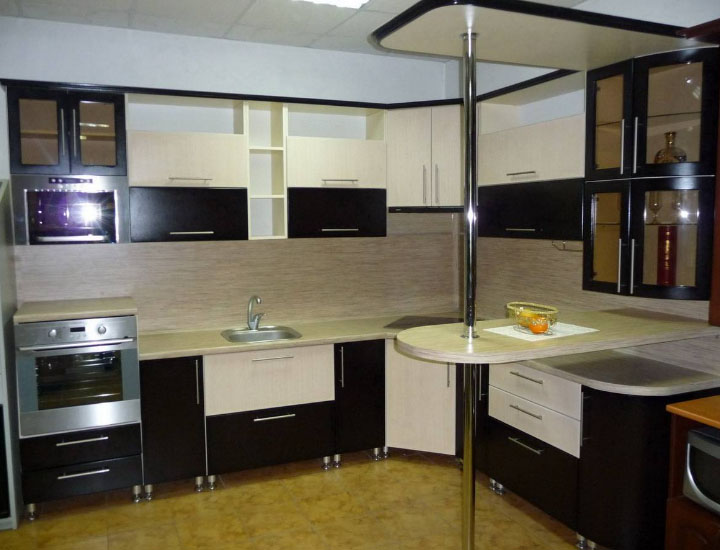 A few words in conclusion
Thinking about setting the bar, do not forget to take into account the interests of all households. If this piece of furniture is purchased instead of a dining table, it becomes a source of danger or discomfort to children and elderly family members. Stand on the small-sized kitchen fit young family or a family with teenage children. In private homes under the bar area sometimes is given a special room. Then the rack is made of fine wood with top in natural stone, equipped with full-size cabinets for drinks and dishes, sink, and installed near the refrigerator - interior done as in the present bar.